About a year and a half ago I bought a signature quilt on Ebay.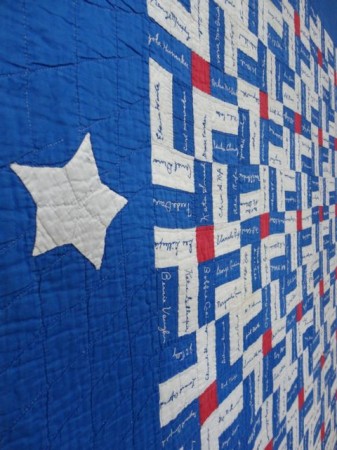 I bought it because I was intrigued by the design–and I love signature quilts.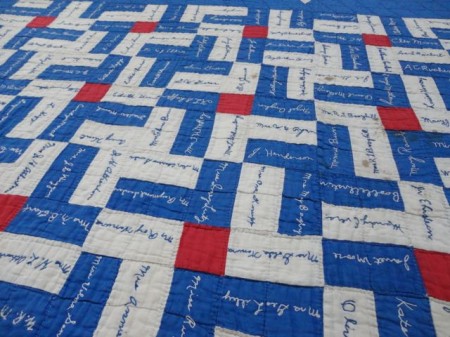 When I was trying to determine the block pattern I first saw the blue pinwheel in the design, but then the rest of the pattern didn't really make sense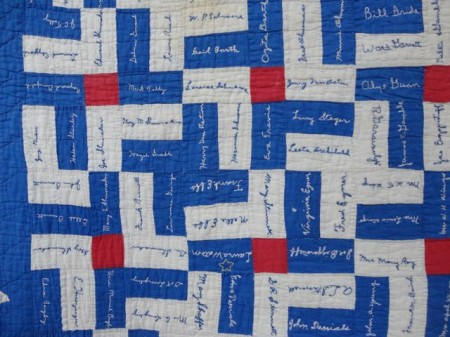 Finally I realized that it's a variation of a Rail Fence with three rails sewn around a red center.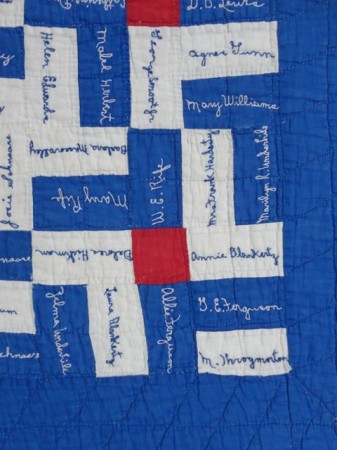 The seller knew nothing about the quilt.  She had purchased it at an estate sale in California.  I surmised it was a World War II raffle quilt—members of a group like a Ladies Air or Auxiliary solicited people to pay a dime or a quarter to have their name embroidered on the quilt, then the quilt was raffled off.  You could tell by the different writing that many women had participated in creating the embroidered blocks.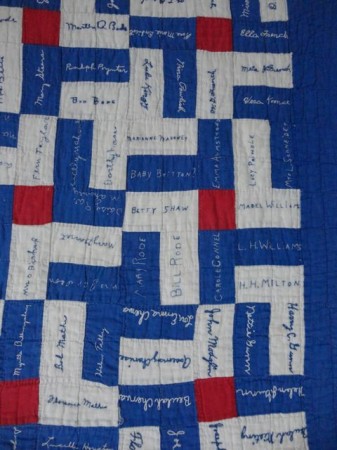 I felt so sad that I didn't know where this quilt had been made.  BUT, here's the best part of the story.  My friend Jodi was visiting and I showed her the quilt.  Like me, she loves history and quilts, and she's a geneologist!  She asked if she could take the quilt home for a bit and do some research, perhaps discover where this quilt was from.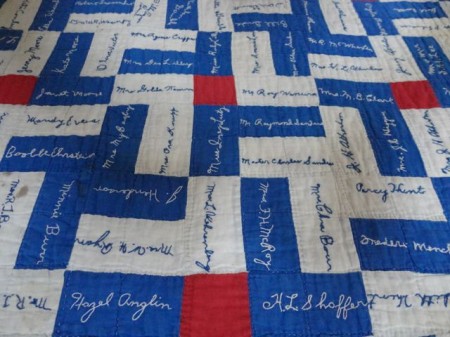 A few weeks later we met for lunch and so she could return the quilt.  Well, you'll never believe this.  Not only did she find out where the quilt was from, she had found a book on the history of the area–Pulaski County, Illinois!  She presented me with the quilt and the book.  She had transcribed all the names–all 505 of them!  She had found references to several of the people from the quilt in the history book.  What a treasure.  My first thought was that I should see if there's a historical museum in the county and send the quilt there, but I remember saying to Jodi, "I'd rather the quilt went to an individual who has a connection with this quilt."  And that was the end of the story—for awhile.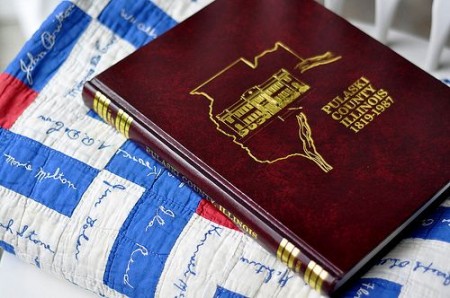 Photo from Pleasant Home
Jodi blogged about the quilt and eventually that blog came to the attention of a someone in Pulaski County!  When he read the post, he saw the names of his maternal grandmother and grandfather, his mother, an uncle, a great aunt and uncle, a cousin of his mother's and his great-grandmother in one of the photos!  What were the chances!?!  Oh, and are you ready for this?  He's a quilt collector!  I knew this quilt had found it's home.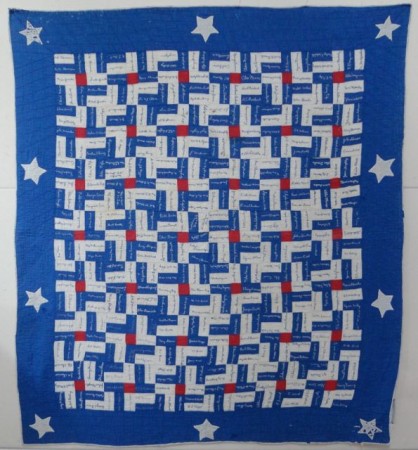 Last week I sent it off and this quilt is now back where it belongs.