The High Desert Museum in Bend had an exhibit called Quilts: Bedding to Bonnets, so we decided to check it out. It was in a small gallery at the museum, but a very lovely exhibit.
Like most people, I tend to forget that the art of quilting–stitching fabric together with tiny stitches, wasn't always used just for bedding. I took photos of the descriptions of the articles in the exhibit and will share them with you!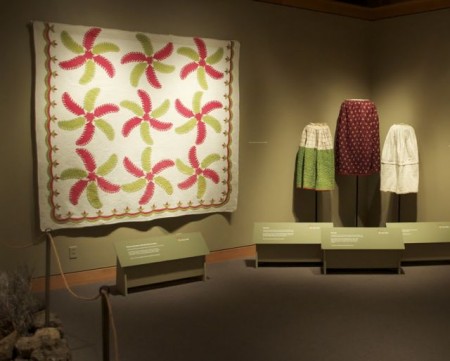 "Petticoat. Machine quilted white cotton with hand gathered waistband and cotton batting. C. 1860."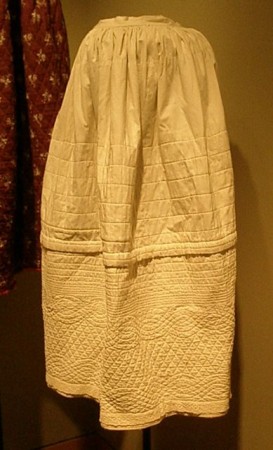 "Petticoat. Hand quilted cotton with diamond pattern. c. 1875."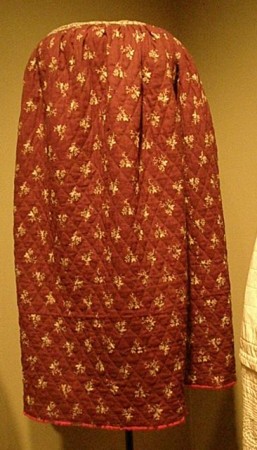 "Petticoat. Calico prints. c. 1880."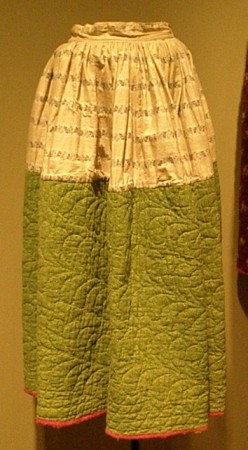 "Bonnet. Quilted silk with wool batting. Used as winter hood. c. 1860."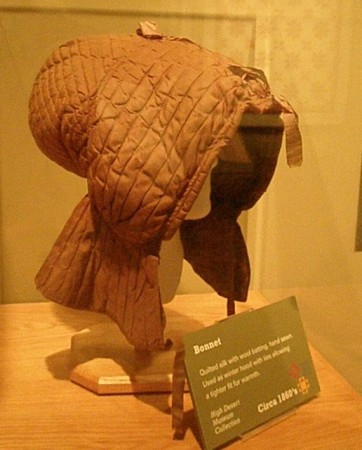 Bed jacket.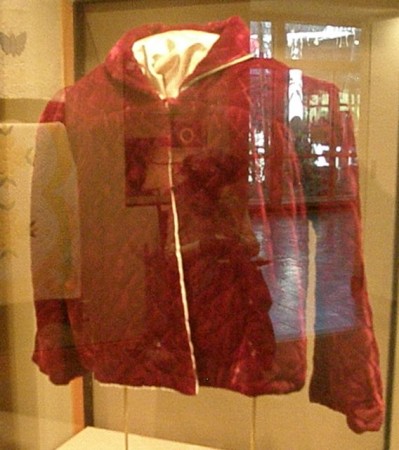 "Comfort on the Trail 1841-1868. Quilts were a much-needed commodity on the Oregon Trail. Referred to as bedding, quilts could warm bodies, cradle treasures and provide quick cover from the elements. Guidebooks recommended two or three bedding articles per person to be sufficient. Quilts were bartered for river passage, supplies, and other necessities."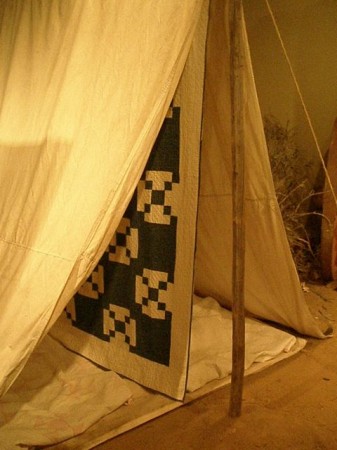 "When tragedy hit the Trail, quilts were used in burials to wrap around the body, as no time could be spent to make coffins."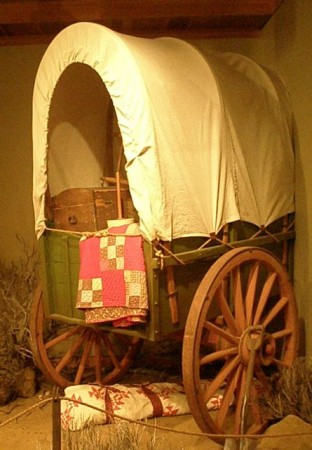 "'The bodies were wrapped together in a bed comforter and wound, quite mummified with a few yards of string that we made by tying together torn strips of cotton dress skirt.' Catherine Haun, 1849 diary of her travels on the Oregon Trail."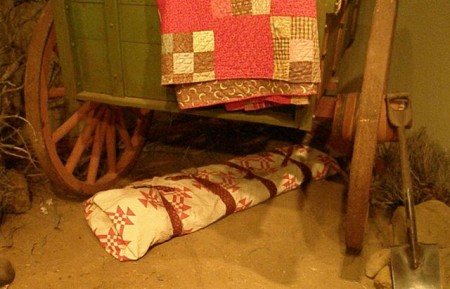 "Princess Feather with Star Pattern. Quilts like this one were often used in political fundraisers for the Whig's Party."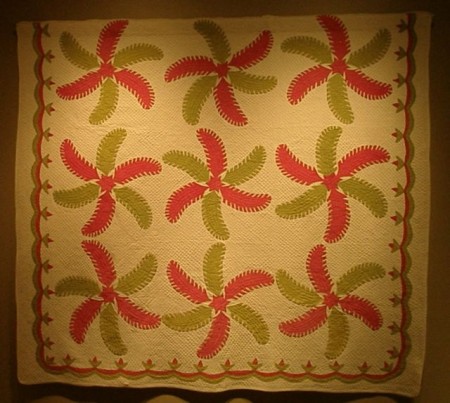 "To achieve green, the fabric was dyed yellow then blue. c. 1850."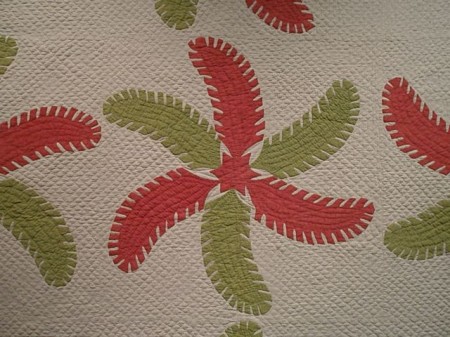 "Sunflower Quilt. Sunflower patterns are appliqued on. The densely quilted top has a shell pattern around the border."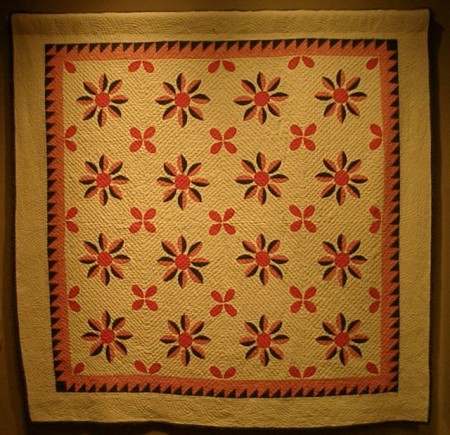 "Red, white and double pink colorings with novelty prints in the Indigo blue. c. 1850."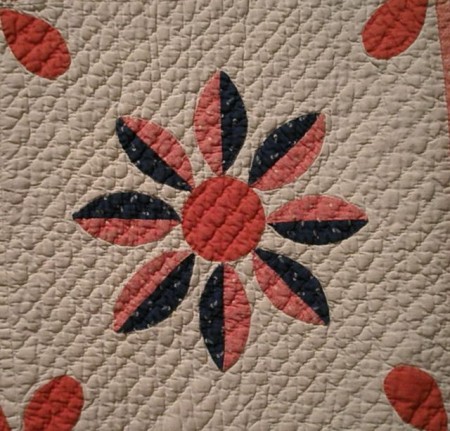 "Silk Fan Quilt. The Centennial International Exhibition of 1876 was held in Philadelphia to celebrate the 100th anniversary of the signing of the Declaration of Independence. The Japanese exhibit influenced Americans to adopt Japanese styles and motifs throughout their homes. The Silk Fan Quilts was a popular motif for decades after the exhibition. c. 1890."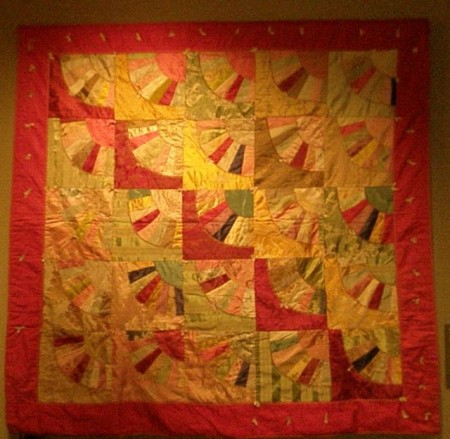 "Whole Cloth Quilt. This white-on-white cotton quilt was made by Sarah Dibble Conley of Minnesota, 1856-1950."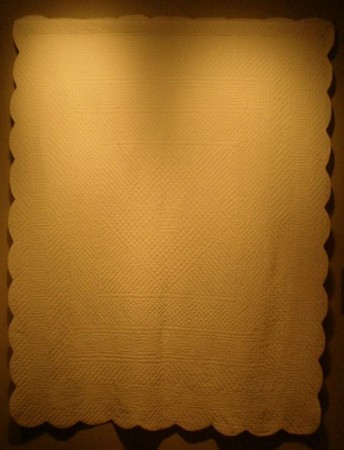 "The variety of quilted designs showcase the quilter's talent. The quilt's unique feature is that it was made of one large piece of cotton, which was expensive to buy in the day. c. 1900."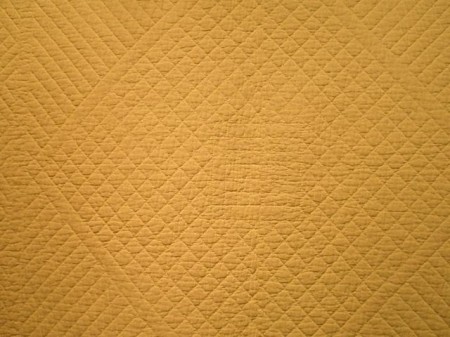 A lovely little vignette.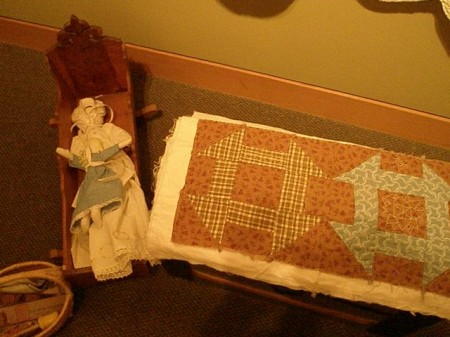 "Women's Relief Corps Ribbon Quilt. This quilt consists of ribbons of the Womens Relief Corps from the Oregon Pioneer Association Meetings."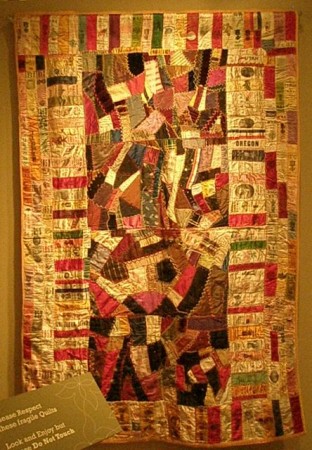 "These meetings were held around the state of Oregon and in other states."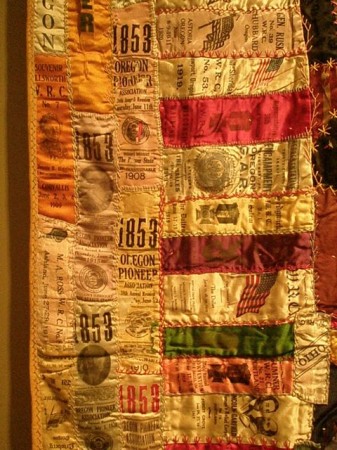 Participants were given ribbons to wear, showing what year they had crossed the plains. If you note below, there is also a ribbon that says "GAR." That stands for Grand Army of the Republic. It was also popular to hold reunions for those who served in the Union Army during the Civil War. This ribbon would have come from one of those gatherings.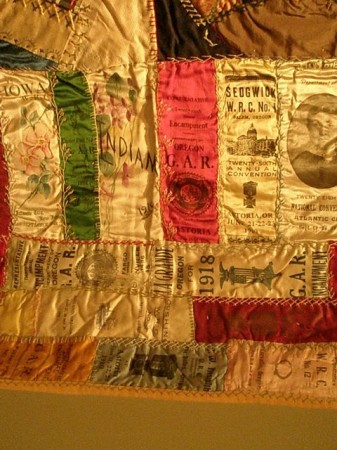 c. 1925.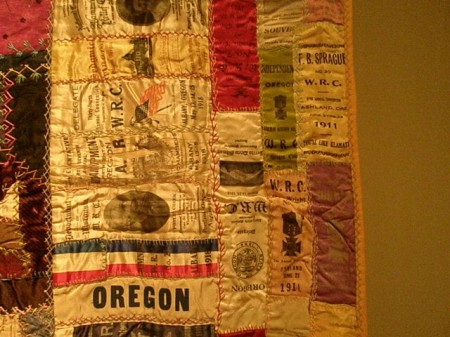 "During the Great Depression, women continued to quilt with renewed enthusiasm."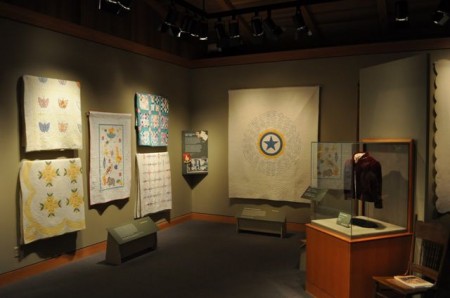 "American Legion Auxiliary Quilt. Community quilts like this one were made with bold, original designs and a strong sense of purpose. The people whose names were embroidered on the quilt were involved with post 9 of the American Legion Auxiliary in Salem, Oregon."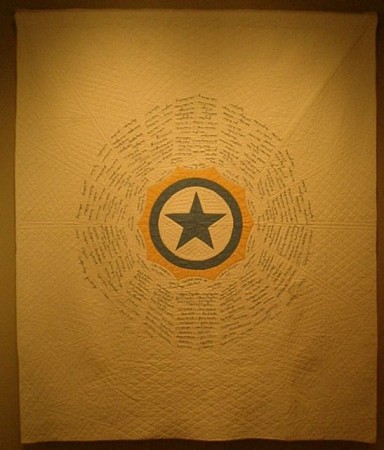 "Past officers names are designated with titles. Two of the names also have gold stars." I believe those two women lost sons during the war. c. 1931.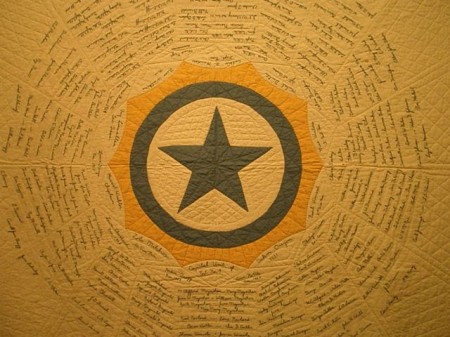 I don't know why there weren't individual signs on these quilts. I know this pattern as Hummingbird or Snowball.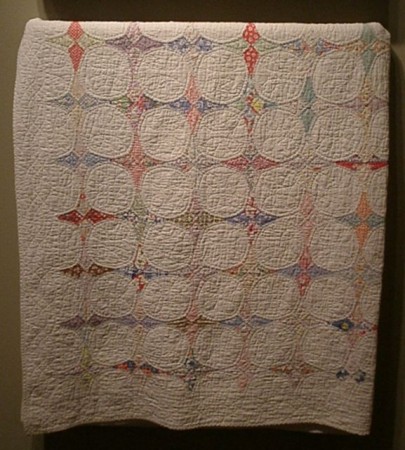 Even a utility quilt like this Nine-Patch was made to look beautiful with its four block setting, green sashing and pink cornerstones.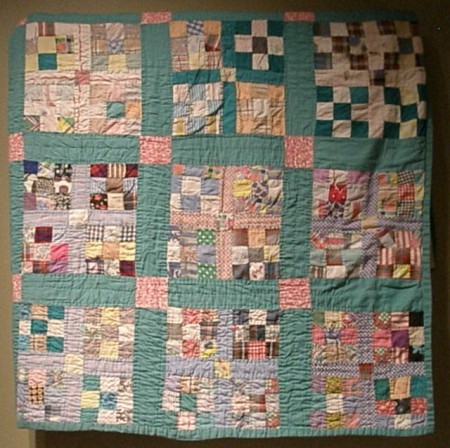 This darling Noah's Ark Quilt was undoubtedly a kit quilt.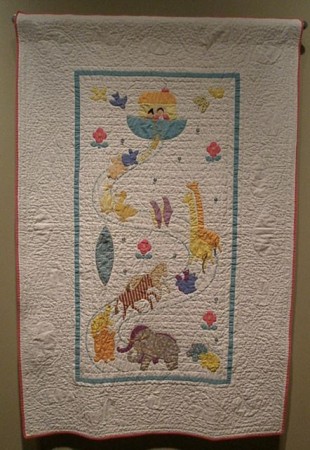 This Ohio Rose in yellow is absolutely gorgeous. Both the applique and quilting are exquisite. I love the swagged border.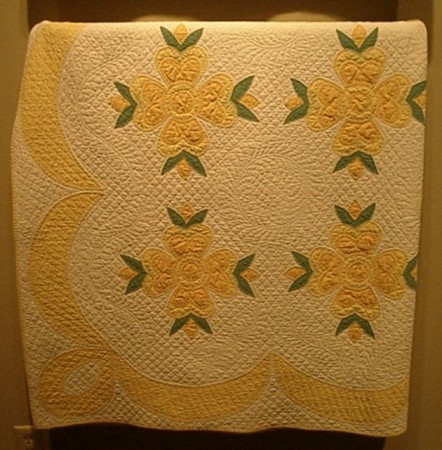 If you look closely, you'll see that this butterfly quilt has yellow sashing, but it has faded to almost whilte.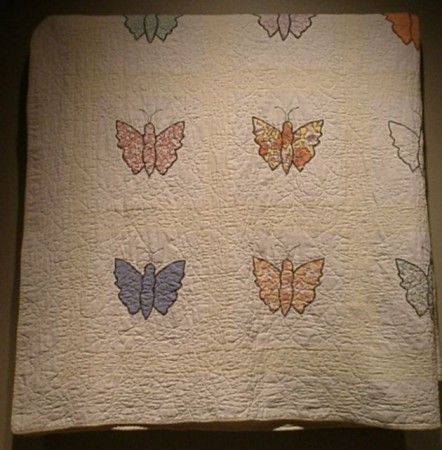 In another section of the museum was this wagon with another vintage quilt. I snapped this photo both for the quilt and the canvas that says 1852. That's the year my great-grandmother crossed from Missouri to Oregon Territory.