Connie, Robin and I were on the road again recently, this time to Salem, Oregon for Quiltopia, a weekend quilting event there.
This was a perfect day for me because it combined all my favorite things—good friends, vintage quilts, old houses and high tea! We started at Deepwood Estate.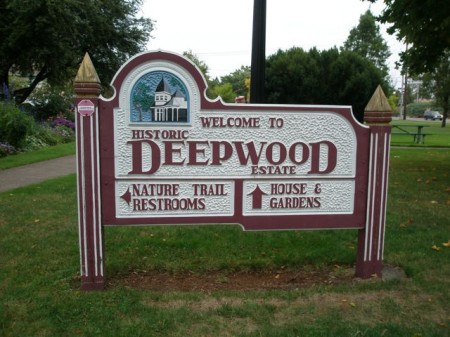 The grounds were gorgeous.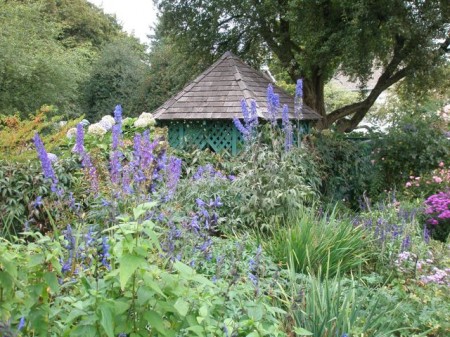 I couldn't believe there was so much blooming so late in the year.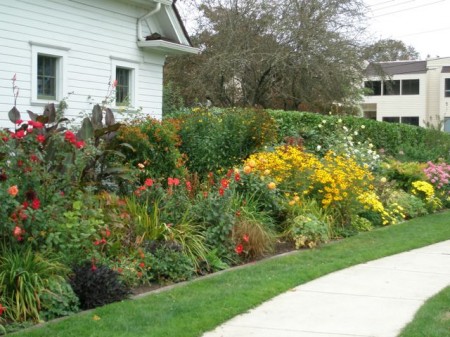 We were ushered into the Carriage House for a lecture before tea.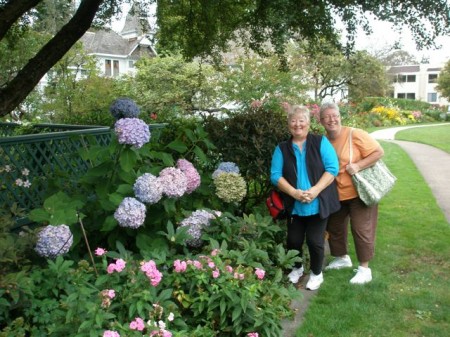 Our speaker, Vickie Simpson, was even dressed in period clothing for her presentation.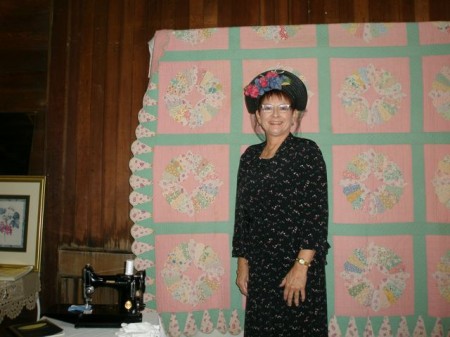 She gave a good talk about the history of quilting and had some lovely Dresden Plate quilts displayed. This one had an ice cream cone border on three sides.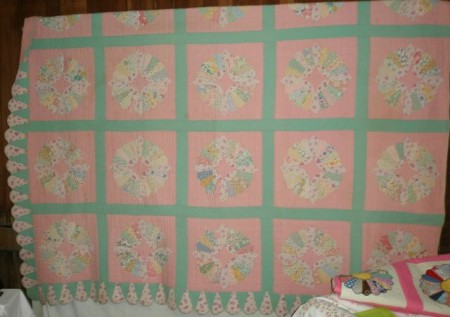 I'm familiar with this pattern as Fancy Dresden Plate since it has ellipses in the center and pointed pieces at the four compass points.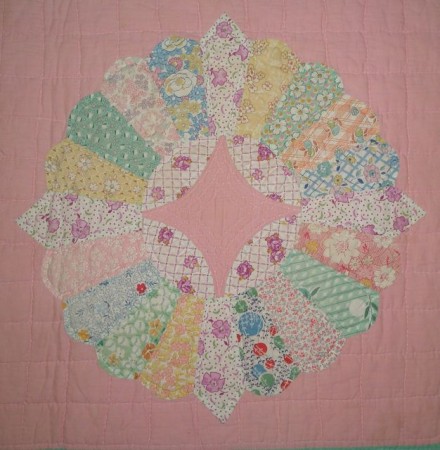 The Dresden Plate below is button hole stitched in place and has a bubble gum pink sashing. It's a simpler block and has a simpler variation of the ice cream cone border.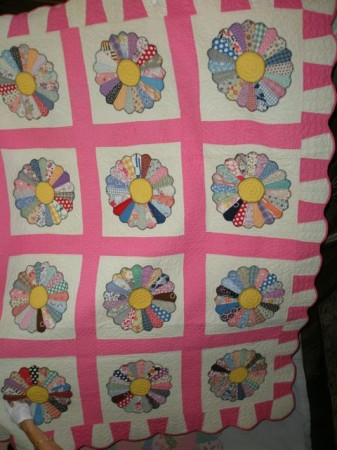 Here's a pretty variation where every other blade (almost) is consistent.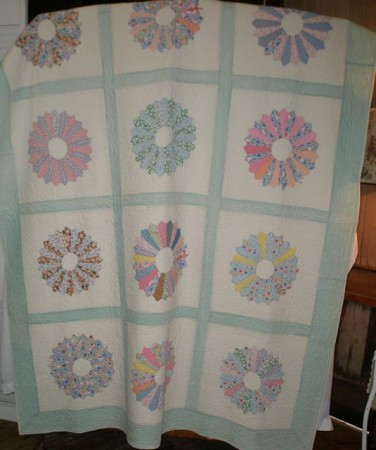 I like the different pinks here. And notice that since she had an odd number of blades, two solids ended up side by side.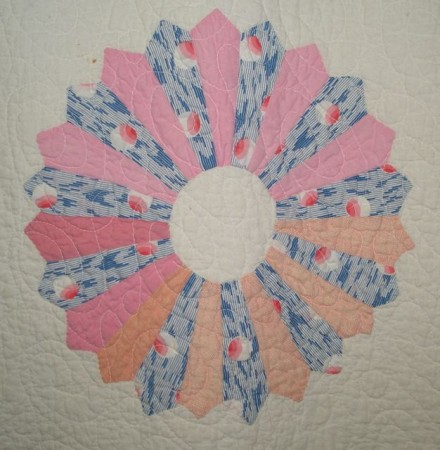 Here's an orphan block.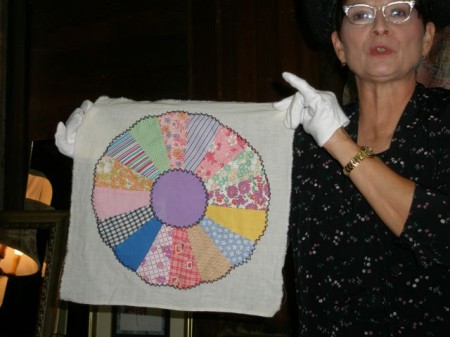 She also brought this satin crib quilt that her grandmother had made for her.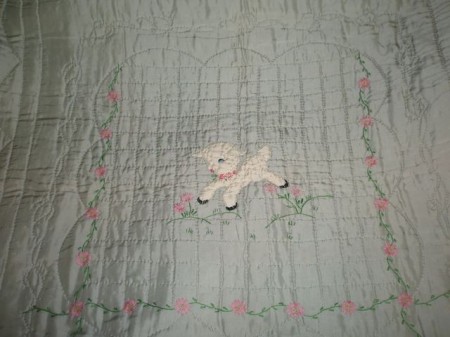 Then, we were take to the big house.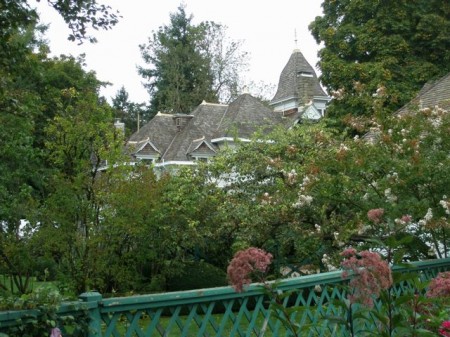 It's a gorgeous old Victorian.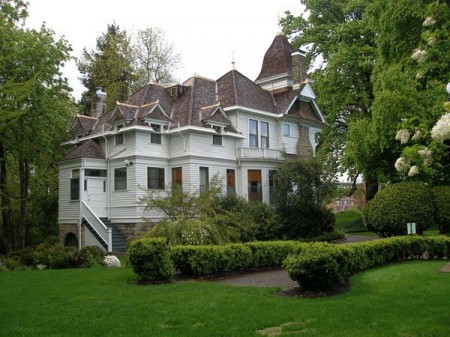 The tables were beautifully set.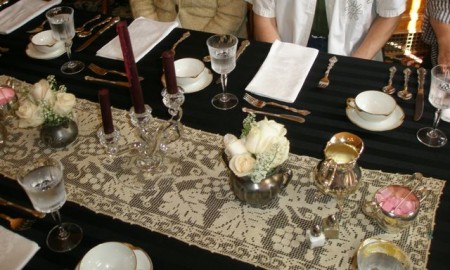 I loved the pink sugar cubes!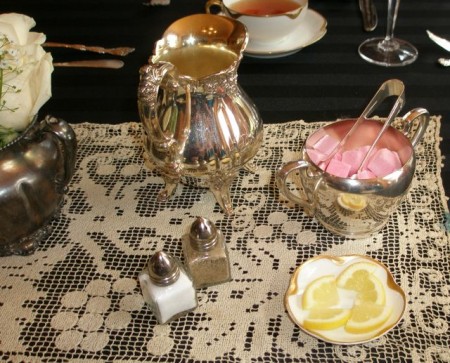 Connie and me, waiting for our first course!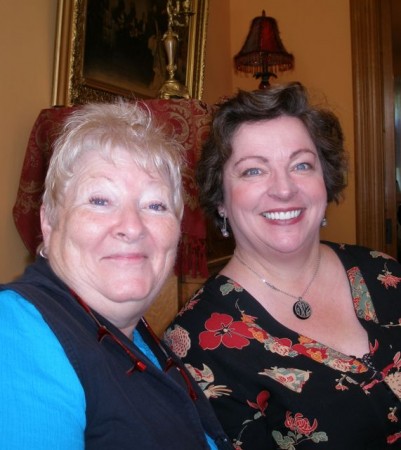 Connie and Robin.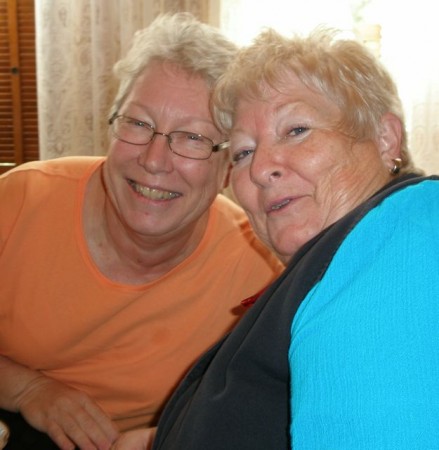 Between courses we were treated to more vintage quilts, like this Snow White one.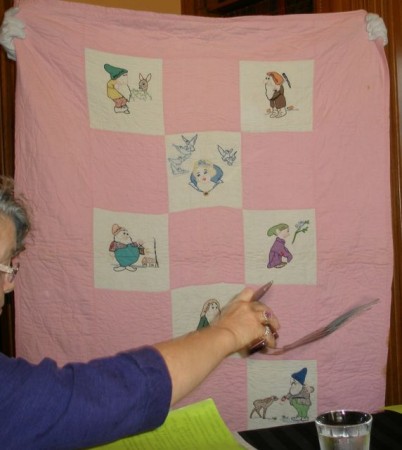 Our first course was heirloom tomato soup and a cheese scone. Delicious.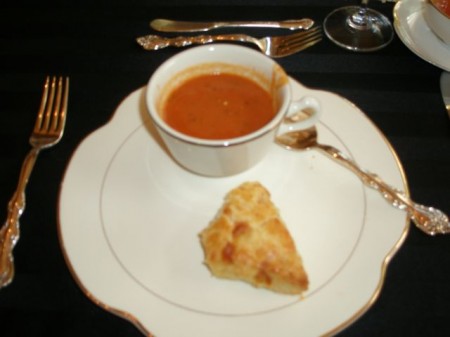 I always love seeing Sunbonnet Sue in her many forms.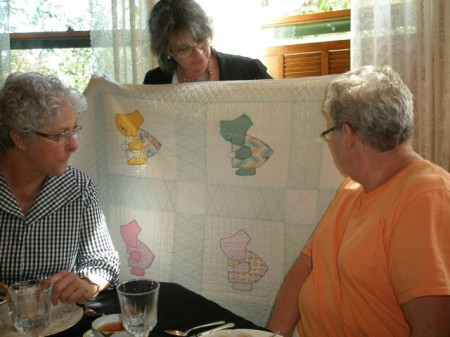 And I was delighted to see this fabric with the four suits of cards on it!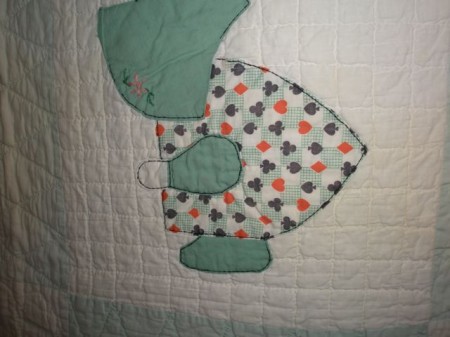 Oh, our main course! We had puff pastry filled with mushrooms, quiche and a deviled ham sandwich. Once again, delicious!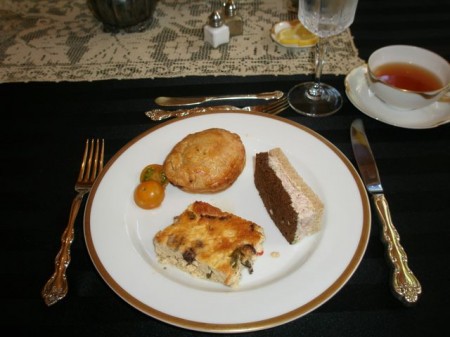 This quilt had Sunbonnet Sue and several different butterfly patterns…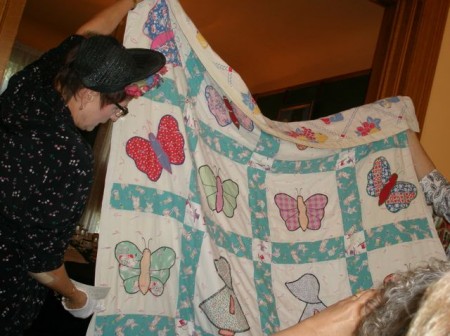 …and a terrific looking "tablecloth" print on the back.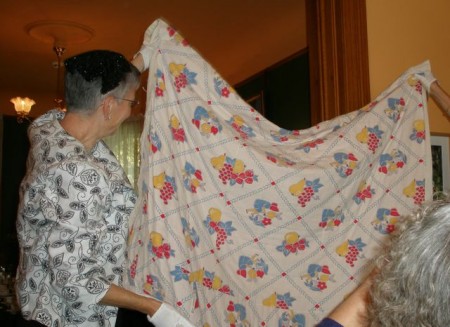 Dessert was a spiced cake roll. Did I mention, the food was delicious!?!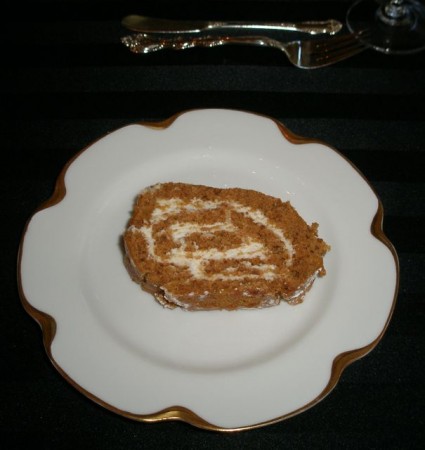 A traditional butterfly quilt.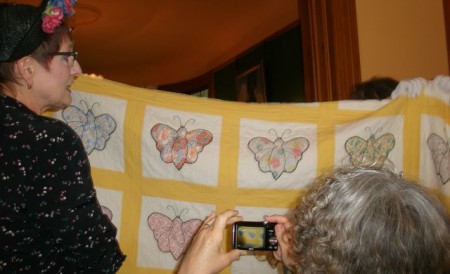 Then it was time to tour the house. The mantle was lovely.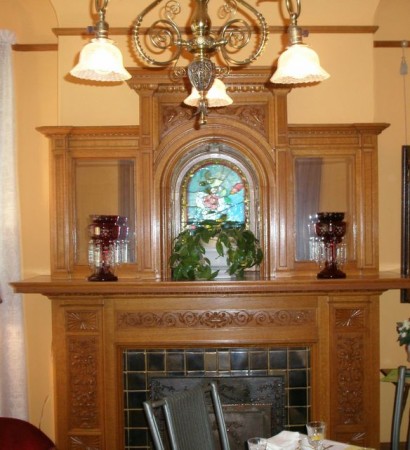 I've seen lots of delicate hot chocolate sets, but never one with a matching china tray.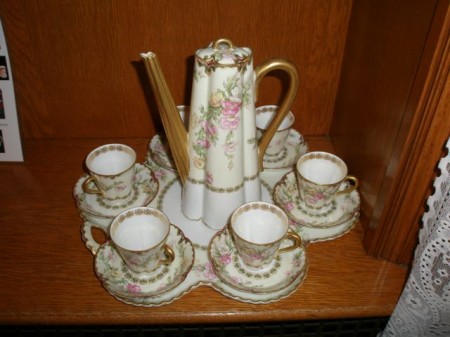 There were quilts displayed around the house, like this one on the bannister.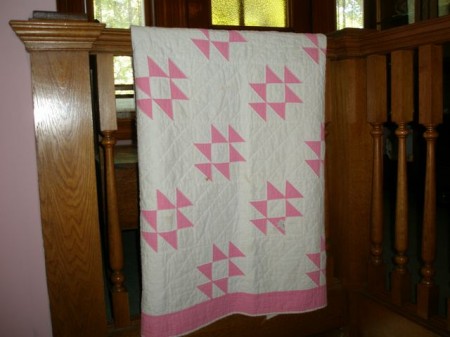 Oh, my. Imagine having a waist that size?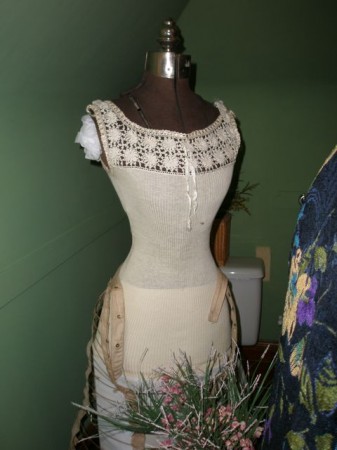 A pretty Trip Around the World.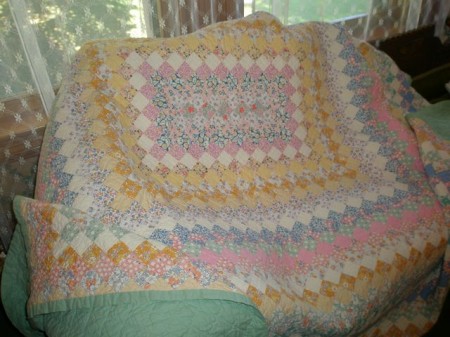 The yellow china on this table was so pretty, and looked so great displayed against the yellow fan quilt.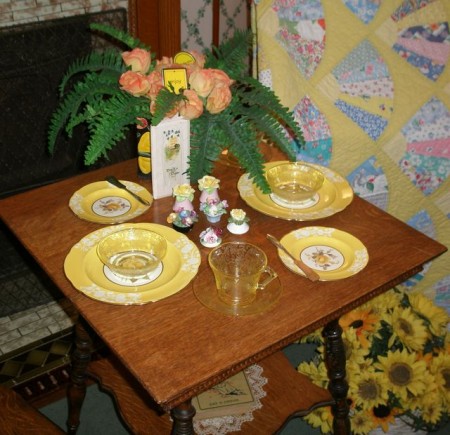 The ivy wallpaper was very nice.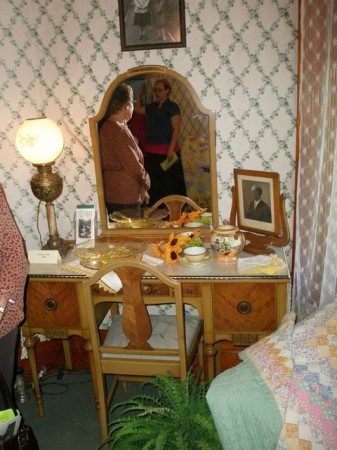 And I loved this green light fixture.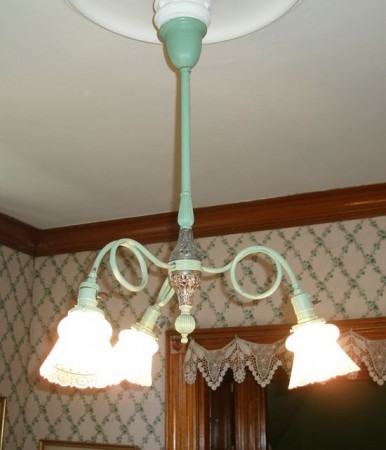 This light makes a really cool pattern on the ceiling!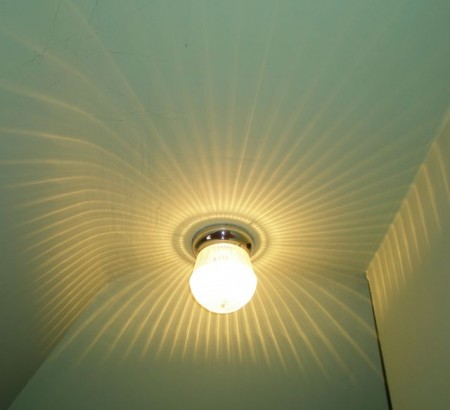 Ah, I could happily sleep under this Irish Chain quilt and let someone bring me some scones in bed in the morning.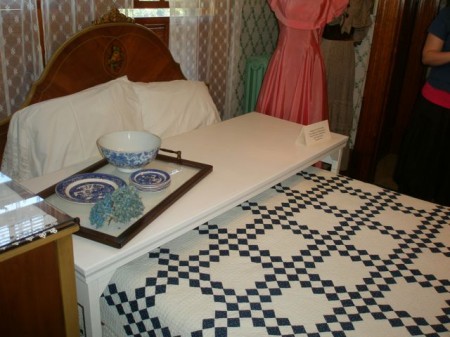 I have this very same pillow!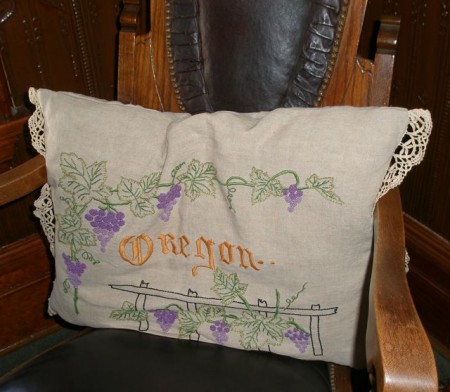 Doll quilts are always charming.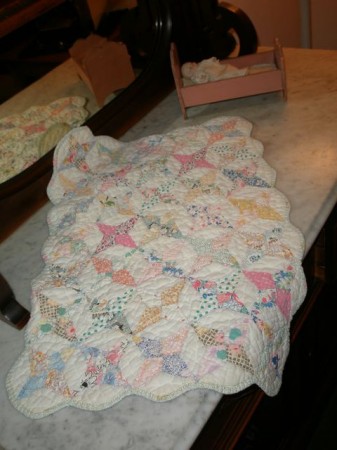 This cactus basket is very pretty.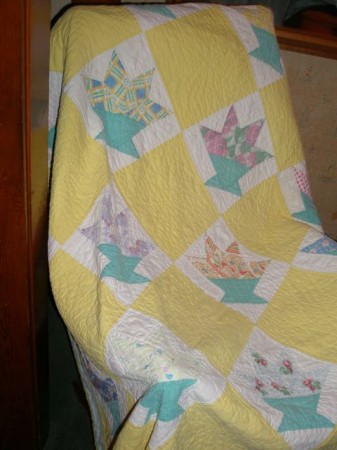 As is this Grandmother's Flower Garden. I love how the hexagons have been fussy cut.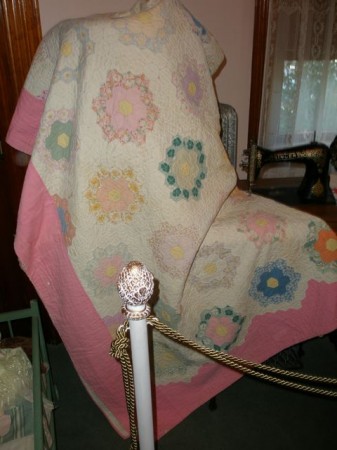 I covet this doll bed!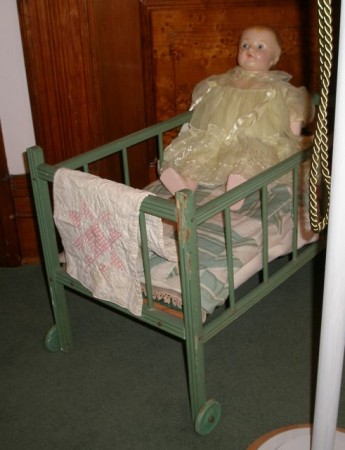 Now that's a vintage sewing machine!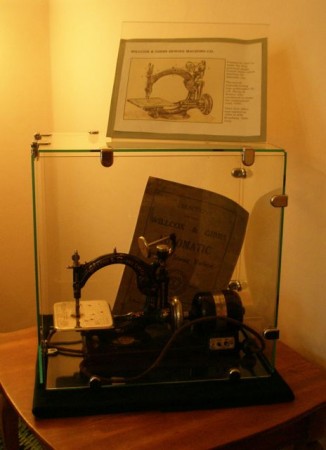 There's more Quiltopia to come!