Today I hosted my Mentor Study Group. How fun to get to do it on Valentine's Day!
I love to entertain, but I've been gone and didn't get a very early start on my preparation. I was expecting 15, so needed to use both tables. This is the dining room, with some vintage china my mom bought me a few years ago.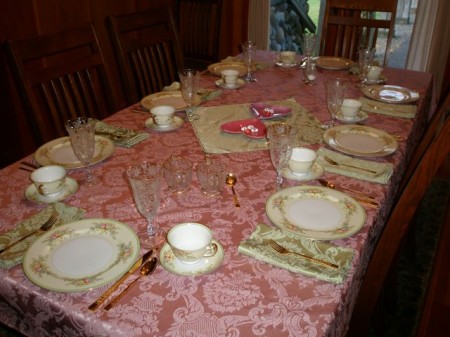 In the living room, we have a drop leaf table that's only 14″ deep when the leaves are down. When we need more table space, we move a couple of chairs, pull up the leaves and have a 60″ round table. Works great! Another set of vintage china.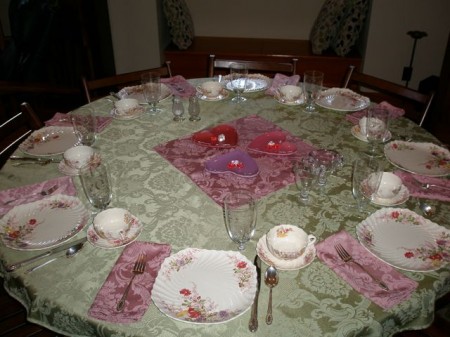 I decided I wanted to make something called a Smörgåstårta–literal translation from the Swedish is sandwich cake. It's usually done with a whole loaf of bread, then sliced and served, but I decided to do individual ones.
I started by cutting rounds of bread–lot's of rounds of bread, as these are triple decker sandwiches! Then I spread some softened cream cheese on them.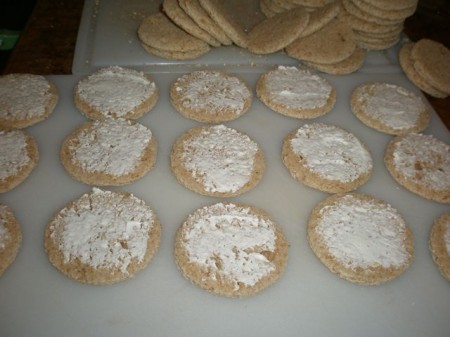 That was followed by Swiss cheese.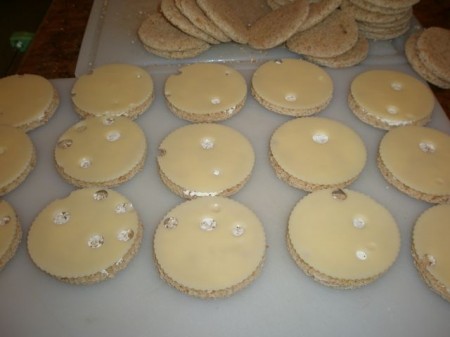 More bread and cream cheese, very thinly spread.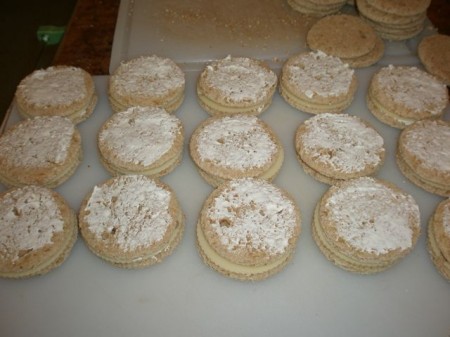 Then there's turkey.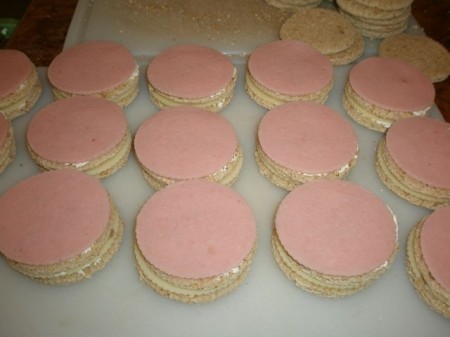 Finally, the last piece of bread. I used a yummy oat bread.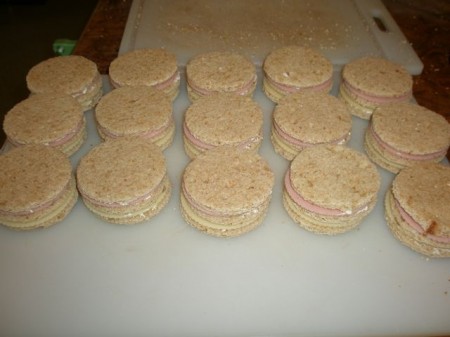 I made a mousse of shrimp, lemon and cream cheese and spread it on the sides and top.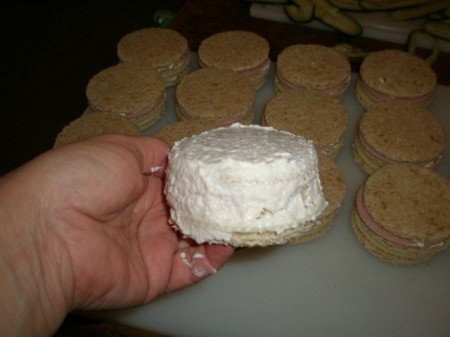 Then I wrapped the whole thing with a thinly sliced cucumber and topped it with a cherry tomato and some sliced radishes.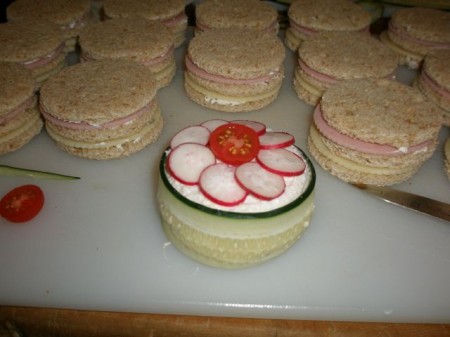 I may have gotten carried away with slicing radishes, and I think Bob will be eating radishes with every meal for awhile!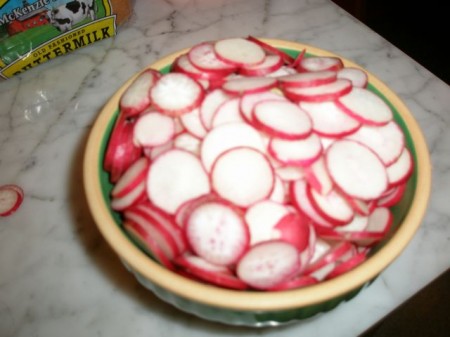 Here are the first eight ready to go into the refrigerator.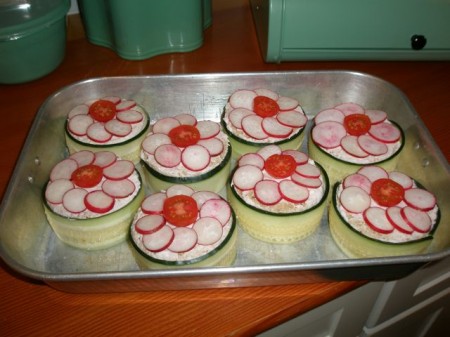 All plated up.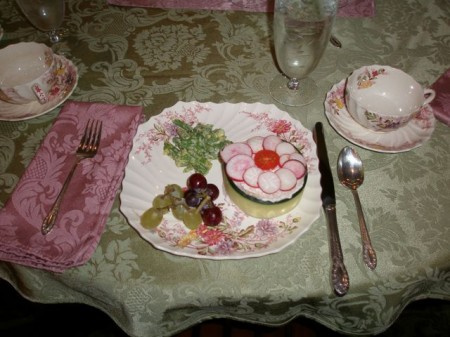 I served grapes and an asparagus salad with them.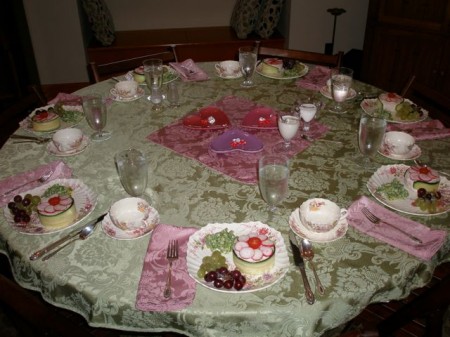 The ladies dug right in, which I always take as a compliment. There's my friend, Karen, helping serve. Thank you, Karen!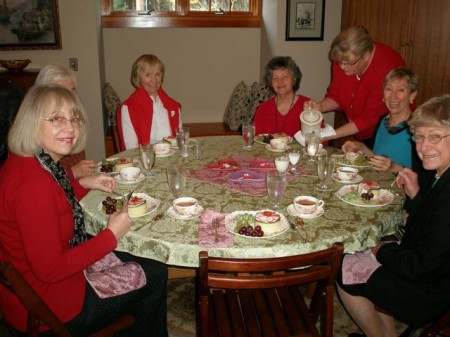 I had three no shows. Argh! But, we just pulled off a couple of table settings and it all worked out.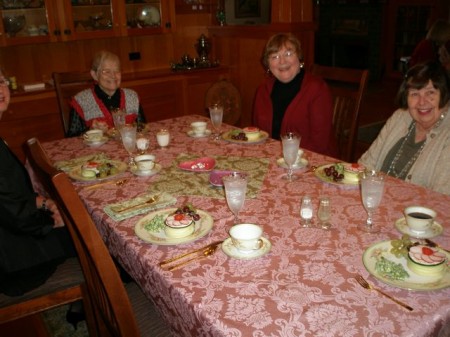 We had a great meeting, then a little dessert. Last night I baked a double batch of Chocolate Decadence in a sheet pan, then this morning I cut out hearts.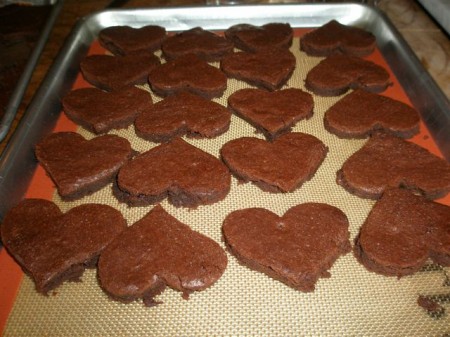 I borrowed these adorable heart shaped dishes and mugs from my sister.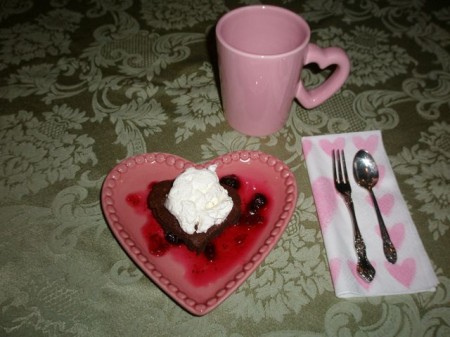 A little raspberry puree and whipped cream along with the Chocolate Decadence was a perfect finish to a fun day.
I hope your Valentine's Day was fun, too.