My Airstream Dream
For years I've wanted an Airstream.  As a retirement gift to myself, I bought Poppy.  Isn't she beautiful?
Poppy is a 1973 Safari and is 23 feet long.  Perfect for two–and maybe one grandchild or nephew at a time!
Poppy needs some updating inside.  She's really in nice shape, but very, very dated decor.  And, oh, the possibilities!  I'm hoping David Bromstad from HGTV's Colorsplash will take her on as a project for the show!  Wouldn't that be cool?  David!  Karen Snyder here.  Please call!
There's the living room/kitchen.  The blue and yellow plaid has to go!  Also the yellow/green countertops.
The bedroom has twin beds, which was what I wanted even though one time when we visited and Airstream dealership and I asked about twin beds the salesman said to me, "Nobody wants that Ozzie and Harriet stuff anymore!"  I think I was insulted!  I love Bob dearly, but I also like my beauty sleep.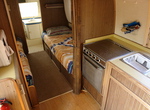 The bathroom has a stand up shower, so that's a plus!  It also has tiled floors.
I can't wait to be able to post after pictures.  David??????
August 2009 – Even though we tried, David didn't redo Poppy.  And now there's a new Airstream in my life.  Click here to meet Lola!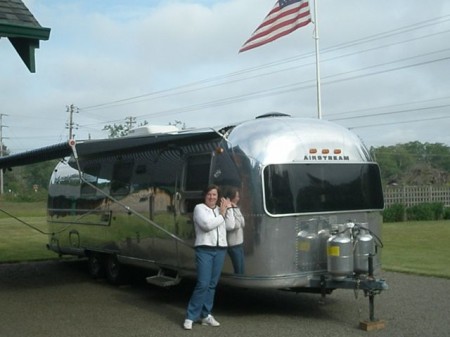 Poppy found a new home, which you can read about here.
So, now the focus is on Lola.  The inside has already been renovated and I can't wait to decorate!