Our next stop was a tour of the Bush House, featuring red and green quilts from 1840 – 1860.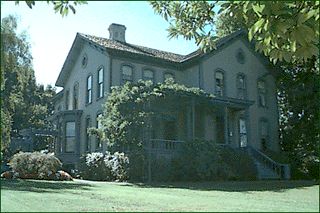 Again, considering it's October, the grounds were lovely.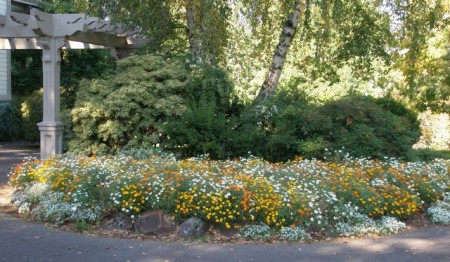 Mr. Bush, I presume!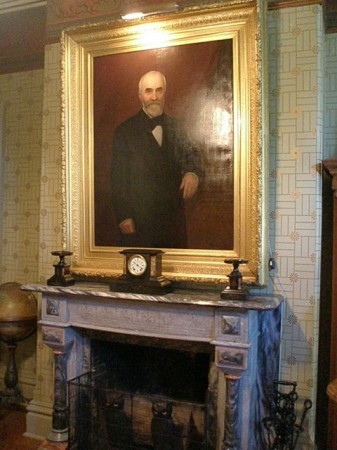 This house had the most elegant wall papers.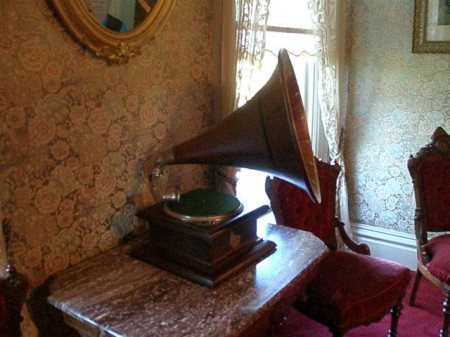 Many of them had fantastic, coordinating borders.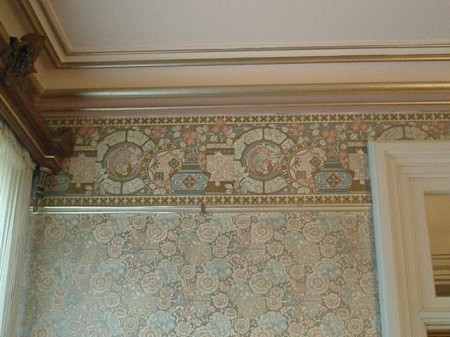 And there was truly a treasure trove of oil paintings.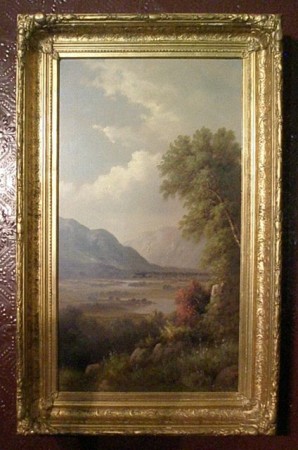 Our guide was a hoot, tailoring the tour to our interests. Here he demonstrates the player organ.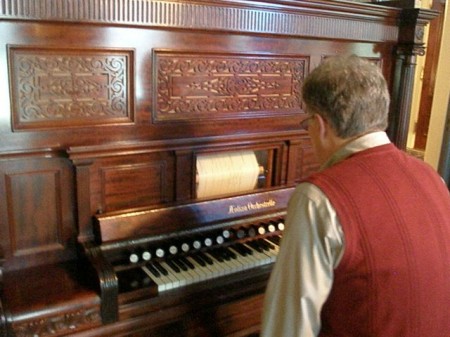 Another beautiful painting. I especially love the seascapes.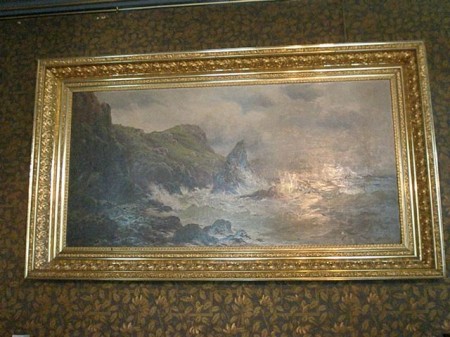 And this old map of Salem is pretty cool.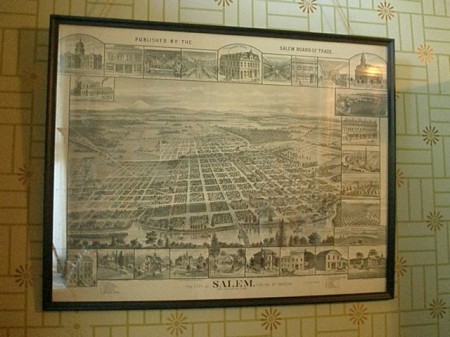 Check out this hot water bottle in it's holder. The "bottle" is made from copper. I have a holder like this that's embroidered 'hot water' but I never knew the insert would have been copper.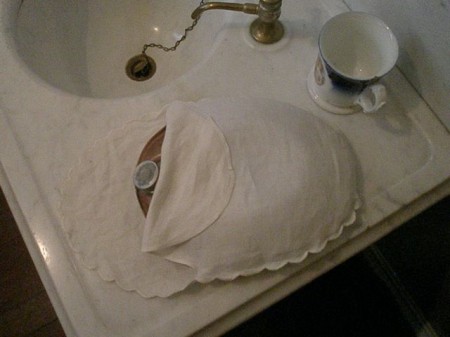 Near the kitchen was a different style of painting.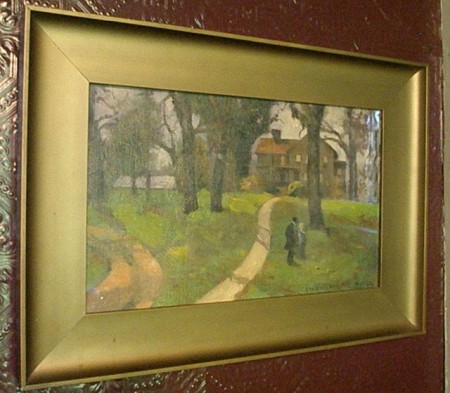 What a great stove. I'm sure some grand meals were prepared on it.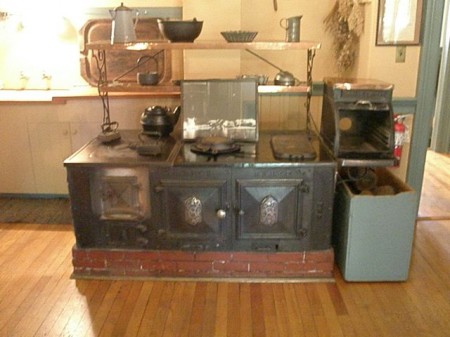 The punched tin pie safe is pretty neat, too.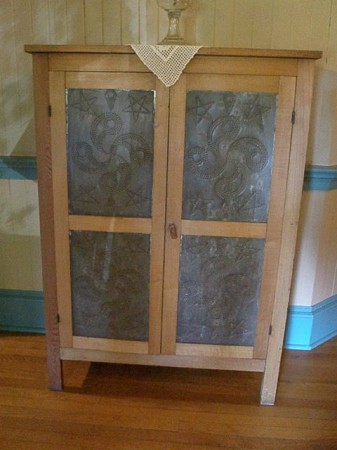 Kitchen weren't "public" places in Victorian homes, so no reason to have doors on the cupboards.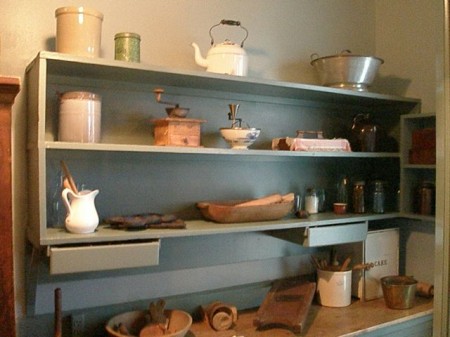 Even though this kitchen light fixture is plain, it still has an elegant grace. I think it may have originally been a gas fixture.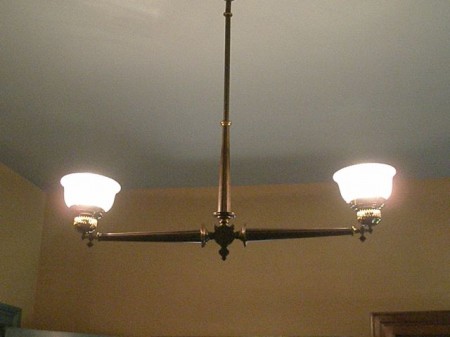 This mug is so similar to an ABC plate that my mom has.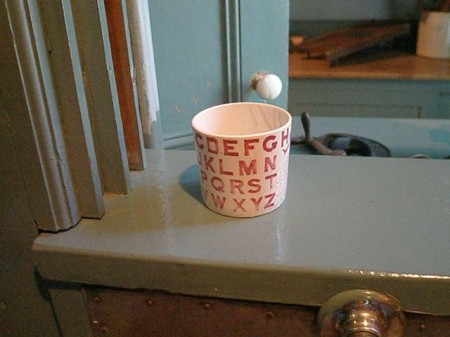 Of course every historic home had a hole where they buried trash….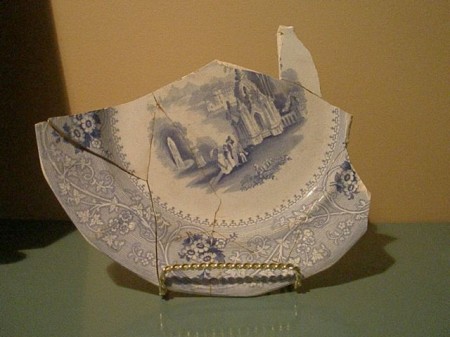 ….and today people love to dig through them to see what they can find.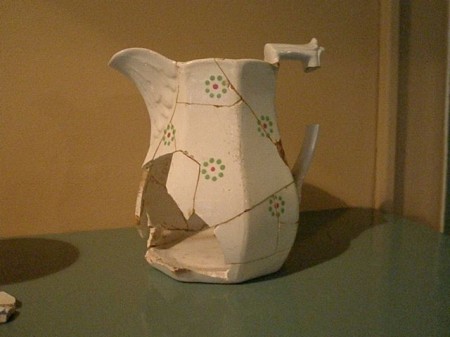 The good china was in the butler's pantry.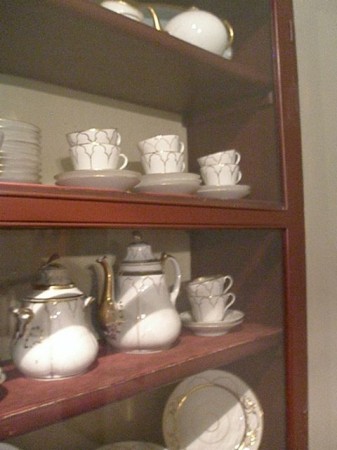 Very pretty.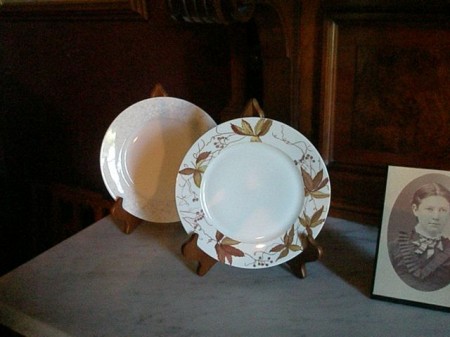 Another beautiful oil painting.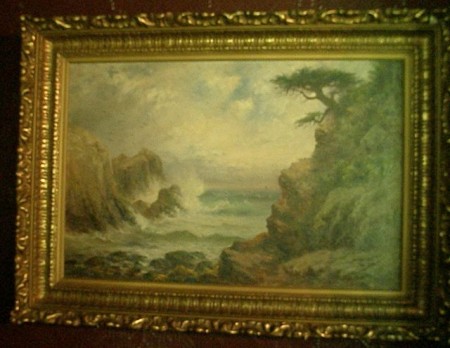 Mr. Bush again. I was in love with this frame. It was made by someone locally.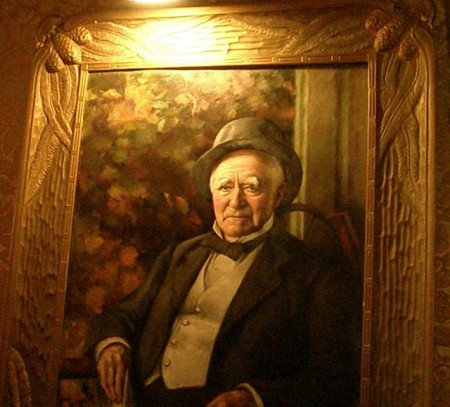 It was the pinecones that sucked me in.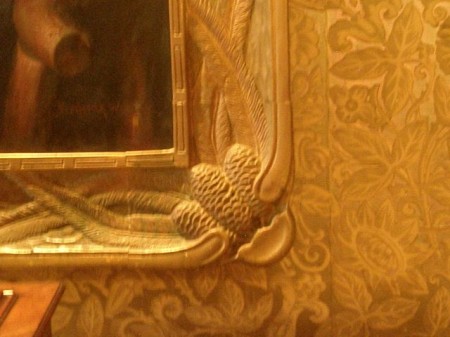 Ah, finally, the quilts! This Arkansas Lily was hanging on the banister upstairs. Often times in the old red and green quilts, the green will have faded to a soft tan.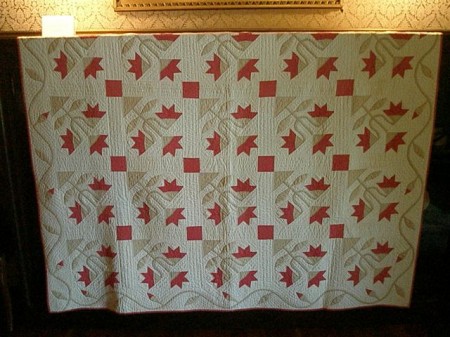 This light fixture was a combination of gas and electricity. People just weren't sure that new-fangled electricity was going to catch on!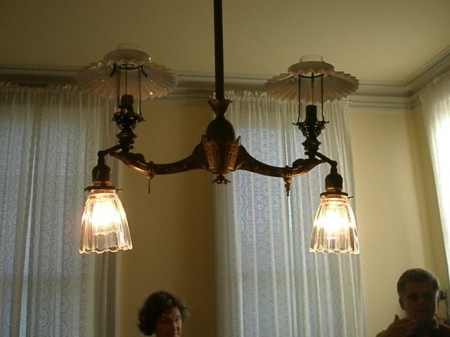 A gorgeous medallion quilt with eagles.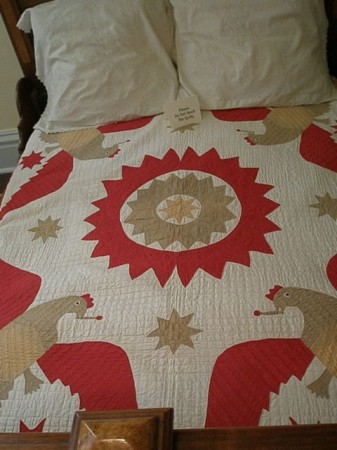 Again, you can see that the green dye was fugitive. But remember, these quilts are 150 – 170 years old!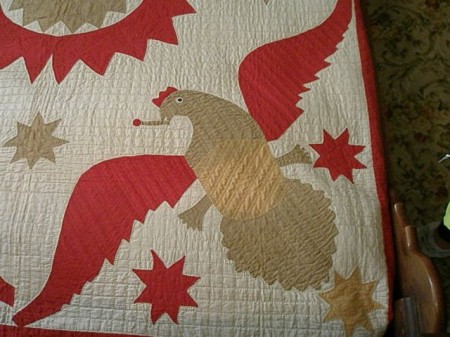 I don't think ladies of the day carried as much stuff in their purses as we do!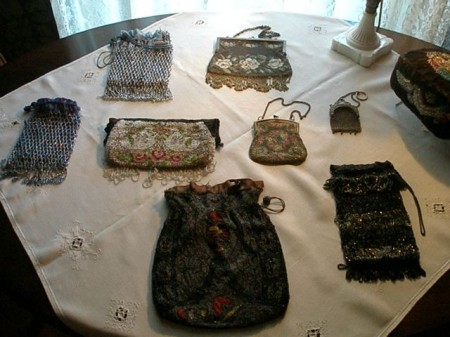 This quilt is in pristine condition.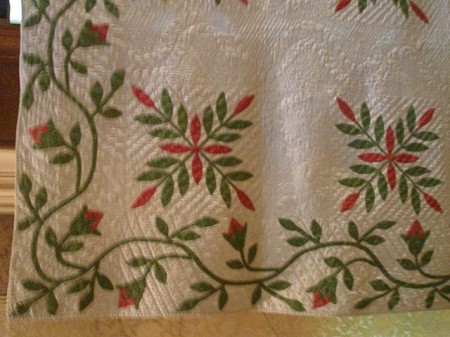 I hope you can see the beautiful quilting on it.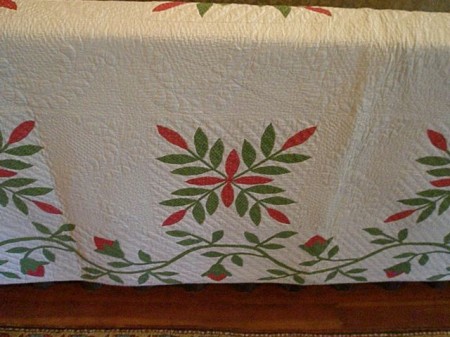 Of course a lady always had hand work at the ready. Idles hands are the devils workshop, after all!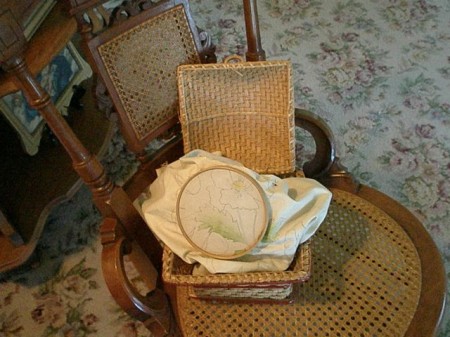 Another beautiful Lilly quilt.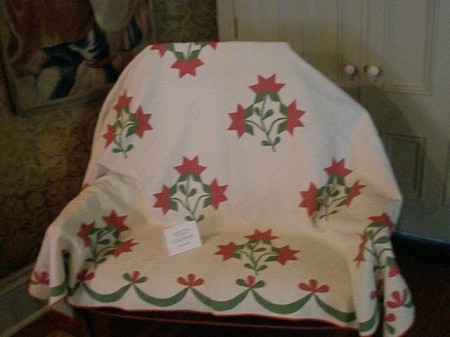 I love the scalloped border.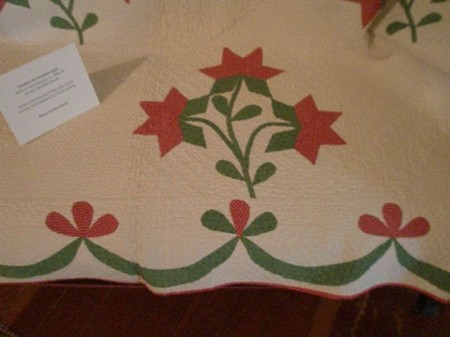 Here's an interesting piece.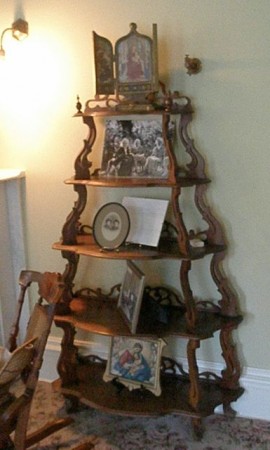 This Palm quilt was stunning.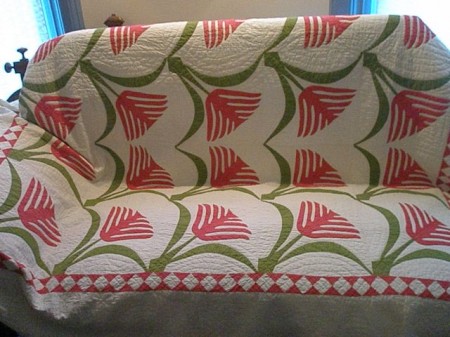 I love how the border anchored everything.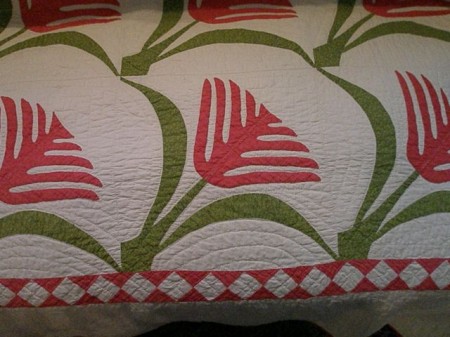 One of the bedrooms had this gorgeous wallpaper border.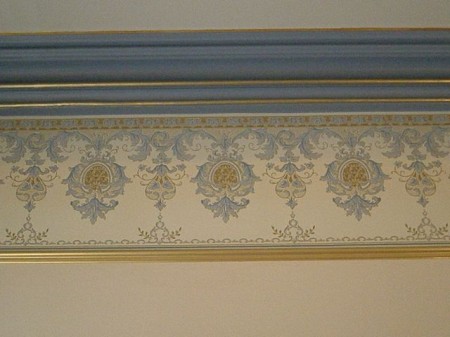 I believe this is a variation of the Whig Rose pattern.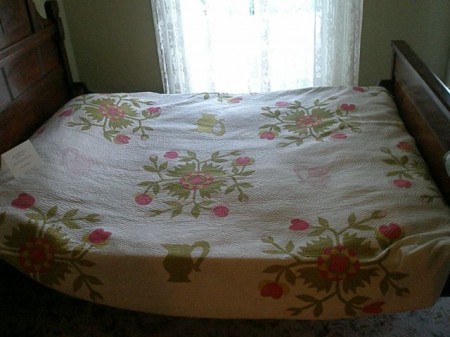 The fan quilting is amazing.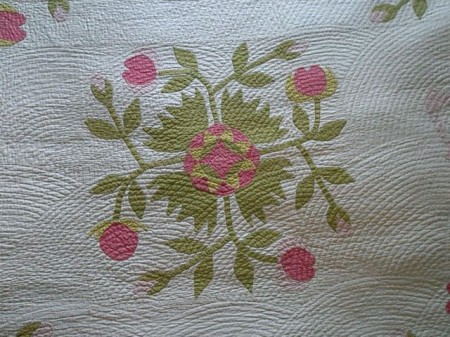 And I love the pitcher, or urn, appliques.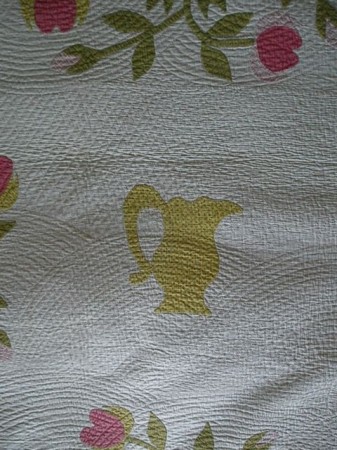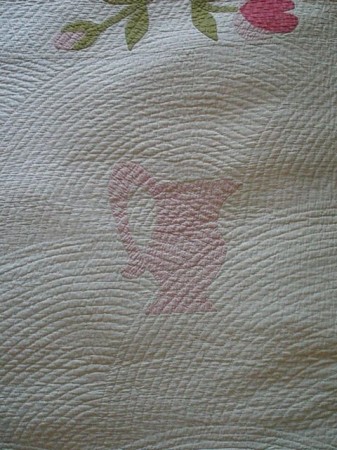 One last oil painting to share with you.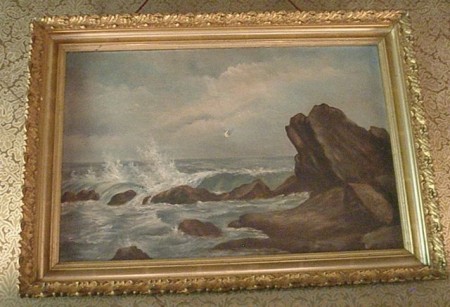 This Pomegranate quilt also uses a popular color from the 1840′s—cheddar.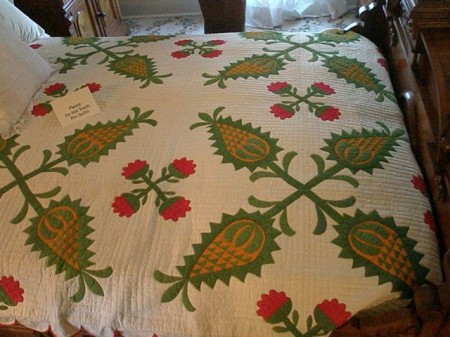 Again, this quilt looked like it was brand new.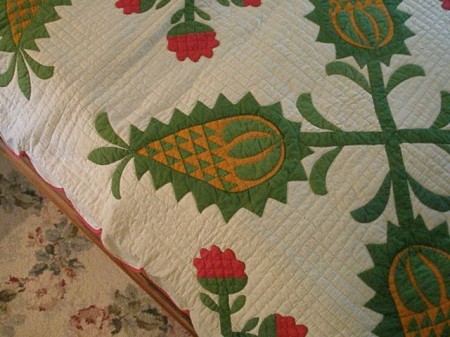 This Mariner's Star is quite spectacular.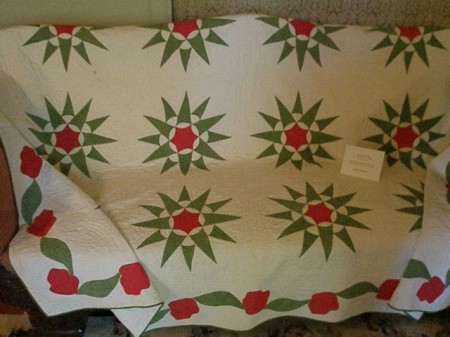 The floral border is unusual on a quilt like this.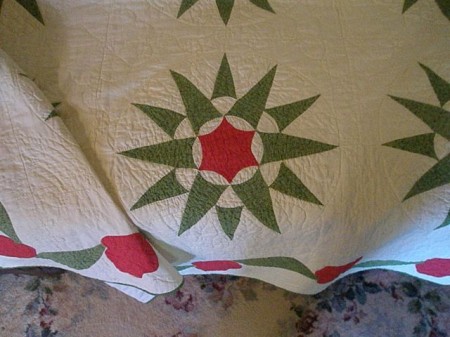 Oops! Someone left out their underwear box!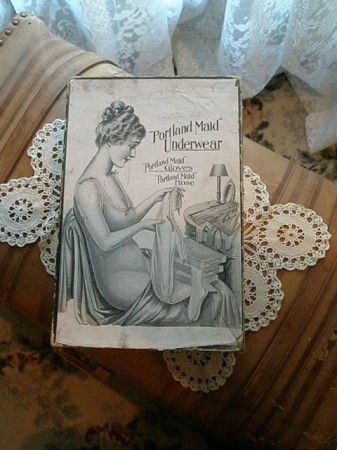 Part 3 still to come–photos from the quilt show!