Last weekend, we celebrated a Swedish Midsummer here at home. I would rather have been in Sweden, but this was the next best thing.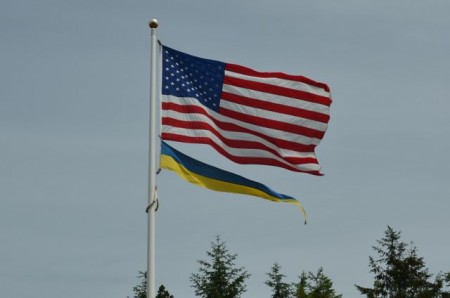 I was up early to get started….
The front porch was decorated with flowers, birch branches and Dala horses.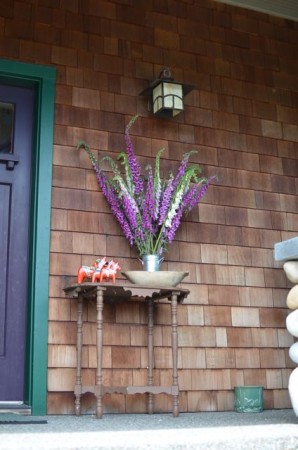 It all starts with the midsummer pole.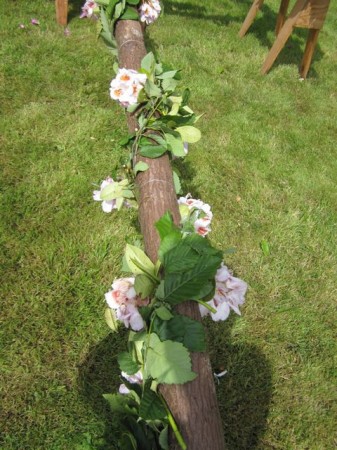 We had fox gloves and rhododendron blossoms adorning it this year. Melissa and Matt helped!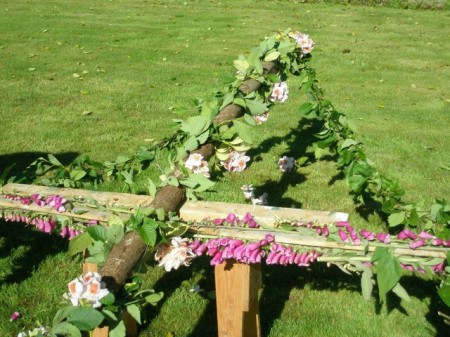 And, for the first time, we had a rooster on top! In Sweden the rooster is another symbol for the renewal.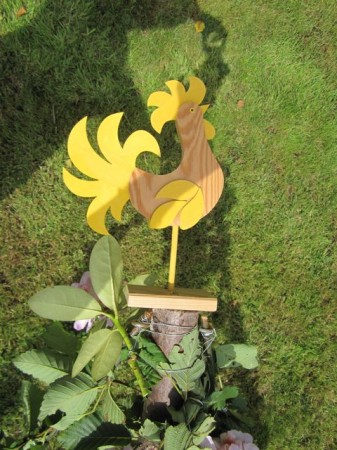 Time for the ceremonious raising of the pole.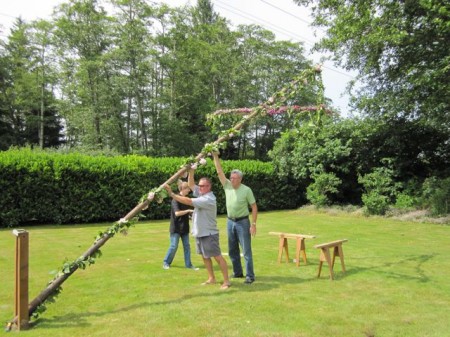 As you can see, our small one only requires two (strong) men.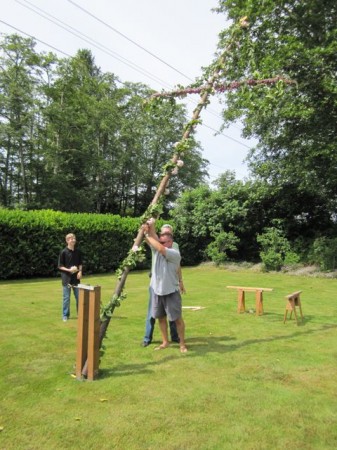 Cole helped lock it in place.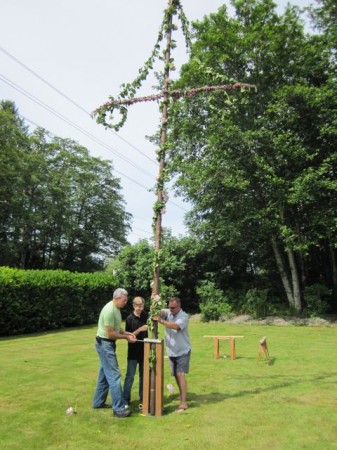 The rhodies were a nice addition.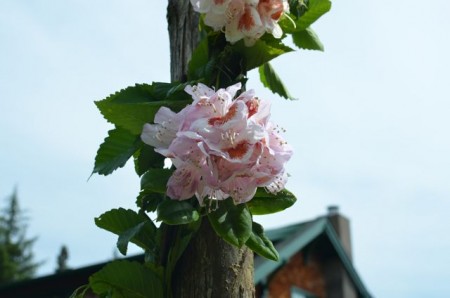 And speaking of nice, we had a really nice day. Even my mom, who doesn't usually enjoy nature, was comfortable sitting outside.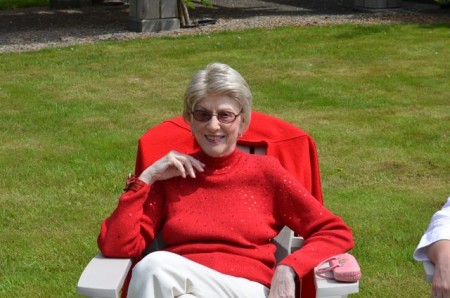 Dad was here, too.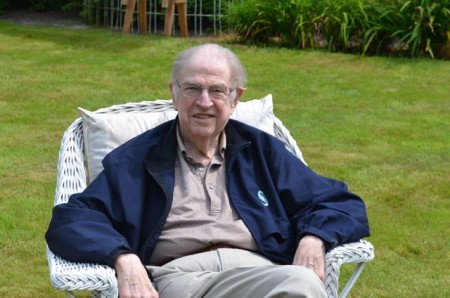 And Melissa…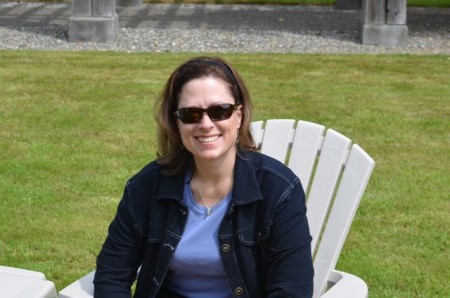 …and Matt.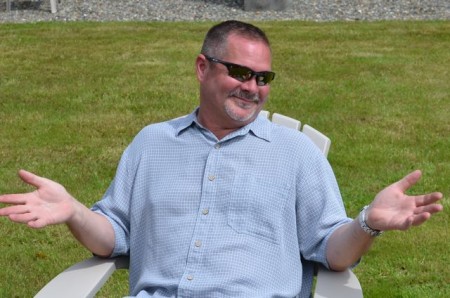 Of course Sally was here, and so was Ray, but he was taking pictures and didn't end up IN any pictures!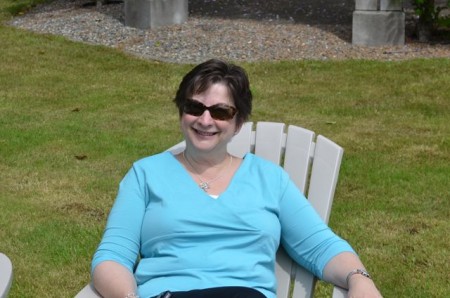 Cole was here.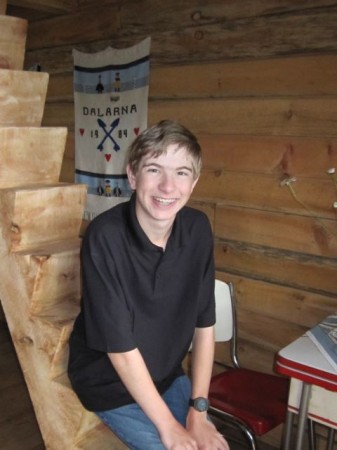 We all danced around the maypole, even my dad! That left no one to take pictures, but that was okay. Dancing is always more fun than taking pictures.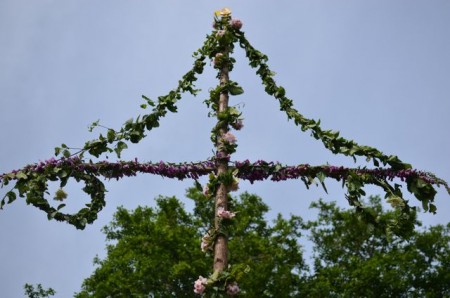 Then we spent a little time in the cabin.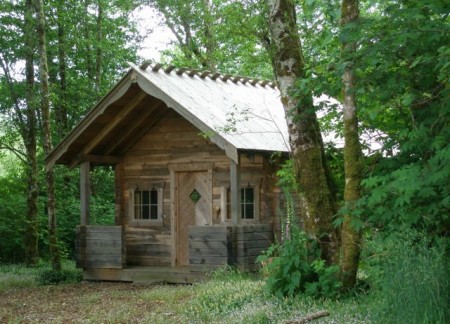 All seemed quiet around the troll house!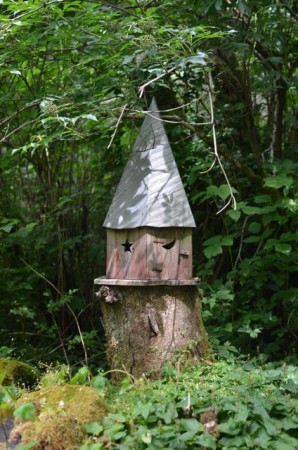 I have two new chairs on the porch. They were made by Josh Blewett, who also made the stairs in the cabin.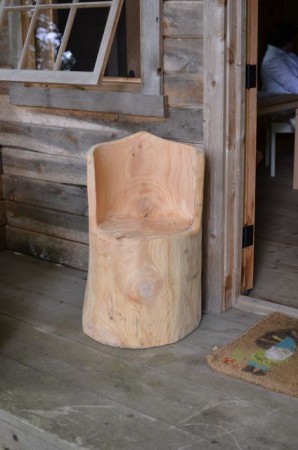 I found a good supply of wild daisies to pick for decorating.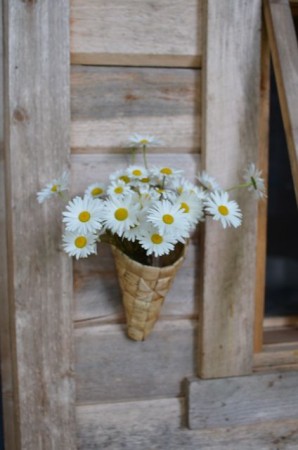 And Melinda shared some flowers from her garden.
Mom, Melissa and Matt enjoying the sofa.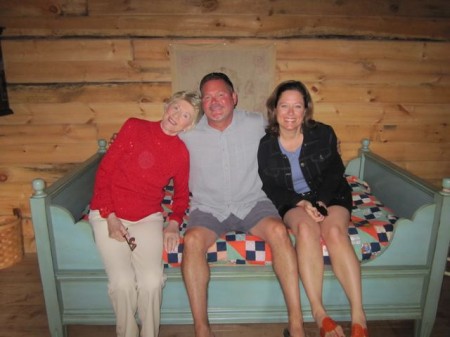 Then Melissa and Matt had to check out the loft.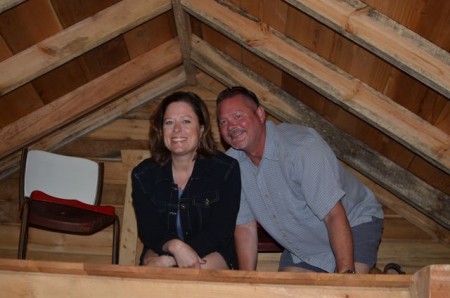 Here's one of the weavings my Swedish cousin, Berit, has made for me.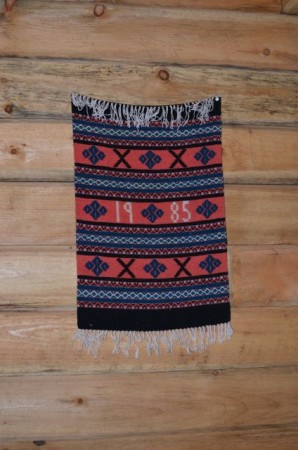 And the corner cupboard I bought in Sweden in 2008.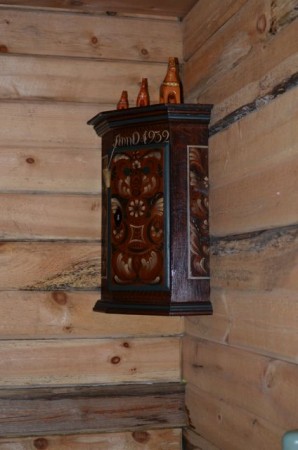 This wonderful embroidery is new-to-me. It talks about the red cottage with it's weeping birch tree and remembering your childhood days.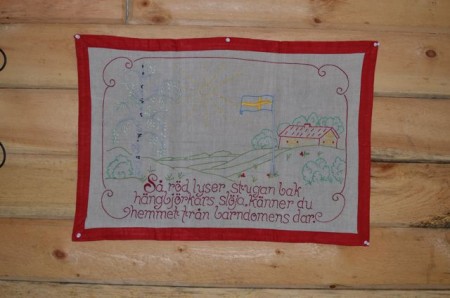 This candlestick is a copy of one from the 16th century and it has a LOT of symbolism. Rooster – Watchfulness; Three candles – the Holy Trinity; Two jagged arches – Christ's Crown of Thorns; Ten holes – the Ten Commandments; Heart – Love; Twelve leaves – the twelve Apostles. Whew! You can see another beautiful weaving of Berit's under it.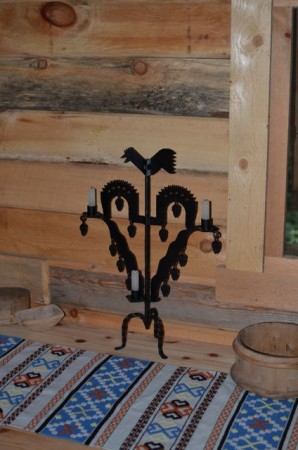 In Sweden the lupine is always blooming profusely during midsummer. The best we could do were these wild foxgloves at the edge of our woods.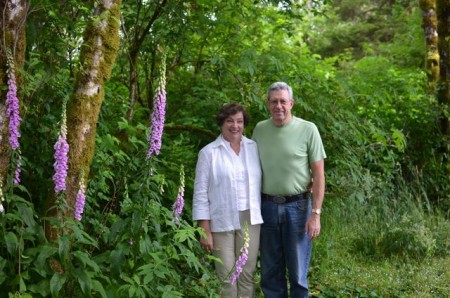 Inside I pulled out some of my Swedish souvenirs. The three dolls in the middle are dressed in parish costumes. The blue one is from Transtrand where Melissa's grandpa's family came from. The boy and the girl in the red dress are dressed in Nås clothes. Nås is the town Anna Lena came from.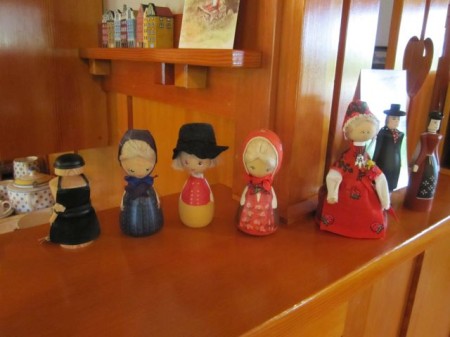 These adorable candle holding girls I bought in Sigtuna, Sweden–the oldest city in Sweden.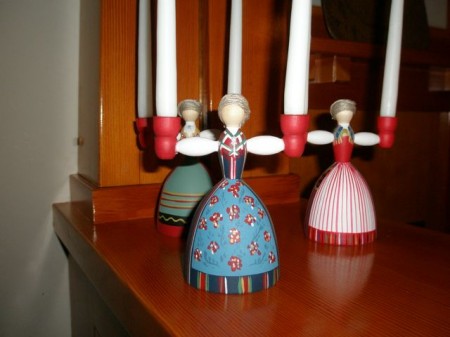 Of course midsummer isn't just about a maypole, it's also about FOOD! My sister, Sally, loves dishes and has, shall we say, several sets. She brought her blue and yellow ones, which were perfect because they are the colors of the Swedish flag.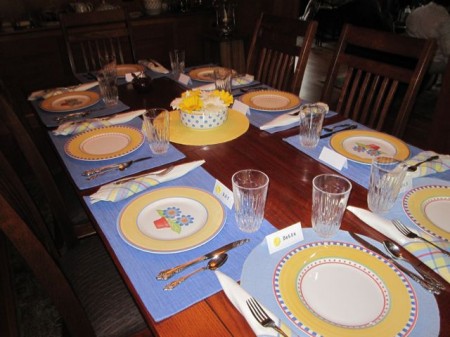 There are two styles of plates.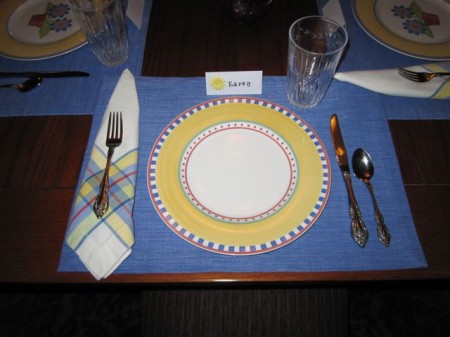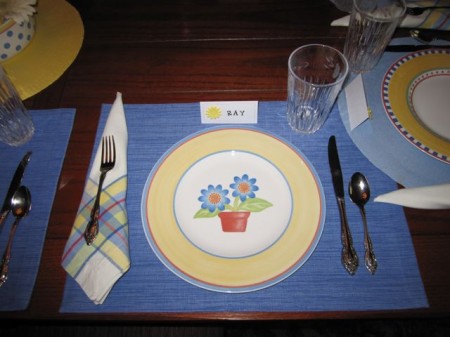 And lots of adorable serving pieces.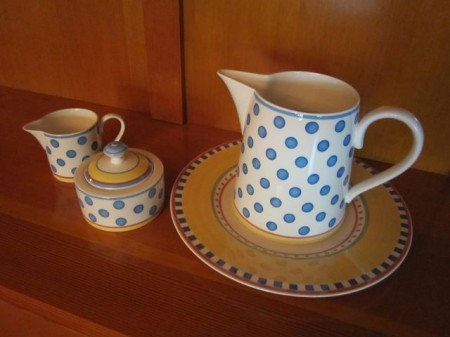 Our meal consisted of hard bread. One of my favorite Swedish finds is this Dala horse server.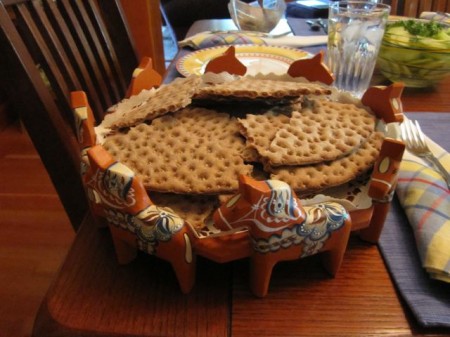 The hard bread is a brand from Dalarna–my "home" province. My grandma always told me Dalarna was the prettiest part of Sweden!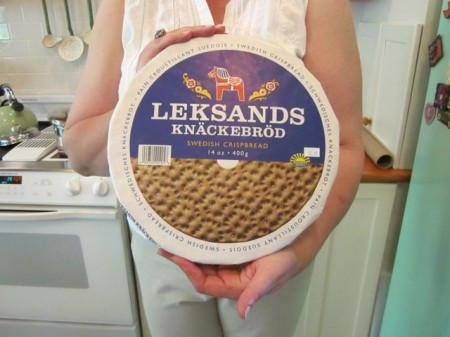 We had a variety of cheeses to go on the bread.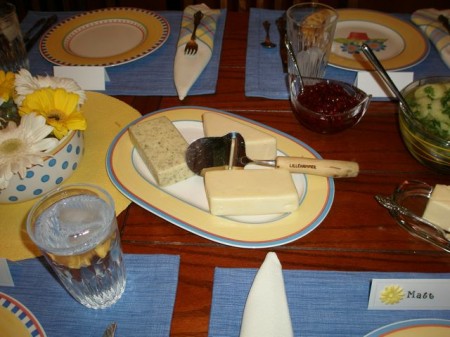 And, of course, pickled herring, served in a special herring boat.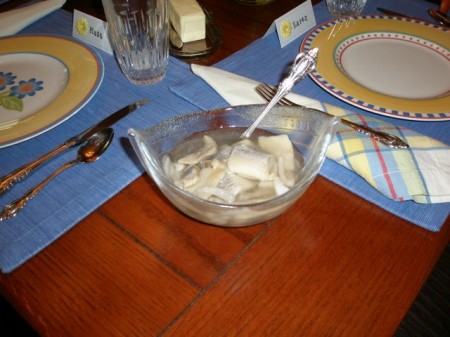 It wouldn't be midsummer without meatballs and lingonberries. I made 150 meatballs for 9 people!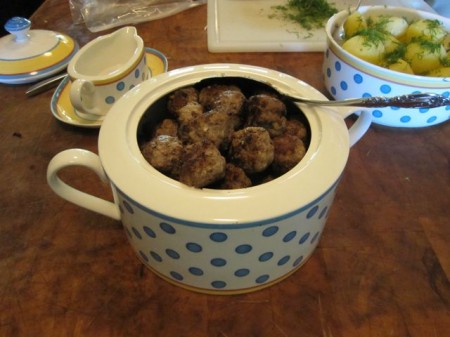 We had new potatoes with fresh dill.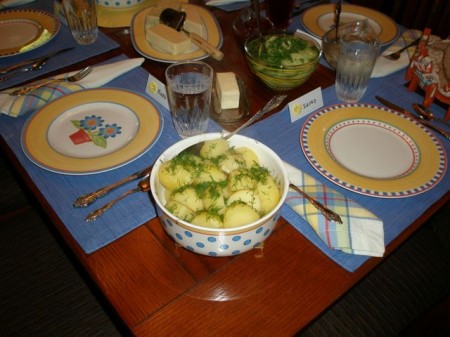 Pickled beets.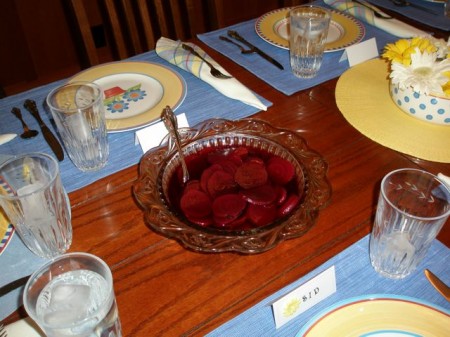 And cucumber salad.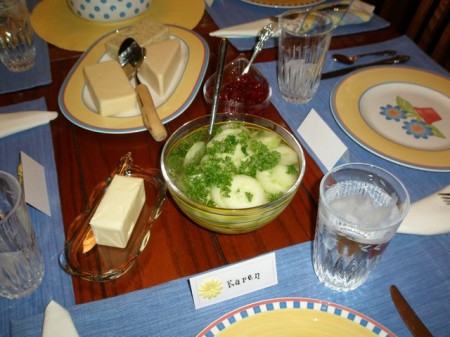 And, of course, we had TWO desserts. I made a Princess Cake. It's my third one. This year I wanted to do something different, so made a long loaf rather than the traditional round cake.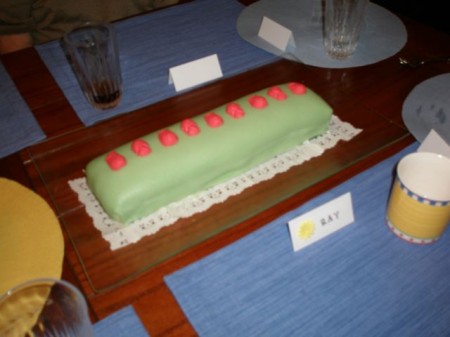 And we had to have a Strawberry Torte.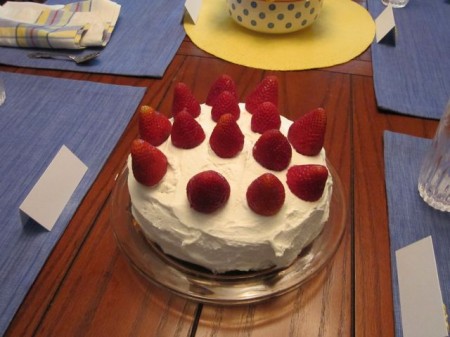 It was so much fun to be with family and sharing a bit of our Swedish tradition. Maybe next summer I'll be in Sweden, wearing my Nås dress and dancing around the may pole.