I had a great day of antiquing lately. Nan and I hit several quilt shops after my talk to the Comforter's Quilt Guild. While on the hunt for another shop, we went around the block a couple of times, couldn't find the quilt shop, but did see a good looking antique mall. Sounds of braking! We found ourselves at the Third Street Antique Mall.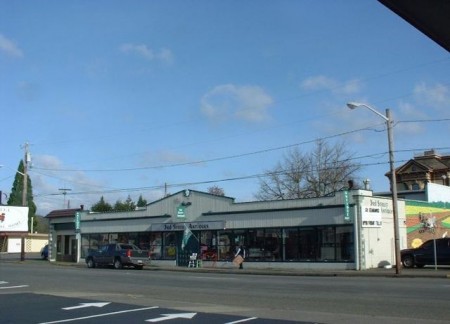 It was huge, and I found lots of treasures, including a couple of bags of doll clothes. I'm not really into doll clothes, but I am into FABRIC–and there were a few in this bag that I just had to have. Now, even though I'm not into doll clothes, I must admit there were some pretty cute things in here. In the top row, besides the two calico print dresses, is a darling crocheted cap, and the bath robe in the middle is flannel. In the bottom row, there is a satin dressing gown in the deepest, darkest purple, an adorable slip and another calico dress.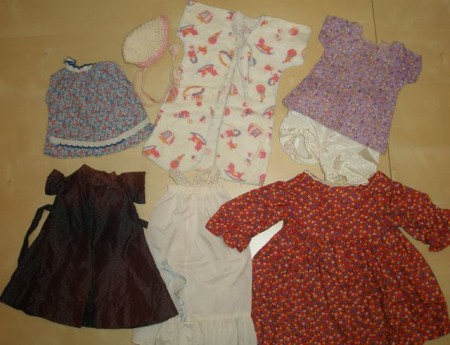 There were also two pieces of Barbie-sized clothes. I don't think she was meant to wear the black velvet cape with the riding jodhpurs! It does make a rather dashing statement, though.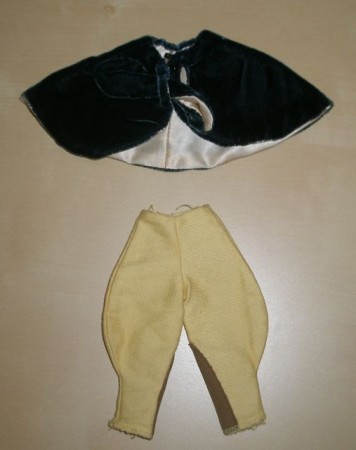 This little girl's sunbonnet was too cute to resist.
This Dresden plate block had been backed to be used as a table topper or placemat. There are some nice fabrics in it.
I was delighted to find this large piece of feedsack! I actually have a smaller piece with this same design, but I couldn't pass this up–especially with the orange in there!
This doll quilt is made with a "cheater" fabric with polka-dots.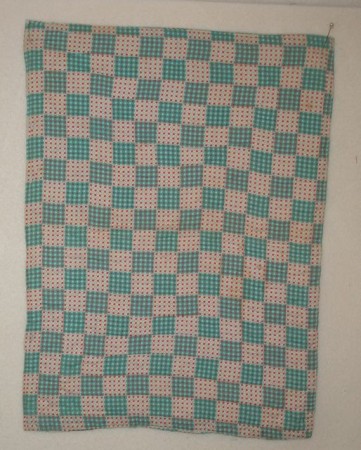 And this Sunbonnet Sue is on linen–real linen! It seems like such a contrast, lovely linen and a calico Sunbonnet Sue.
I tried to pass up this lovely piece of Redwork, but it was only $5.00. $5.00! It had to come home with me.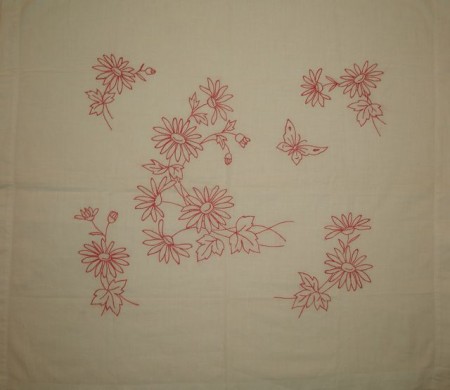 Like I keep telling Bob, it's research!