Of course, if I had my way, I'd have been in Sweden for midsummer. But, not this year. So, we had a midsummer celebration here in Long Beach.
First, the Swedish cabin in our woods needed some attention.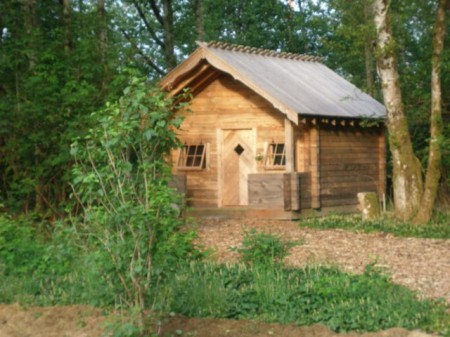 We'd been using a ladder to get up to the loft, but I wanted stairs that were carved out of one log like I'd seen at farm museums in Sweden.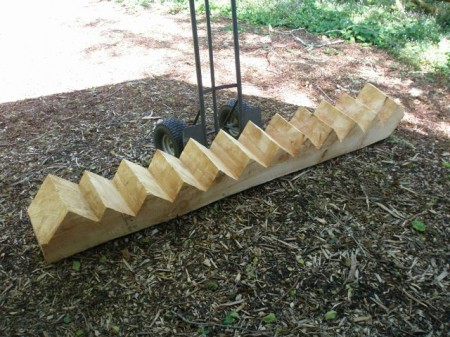 Josh Blewett, a local chain saw artist, did these for me.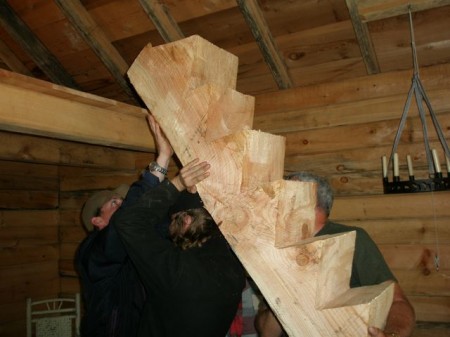 It took a lot of "oomph" to lift it up.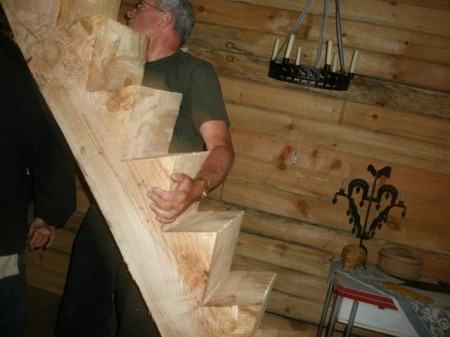 And then it needed some tweaking.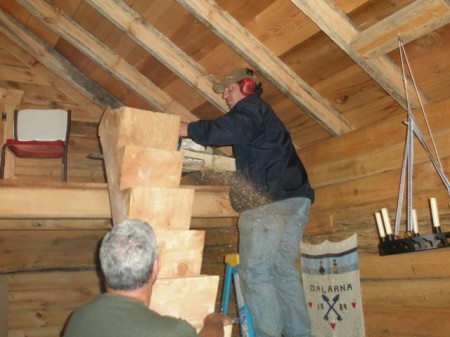 They had to take it down…….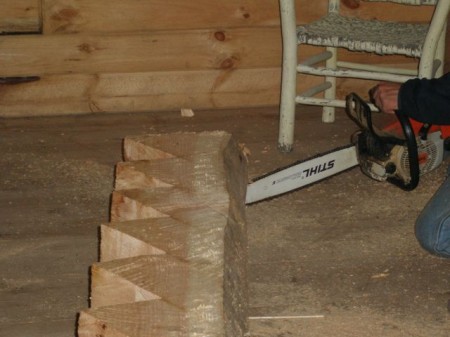 ….and put it back up a couple of times.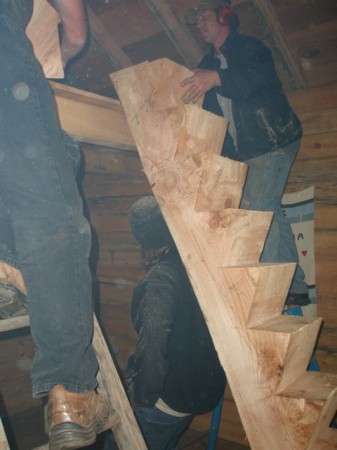 In the end, it was a perfect fit.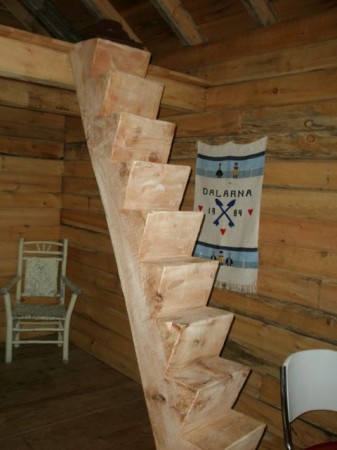 I took the inaugural climb, and Josh joined me in the loft.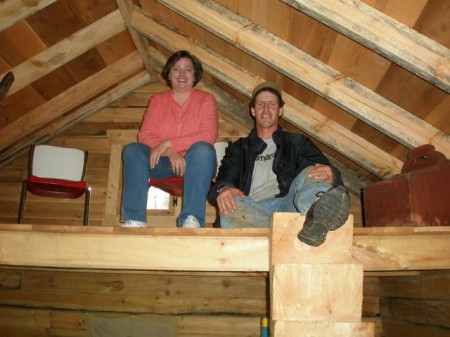 Last summer in Sweden I bought a wind vane that's based on an historic design. Note: It's always good to buy heavy items made of metal to put in your suitcase–especially early in your trip.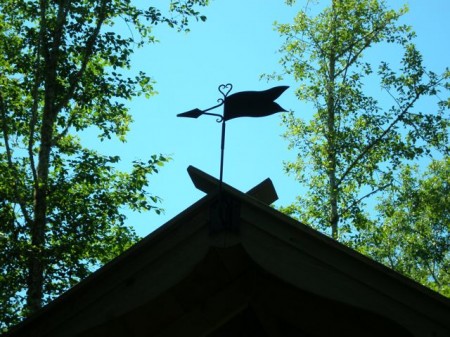 John Bahner made a beautiful mounting bracket for it–even duplicating the heart that's on the vane–and got it done in time for the weekend festivities.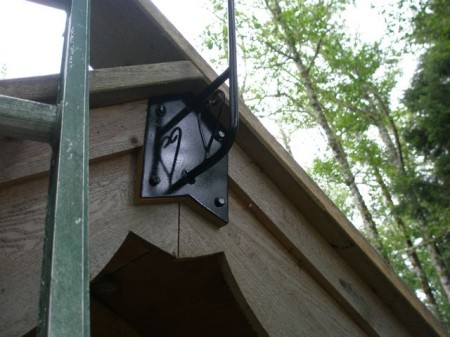 The setting around the cabin is so beautiful this time of year.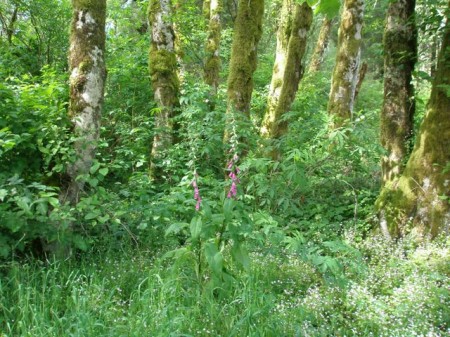 I love the delicate ground cover called miner's lettuce.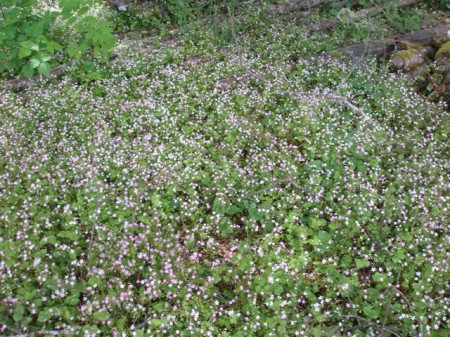 It even manages to find its way into the crotch of the trees.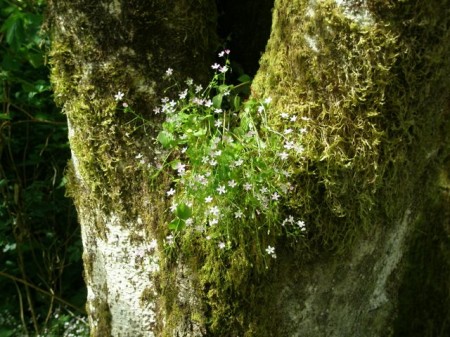 The log by the troll house had a nice crop of mushrooms.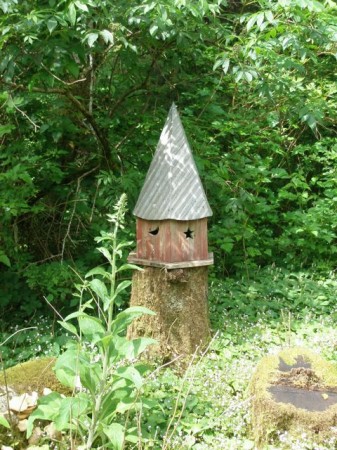 I think the trolls may be cultivating them.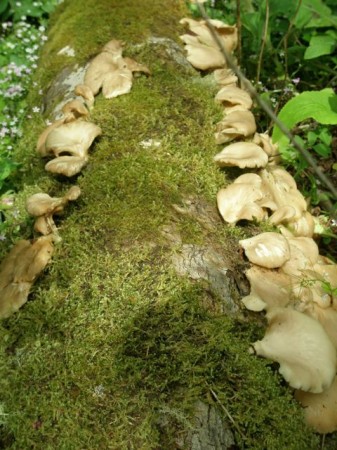 On the morning of the midsummer celebration, Bob had the maypole in place and ready to go.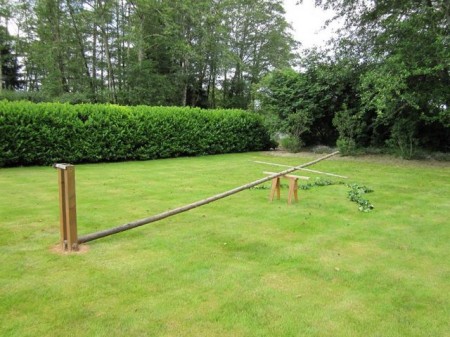 I spent the morning making garland. I wish I had birch leaves, but alder had to do. Bob and my cousin Susan help me bring everything to the maypole.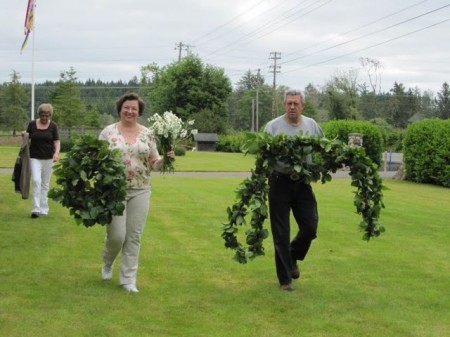 Cole supervises as I wrap.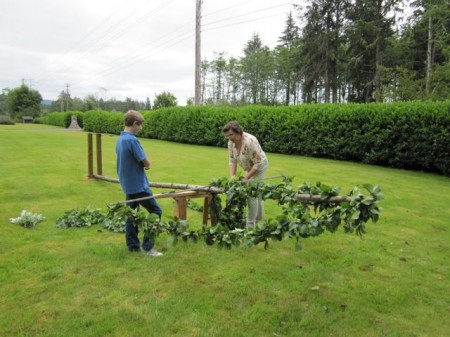 The onlookers–my mom, my brother, my uncle, my dad, my uncle and my cousin. Quite the family affair!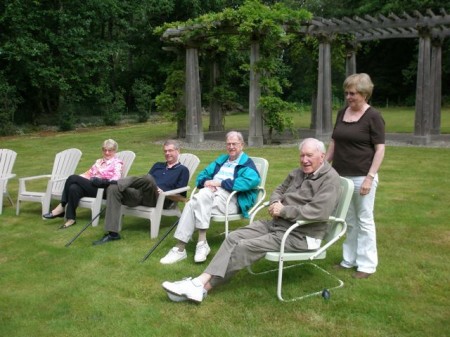 The decorated maypole.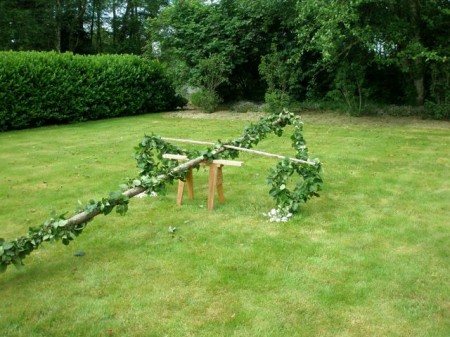 The three guys get ready to lift.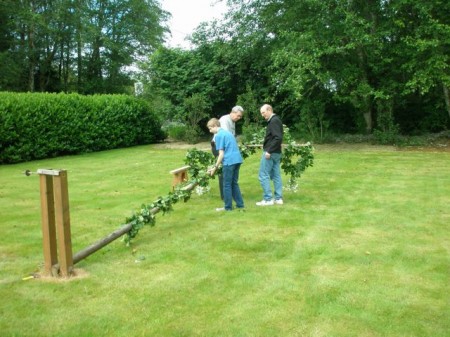 Can they do it?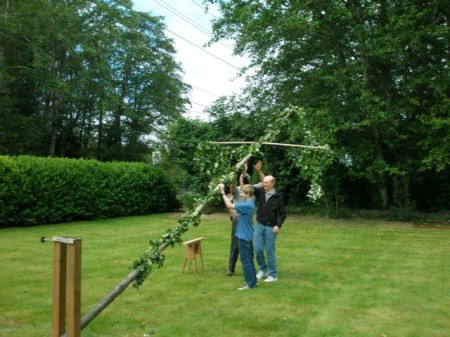 Higher……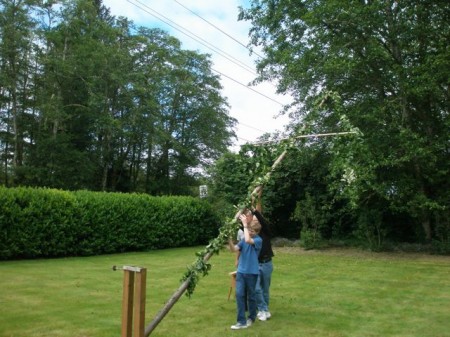 ….and higher……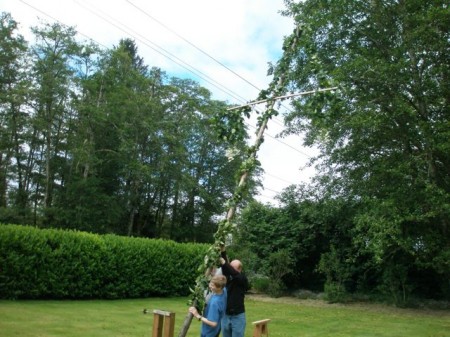 Yeah! It's finally in place.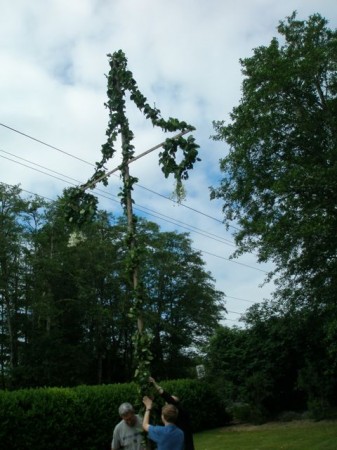 Locked in.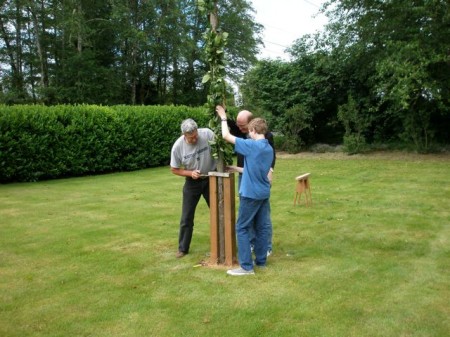 By afternoon, we had sunshine and blue skies–perfect for picture taking.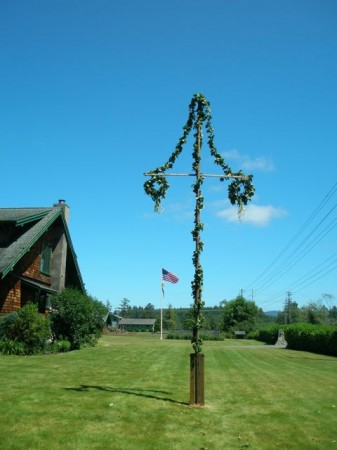 Midsummer means lots of flowers for decorations. These are on the cabin.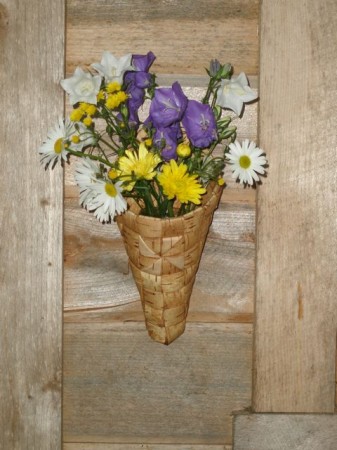 I especially love the wild fox gloves.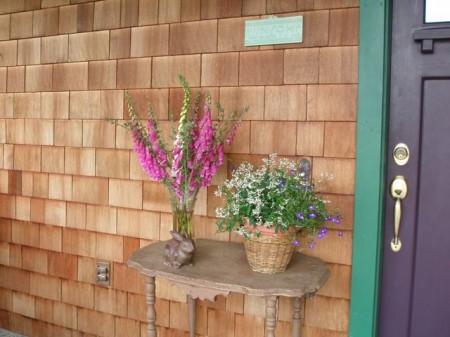 This is probably my favorite bouquet. These flowers grow wild behind my studio.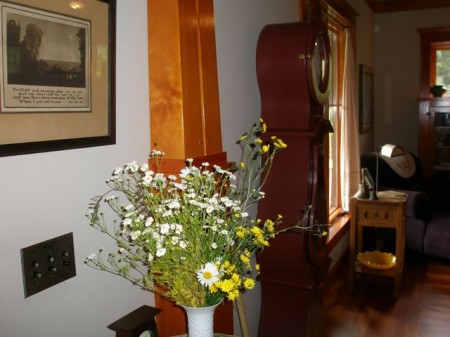 A little something for the living room.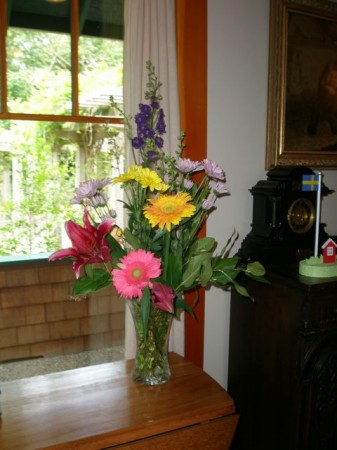 It's traditional to decorate the entrance to your home with birch trees. Since none grow around here, I bought two at the nursery. Now I'll plant them by the cabin. I figure if I do this every year, I should have a whole birch forest in about 80 years!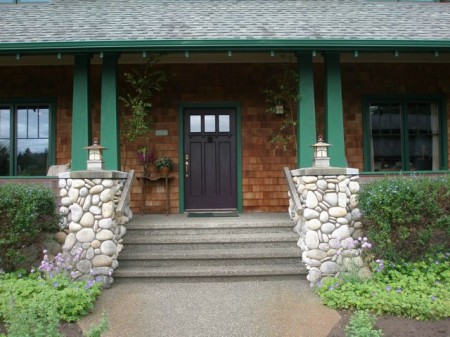 My collection of Swedish horses came out for the occasion.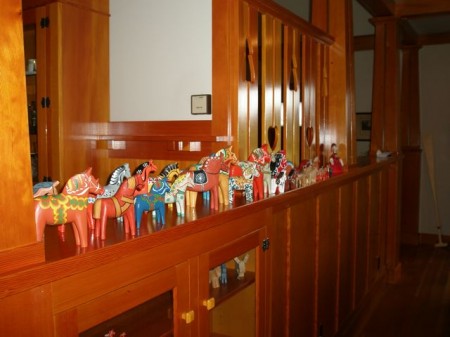 Dinner's nearly ready and Sally is pouring water. We had the traditional meal–meatballs, dilled new potatoes, pickled herring, rye bread, lingonberry sauce and cucumber salad.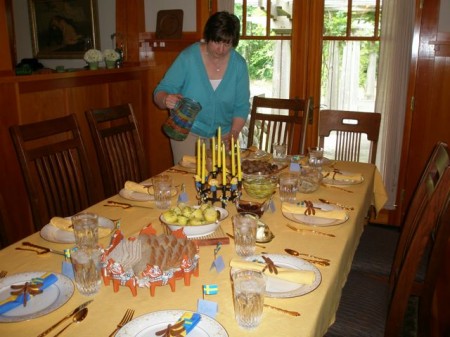 And two desserts–strawberry whipped cream roll and princess cake.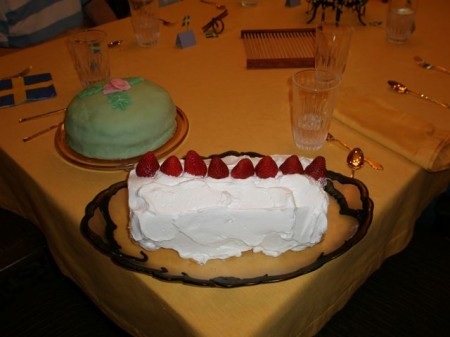 Later in the day we relaxed in the cabin.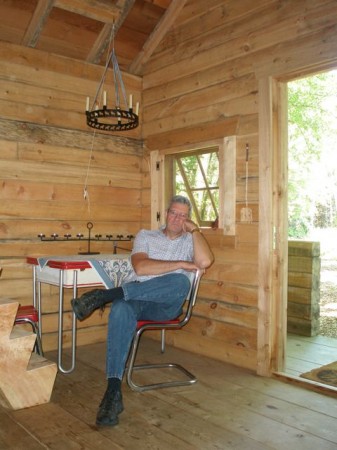 The weather was perfect for being out.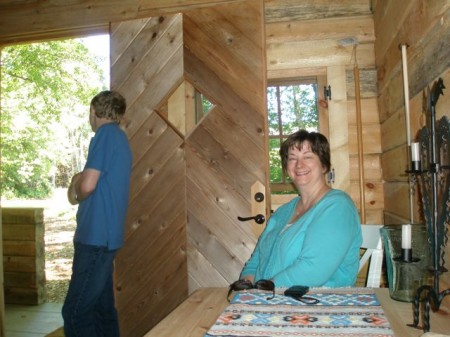 Before the day was done, we had to have our picture take in the lupine.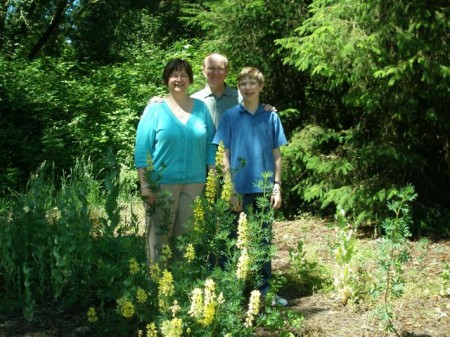 The lupine in Sweden grows wildly and abundantly. I'm trying to get the lupine established in this area of our yard, but I have a long way to go.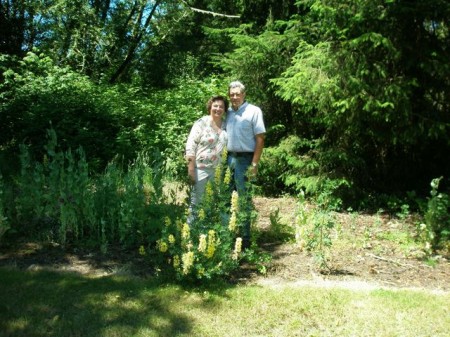 So you can see what I mean, here's a picture taken two years ago in Sweden. Can Cole really have grown so much in just two years!?!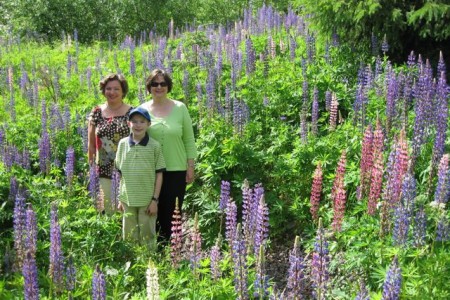 Glad midsommar!