More quilts from the quilt show in Houston.
Patriot's Dream by Barbara Shrout, The name is inspired by a line from America the Beautiful—"O beautiful for patriot dream that sees beyond the years…" I love the curved edges.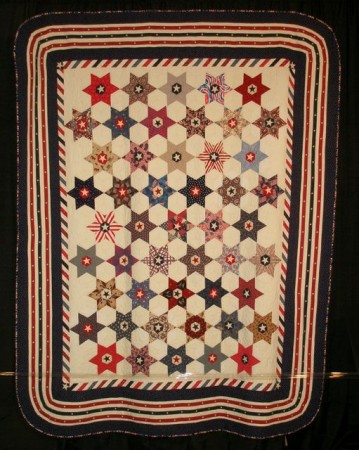 Barn Raising by Lauren Semple. Isn't it amazing what can be done with half-square triangles!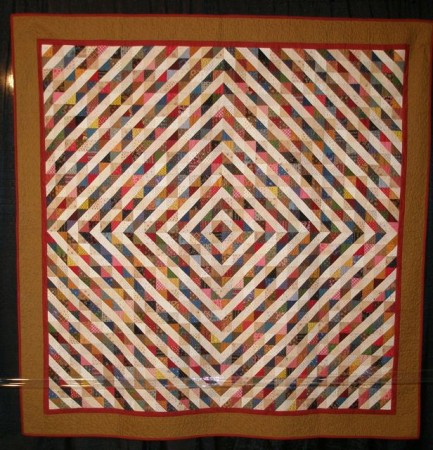 Standing Strong by Sharon Dixon.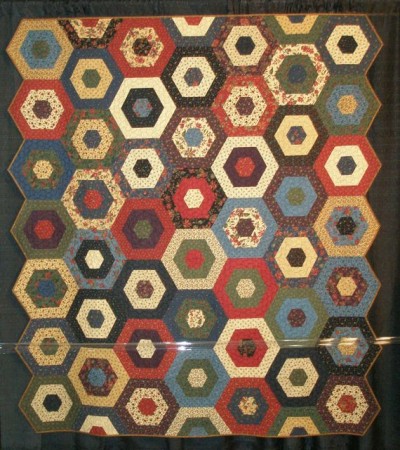 The Secret Life of Dancing Tulips by Jeanne Brenner. The title refers to the dancing tulips subtly quilted into the border.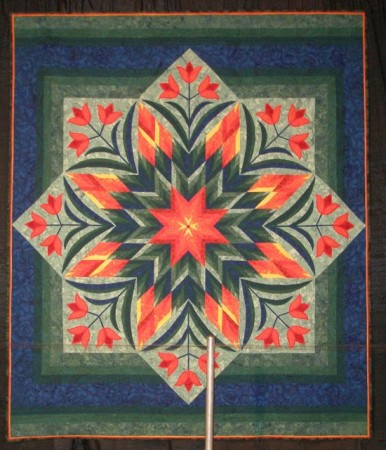 I love the shading achieved by different tones of the same color.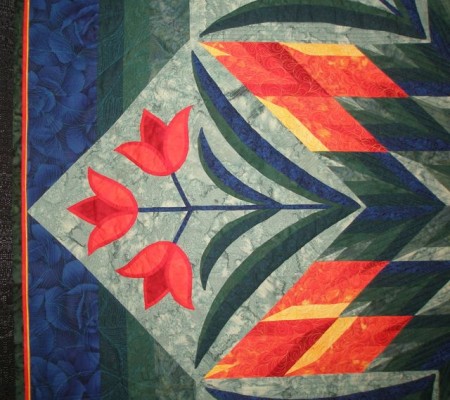 Sunflowers 2 by Charlotte A. Hickman. I think sunflowers are such happy flowers!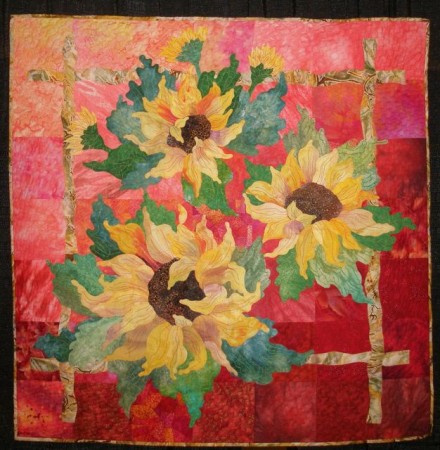 Black-Eyed Susans and Yellow Mexican Hats by Mary Ann Vaca-Lambert.These two flowers grow wild along the roadside in Texas.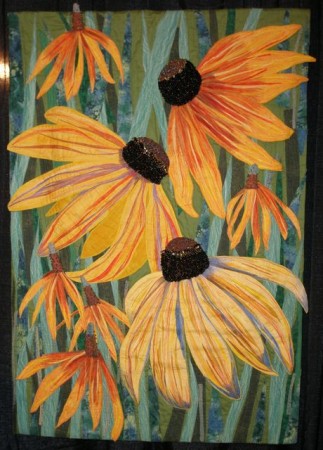 Portraits of Flora by Timna Tarr. What a great use of many, many fabrics!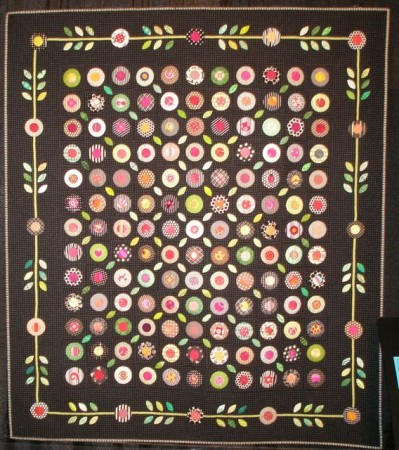 This next quilts wasn't at the show in Houston, but there's a reason I'm showing it here. It's called Checkerboard Vortex, maker unknown. It's quite famous in the quilting world, appearing in many books and at the recent Red and White quilt exhibit in New York. This quilt was made around 1920! In the book Twentieth Century Quilts 1900 – 1950 it's described as, "Extraordinarily contemporary in its design, this amazing quilt is a triumph of precise design and piecing, and it it an astonishing precursor to the art of Vasarely." Like many others, I'm in love with this quilt.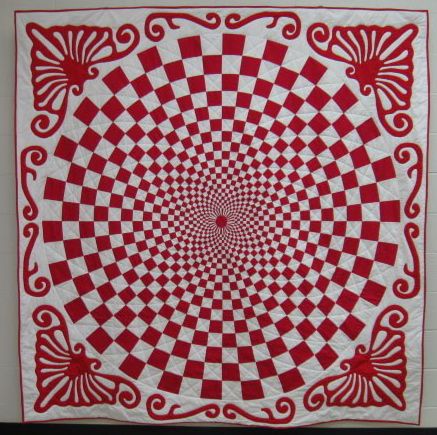 Incredibly, Nora Ronningen has made her own version of the quilt which she calls Vortex in Variation.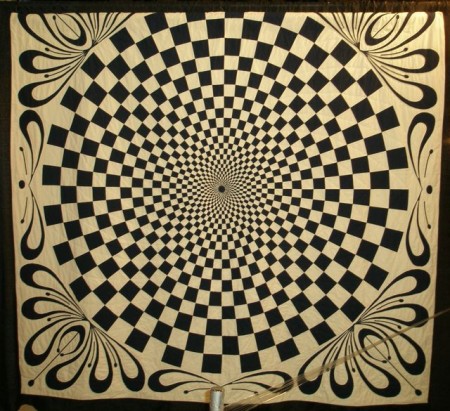 I could hardly pull myself away. It was stunning!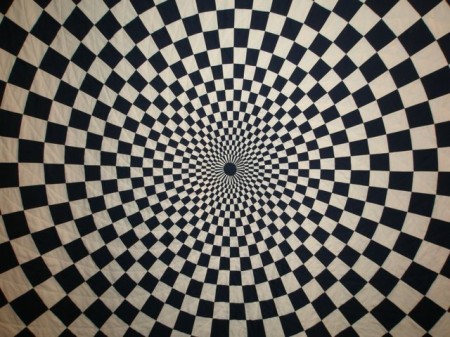 Preserve Nature, Preserve Self by Susie Johnson. Did you know the gingko tree has been around for 270 million years!?!

Redwork Revisited by Susan Dague.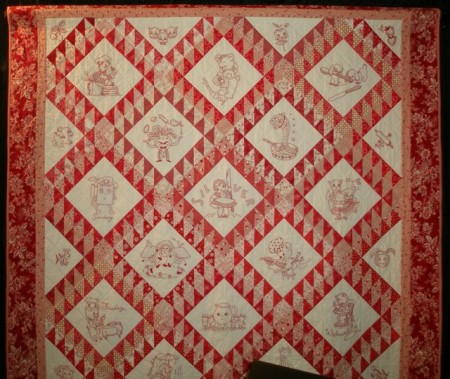 The maker used old kitchen transfers for the designs on this quilt.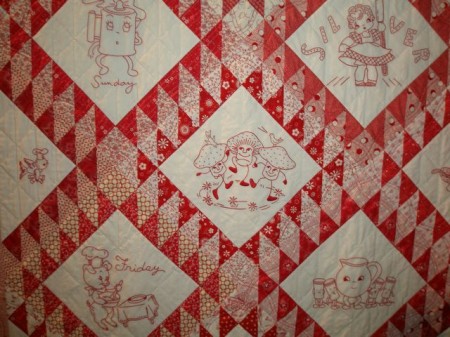 I think the sashings are great, too! They are just half-square triangles.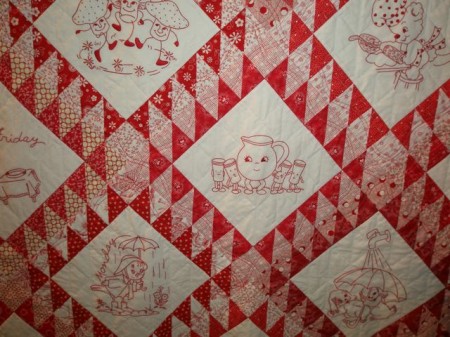 One of the exhibits was called Text on Textiles. In the display area were several old typewriters. Wow, an orange one!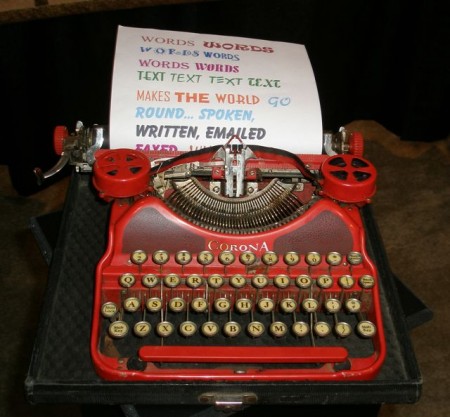 Ethel's Diary by Eileen Campbell is a great use of photos and words on a quilt.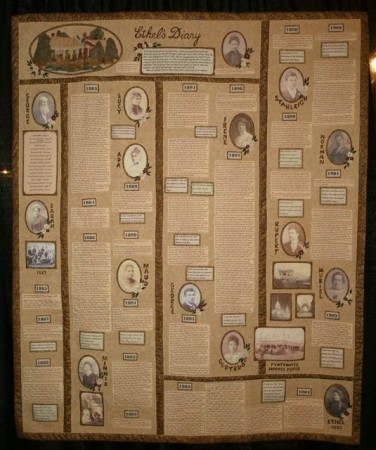 I remember pressed tin toy typewriters like this one!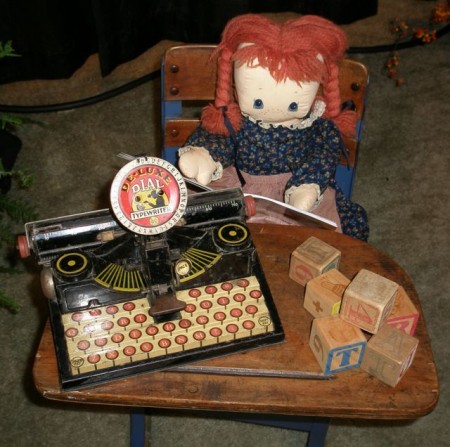 This adorable portable is a lot like the one we have that Bob's grandfather used in his "Tailoring Parlor" in Libby Montana in the early 1900′s. The carriage flips forward and the whole thing fits into a case!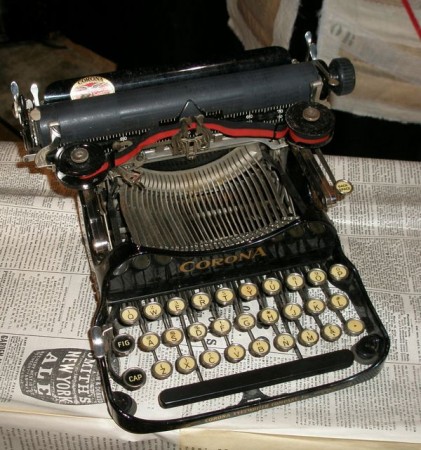 Salvaged Words by Jette Clover. There are pages from vintage books used on this quilt!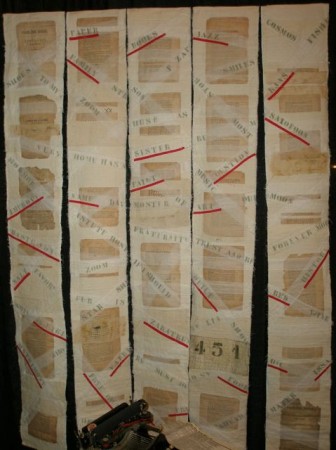 I've used words and photos on labels, but not as the main focus of the quilt. This is from my Dearest Brother quilt, which tells the story of Anna Lena's life.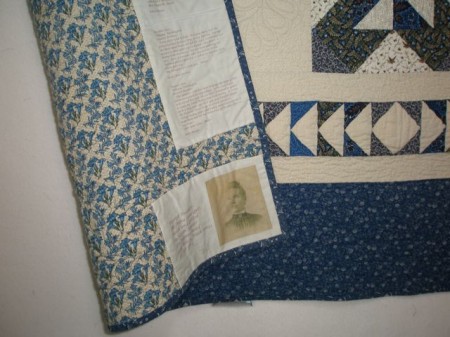 Hmmm, that might make a good blog post!