This woman knows how to party!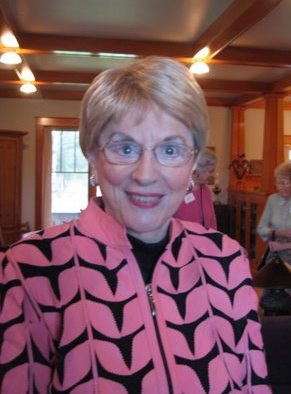 Saturday was my mom's 86th birthday. But I have to tell you, the partying started weeks ago and hasn't ended yet! I think Wednesday will be the last party–and that makes nine! I figure that's one for every decade she's been alive, so it's the perfect number.
On Friday my sister and I hosted 19 ladies for a high tea for Mom. It was lots of fun. Both Sally and I love to have tea parties. For this one she was in charge of the invitations, place cards, name tags and menu printing. Not to mention she's great help in the kitchen!
My friend and neighbor, Melinda, made the centerpieces. Aren't they wonderful. She is incredibly talented! Thank you, Melinda.
We had two tables to accommodate everyone. One is the dining room table and the other is a great drop leaf table made for us by Wayne Ivy. It's five feet round when the leaves are up, but when they're down, it's only 14″ wide! I have some wonderful vintage china and it's so nice to have an excuse to use it.
Here are they ladies. Look how Ardell managed to get in the photos of both sides of her table!
We did the tea in four courses. The first was the Tomato Basil soup–meant to be sipped from the tiny cup–what fun!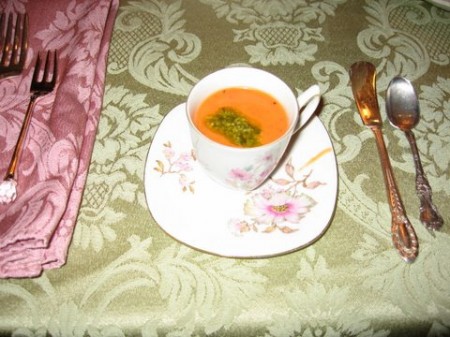 That was followed by a Lemon Sorbet Intermezzo (great word, huh?) in a teeny, tiny tea cup.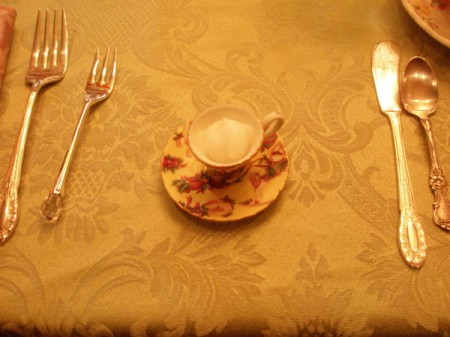 Then we had tea sandwiches, fresh fruit and scones. The sandwiches were chicken salad with hazelnuts and dried cranberries, cucumber and cream cheese and egg salad. The scone was heart shaped (a favorite of my mom's) and had currants and was served with Devon cream and lavender jelly.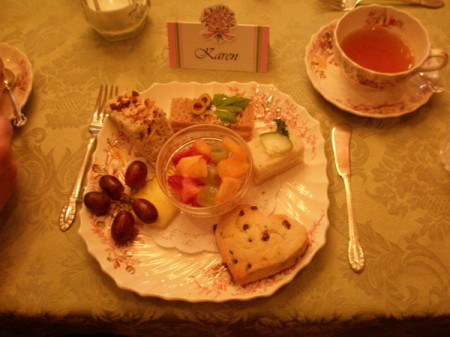 We followed that with the dessert plate. It had a decadent honey nut bar, lemon bars (another mom favorite), profiteroles with chocolate ice cream and a strawberry.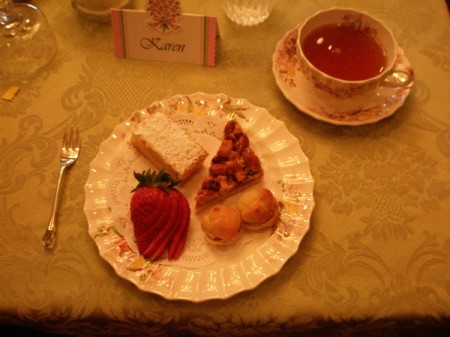 A good time was had by all! Happy Birthday, Mom. Let's do it again next year!
Oh, and speaking of next year–or 12 years, in this case–this is what my brother wrote on the back of Mom's card! Too bad he got the date wrong. Her birthday is the 28th! But, he's forgiven, I'm sure. He's the only son–and March 30th is his wife's birthday!