Wow and wow again! What a fun time we had at our Quilt Escape last weekend. There were 46 of us, and it was four days filled with sewing, fun, eating, fun and inspiration. I'm truly amazed at how much everyone accomplishes, and their work inspires me. Part of the fun is Show-and-Tell. Here's the start of what we saw.
Several people brought back quilts they worked on at the last retreat, like this one from Robin. It was part of my A Quilt Block A Day from Facebook. All it needs now are cornerstones and two more borders, and it's finished! There's a tutorial here on my blog for the blocks. Click HERE for a tutorial on regular Bow Tie blocks and click HERE for a tutorial on making three dimensional.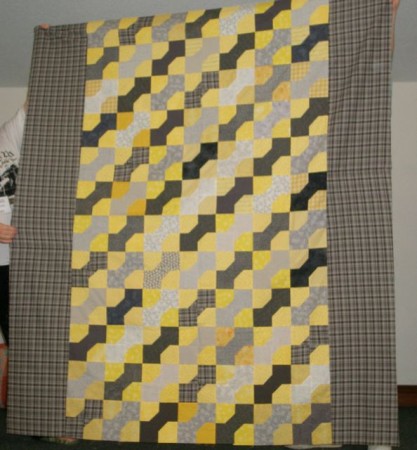 Robin did blocks like the ones below for her Secret Sister one time, and made a set for herself, too. I love how she used the two different colors for her setting squares.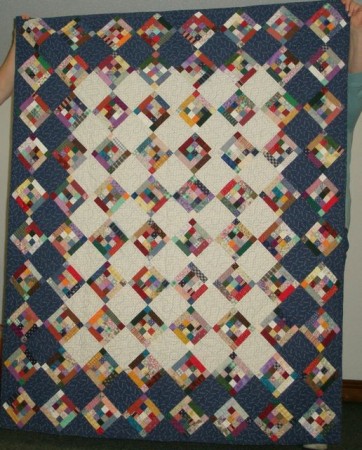 And she made this quilt with blocks she received from her Secret Sister.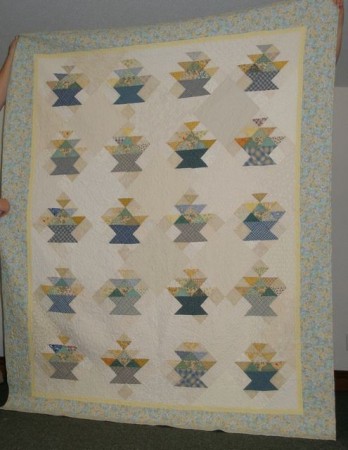 Robin also made this Bargello quilt. The squares finish at 1″! She's going to do a demo on how to make it at our next retreat.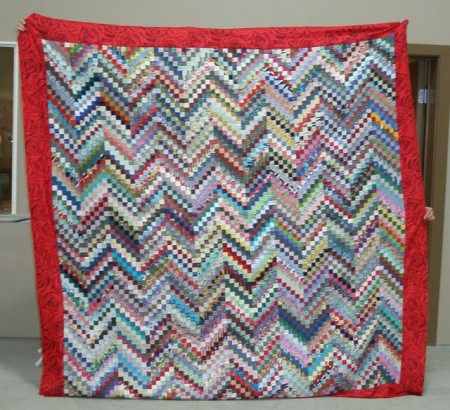 This vintage Double Wedding Ring belongs to a family member of R obin's. It still needs to be quilted. Don't you love how the addition of one more piece of fabric on the four-patches forms a blue border on the top and bottom and a yellow border on the sides of this quilt?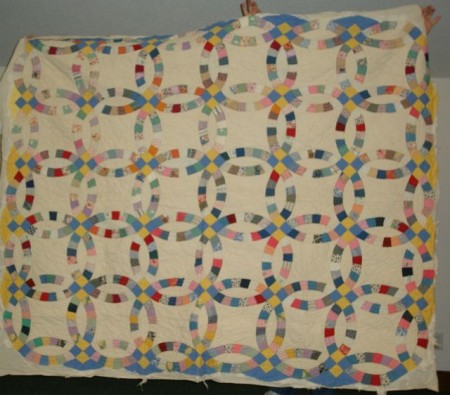 Julie made this Patriotic Log Cabin.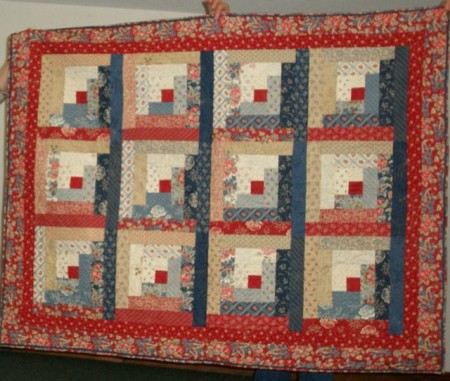 This gorgeous quilt was done by Pat P. We only had three Pats this time, and only two were Pat P!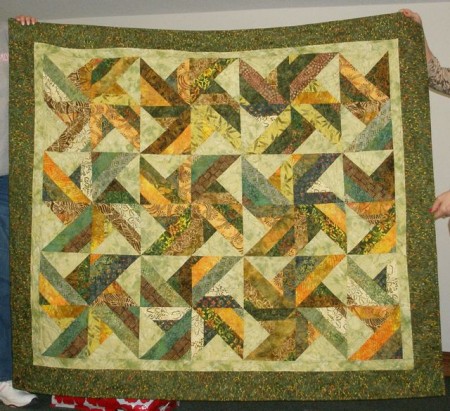 Pat P #1 also made this quilt. This color combination in batiks is my favorite!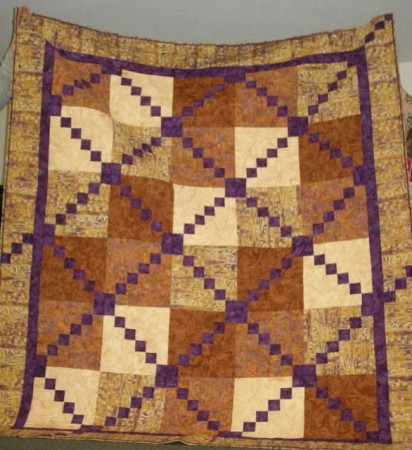 Here's Phyllis holding up several table runners that Barbara made. The first is from my Center Piece Table Runner kit.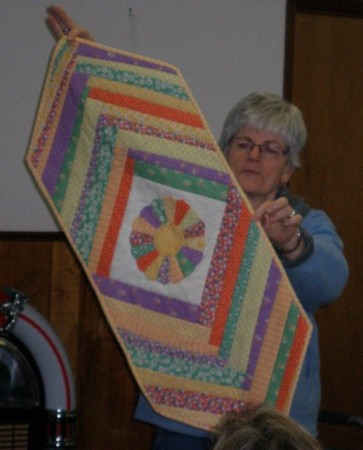 She liked it so well, she did it in Christmas fabrics!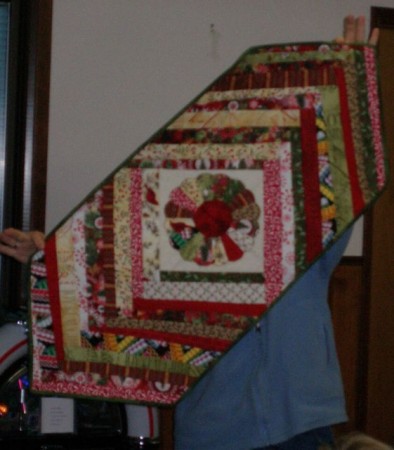 This one is perfect for fall.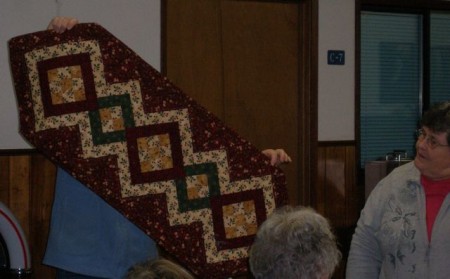 I know what she'll have on her Easter table!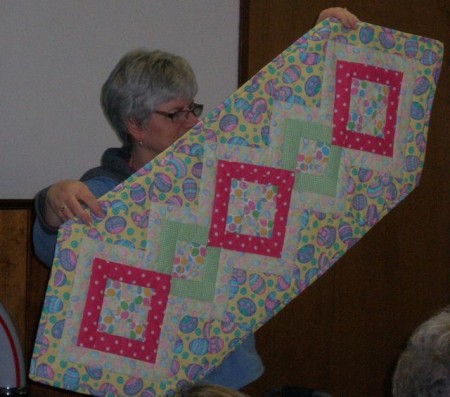 This is a very sweet Valentine runner.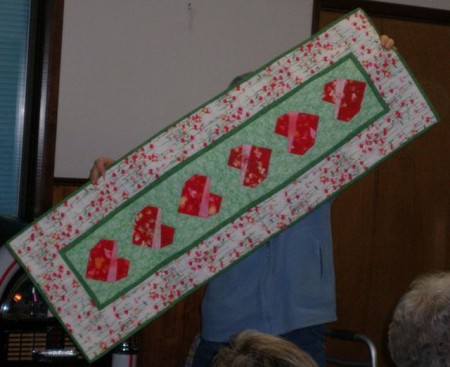 Phyllis made this beautiful cover for either an iPad or Kindle, I can't remember which!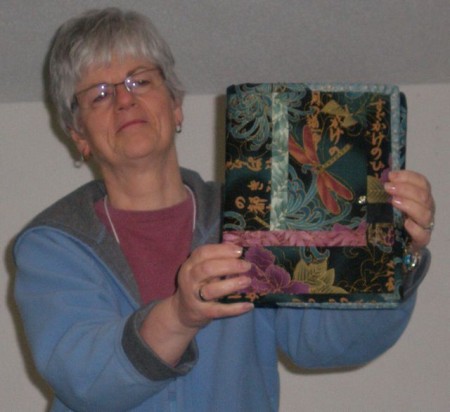 She also made these two amazing miniatures.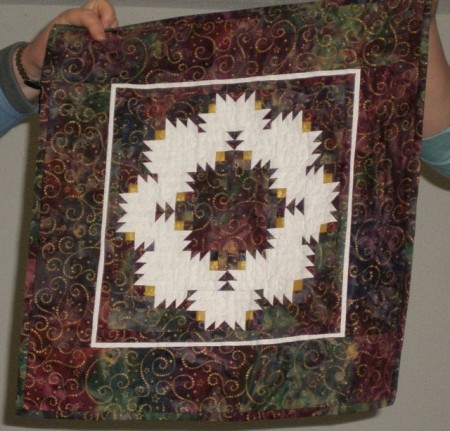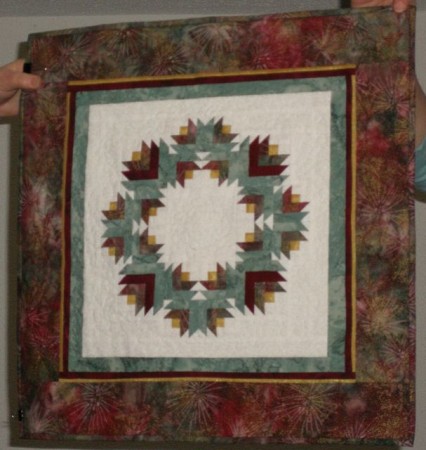 Make that three amazing miniatures!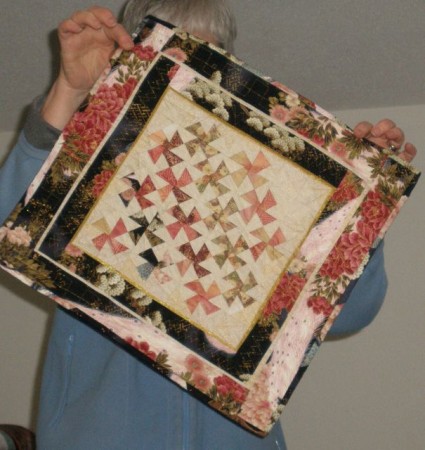 We had two token scrapbookers at retreat. Karen R shows us her Christmas album with yearly photos of her son and Santa. Although now that he's nearly 16, he says he's through with Santa pictures!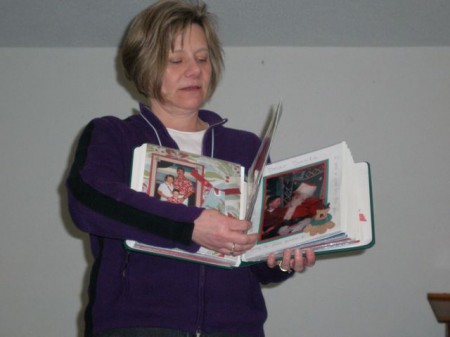 This is my sister Sally, who also came to scrapbook. But, she had a quilt to show-and-tell—a gift from HER sister!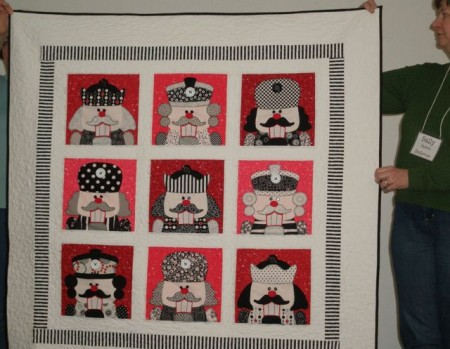 She also shared an album that covered multiple trips to Hawaii.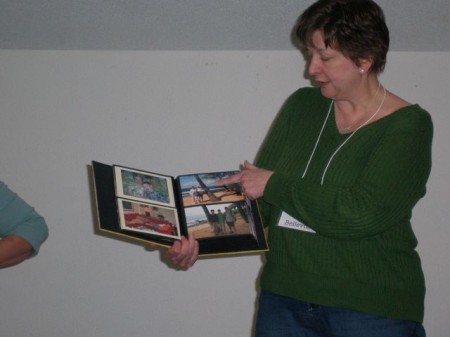 Sarah had a pretty, spring table runner to show…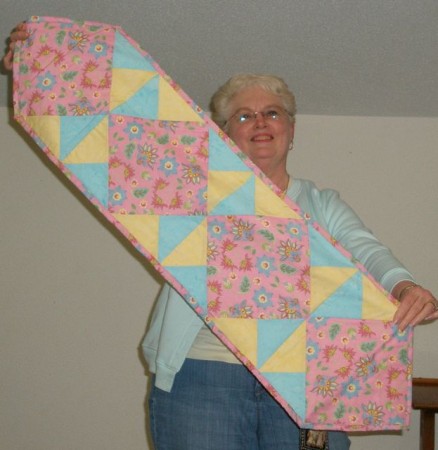 …as well as this incredible Many Trips quilt.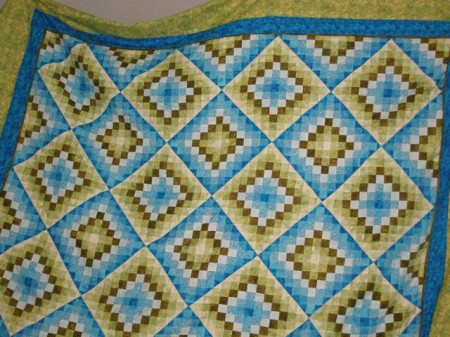 A few retreats ago, I demonstrated the Hunter's Star ruler from Studio 180. Many of the ladies started quilts. Here's Sarah's finished one!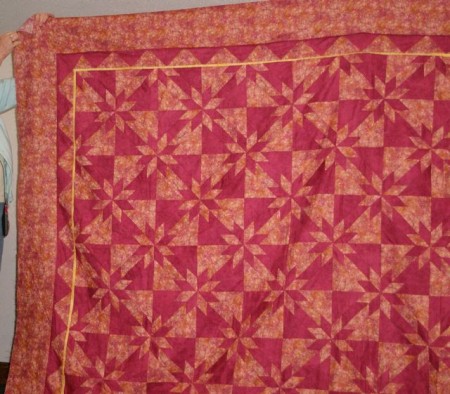 In fact, here she is at the retreat a year ago, just getting started!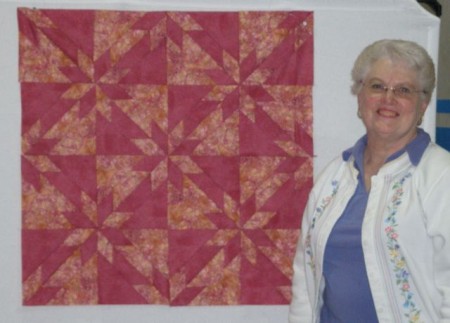 Sarah also made this wonderful wildlife quilt for a raffle.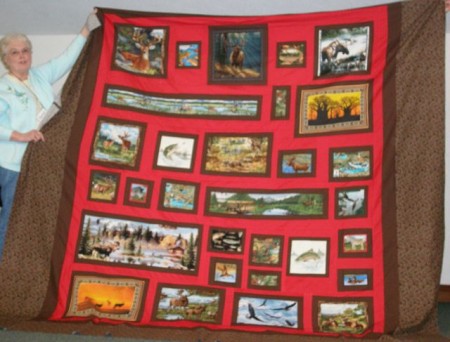 Stacey brought the first quilt she ever made, I mean started! She's hand quilting it, and hasn't given up yet!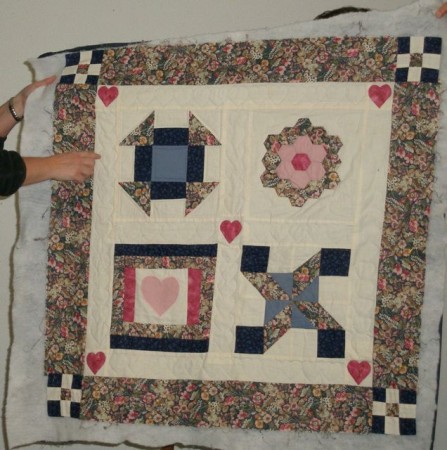 She also brought this completed quilt that she started in a mystery class I taught a few years ago.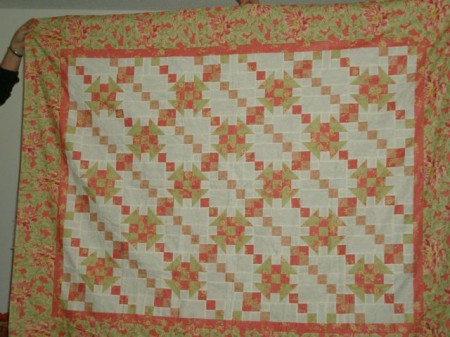 This was Dante's first quilt. I think it's amazing! She said it nearly drove her crazy.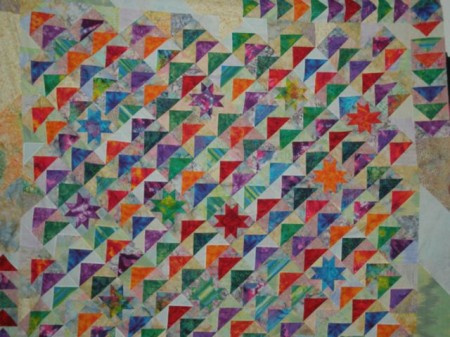 After making the Flying Geese quilt, she kept on quilting, and this is her quilt, too.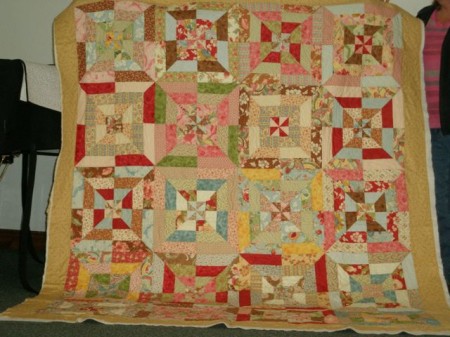 Carol made this wonderful sampler quilt.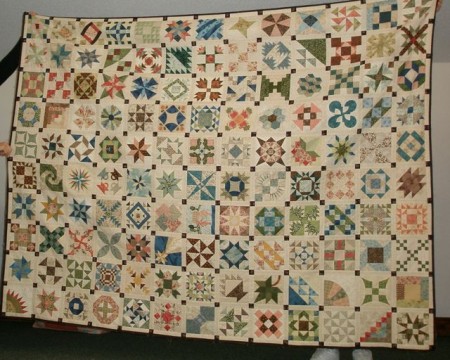 Susan did a Twelve Step Program from my Bundles of Fun book. It uses just 12 fat quarters!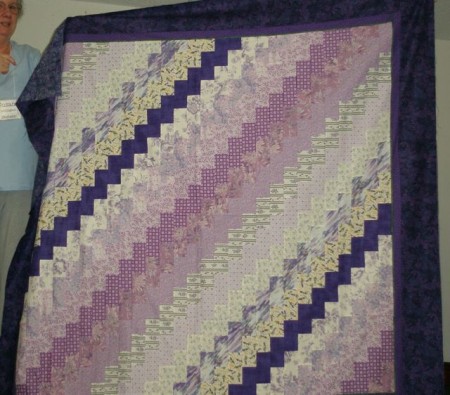 I shared two quilts from my Dolly Dear fabric collection. This is made from a pre-printed panel.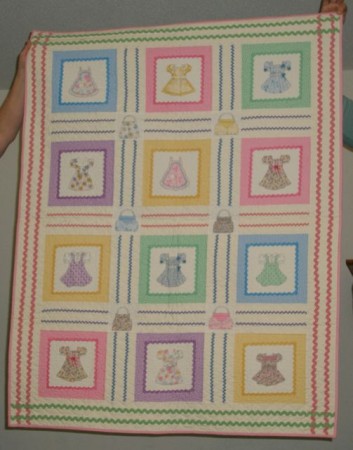 This one is called Let's Play Paper Dolls, and the pockets hold the dolly dresses! There are kits for it on my website.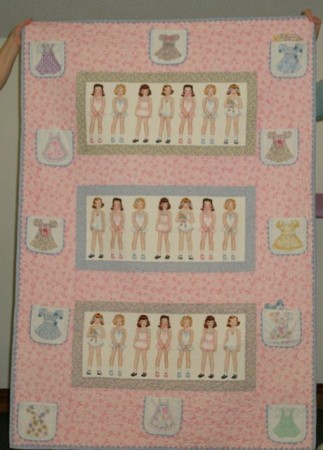 That's a start! I'll share more in a day or two.