No, I don't mean "Help Poppy win fabric."
I mean if you help Poppy, YOU can win fabric!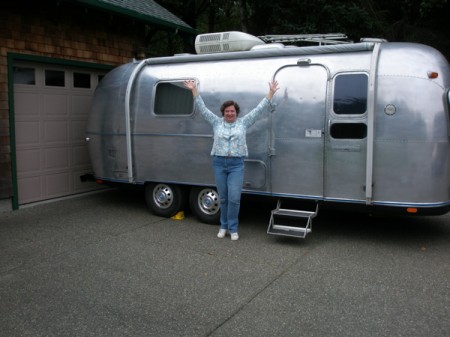 This is Poppy on the day she arrived at her new home here in Long Beach. As you can see, I'm as excited as Poppy is to have a new home. But, now Poppy needs your help. She wants to be on National Television! And she should be. She's a natural born star. I mean, look at her–she's so shiny!
You know how you say about people that even though they may not be beautiful on the outside, they're beautiful on the inside. Well, Poppy IS beautiful on the outside, but her insides need some help. I don't mean her her big heart. I mean her interior decor. I'm sure when she rolled off the assembly line in 1973 she was hip and fashionable, but after more than three and a half decades, she needs some updating.
Now I was going to do this myself–with Bob's help, of course. But, one day while watching my favorite HGTV program, Color Splash with David Bromstad, I had an idea. Perhaps David would like to make over Poppy! So, I wrote him a letter. You can see it here. Well, it went to his production company, not him. But, guess what? They emailed me back and said, and I quote, "So you want to be on Color Splash? We'd LOVE that!" So, emails have gone back and forth, we even sent some amateur video. The production company loves the idea, David loves the idea, but HGTV isn't sure. So, I think we need to convince them! Can you help?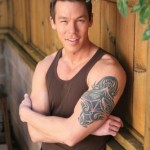 Will you go to HGTV and tell them that you'd like to see David make over an Airstream? It's really easy. Here's the link Just choose Comment and Color Splash and tell them you think David should make over an Airstream! It's going to take lots and lots of emails, so I'm counting on each one of you. And there's even a little added incentive…….
After you go to the HGTV website, go to Poppy's web site. Leave me a comment saying that you contacted HGTV on Poppy's behalf, and I'll enter you in a drawing for this great bundle of fabric. It's a fat quarter of each of the 33 fabrics from my friend Glenna Hailey's line called Rise and Shine and it's a wonderful group of fabrics. So please, do it before March 31. Help get Poppy on TV!