I know it's almost winter now, but I just have to share with you a wonderful new book written by my quilt-y friends Sally Bell and Susan Maw, Summer at the Lake Quilts. Just look at the cover. Does that say SUMMER, or what!?!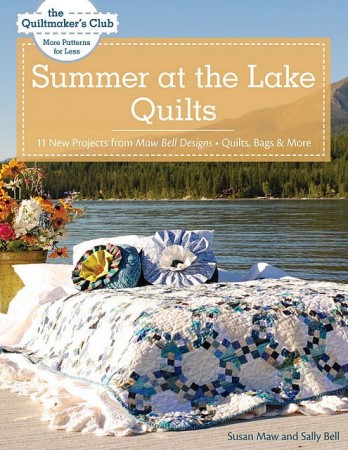 This book is full of great quilts, bags and projects, but more than that, the photography is stunning! Susan and Sally had the projects for this book photographed on beautiful Swan Lake in Montana. What a perfect setting to showcase this Alpine Lake Quilt. This quilt, with it's myriad shades of blue, really is reminiscent of the sun shimmering off the surface of a wind riffled lake.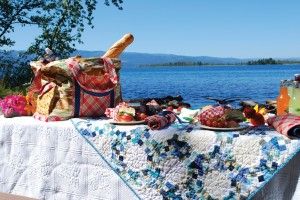 And just look at these Water Lily Pillows! Can't you just imagine making these for a little girls room? It would be so fun to pick out fabrics to match the room's decor.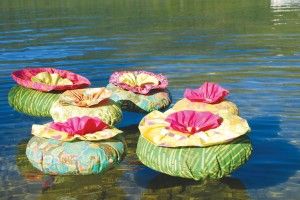 As I turn the pages of this book, I think, "Ah, this is my favorite quilt in the book." Then, I turn another page, and think, "No, THIS is my favorite quilt in the book. I can't quite choose between the Sunflower Picnic Blanket and the Meadowsweet Basket Quilt. They're both wonderful. Here's the Meadowsweet Basket Quilt. I'm in love with the circle of forget-me-nots in the center of the quilt.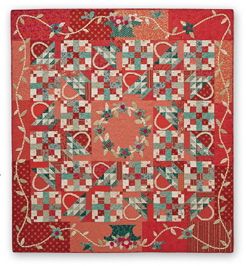 What would a summer at the lake be without a picnic, and what would a picnic be without ants? Susan and Sally didn't overlook a thing–they even have a Picnic Ant Pincushion pattern in the book!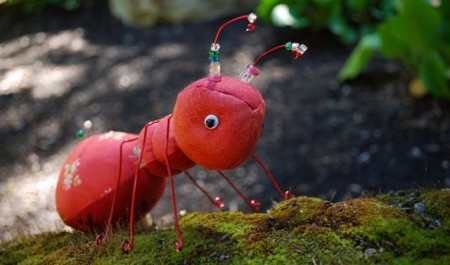 But, hey! I promised you a give-away! Right now, Sally and Susan are giving away a copy of their book AND an ant pincushion. All you have to do is click over to their blog and leave a comment. Tell them Karen sent you!
HERE'S the link. Good luck!