My latest fabric line, Dolly Dear, is in stores and shipping now. It has lots of pretty prints, but my favorite is the repeating stripe with the paper dolls and their dresses.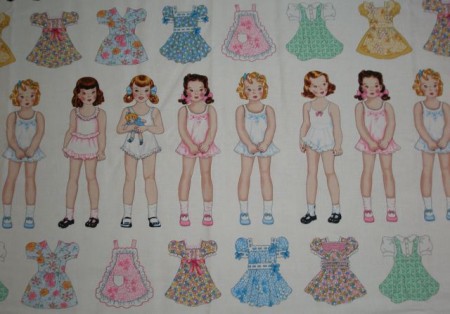 I've designed a free pattern for a quit that I think any little girl would love. The dolls are sewn into the body of the quilt, pockets are added around the outside edges, and the dresses are cut out so you can play dress up!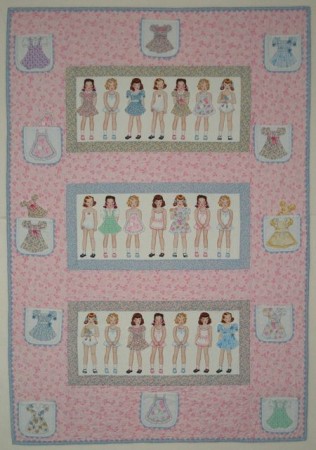 I thought I'd walk you through the easy steps for making this quilt. First, cut out three strips of the dolls and "frame" them with the Patsy Posy print.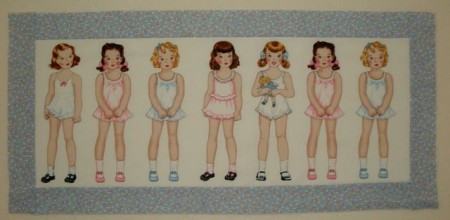 Sash them with the Pink Marigold fabric.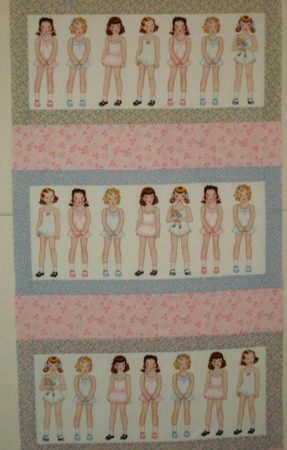 Add borders of the same pink print. I know they look really wide, but there's a reason for that. We're going to add pockets! At this stage, you need to quilt the quilt. I stippled mine.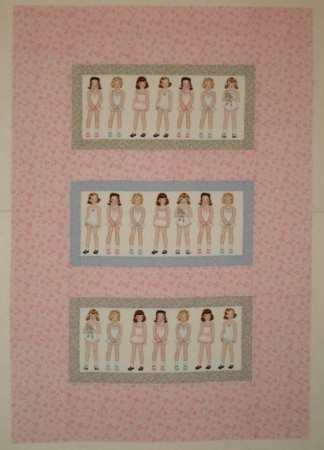 Cut pockets and lining using the template provided with the pattern. The front of the pockets are from the Dress Panel that goes with the line.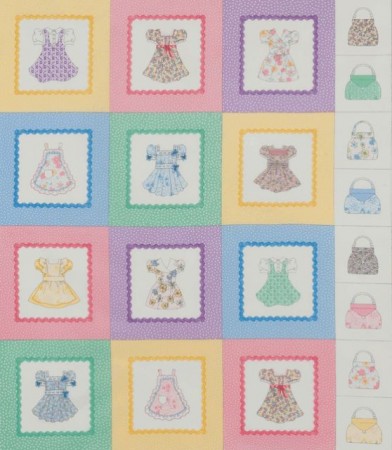 I LOVE rickrack, and this seemed like the perfect place to use some! Put the pocket front and lining right sides together, insert rickrack and stitch edges and bottom.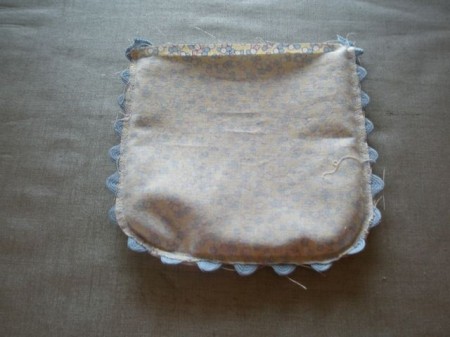 Turn right sides out, press under 1/4″ at the top and top stitch closed.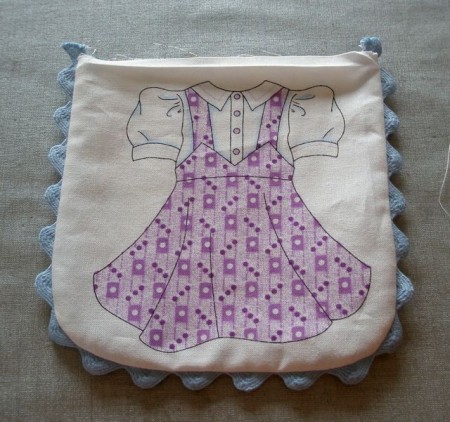 You'll need twelve pockets. When they're finished, topstitch down around the sides and bottom.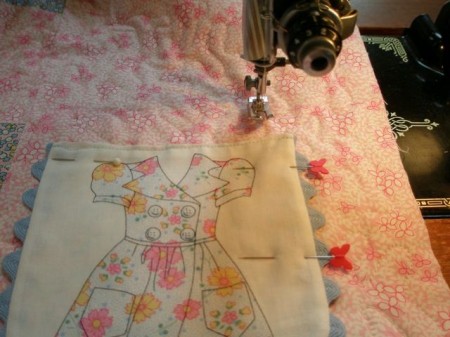 Fuse some batting scraps to the backs of the dresses and cut them out.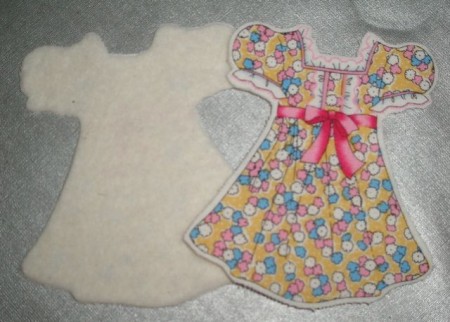 Now you're ready to tuck them into the pockets….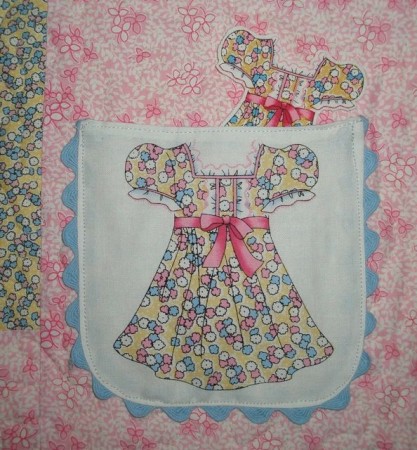 …or dress the dolls!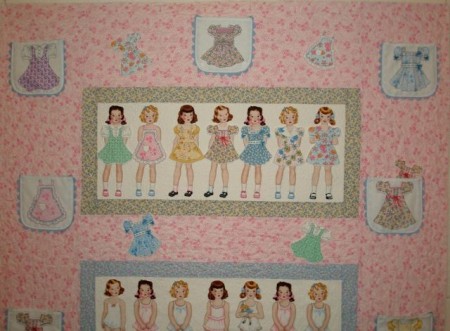 I also added rickrack to the binding! There's no such thing as too much rickrack, is there? The kit for this quilt includes the 12-1/2 yards needed!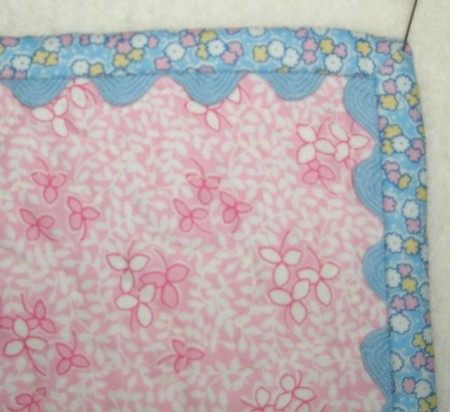 Here are a few other things made with this fabric line.
This adorable sundress is made with the Tossed Dolls print and lined with the Green Jumble.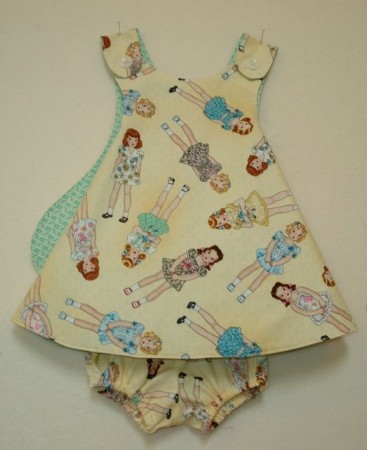 The body of this jumper is the fabric I call Bette's Bouquet, and this pattern is perfect for showing off the doll dresses. Both these dress samples were made by Renee.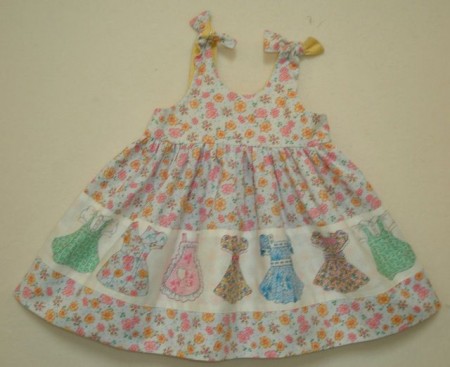 This pattern from Yesterday's Charm is one of my favorites. Carol O. made this sample for me.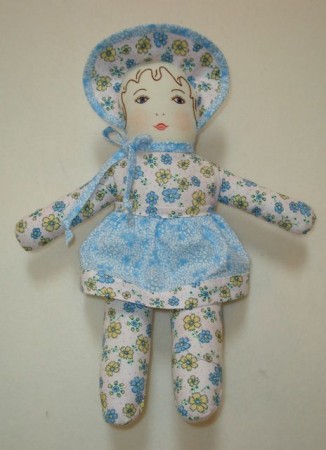 Nan stitched up the backpack for me.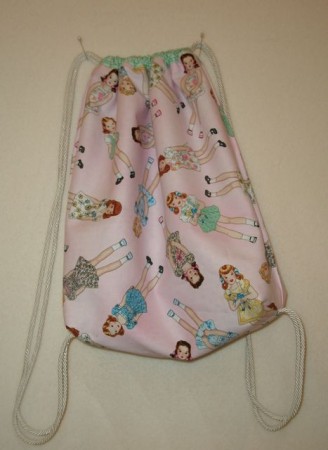 And I made this quilt, Dress Up Time, from the Dress and Purse panel. More rickrack–two sizes!!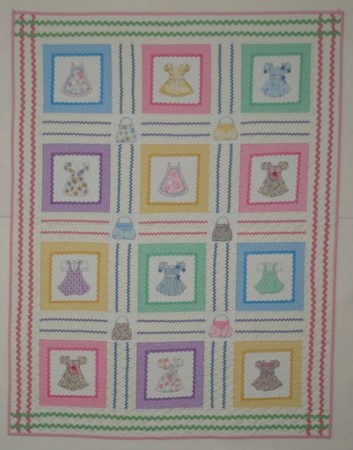 If you think I'm in my second childhood, you may be right! But, I must tell you, I didn't play with dolls in my first childhood, so I'm making up for it now!