After Quilt Market in Salt Lake City, Bob and I decided to see some of Utah. As we headed south to Zion National Park, we thought we'd stop at Cedar Breaks National Monument.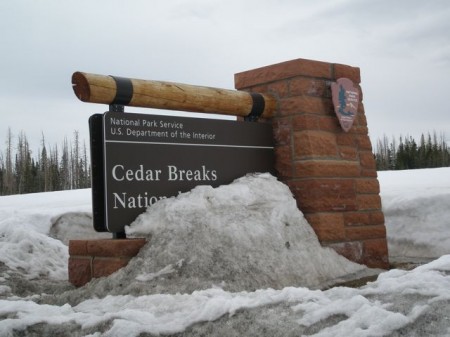 After driving 15 miles off the interstate, we found the road wasn't open yet for the season!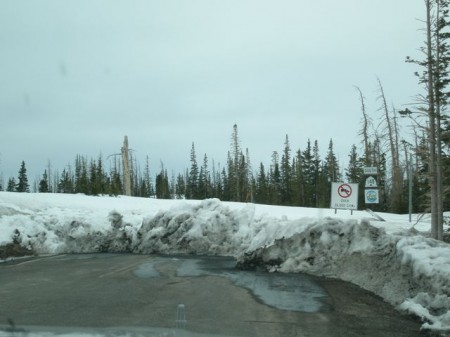 In fact, the snow was quite deep! I made Bob get out of the car for reference, and I stayed in the car and took the photo!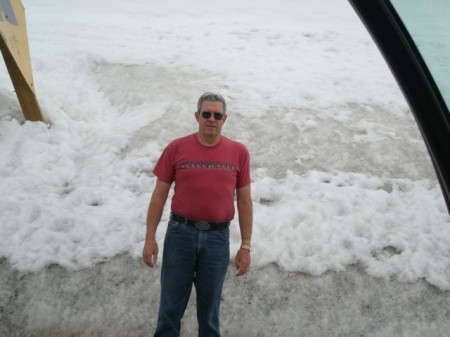 We had climbed a lot on that 15 mile drive!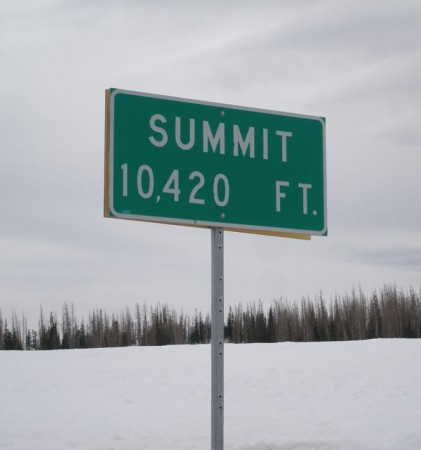 And while we didn't get to see what we had come for, we had terrific views!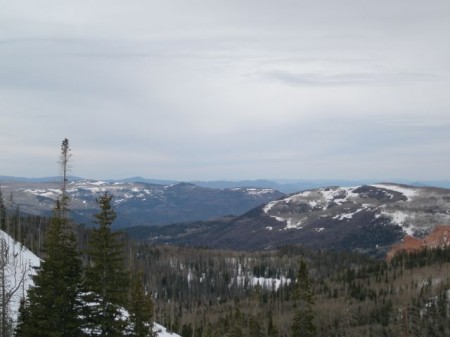 So, we headed back to Interstate 15, and took the 6 mile drive into the northern part of Zion.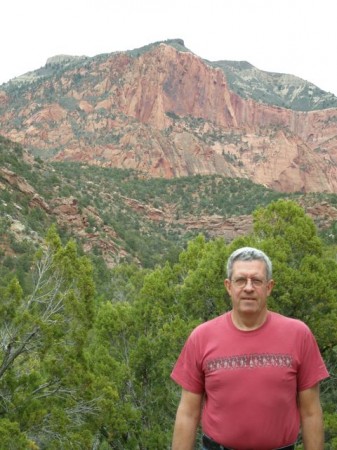 No snow there!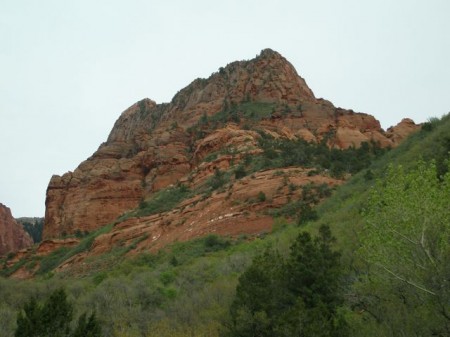 This is Kolob Canyon.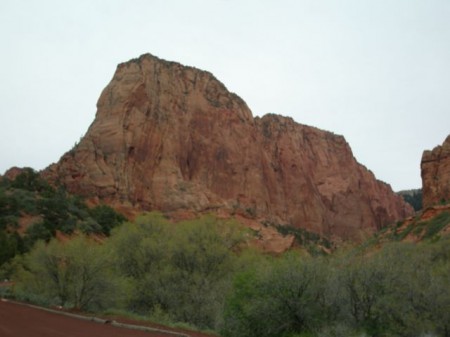 The views were amazing.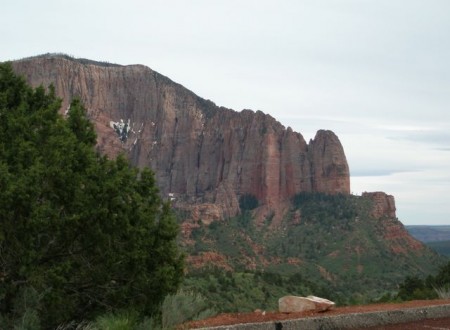 As were the close-ups of some of the rocks!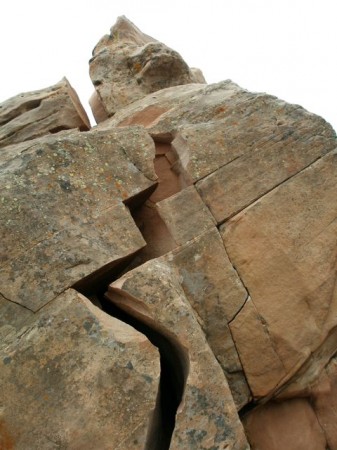 The next day we entered the south part of Zion.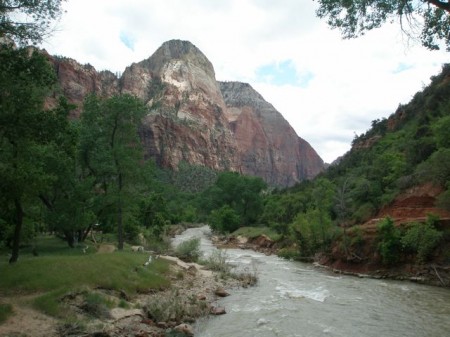 We took a hike into the Temple of Sinawava along the Virgin River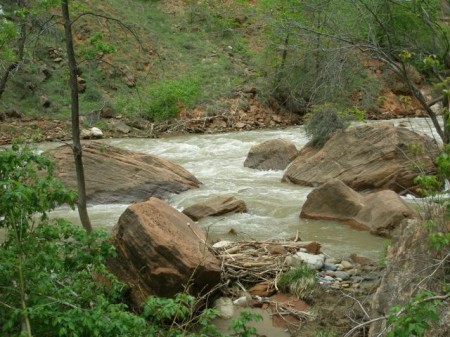 The water was moving very rapidly.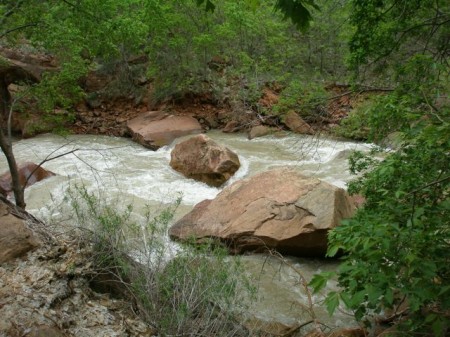 But it had been higher as you can see by the debris and small rocks atop this large boulder!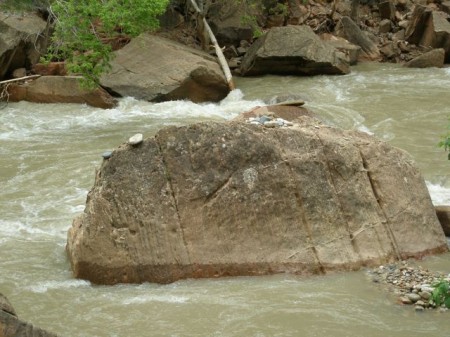 The views up the canyon were amazing!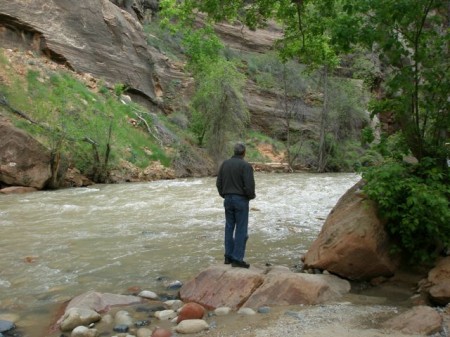 The farther you go up the canyon, the narrower it gets.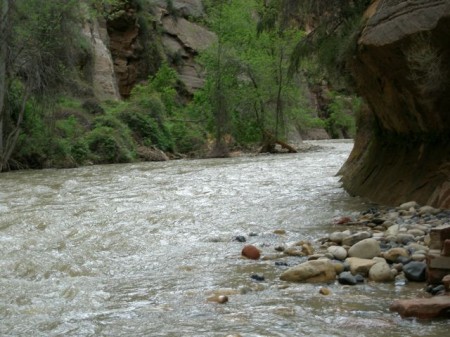 Eventually, we could go no farther.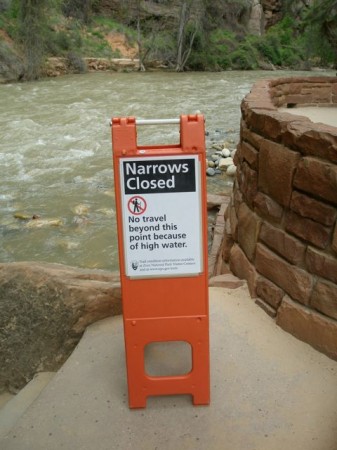 No kidding! Those steps lead right into the river!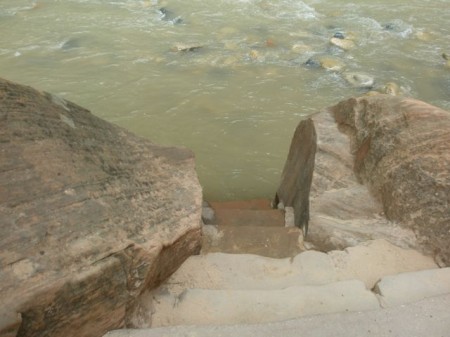 Some one had been busy along the beach!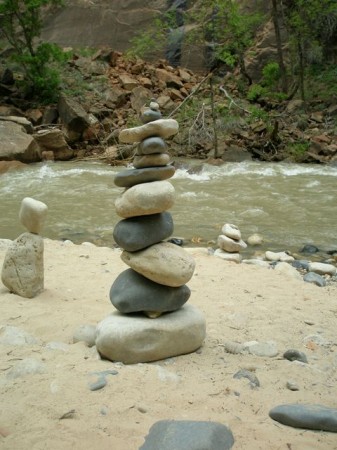 These stacks of rocks were amazing.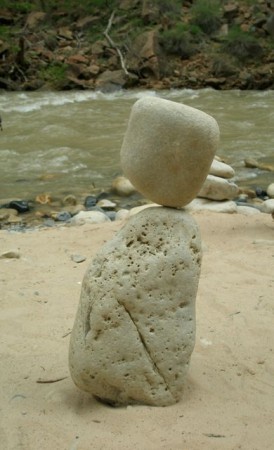 May of them were very precariously balanced!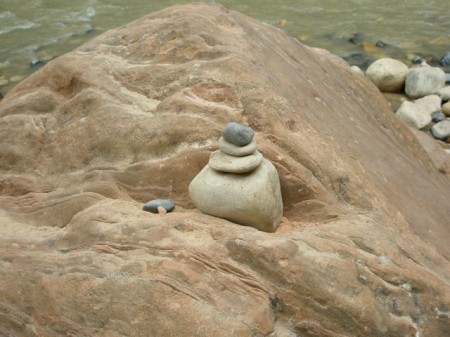 But they were all so whimsical.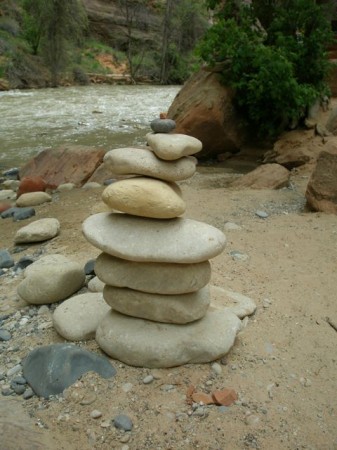 It must have taken some patience to get them balanced just so.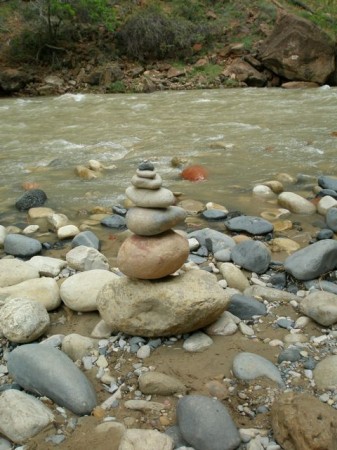 I didn't test my skills!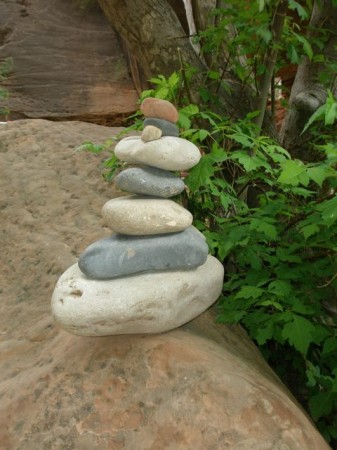 But here is what Zion is all about–the cliffs!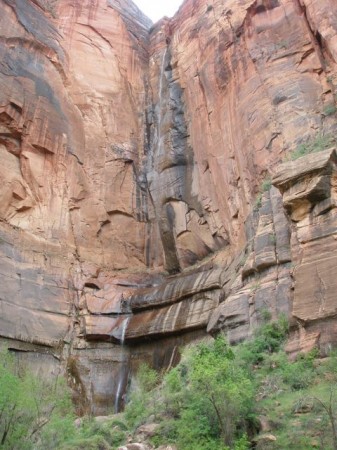 I must have taken 75 photos just of the canyon walls.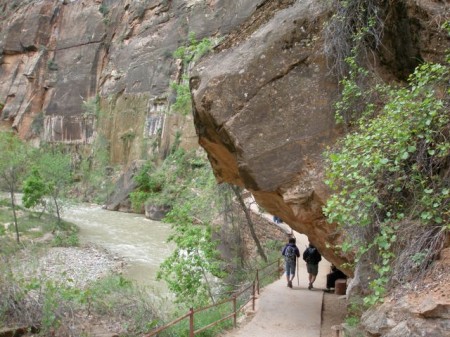 I'll spare showing you THAT many!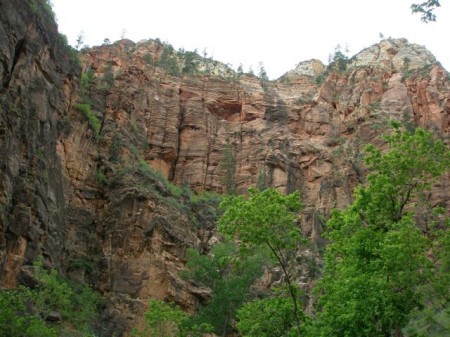 But I have to share a few with you.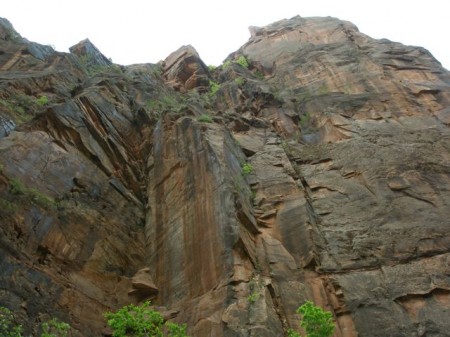 It was an overcast day, so the colors aren't as vivid as they would have been otherwise.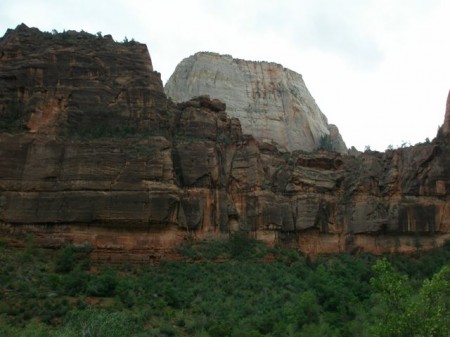 And while most of the cliffs were dark red, some were white!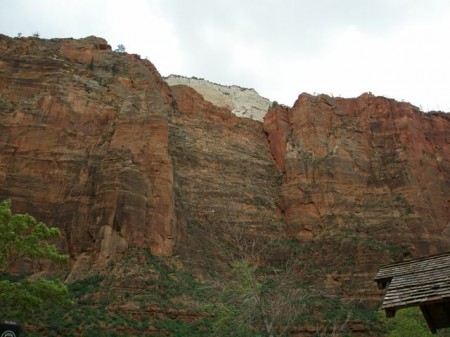 The shapes were incredibly varied. We took several hikes and enjoyed the many views.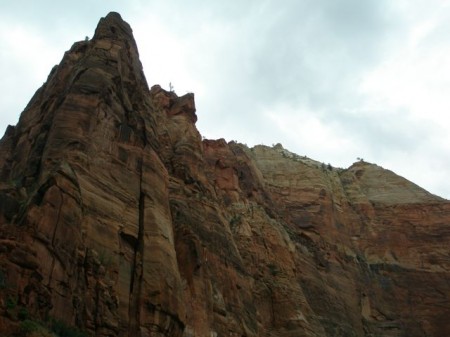 The surroundings made you feel incredibly small.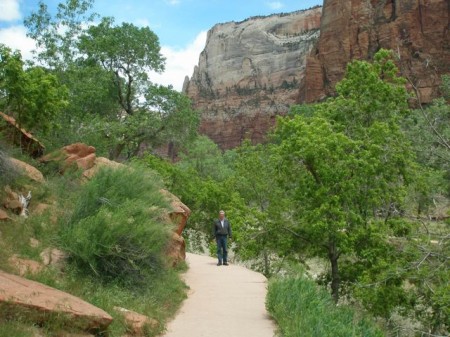 Finally, we got a little bit of blue sky!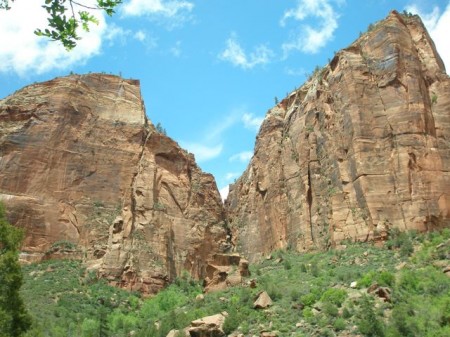 As we travelled from the west to the east, the rocks really began to change.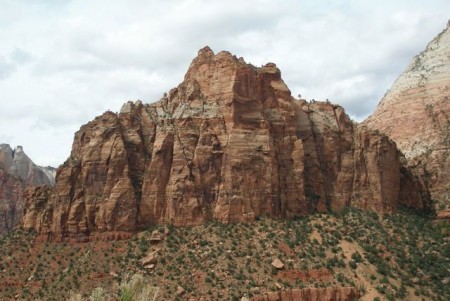 The erosion patterns were very different.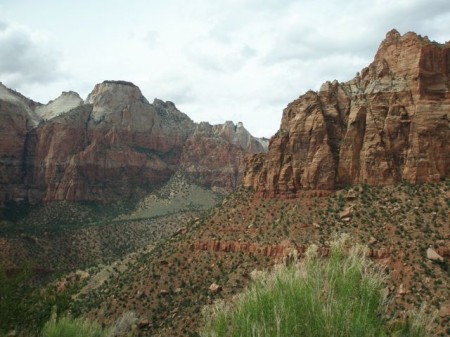 These looked more like windswept sand dunes.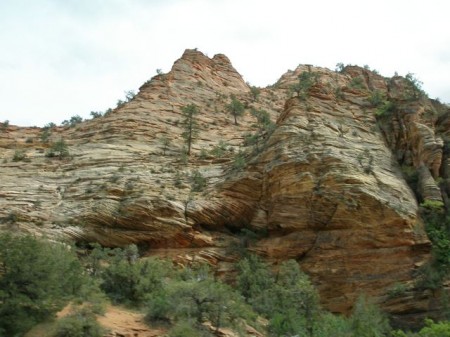 You could see layer after layer of rock.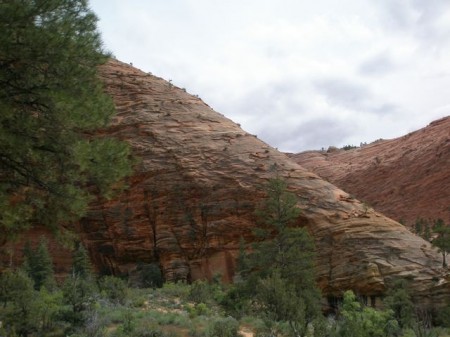 And fabulous shapes like these.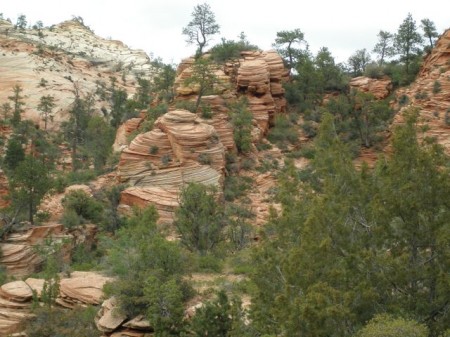 The colors are so pretty…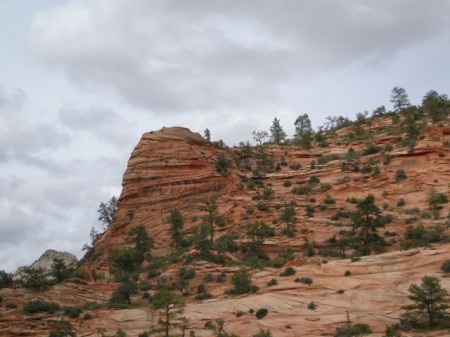 …and so varied.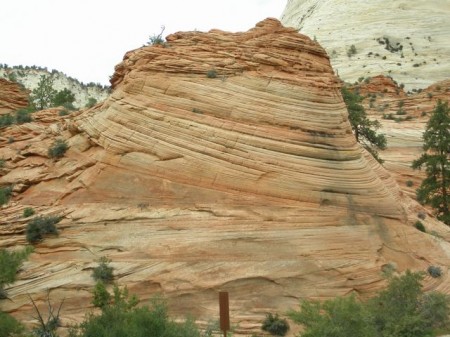 I highly recommend a visit if you ever get a chance!