There really is a water fall at Falls Creek Retreat Center. But first, a few other pictures from the four day retreat there.
I'm lucky enough to live in a place where we frequently see herds of elk, many of the women who came to my quilting retreat are "city girls." Just a few miles from the retreat center, Karen R and my sister, Sally, spotted this herd of elk. If you look closely, you'll see there are 33 of them–lots of babies in the herd. Sally's a city girl now, but she grew up here and has seen lots of elk in her day. Karen, however, is a true city girl, and she was thrilled. This was her first elk sighting. Actually, I have to admit that no matter how many times I see them, I still get excited every time.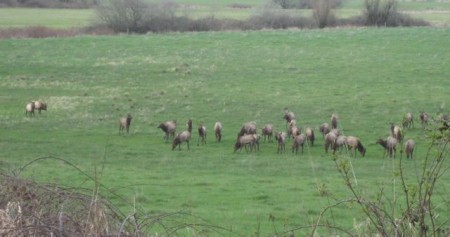 Driving in, I was greeted by these cows. They didn't look very happy that I was disturbing their slumber! In fact, when I stopped to take this photo, I'm pretty sure the cow in front said, "Move it along, babe!" Actually, this are was settled by Swiss farmers in the late 1800′s and there is still a lot of dairying going on.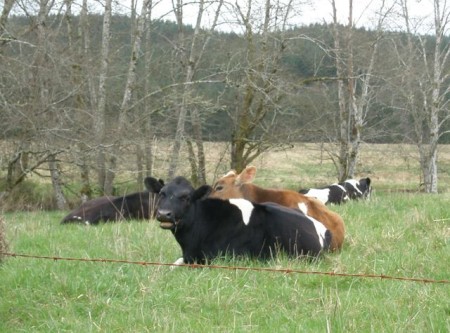 The flowering cherries at the entrance were just starting to open their flowers for us.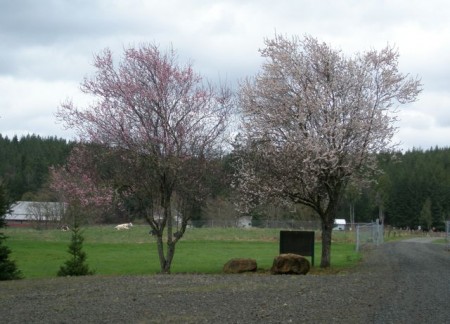 I'm so glad the old bridge is still there, and even gladder that we don't have to drive across it!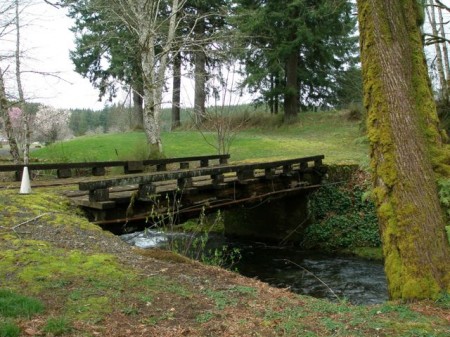 The crick is right there to greet you when you enter the property.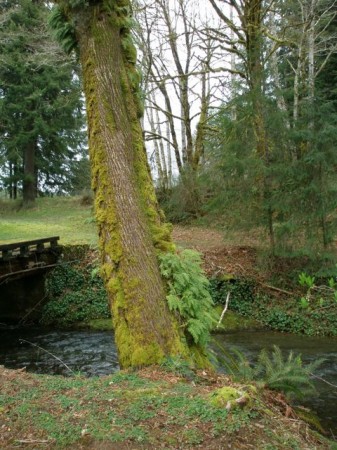 And that other wonderful sign of spring–daffodils.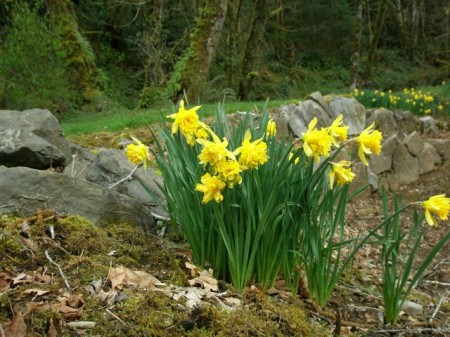 I love this time of year when you can still see "through" the woods. It won't be long and everything will be leafed out and you won't be able to.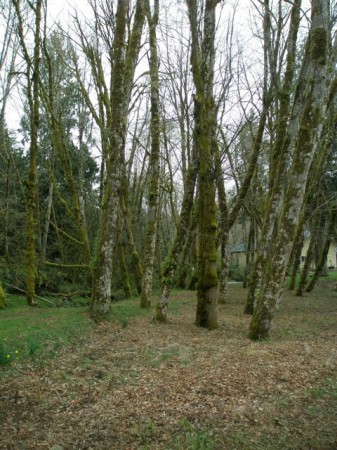 The creek flows pretty fast just outside the building where we were sewing.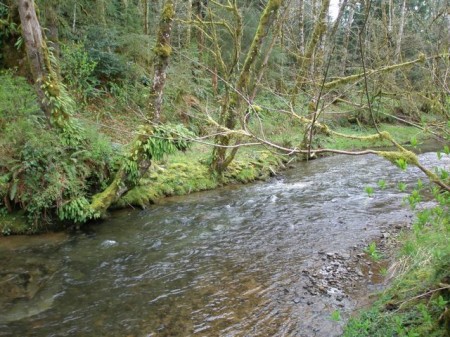 We followed it for a ways on our way up to the falls. Last year, when we were there in October, there were lots of salmon returning to spawn. I thought we might see some smolts heading out to sea, but no luck.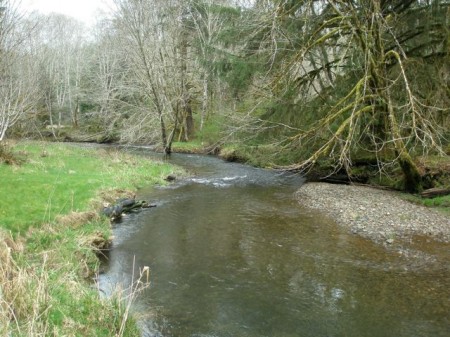 The creek takes a lot of bends and turns.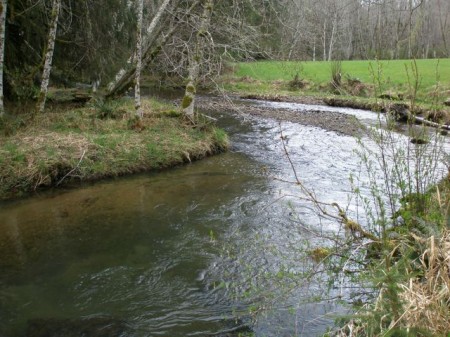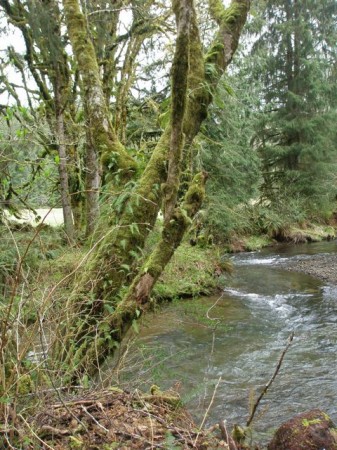 Then we left it for a bit as we entered the big meadow.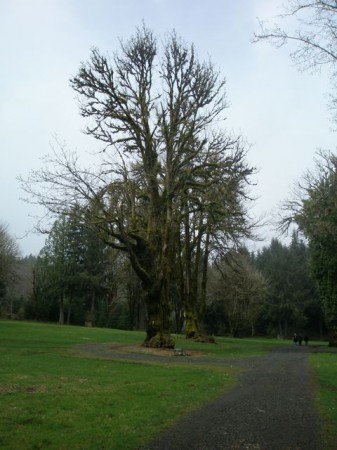 I love that you can still see the old growth stumps.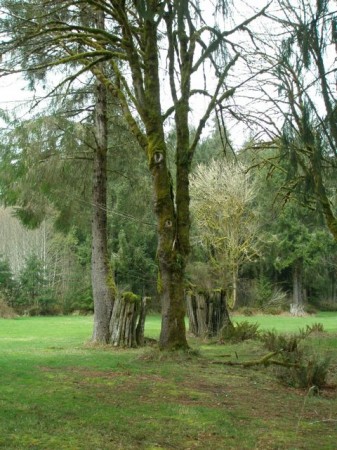 These are my favorites, the triple trunk trees.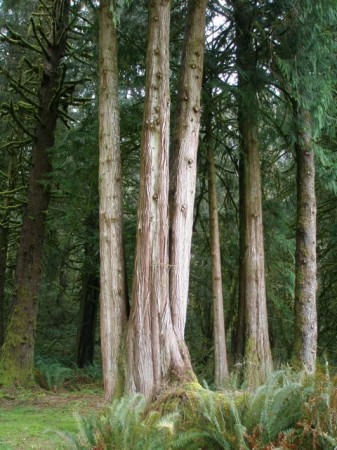 There are two of them clearly visible from the path.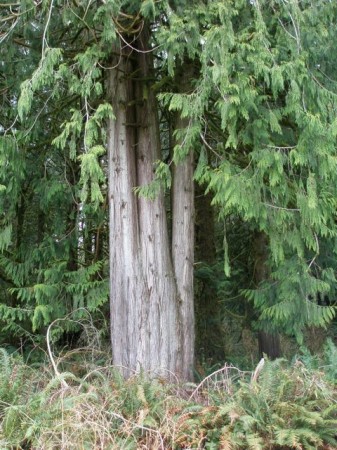 In the meadow there is this tiny cabin.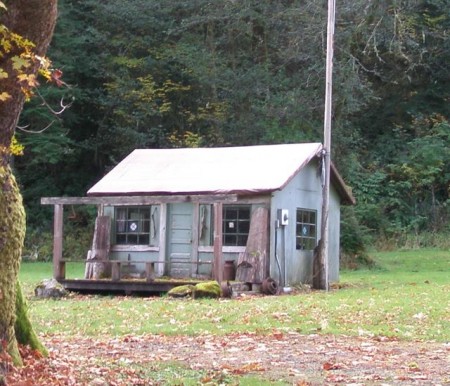 Next time I must ask how old it is.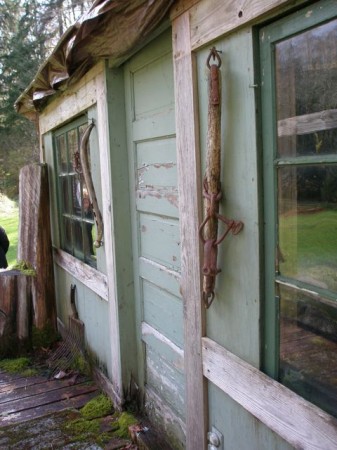 I love the pair of log chairs on the porch…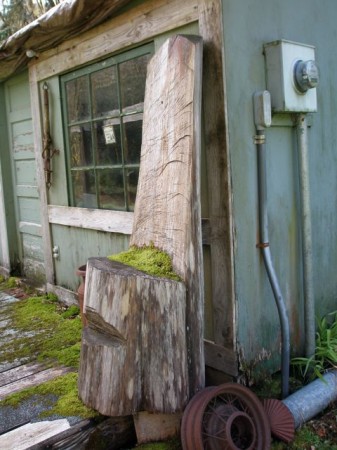 …and the dinner bell!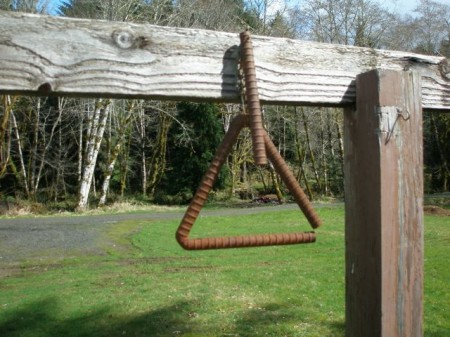 After leaving the meadow, we began to climb toward the falls. This isn't the main falls, yet.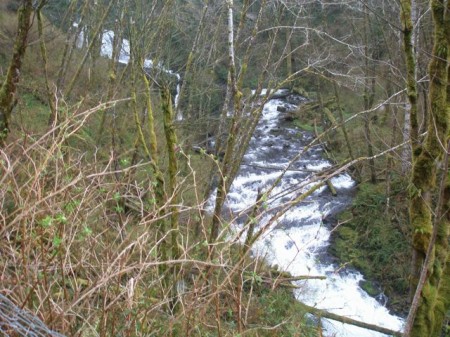 This is the main falls!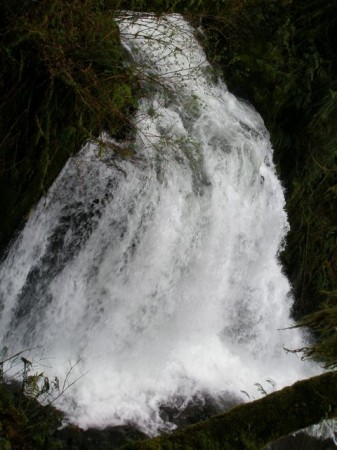 From the top, you can see the big, initial drop-off.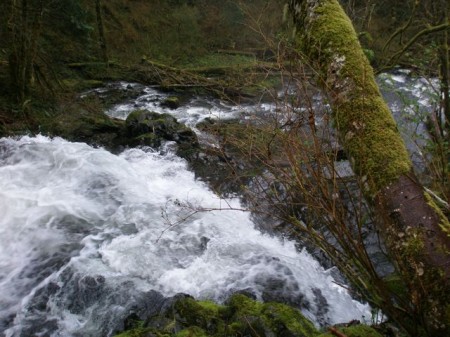 The sound is amazing.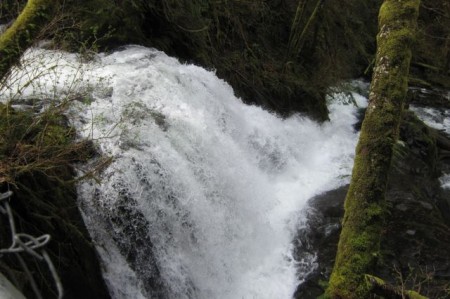 All who went agreed it was worth the trip!