When I was at my parents' house the other day, Mom had an old scrapbook out on the dining room table.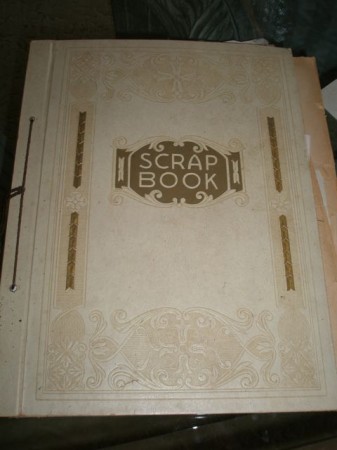 What fun! It even had a package of "Nu Age" photo corners still tucked inside.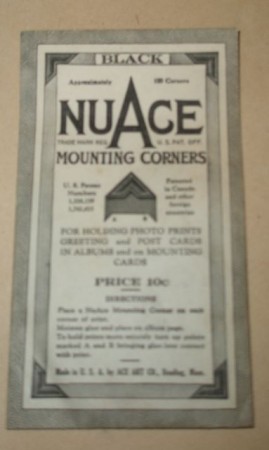 Doesn't she look preppy?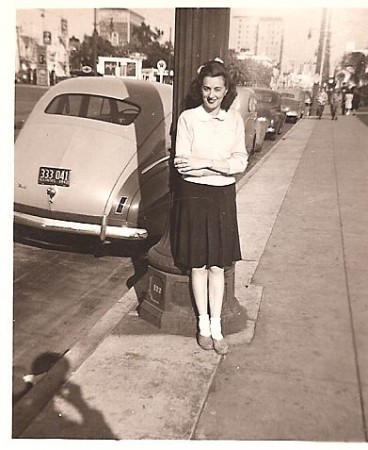 This is her high school graduation photo. I love the bow!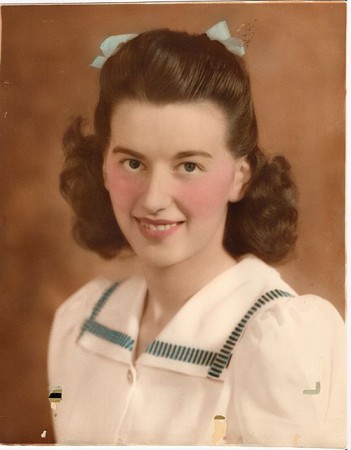 She graduated in 1941–just before the beginning of WWII.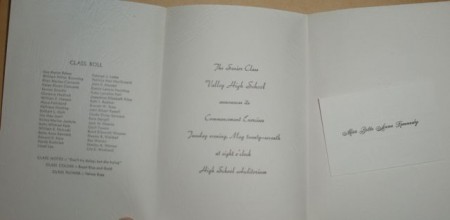 She even kept some of the graduation cards she got. The dimensions on them are very different that today's cards.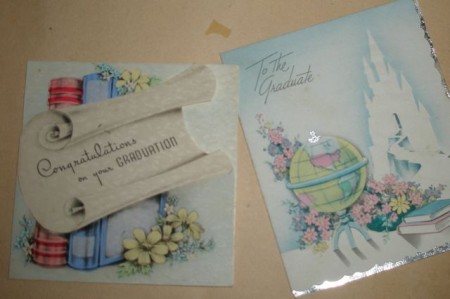 My mom has always written poetry, and she wrote the class song for her class.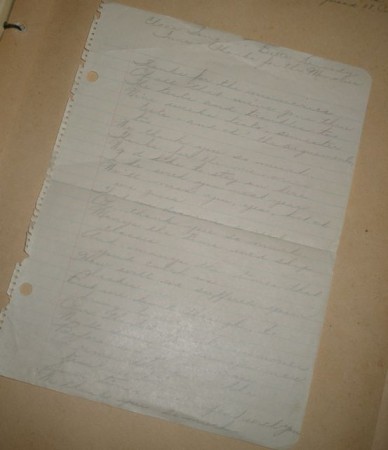 In case you want to read it, a typed version.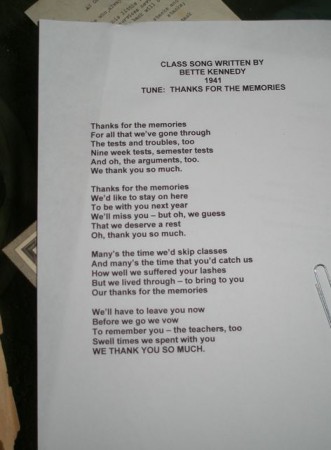 She had one of my grandma's business cards.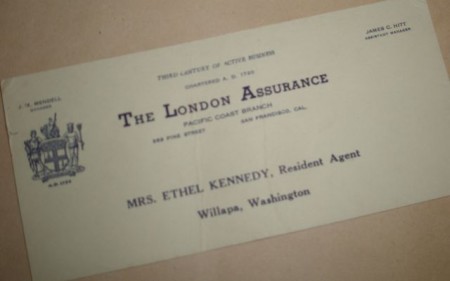 And she saved her home economics notebook!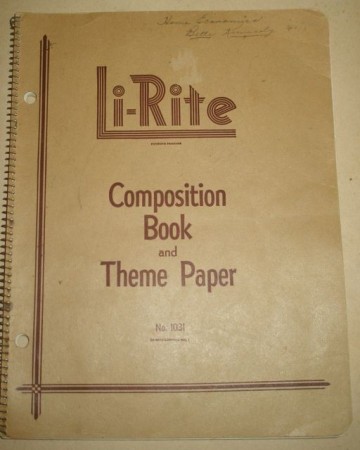 Don't you love her Palmer Method handwriting?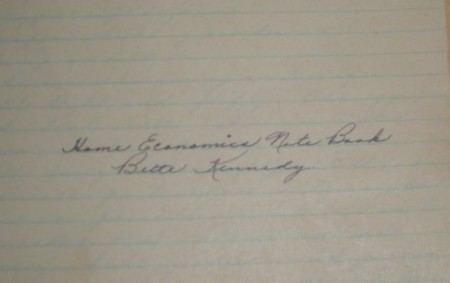 I thought there might be some recipe treasures in here, but a recipe for hot chocolate??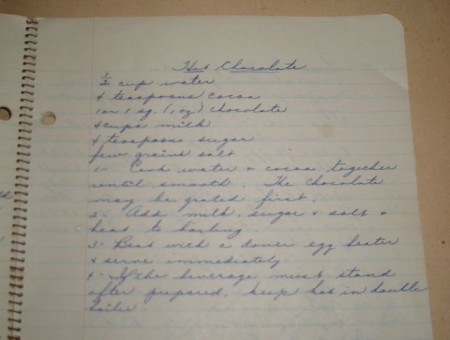 The sugar cookies might be worth a try.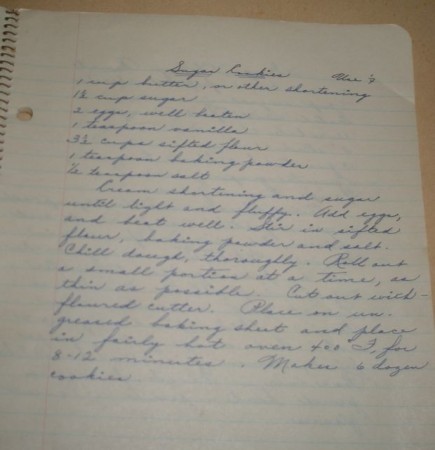 I'm in love with this simple drawing on Mom as Daisy May. Unfortunately, she can't remember who drew it, but I think that it's an incredible likeness.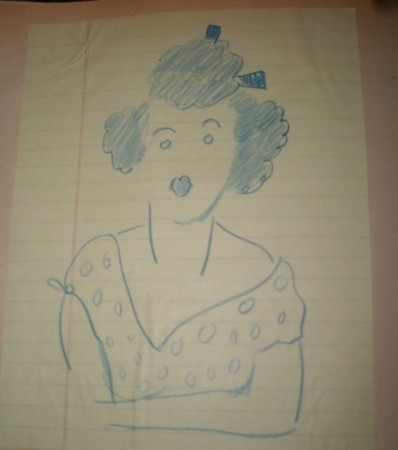 Mom had gone to a costume party dressed as Daisy May–I'm sure many of you are too old to know who that is!
At the end of WWII, my mom and Lil moved to Los Angeles. A big adventure for small town girls!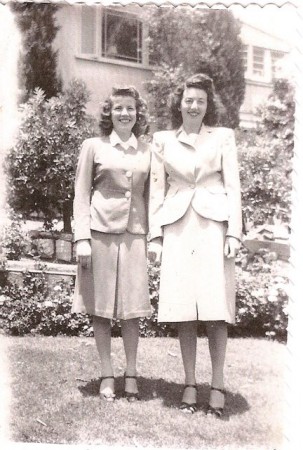 Now mom was collecting matchbooks from places like the Polo Lounge…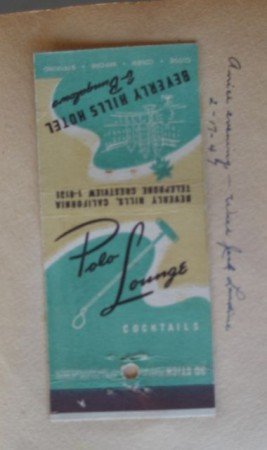 …the fabulous Rotisserie…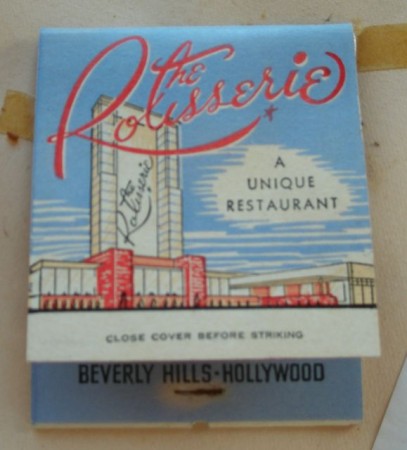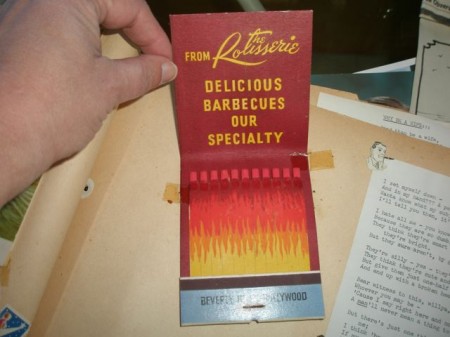 …and The Pirate's Den!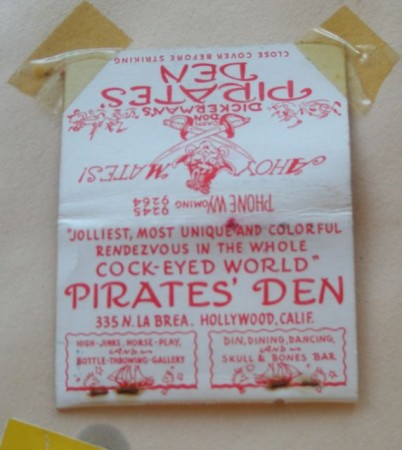 Cocktail napkins were also a popular memento to collect.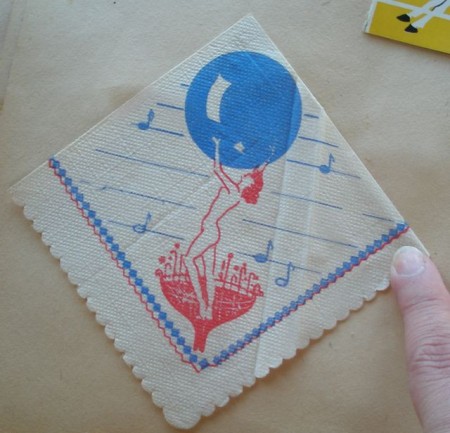 Ooh, here's one from the Palladium.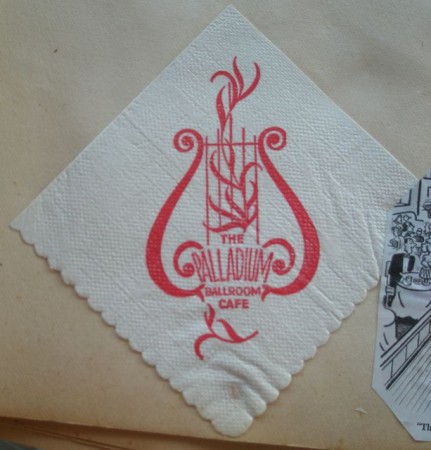 Of course you have to have pictures of your friends–and yourself in front of the famous Garden of Allah Motel!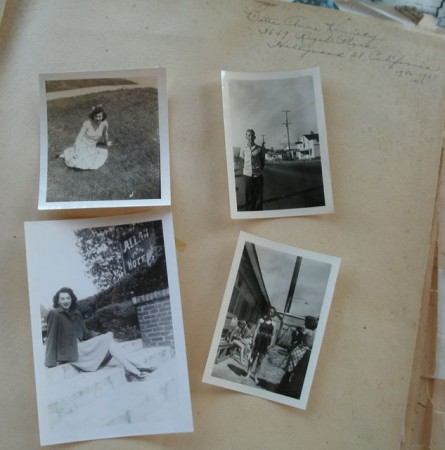 In the scrapbook were programs from plays.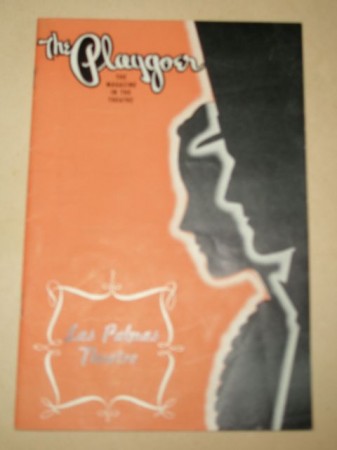 I love the ad on the back cover!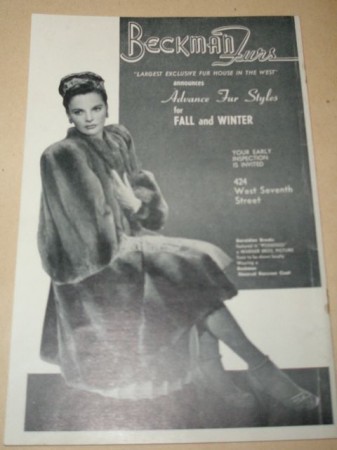 And this How to Dunk booklet cracked me up. Bob will have to read it!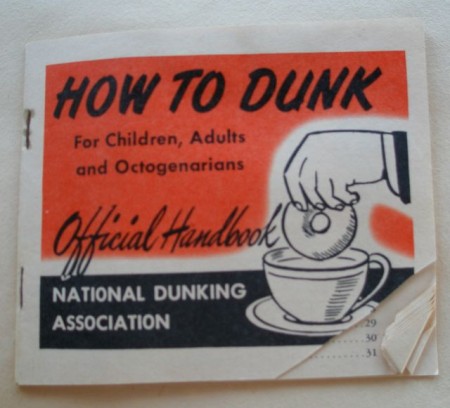 She dined in China Town…
…with her sister-in-law Gloria and friends who were visiting from home. Those were the days when everyone dressed up to go out. The ladies even have corsages!
She had a menu from the Fred Harvey restaurant. I thought it was especially interesting because it has cover art by Thomas Hart Benton.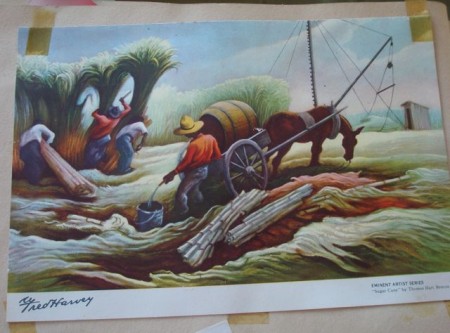 It's worth taking a minute to look over the menu and prices.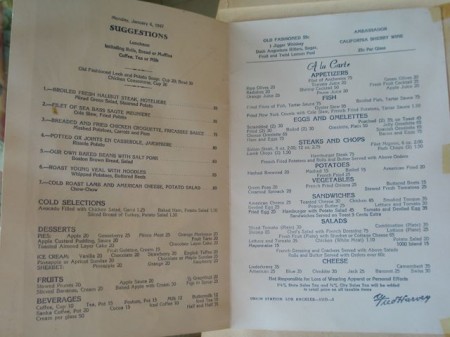 Mom also saved birthday cards she got from home…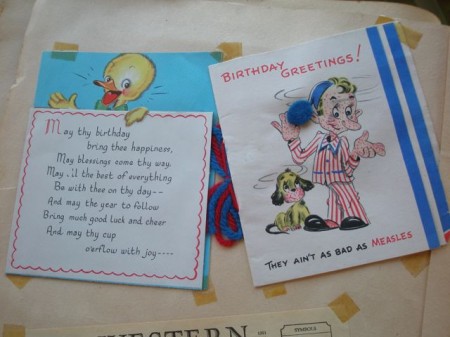 …and friends.
And this very special telegram she got at work.
No, it wasn't THAT Roy Rogers, it was my cousin Jimmy, who always signed letters to her as Roy Rogers!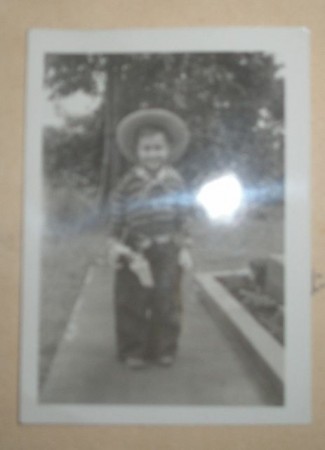 He also sent her this bear he'd colored. My mom was always known as Beeb or Bebe to her nieces and nephews.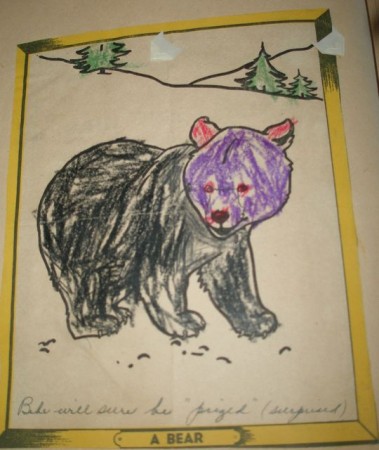 She may not have gotten a telegram from Roy Rogers, but she did get Frank Sinatra's autograph when he came into her workplace once!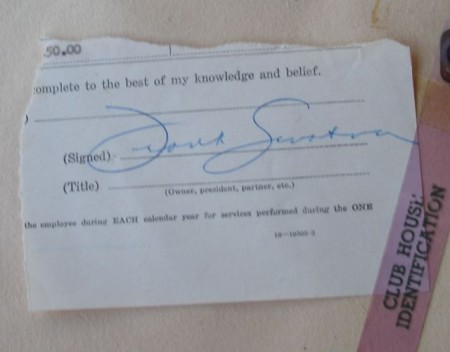 He was every girls' heartthrob then and Mom got to see him perform at the CBS Radio Playhouse.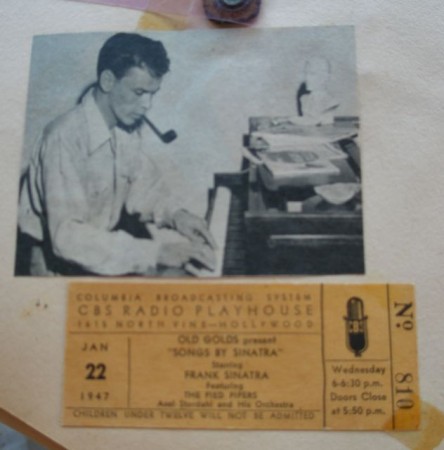 She was still writing poetry–usually about finding a guy…
…or this one, about exercise. Cute cutouts around it.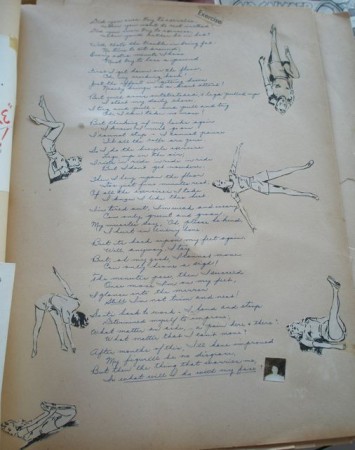 But then she came to Long Beach for vacation, met and married my dad, had three kids and her scrapbooking days were over!