The Peninsula Quilt Guild is my local guild. I'm proud to say I'm a charter member of this guild. Over the last 15 years, our membership has grown to 55 women. Maybe that doesn't sound like a lot by city standards, but I live in a very small community. One of the guild projects is making baby quilts for at risk new moms in our county. This is Bev. She's the driving force behind this project–and many others!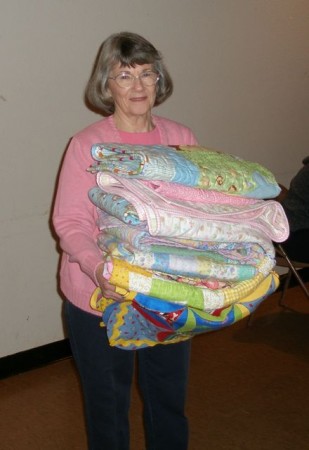 Yesterday was another "bring your baby quilts" day. Twenty-two quilts were donated, and I'd like to share them with you. I don't know who made them all, but I'll give credit where I do know. Please email me or leave a comment if you know who made any of the others, and I'll add that information.
Bev made this one. I think it's particularly nice because it's all made with fabrics I've designed! Of course, Bev could make a great looking quilt out of anything!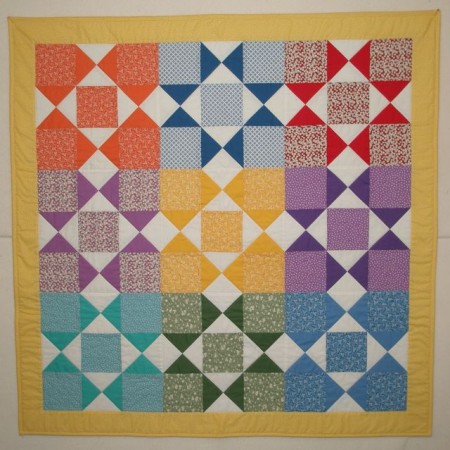 Glennys made these three quilts. She found this pattern in a magazine. You buy three yards of fabric, do some quick rotary cutting and some stitching and, voila!, you have three baby quilts!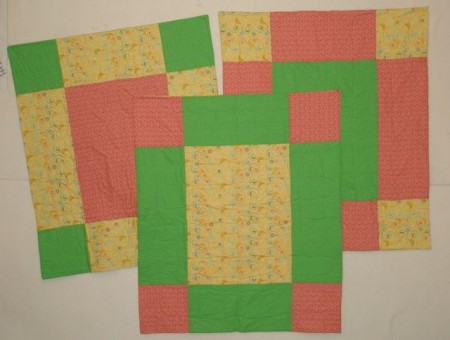 Andi made this great monster quilt and machine quilted it on her new long arm. The quilting outlining the monster looks great on the back!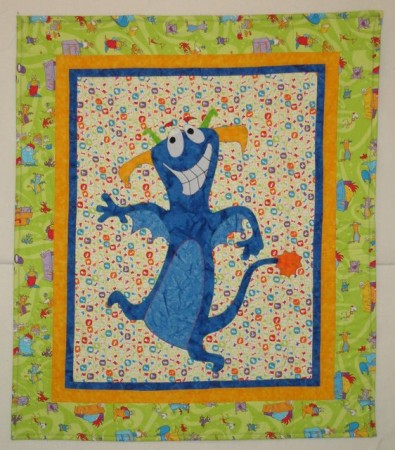 This is a pre-quilted panel that just needed a binding and it's ready to comfort a new baby.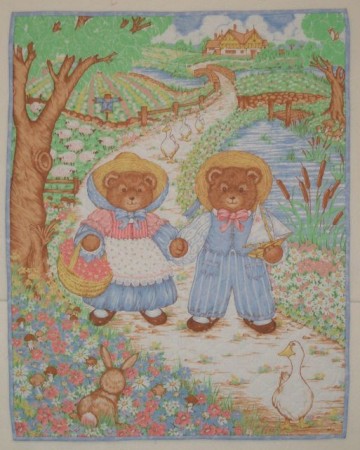 I think Andi also made this quilt with a packed bears print.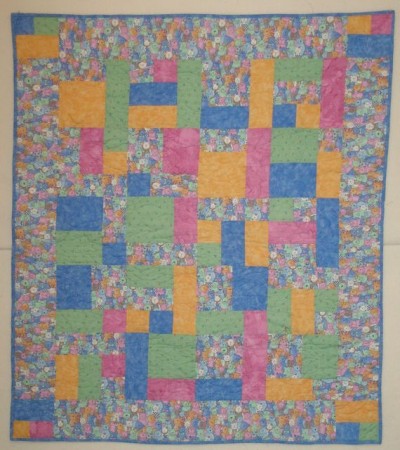 This quilt has cute monkey fabric in it and a print that says, "I love Mommy" and "I love Daddy." How perfect is that?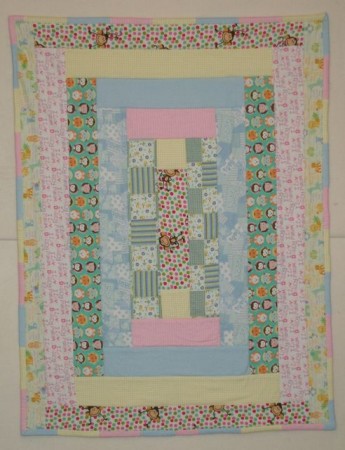 These two panels are flannel and oh-so-cuddly.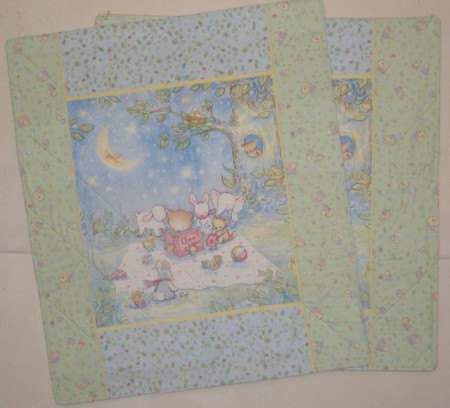 Quilts From The Heart is another local group that makes charity quilts, and they donated several yesterday, including this one.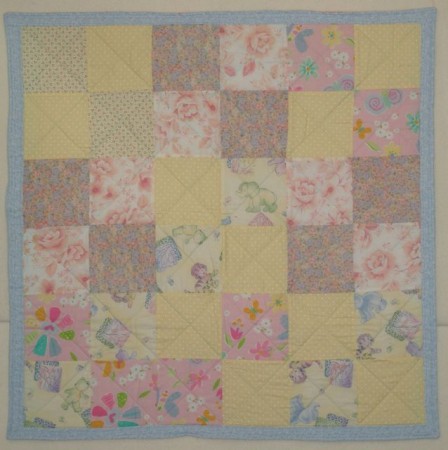 This sweet quilt with its pink and plaid is just the right size for a receiving blanket.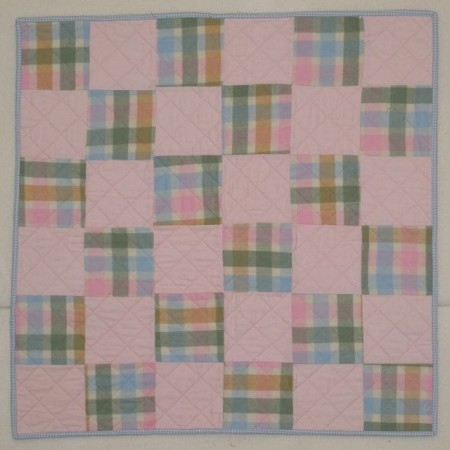 Ann S. has been in her log cabin period and made these two quilts. One has a polka dot binding and the other an orange stripe binding.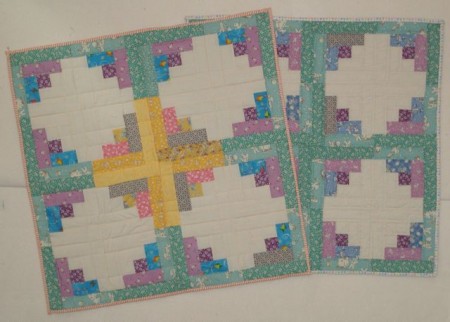 Here's another comfy Quilts From The Heart quilt.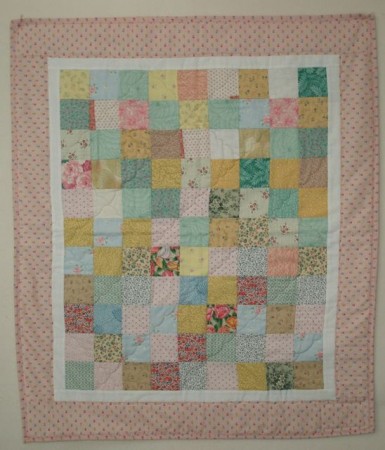 This is a great, graphic design. This one is quilted with a variegated thread, which looks so nice on this quilt.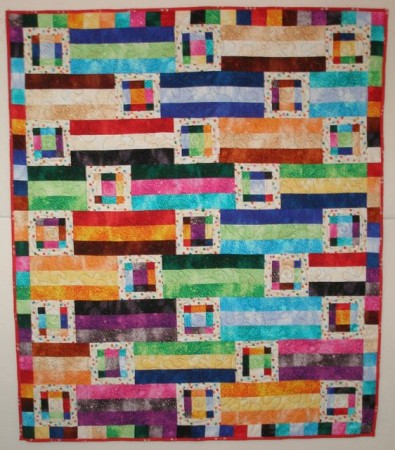 Nellie turned this Suzi's Zoo panel into a baby quilt. She said she'd had it in her stash since the Anna Lena store days!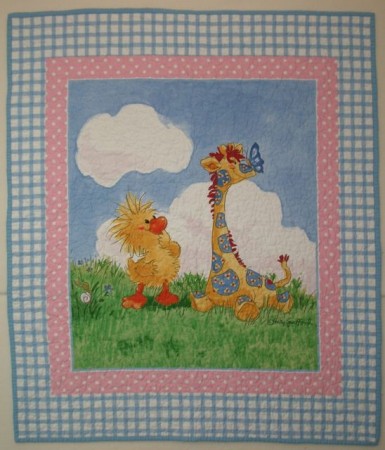 Quilts From The Heart made this sweet quilt with a packed teddy bear fabric.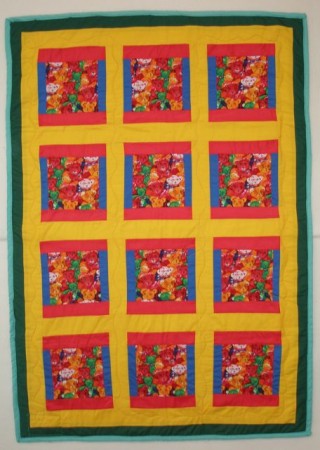 This strippy quilt made by Ann J. will keep some baby nice and warm. It's made with flannel.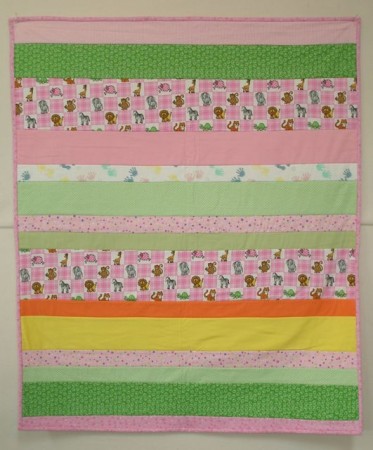 Lynda made this nice bright quilt with an even brighter back and binding!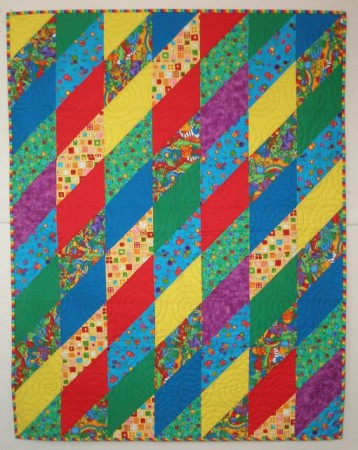 Isn't this a great looking quilt with a very modern feel? Renee made this one. I love the colors!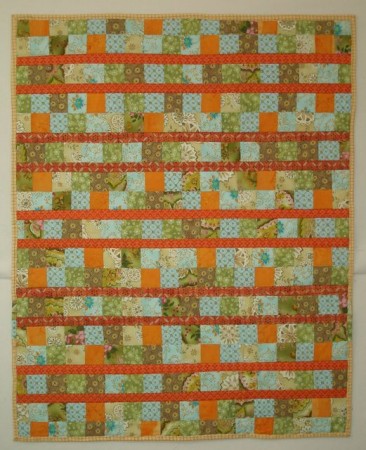 And the same with this rail fence. Orange and aqua–what a great combination! This quilt was made by Mary H.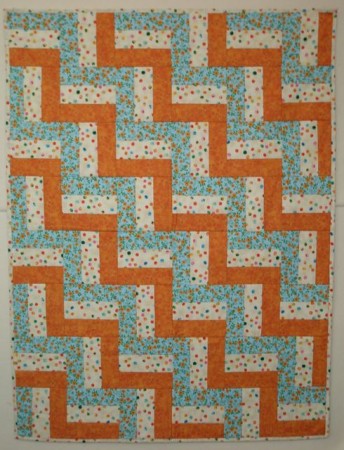 I think there will be some happy new moms and comfy babies, thanks to the work of the wonderful ladies of the Peninsula Quilt Guild.