Finally, the quilt show at Mission Mill.
I loved this Halloween applique.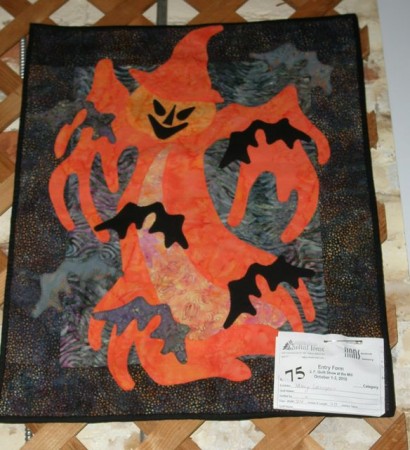 And this Pumpkin Patch was superbly done.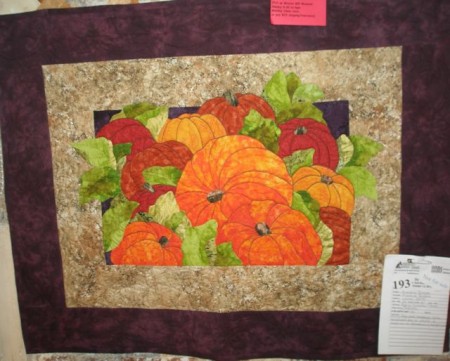 A great fall wall hanging.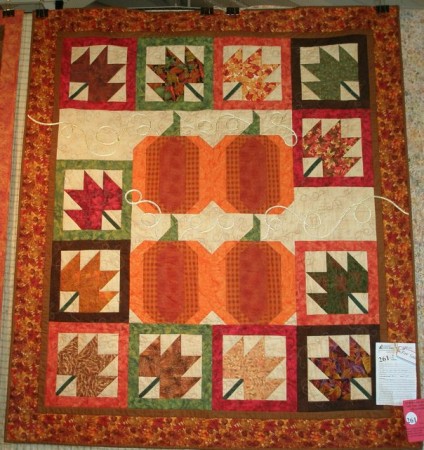 Yum. Love those colors!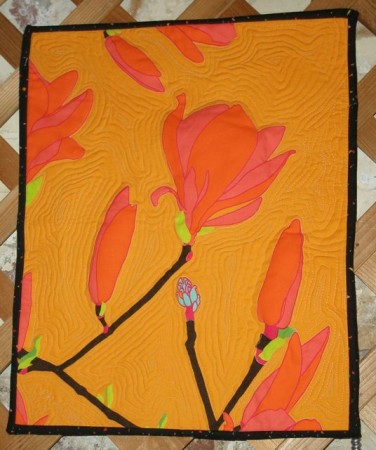 These strippy quilts are very popular, but the addition of this adorable puppy really made it shine.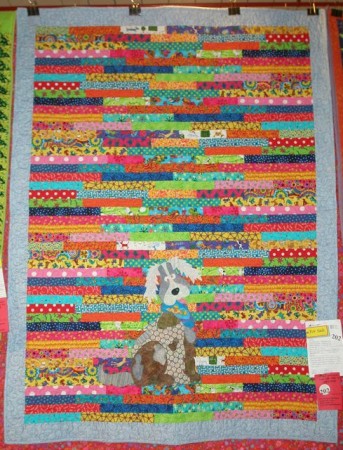 A great, graphic use of bold prints.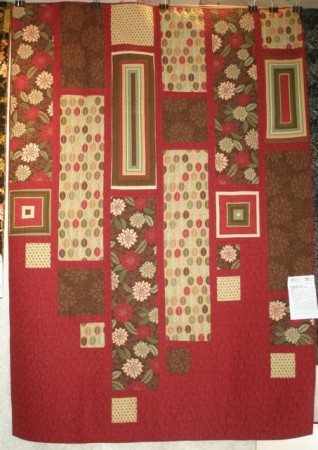 It couldn't be Oregon without a covered wagon!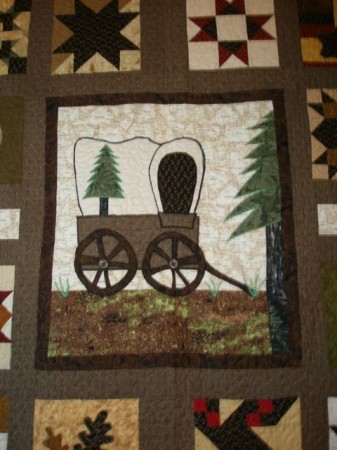 I love these New York Beauty variations, and the color placement in this one made it especially nice.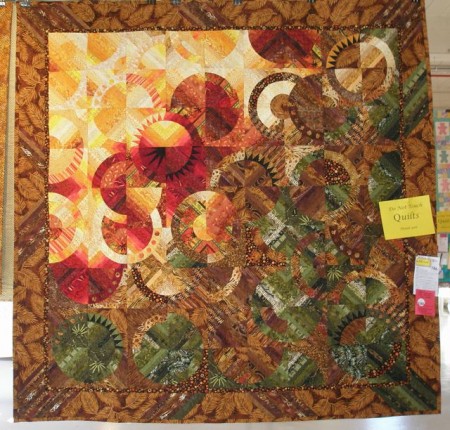 Isn't this bright quilt fun?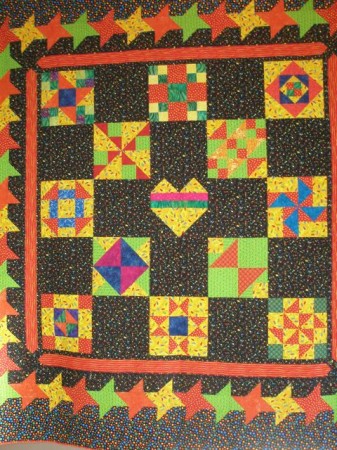 What a great scrap quilt!
The graphic quality of this quilt makes it stand out.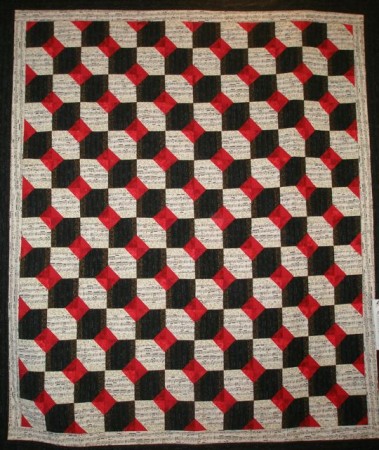 This floral applique was really lovely.
I'm fascinated by the perspective in this quilt.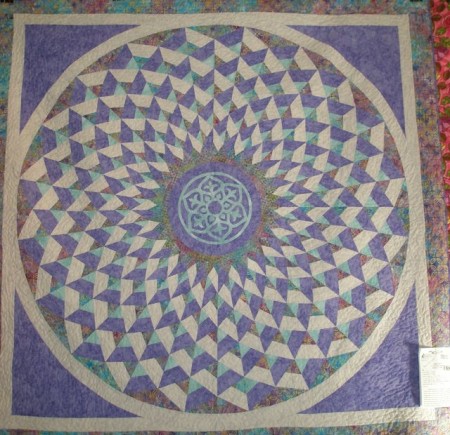 At first glance I didn't realize this was a log cabin variation. Very interesting.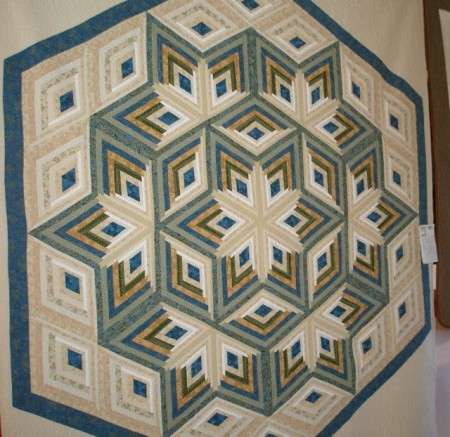 This quilt and the one below it are made from the same pattern. Really.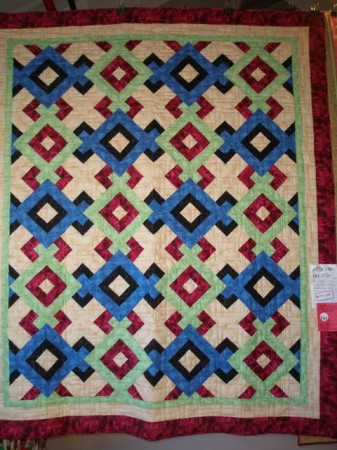 Isn't it amazing how different they look?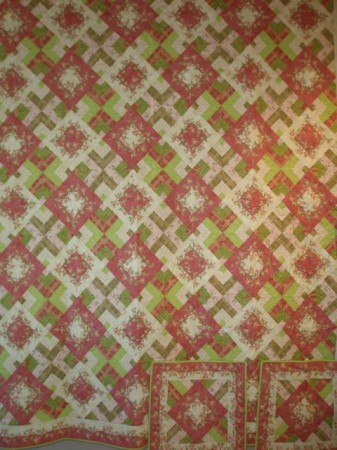 I haven't seen a border like this on a Grandmother's Flower Garden before.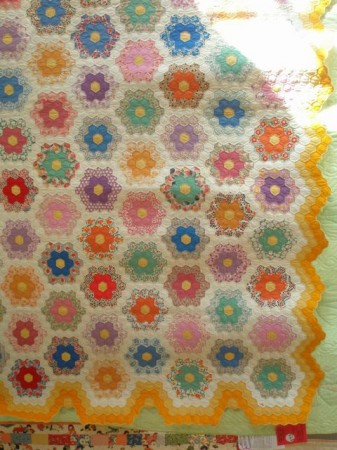 The colors are amazingly bright for an 80 year old quilt.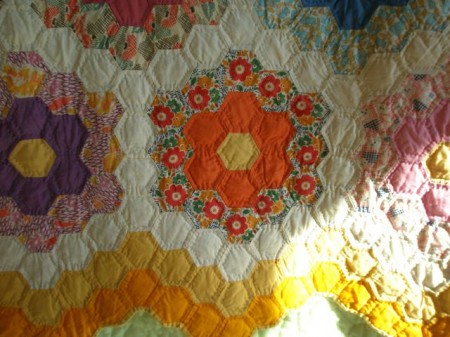 A pretty Dresden Plate.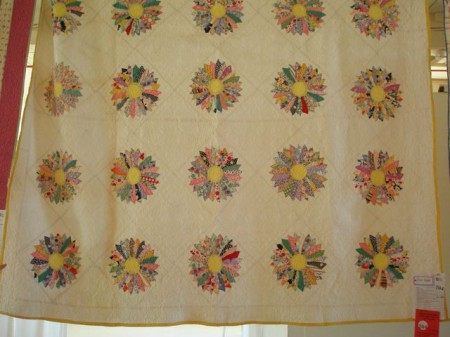 I'm always amazed at how many prints women had in their stash–even in the 1930′s!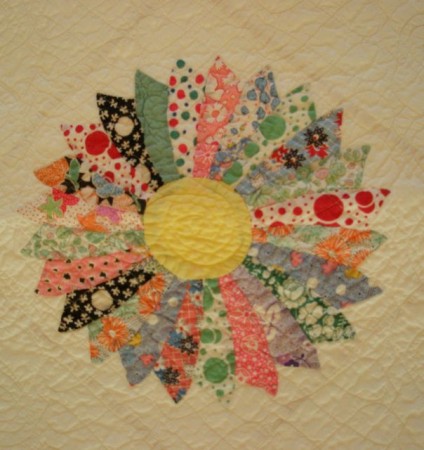 Is this pattern Hearts and Gizzards?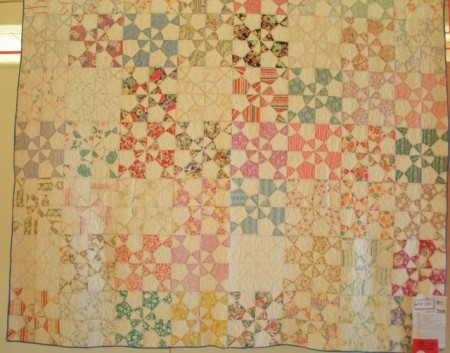 There's something special about curved piecing.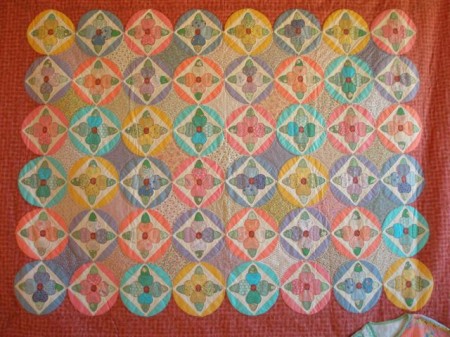 Whoa! This quilt is all made with fabric from my Daisy A Day line! I loved seeing that!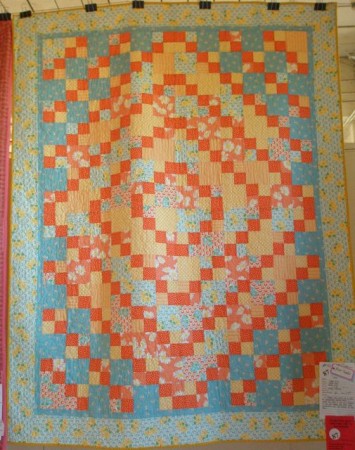 Here's an early 1900′s quilt.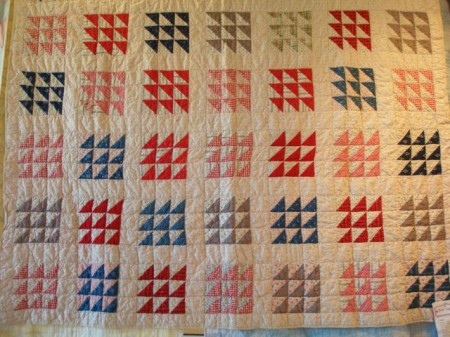 Another Grandmother's Flower Garden. Hmmm, this one set with orange.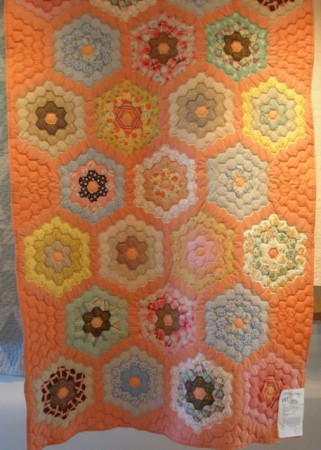 Orange and blue is always such a great color combination.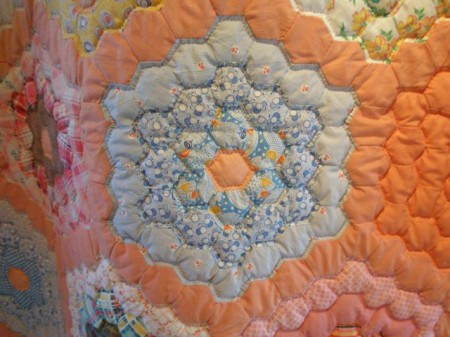 Someday I'm going to make a Trip Around the World quilt.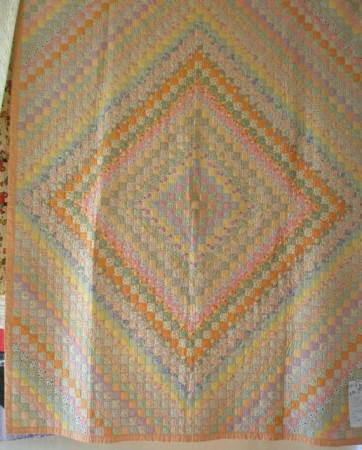 But that's a lot of 1″ squares!
This Colonial Lady is one of the prettiest I've ever seen. The quilting on it was wonderful.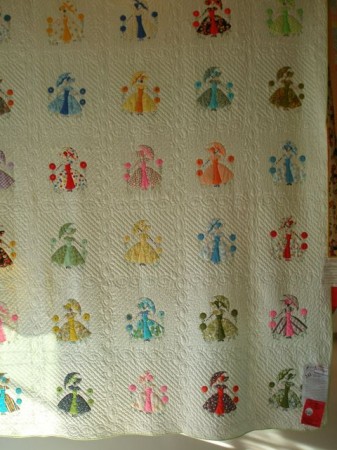 And the colors clear and bright.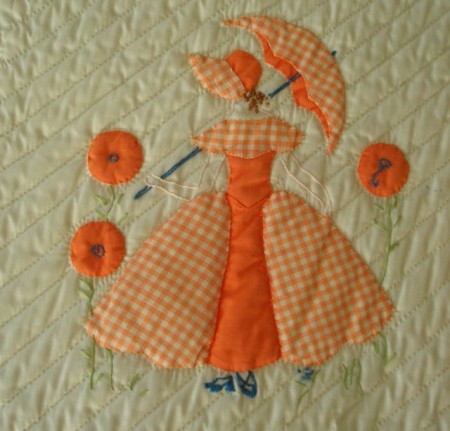 Who doesn't love Teddy Bears?
This is a great scrap quilt. Another one for my list, perhaps…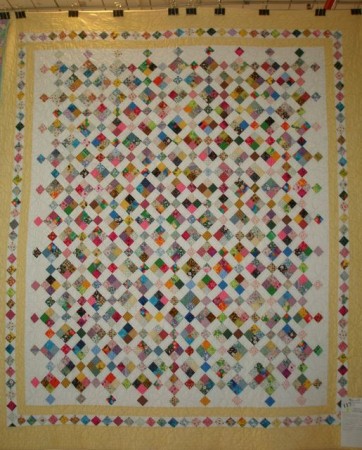 This Dresden Plate on red was different.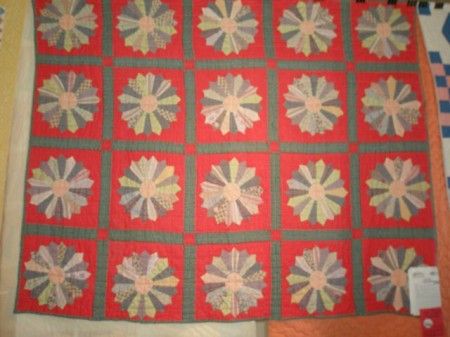 And I thought these diamonds were quite unique.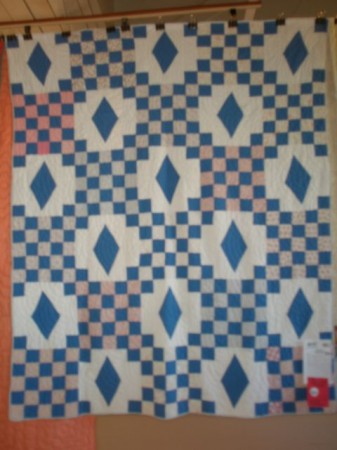 Here's a chubby Dresden Plate.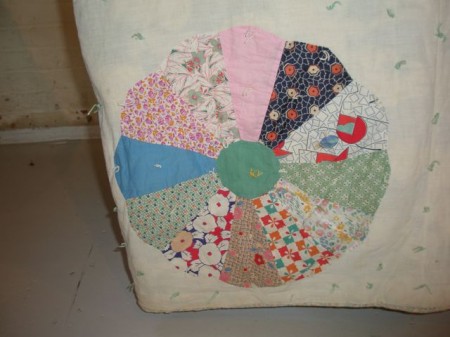 The pattern for this Sunflower Quilt was printed on labels of Mountain Mist quilt batting.
The machine quilting here is very nicely done.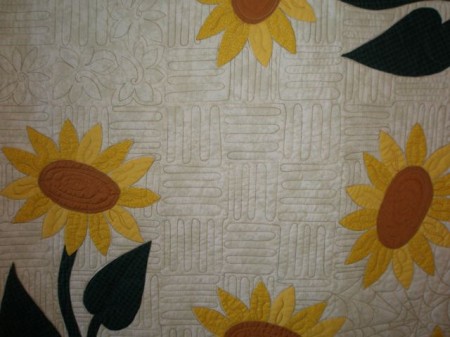 This quilt top was for sale. Do you see yellow flowers with blue centers or do you see scrappy flowers with blue centers.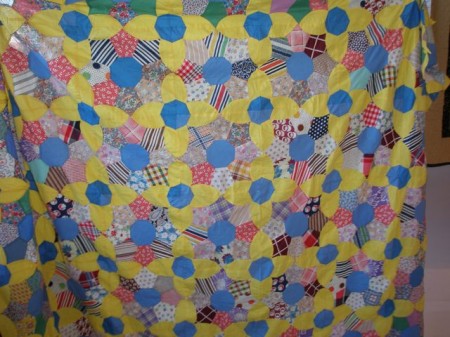 Either way, it has a new home new!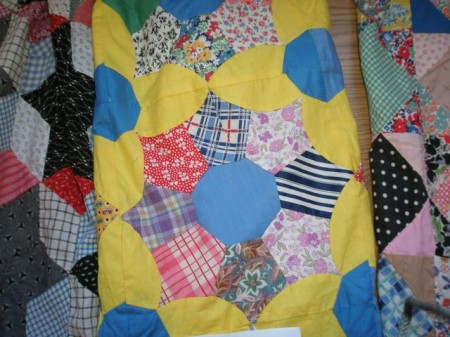 It was a great show. I plan to put it on my calendar for next year.