I had an email from a local woman two days ago. She said her dad sent her some unfinished quilts and she'd heard from Andi at Jelly Bean Quilts that I was the one to talk to about them. Thanks, Andi! I love to see old quilts and quilt tops, and these were a treasure.
She had two nearly identical tops with alphabet blocks embroidered and appliqued. This top is finished except for the last block on the bottom right which seems like it should be XYZ. I've seen quilts made from this pattern before but don't have a quilt or the pattern in my collection.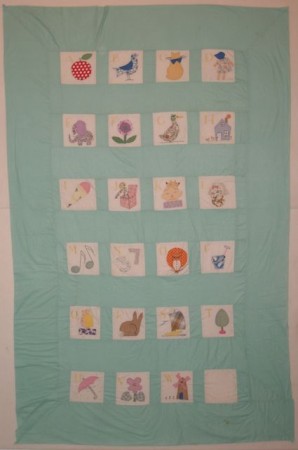 The second top has a few problems with its border and sashing strips, but luckily, she has extra fabric and I think she will be able to fix it. She believes her grandmother started these quilts and that her mom worked on them at some point. She wondered what I could tell her about them.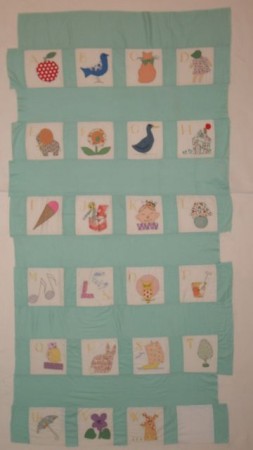 I was pretty sure that it was a serial quilt.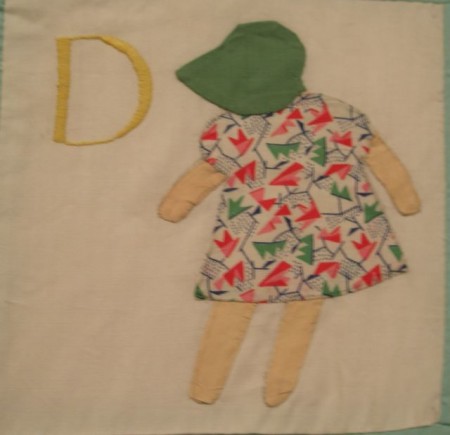 A serial quilt was a series of blocks that were published, one at a time, in the newspaper.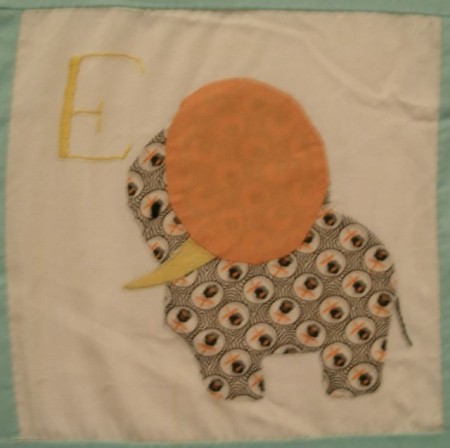 Women would clip them out, collect them all and make a quilt.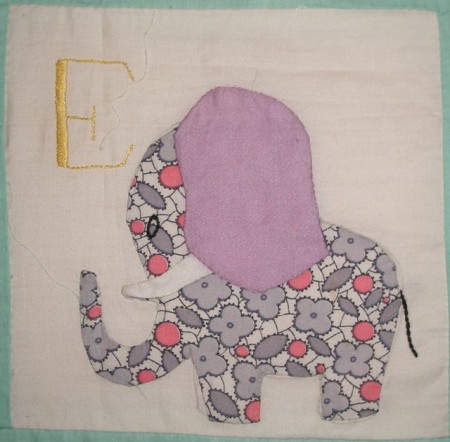 This was a great promotion for the papers.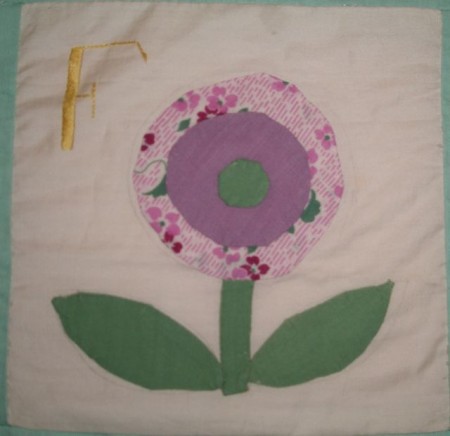 No woman wanted to miss a block!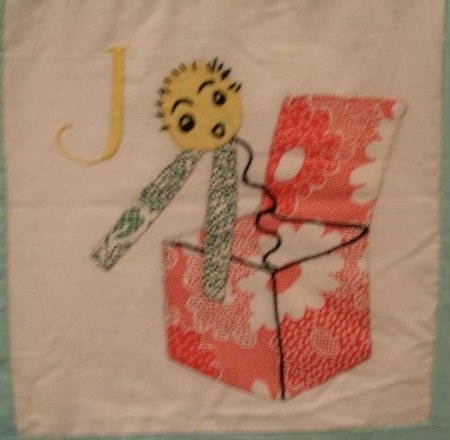 The Kansas City Star was famous for serial quilt patterns. But I didn't think this was a Kansas City Star Design.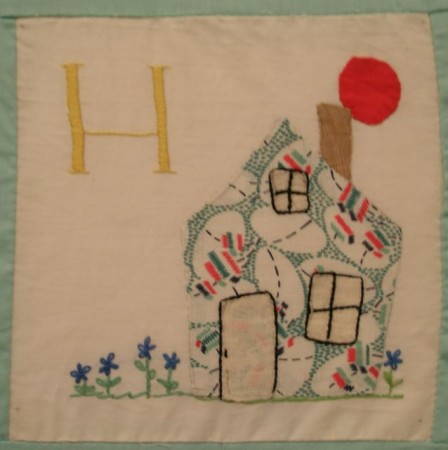 The blocks are certainly charming, though, and the stitchery and applique are nicely done.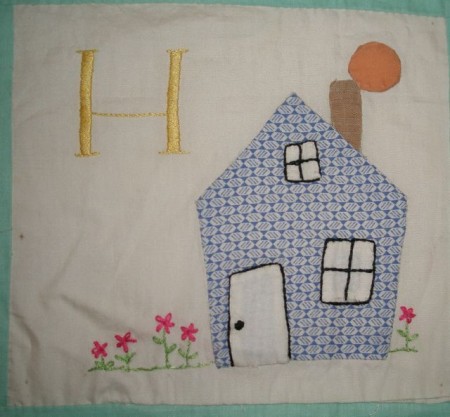 I'm not even going to mention there was orange!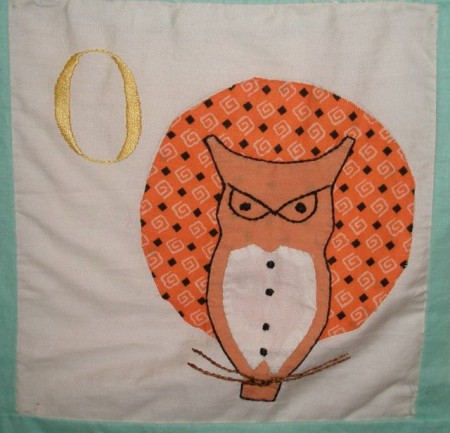 After Cheri left, I did a little web search and learned that this was a Florence LeGanke design. She designed under the name Nancy Page, and her patterns ran under the name "The Nancy Page Quilt Club."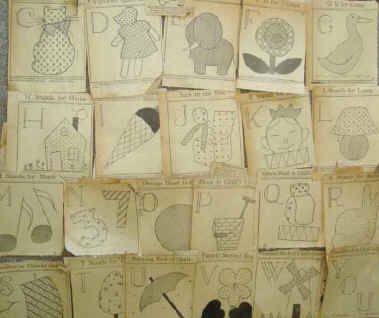 It turns out the last block wasn't XYZ, but YOU. Nancy suggested you personalize the quilt for whomever you were making it for. Seems odd to me! Perhaps she offered some other options.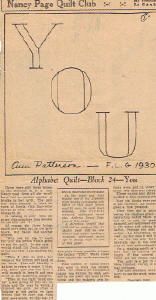 I did find some photos on the net of other vintage ABC quilts. This one was finished with XYZ.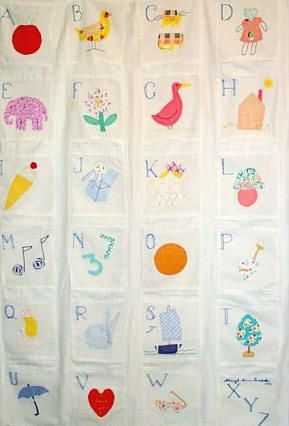 And here's a combination of the You and XYZ. I think I like this best. This is actually a preprinted fabric available from Grandma's Attic.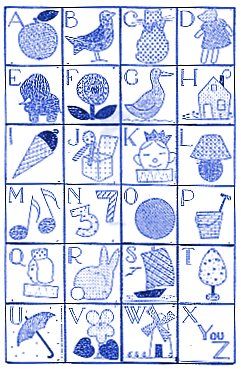 I thought I'd share a couple other photos I found. I like the alternate setting blocks used in this one.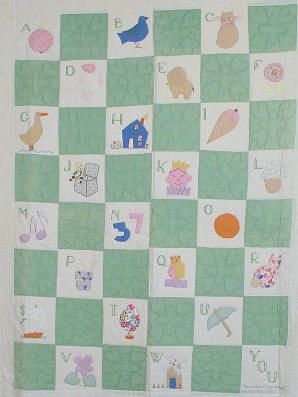 The quilting in the setting blocks is simple yet effective.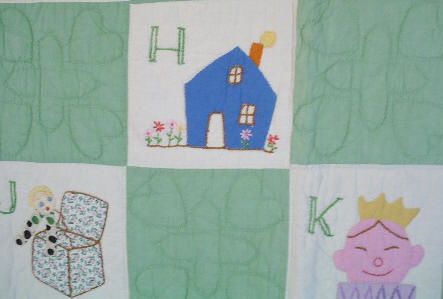 It looks like these letters were chain or stem stitched rather than satin stitched.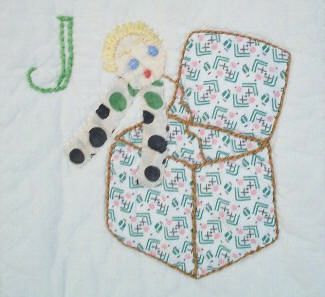 Here's a pretty yellow version.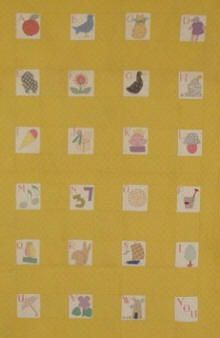 I think the crosshatching on it is perfect!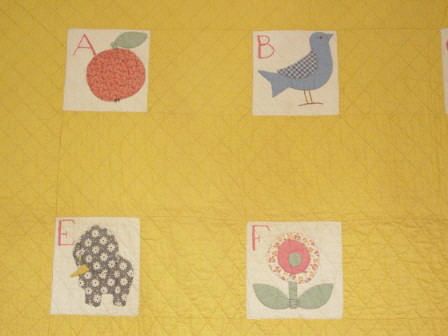 But this quilter had the most unique setting. She made her own 'X' and 'Z' designs, and used the original YOU as well.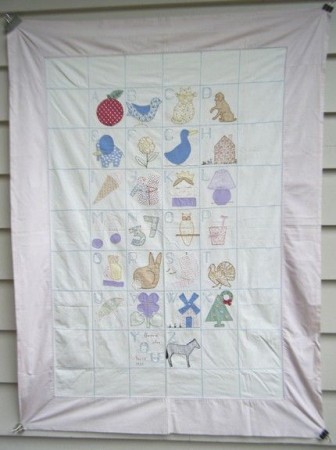 And she personalized it, too. How clever!