The Rod Run to the End of the World (also known as Ocean Park) was this weekend.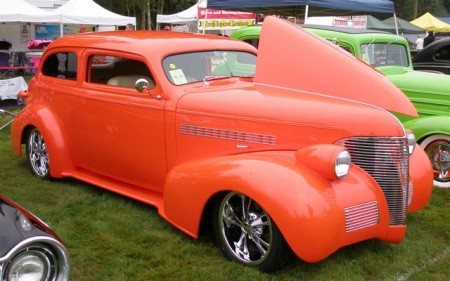 I don't know how many cars are there, but it's a lot.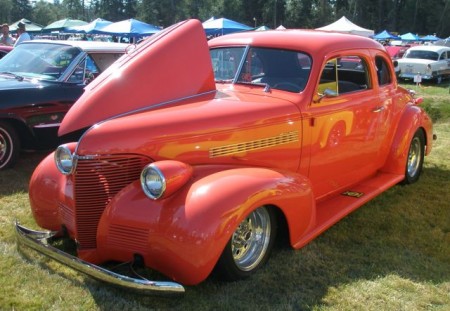 How to decide which ones to take pictures of???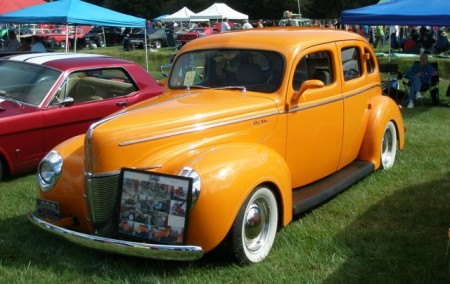 It was really quite easy for me…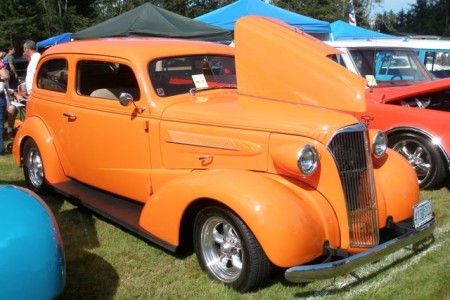 …just take pictures of the orange one!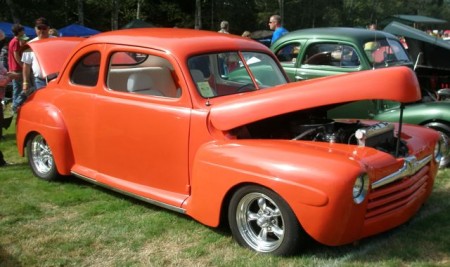 There were lots to choose from.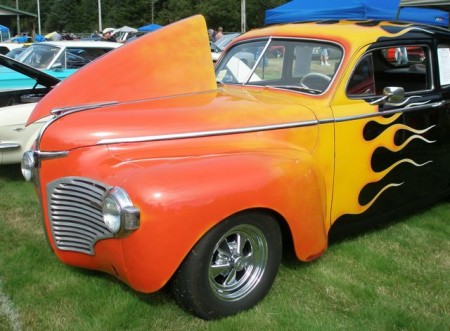 But then I thought I should take a few aqua ones, too!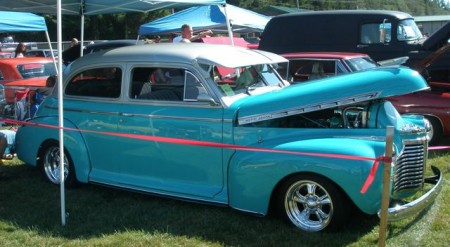 There were a lot of convertibles at this year's show.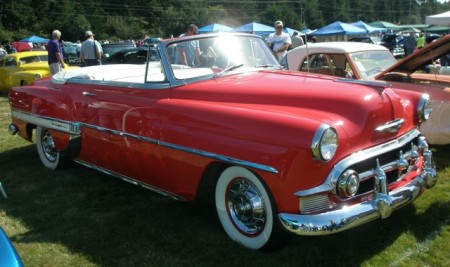 And I know this one isn't orange or aqua, but I really liked it!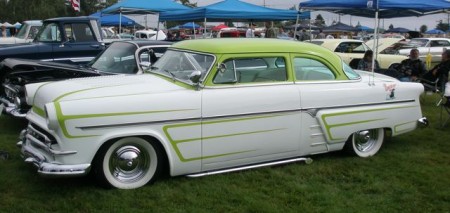 Love the wide white walls on this one.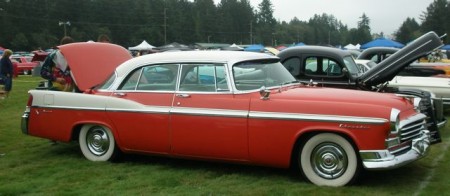 More aqua.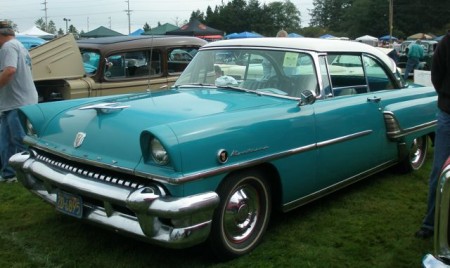 And more. Do you love it, Monica?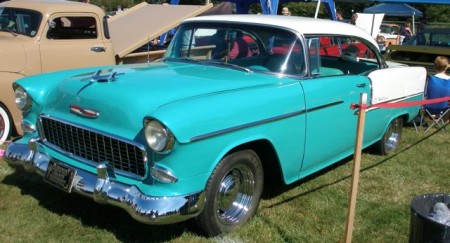 I remember learning to drive a stick shift in a certain boy's station wagon that looked a lot like this!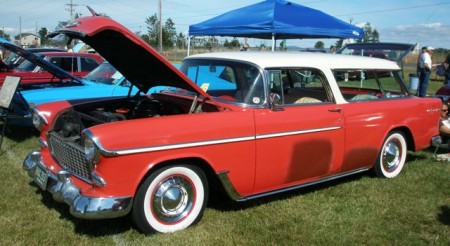 Now, it's not what I'd call orange, but this creamsicle was quite pretty.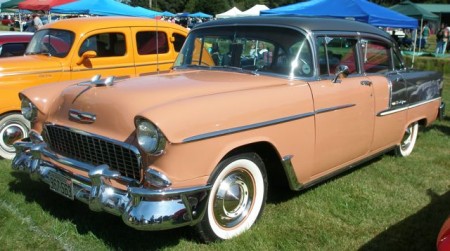 No detail left undone.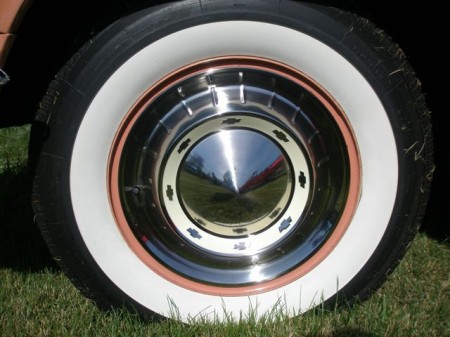 And here's his little brother!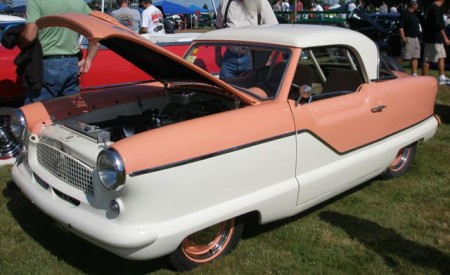 There were some nice orange pick-up trucks.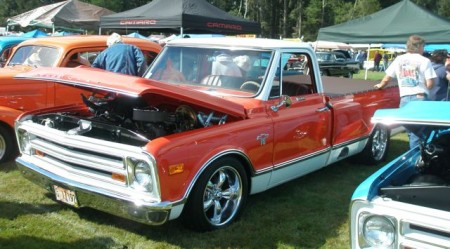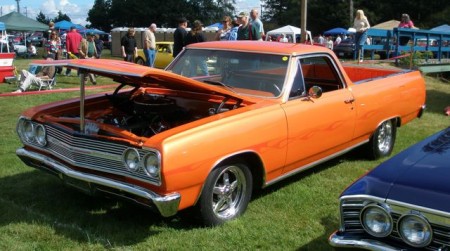 And aqua ones, too.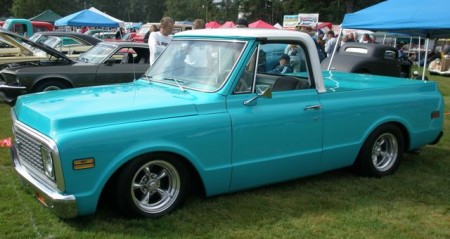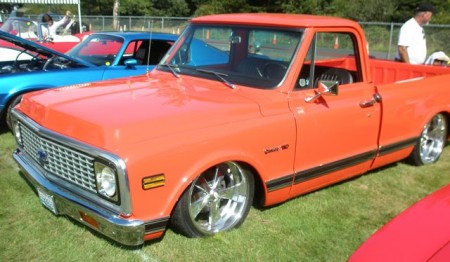 This one was in the parking lot. I wonder why he didn't get to go to the show.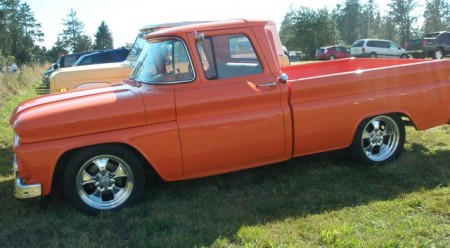 This orange flatbed has chrome and orange sides.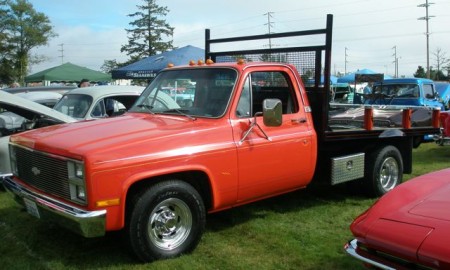 Even the guys working the show must like orange.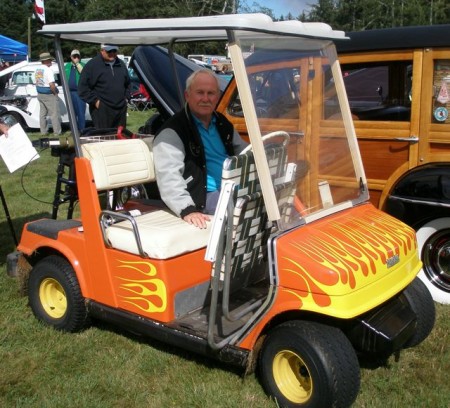 I remember a lot of these from high school days.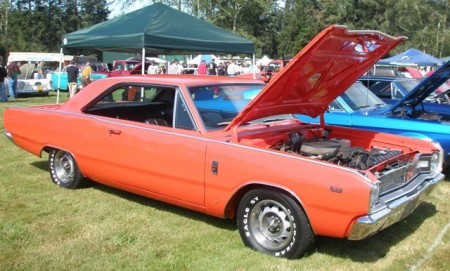 This one was a particularly pretty shade of orange.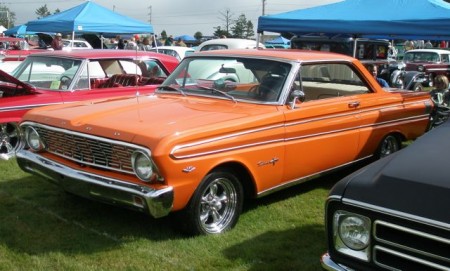 I always wonder why you have to have cables on the hood.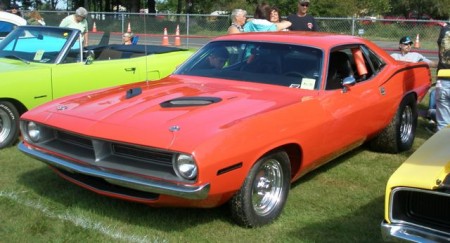 This got me to thinking about a boy with a purple Road Runner…..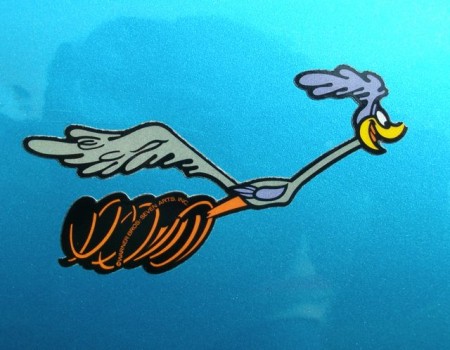 And look at this–a hot pink car with an orange engine. When I was in high school, my bedroom was decorated in hot pink and orange!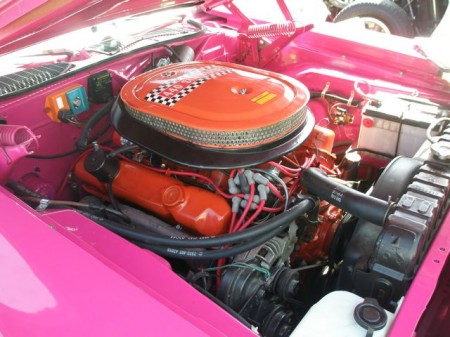 Black and orange is a good combination.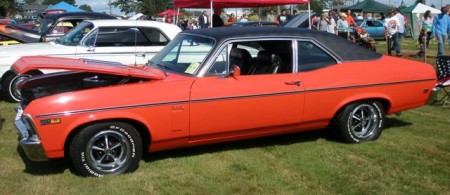 But I think I like all orange best.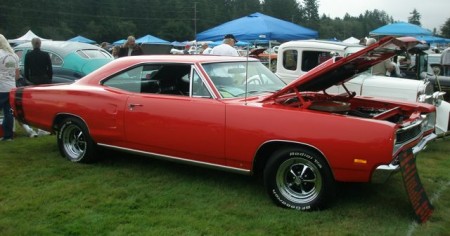 It's amazing how spotless these cars are.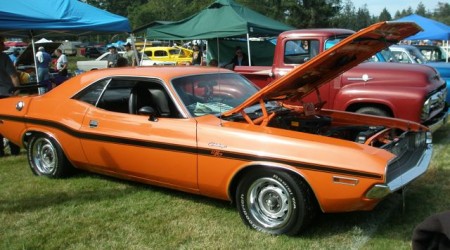 I wasn't familiar with "Boss."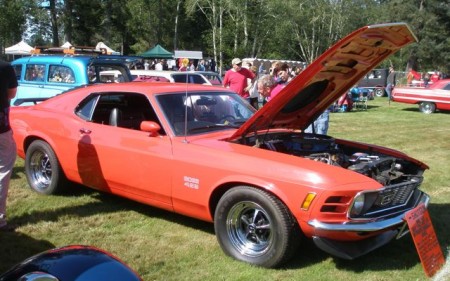 But there were two of them!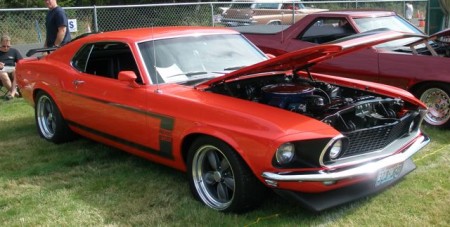 I love looking at the cars, but under the hood doesn't do much for me.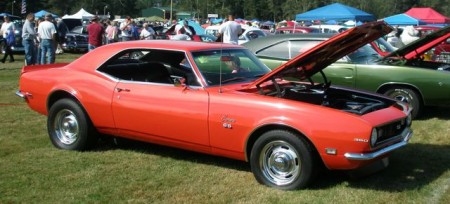 Bob, however, seems to like looking in there.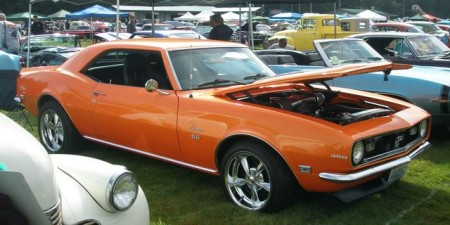 My mom always told me not to ride on motorcycles…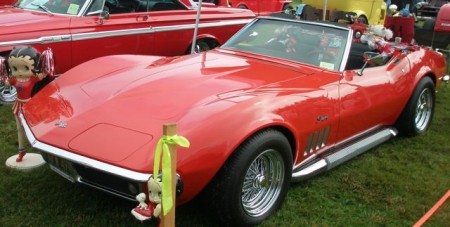 …or in Corvettes!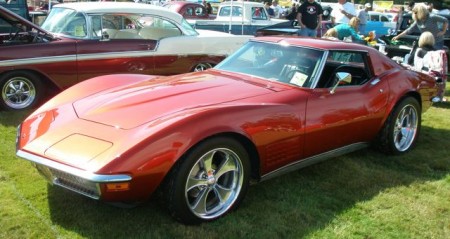 In 1966 my mom drove a Mustang, very much like this. My brother got to learn to drive in it.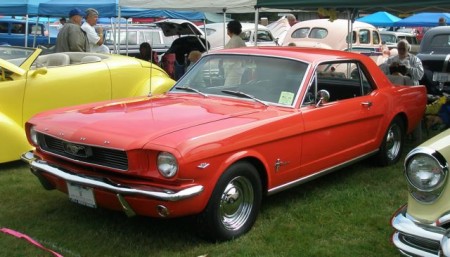 I got to learn to drive in a 1970 GTO! I didn't even know my mom was hot back then!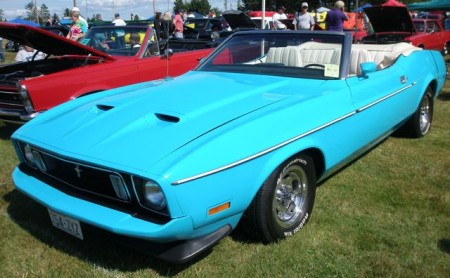 And look at this cute toddler. Isn't she adorable?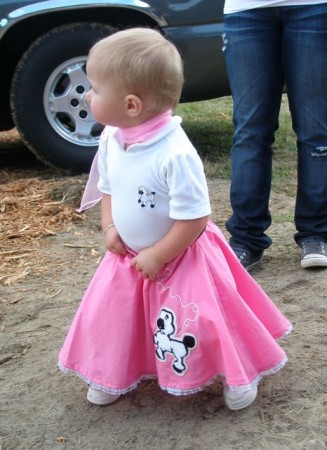 "Hey Mom, I want out of this car!"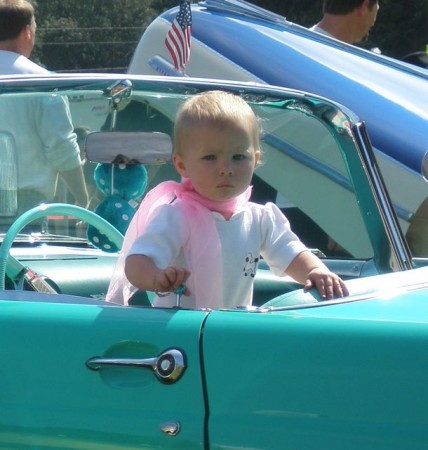 "Maybe I can do it myself."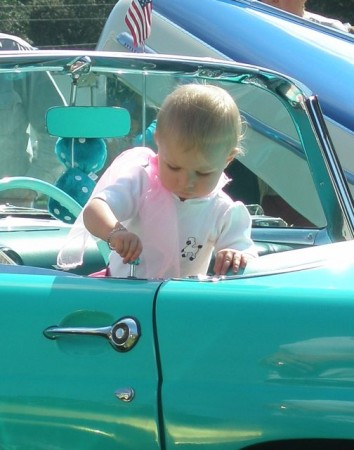 "MOM!"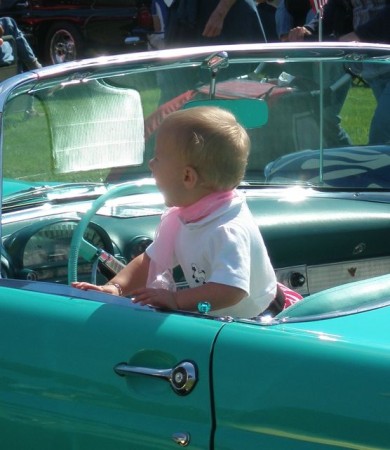 "Let's try another one."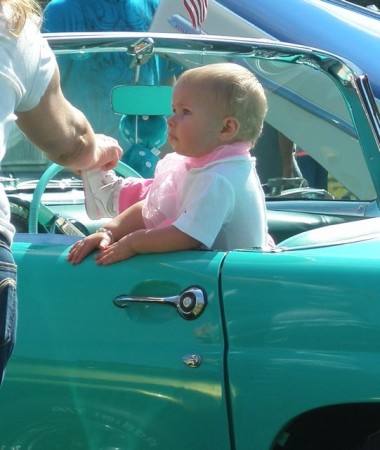 It was a fun day. Perfect weather, good burgers. Maybe next year my car will be ready for the show.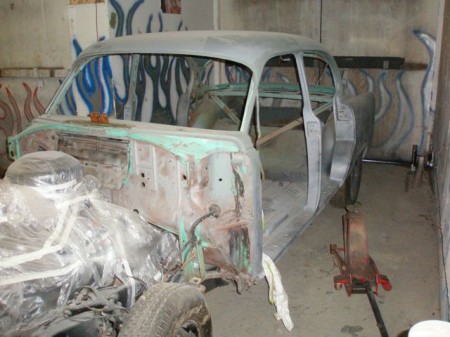 My Grandpa Kennedy bought it new in 1954 and gave it to me in 1970.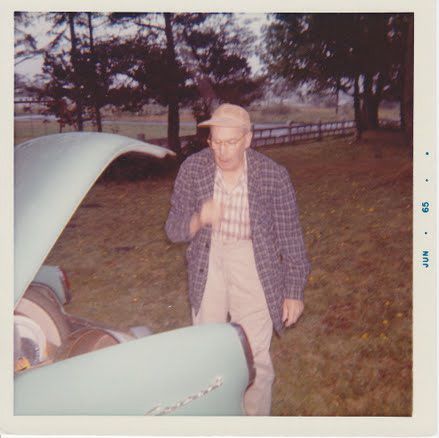 I drove it for a few years and for the last five we've been doing a frame off restoration. (I just learned that "frame off" jargon at the show yesterday!)