If you're like me, it can be hard to find time to sew in the summer when there are so many distractions. Well, this summer, why don't you join The Nine-Patch Project?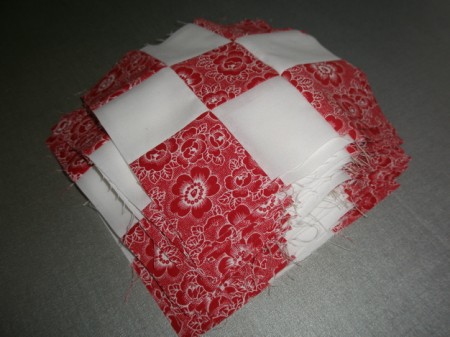 What's the Nine-Patch Project? There really are no rules. It's just a commitment to make one nine-patch block each day this summer! If you do this from June 1 through August 31, you'll have 92 nine-patch blocks at the end of summer!
What size should they be? Make your nine-patches any size you want. Here are the sizes of squares to cut for various sized blocks:
Cut 1 1/2″ squares for 3″ Blocks
Cut 2″ squares for 4 1/2″ Blocks
Cut 2 1/2″ squares for 6″ Blocks
Cut 3 1/2″ squares for 9″ Blocks
Cut 4 1/2″ squares for 12″ Blocks
What fabric should I use? Anything goes. Use all the same fabric, use up strips and squares from your stash. Surely you must have some. You can be color controlled or completely scrappy. You can do light/dark, dark/light, you can use two colors in each block or you can use nine different fabrics in each block. It's up to you.
What if I miss a day? Make two the next! Miss a week, make seven next week. C'mon, they're nine-patches. Nothing could be easier! This is a no-stress, anything goes project meant to be nothing but fun.
There's even a Facebook page where you can sign up to join the fun. 9-Patch Project at Facebook here. You can post pictures of your blocks and be inspired by the pictures others post. Several of my web friends are involved in this project, and in the end, we'll give you some ideas for setting your blocks together. Don't overlook the power of the nine-patch!
Here's a vintage nine-patch quilt that's in my collection. Very scrappy, but every center is yellow.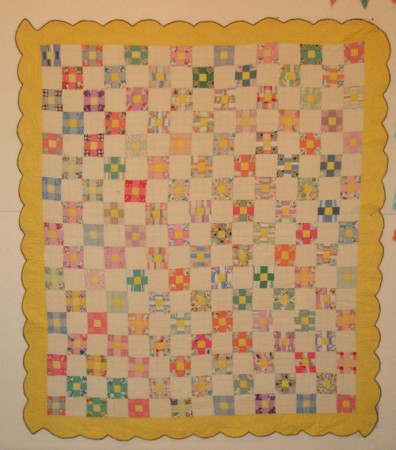 Here's my version of the above quilt, just using orange for my centers and setting the blocks on point.

Here's a controlled scrappy that I saw on the internet. Again, all the centers are the same.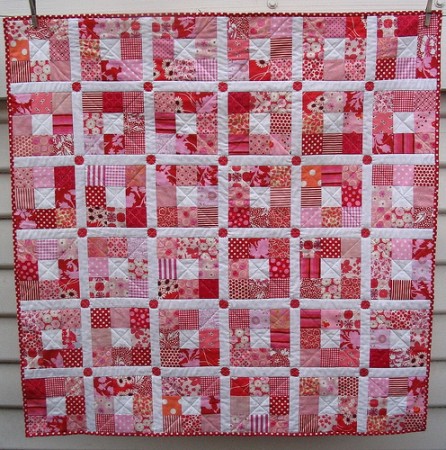 Here's another on-point version made by Marla.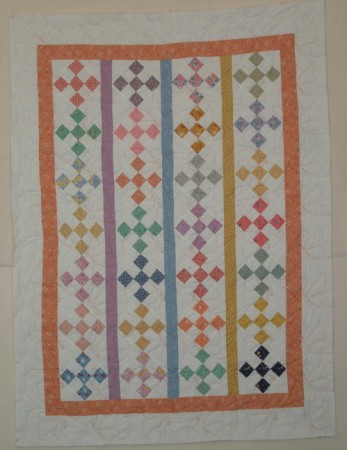 I sure hope you'll join in the fun!