I'm just back from the Anna Lena fall retreat. Boy, was it fun! We were at the Falls Creek Retreat Center, and we did our sewing in the gymnasium. There was plenty of room for all 63 of us!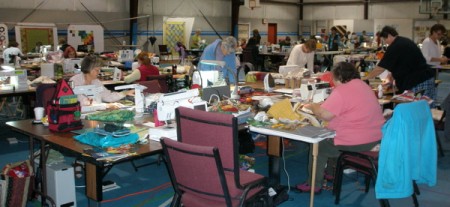 One of the best things about retreat is the inspiration you get from seeing what others have been doing. I've posted pictures of the show-and-tell we did to flickr.
Evelyn brought the Twelve Step Program quilt that she'd made from my book, Bundles of Fun.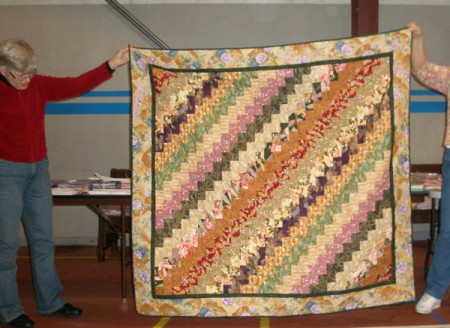 And during the weekend, Terry made the same quilt! It's amazing how different they look!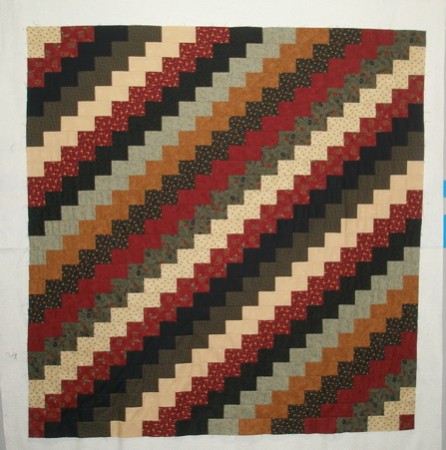 It was fun to see other quilts made from my books. Ginny made this quilt for her daughter.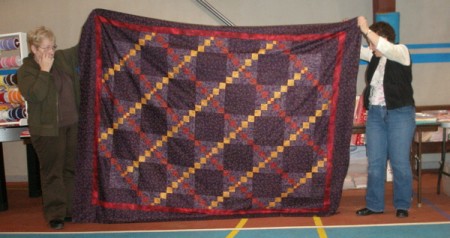 It's the cover quilt from Big Print Quilts, but, boy, does it look different with the fabrics she chose!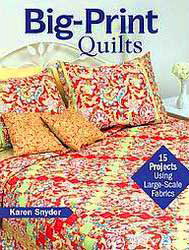 Here's another one from Big Print Quilts. See me subtley waving the book above the quilt?!? This one is Pat's and it's called Whopper.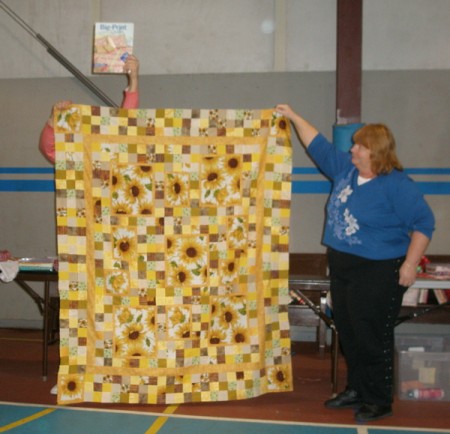 This quilt, called Summer Fun, is from Fat Quarter Fun. Janet made this one.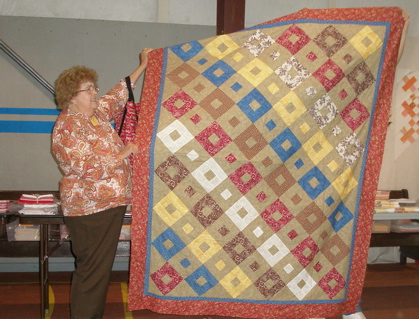 I love the way Twelve Drummer Drumming, from Bundles of Fun, looks with Mary's fabric choices.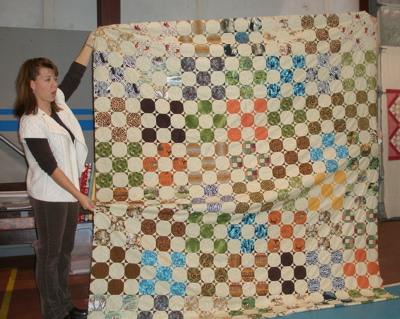 Also from Bundles of Fun is this basket quilt. Sue made it and is donating it to a breast cancer fundraiser.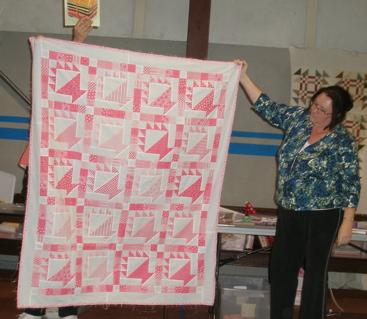 Renee was making these adorable dress blocks from a box of scraps from her grandma's attic!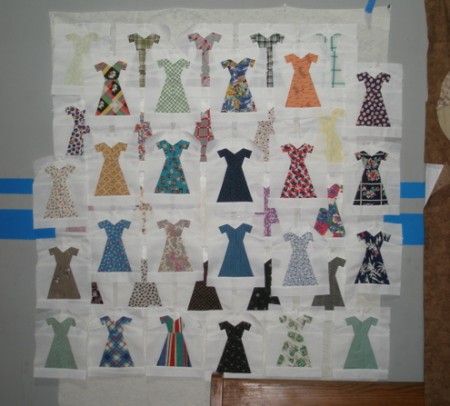 Teresa, who teaches first grade, was making book bags for all of her students!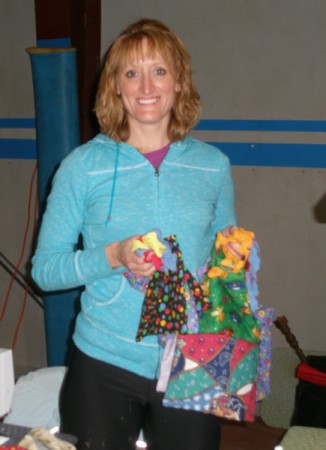 Barbara had a kit to make a table runner–and she didn't even know the fabric was from my Santa Claus Lane group! And the pattern was designed by my friend, Karen Montgomery!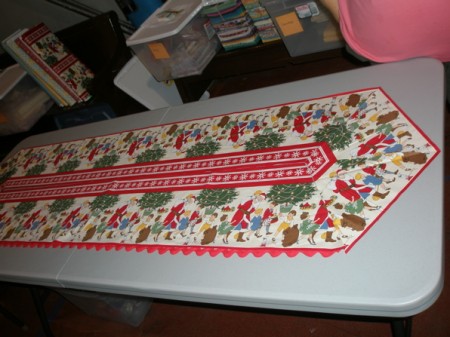 And, speaking of Santa Claus Lane, Robin made a Santa Claus Lane Jumper for her granddaughter. I just had to use the last of the Santa Claus fabric to make kits for this.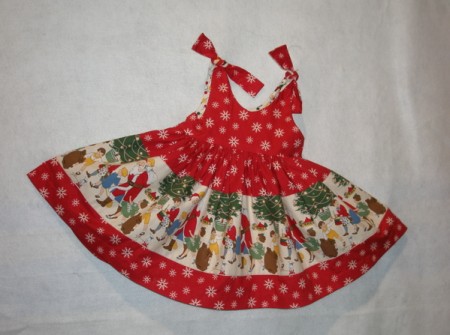 You have to have some fun at retreat, too. Here I am wearing my Christmas tree skirt!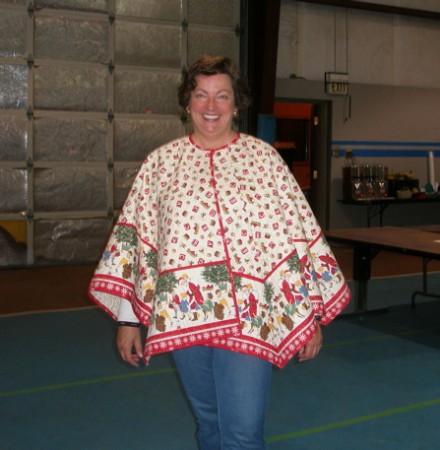 We had an ugly fabric exchange and made bags–most of which weren't ugly at all!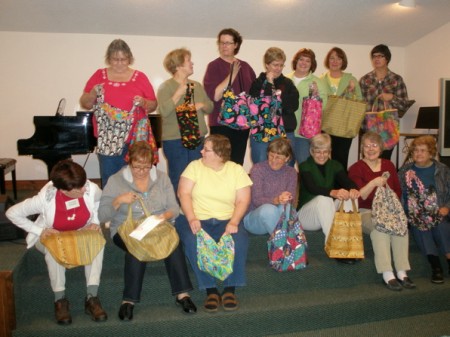 Bob even came by on Friday to do maintenance on people's Featherweights! He was the only boy allowed–and after lunch we sent him on his way.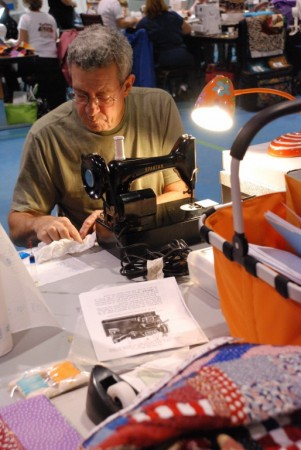 It was a great time, in a great location. I even walked to the falls–but more on that later!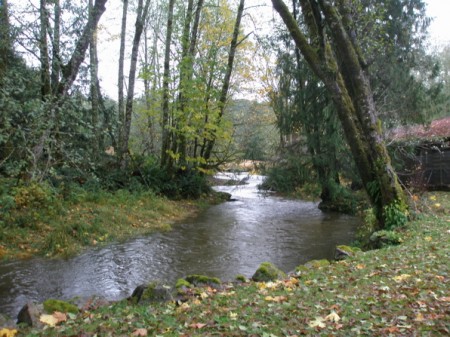 In the meantime, you can see other posts about the retreat from the following atendees: