Gallipolis
This charming town is Gallipolis, Ohio, the County Seat of Gallia County. Please note the large white building on the right. It's the Park or Central Hotel, built in the 1880′s.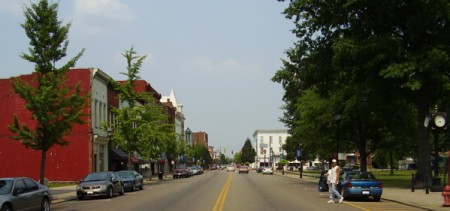 My great-grandfather, Charles Drennan Kennedy, was raised in a small community called Swan Creek, about 15 miles south of this town. Swan Creek no longer exists as a town, and my great-grandfather left there in 1873. This is beautiful country, right on the Ohio River.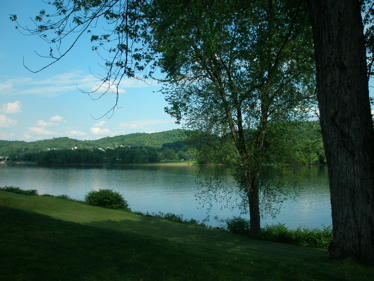 I decided that I should at least dip a toe in the River!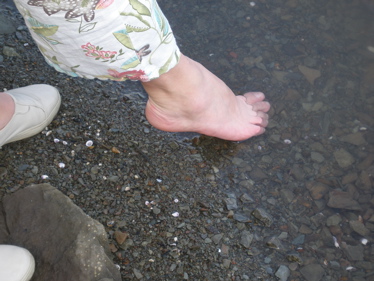 Gallipolis has a gorgeous, large city park right on the river, and the downtown business area faces the park. It is truly a magical setting. Here's the gazebo in the park.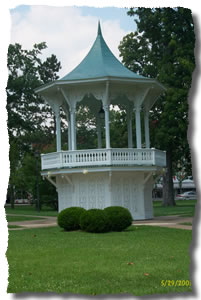 And look at the roses on the porch of this house.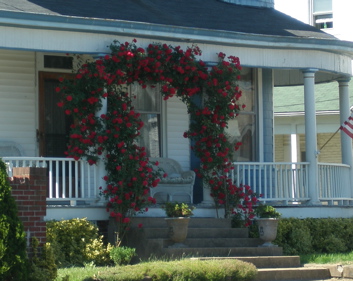 We arrived in late afternoon, and discovered the road through downtown was blocked off. At first we thought there was a fire. Then we discovered that a few days before, part of the Park Central Hotel had fallen down! Now they were taking the rest down with an excavator.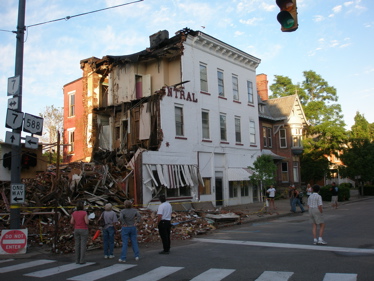 Obviously, it was the most exciting thing going on! And what do you think Bob found more interesting–stories about my forebearers or watching a big excavator working? There was a beautiful brick Victorian house right next door. We watched for awhile, but it was getting late, so headed out to find lodging.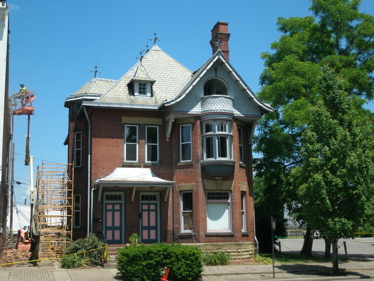 The next morning we had to check in on the progress of the demolition. And oh, and did I mention there was a basement in the building? Just as the excavator started taking down the wall closest to the house, the whole machine dropped unceremoniously into the basement!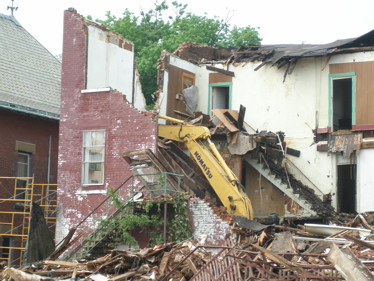 Did you notice the "V" shaped hole it made in the wall. This is what it looked like from the other side.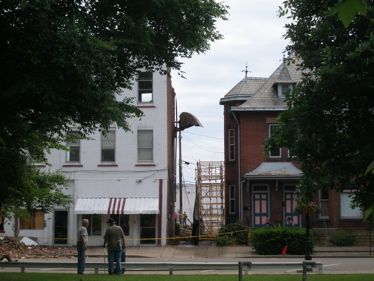 Amazingly, they got it out. They used a lift to get up and break away the wall around the arm, and a second excavator to smooth out the pile of debris. Then the first excavator drove itself out!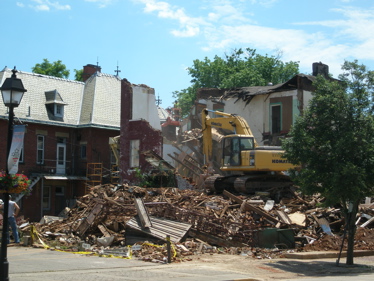 Do we know how to have fun or what!