Hey look–it's me!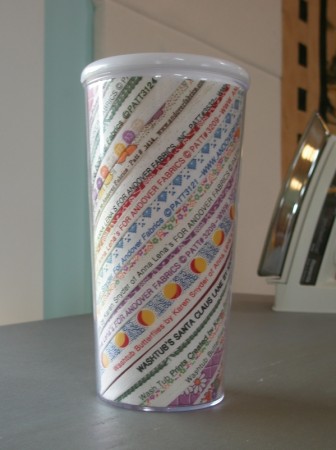 Well, it's my name, anyway. I can't tell you how exciting it was the first time I saw my name on the selvage edge of a bolt of fabric. That was a BIG day for me! When my first fabric line came, my bbf Monica made a Market sample for me, and she very carefully trimmed the selvages and put them in a little bag for me. I might not have thought of the on my own. Thank you, Monica.
About a year ago at Market, Kris from Cozy Cottage spotted something new at Market that she thought was hot–plastic cups with a piece of batting between the inside and outside layer. The idea was that you'd make a mini quilt and personalize your cup. I LOVED it. I bought them for my girl gang–and I'd found the perfect thing to do with my selvages.
But now, I have two more bins full of selvages. I need to make something else. I've been visiting Karen Griska's blog. She's written a book about selvage quilts and has lots of inspirational photos on her blog.