Aren't girlfriends great? I'm blessed to have a lot of them, both in my personal and professional life. One of my best "circle of friends" and I blog together over at My Quilt Village. We're all shop owners or designers in the quilting world. At last Quilt Market, Karen Montgomery thought it would be fun to add a Block of the Month to our blog. And that girl came prepared! She brought us a nine block design that she had done.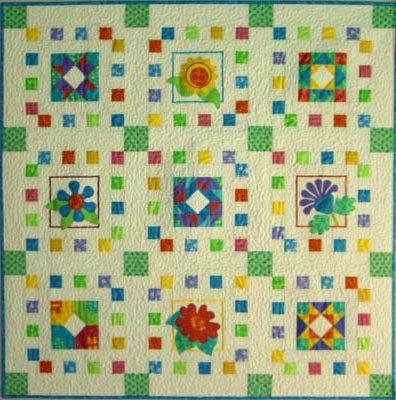 We've divided up the blocks, and each month one of us is responsible for posting the pattern for the next block and some chat about it! The first one is already up on the My Quilt Village site and I'm responsible for February. (Oh, please, please let me remember. That's only 16 days away. Mental note, mental note!)
The quilt is a happy mix of simple pieced and applique blocks. The picture here is of Karen M's quilt. Of course I'm going to make my own version of the quilt using some fabulous 1930's fabrics. Since Karen M. has a sample all done, I don't really need to make all the blocks, but it's such a cute quilt, and I'd love to see it in my fabrics, so I'm committed! The first block went together in a jiffy, and for the applique blocks I'll be doing some fusible and a buttonhole stitch on my Elna, so that will go fast, too. Here's the first block done up in my fabrics.
Not to get all salesman-y here, but if you'd like to make a 1930's version of this quilt, too, I've put together some kits with everything you need. There are 10 fat quarters of my prints for the blocks and frames, Super Ivory for the background, my green Square-Dot for the corner stones, and the blue Trillium for the binding. Click here to get to the online catalog. I love that the pattern uses fat quarters, and there is enough fabric in the fat quarters to do the cool square frames around the blocks. If you decide to do this, I want pictures!