I've been tripping down memory lane these last few days.
Sorry for the grainy photos! My daughter, Melissa, graduated from high school in 1987. For three years before that, she and I had a ball planning her graduation trip–to Europe. I couldn't let her go alone, could I? We had maps and guide books and poured over them planning all the things we wanted to see and places we wanted to go. We were to be gone for six weeks. We bought a VW Jetta through a tourist program, picked it up there, then had it shipped home at the end of our trip. It was Melissa's first car, and she took it to college. The above photo shows her the day we picked it up in Vienna, putting the country sticker in the back window. She was one happy girl that day!
So why am I posting about this now? When we got back from that trip, Melissa put her photos into a couple of albums. (Remember those albums with the "magnetic"pages? Yuck!) She had enough pictures to fill two of them. When I was visiting her last summer, she showed them to me. They had been through a flood in her garage and were in really bad shape. She was thinking of throwing them out, so I brought them home. Of course, they've just been living in the Ann Frank room since then. But, now that I'm on my organizing spree, I found them under some other treasures, brought them downstairs and started removing the photos. They came out surprisingly easy. I've decided to make a scrapbook for Melissa, hence the trip down memory lane
Now, if I was really organized, I would have been able to find the little glue applicator to stick the photos down, but I haven't gotten there yet. I think you know what's coming. I had to buy a new one!
Our first stop was London. We were without a car there, which was fine!
The Hard Rock cafe was a big deal! Hey, when you're 18, it's a lot more fun than another museum! Now, I must tell you that during those three years that we were planning our trip, Melissa kept asking my mom if she'd come with us on the trip. My mom's answer was always, "If I'm still in good health." Well, guess what, that was 22 years ago, and my mom's still in good health! Hey, Mom, ready for a reunion trip???
We visited Austria, Germany, Switzerland, Italy, Monaco, France, Belgium, Holland, Denmark and Sweden. It was a wonderful six weeks. After two weeks, we were in Milan and my sister joined us. She stayed for two weeks, then she and my mom came back home and Melissa and I spent the last two weeks just the two of us.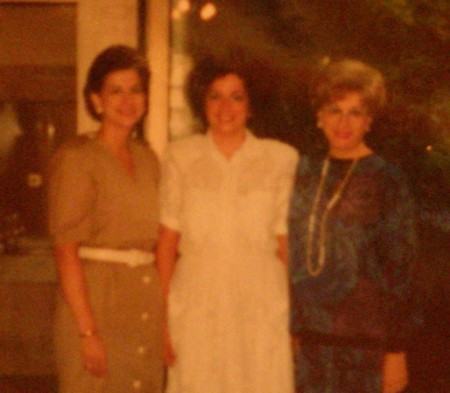 It really was a great trip, and I do think we should do a reunion tour!
I'm Karen Snyder and I approve this message!