I found an inexpensive airfare to Sweden in March and decided to take a quick trip over there to look for some furniture for our Swedish house, primarily a bed so we'd have someplace to sleep this summer.  Instead, with Torsten's help and encouragement, we remodeled the dining room!
Here's what it looked like in the real estate listing photos.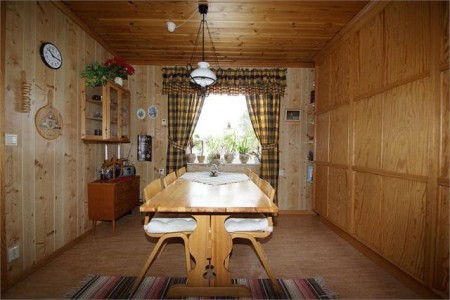 The ceiling was natural knotty pine, the walls had plywood panelling….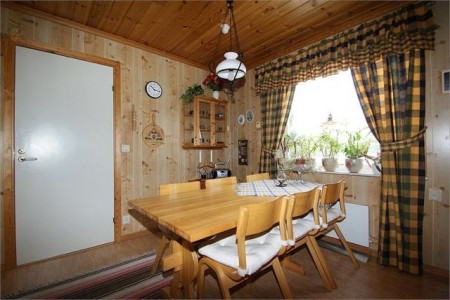 …and there was a wall of built-ins along one side of the room.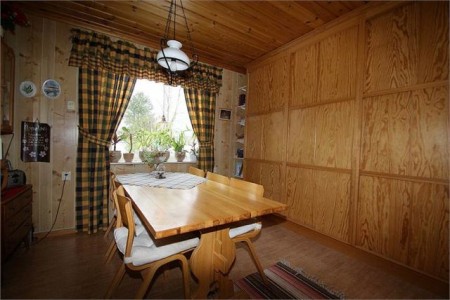 It isn't a very big room, so we removed the built-ins.  Since you can never have enough storage, we'll find someplace else in the house to use them.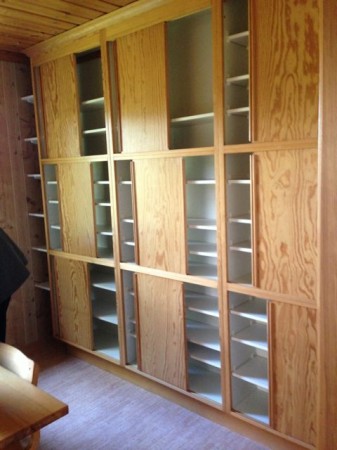 Then I pulled the moldings and plywood paneling off the walls.  The old glue was quite dry, so they came off easily, but it took a lot of sanding to get rid of the glue that was left on the particle board.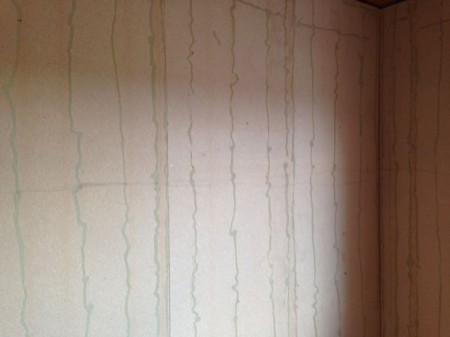 Now we had a bare wall where the cabinets used to be.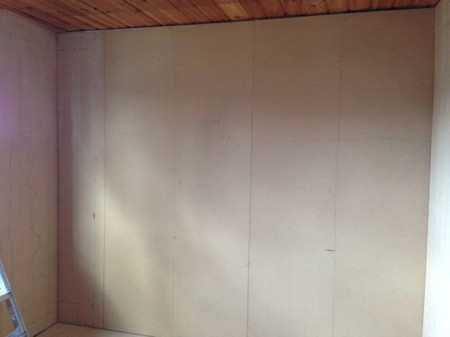 And we just happened to have an extra window that we took out of the kitchen when we put a smaller one in there.  So, Torsten cut a hole in the wall and, voila! A new view!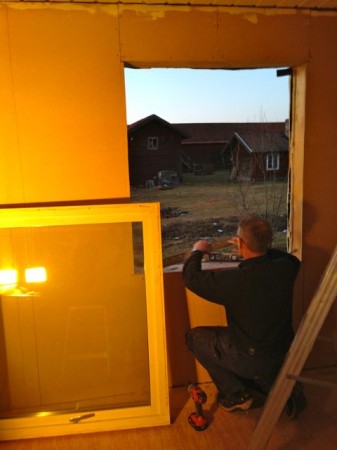 It even makes the outside of the house look better.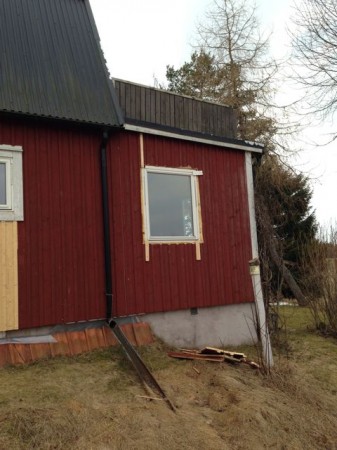 I put a coat of paint over the particle board to seal it and mudded the seams–all in preparation for wallpaper above the wainscoting.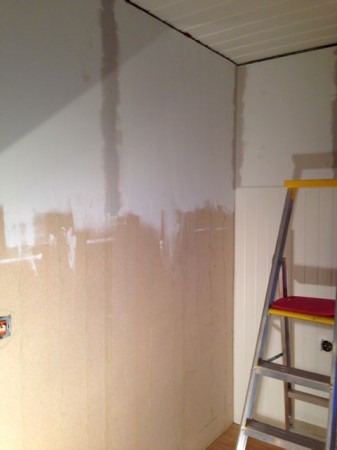 Torsten nailed up the wainscoting…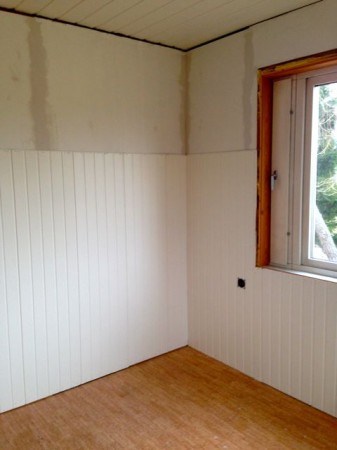 …and I painted it the same gray as we used in the kitchen.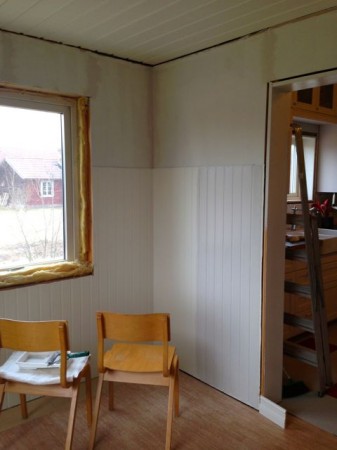 All of the moldings were painted white.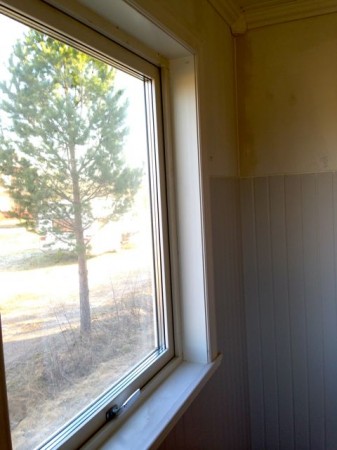 The ceiling got four coats of white paint.  This is my "three-ladder-method" for ceiling painting.  Luckily the room wasn't any bigger, or we would have needed more ladders!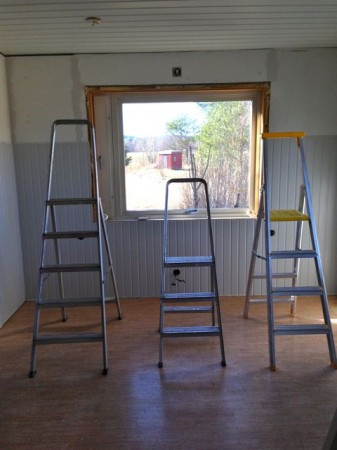 The old flooring was a yellowish brown sheet vinyl.  It didn't look so great up against the gray Marmoleum in the kitchen.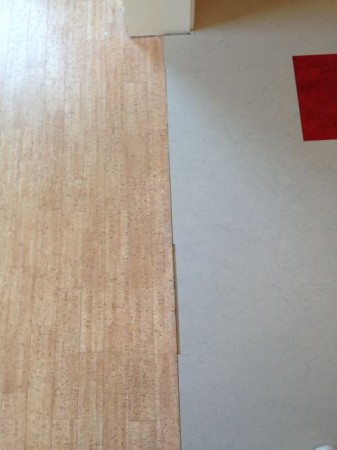 The solution?  Winter Oak Pergo!  Here it is, laid out in the bedroom acclimating to the house.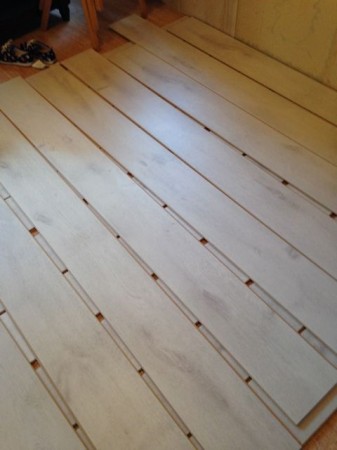 I loved it from the minute we started putting it down.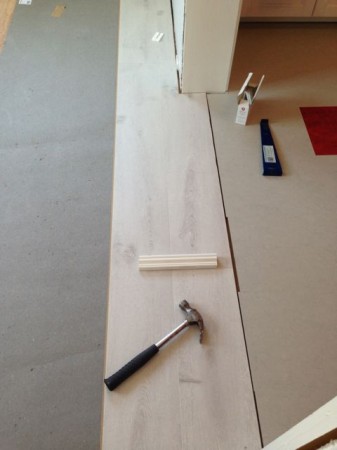 What do you think?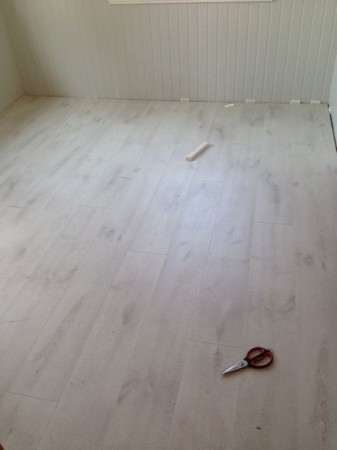 Then my favorite part–wallpaper!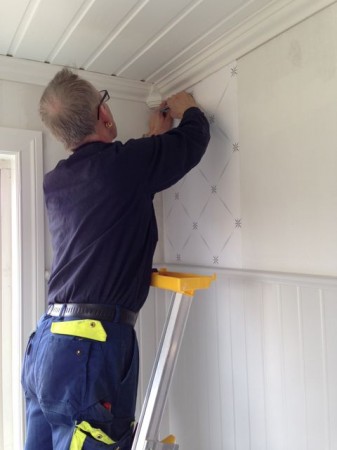 Torsten is a saint.  Not because he can do everything, but because picking a geometric wallpaper for an old house would make most people swear like a sailor!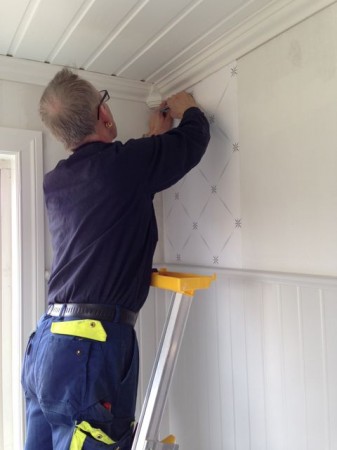 He didn't utter one cross word, and it looks terrific!
The previous owners left us the dining room table, so of course we had to have fika in the newly finished room.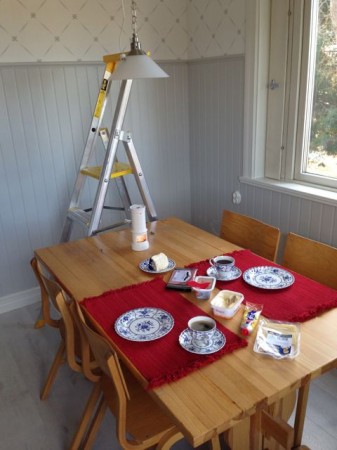 There are still some things to do–like paint the table and the corner cabinet, and put up window coverings, but I think it looks pretty darned good for two weeks work!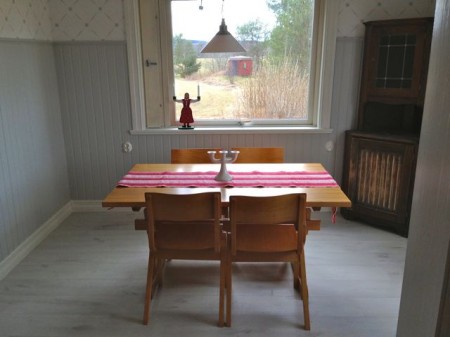 And, oh, I did buy some furniture.  On the last day before I left, we went to Ikea and bought a bed and nightstands–and this cute rug for under the table!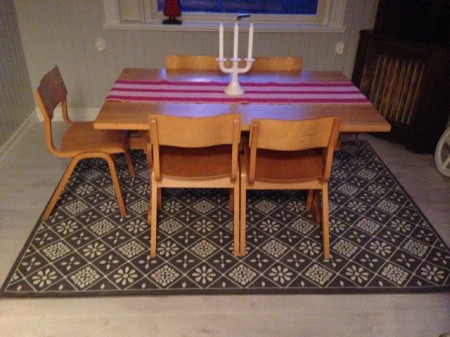 I'll be ready to host a dinner party before long!