So, did you do it? Did you join the Nine-Patch Project and make a Nine-Patch block everyday in June, July and August? I have to admit that I did mine in spurts, but I love the result.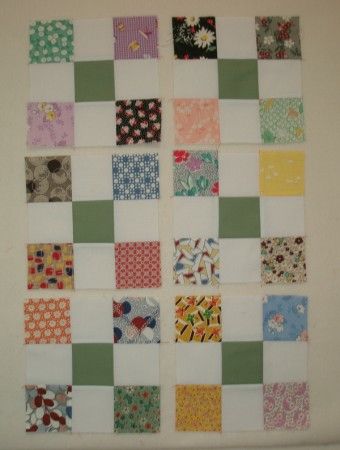 I'm going to cut them up…..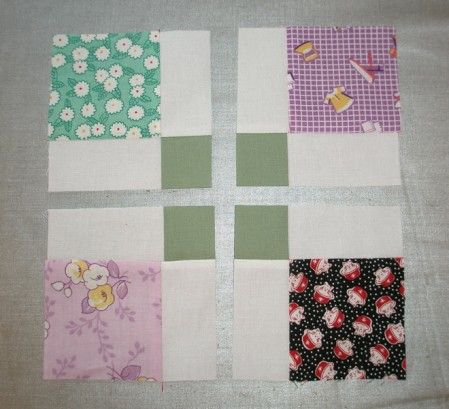 …and arrange them like this. You can see different arrangements for the Disappearing Nine-Patch in an earlier blog post.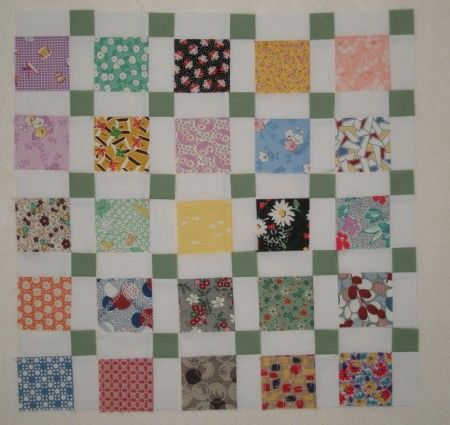 I just went through my photo files. Here are some other ideas for Nine-Patch blocks. This is a vintage quilt I own.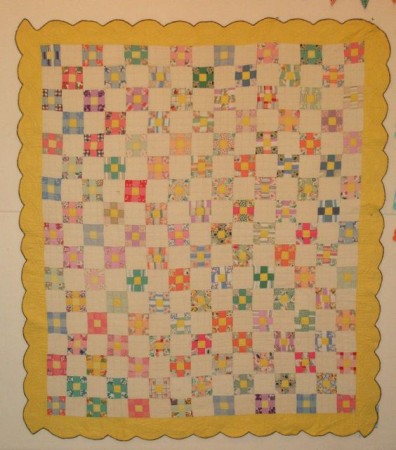 I recreated it for an issue of Designers' Quarters Magazine. In this version, I kept the centers all one color, but turned the blocks on point.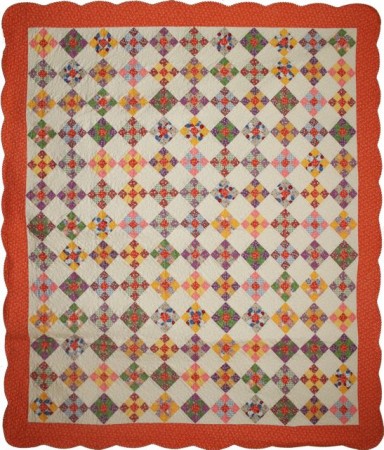 I love the Outline Stripe I used for the binding.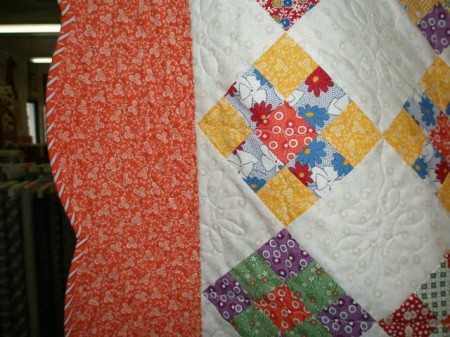 This is the quilt I got from my Grandma Ikey when I got married in 1974. It's just a simple Nine-Patch with muslin setting squares, but it has a flannel backing and kept me warm on lots of cold nights!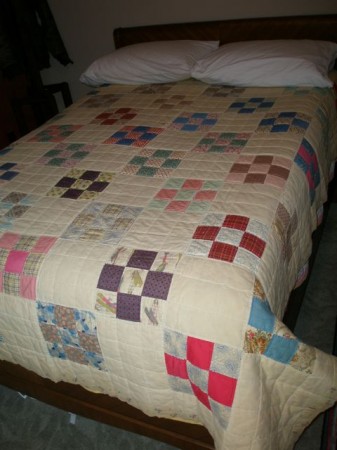 I took this picture of a vintage Nine-Patch at Pomeroy Living History Farm.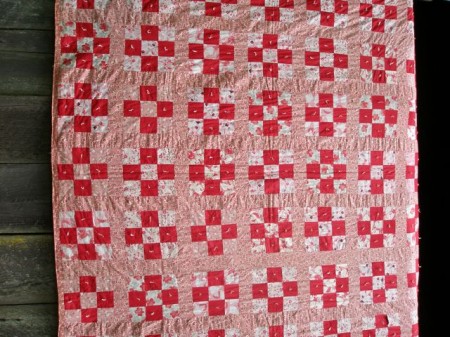 Here's a modern red and white Nine-Patch that I found of the web.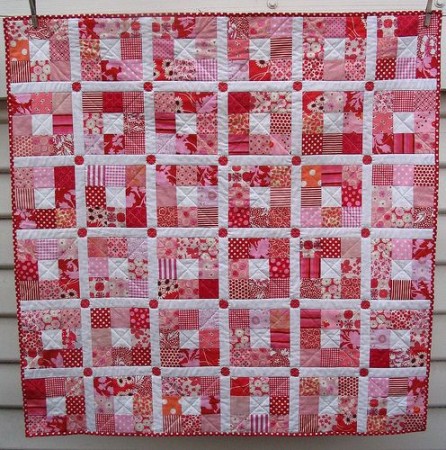 I took this photo at the Eureka Quilt Show in Montana last month. I think it's really cool.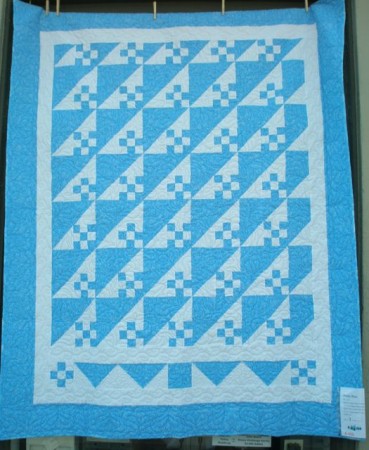 How cool is this? Black Nine-Patches with coordinating backgrounds and triangles to put them on point.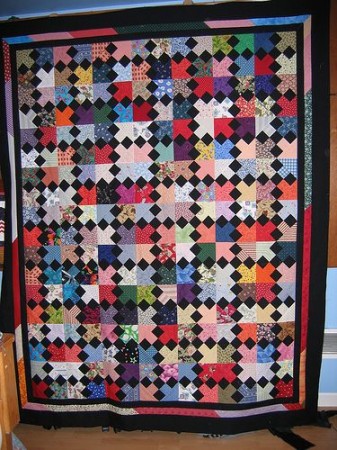 I believe this quilt is a part of the collection at the Latimer Textile Center. What a great combination of Nine-Patches and Rail Fence blocks.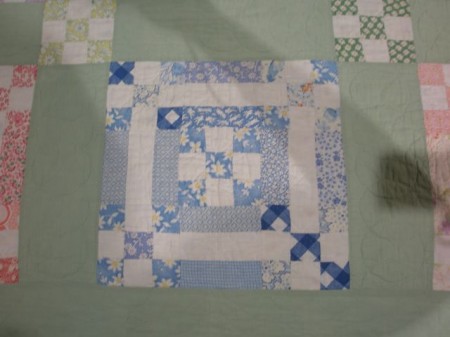 This is a well-loved vintage Nine-Patch from the Eureka Quilt Show. It's interesting how the sashing is only vertical.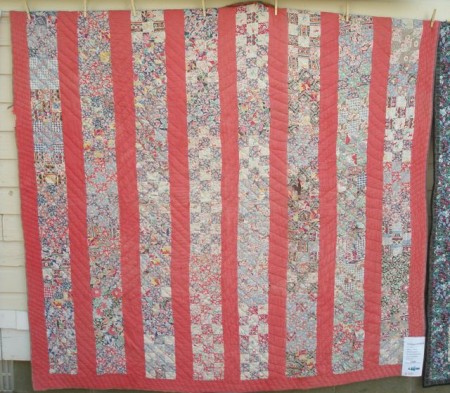 And speaking of vertical sashing, look at this cute baby quilt made by Marla J. I love her use of colors and how she set the blocks on point.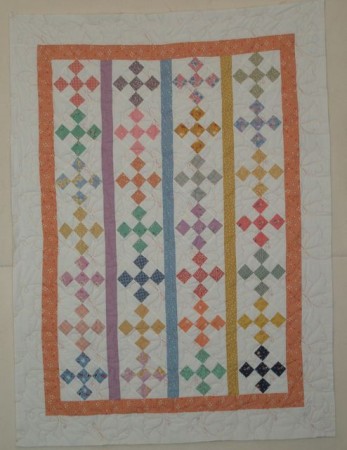 Another vintage treasure from Pomeroy House. This one is actually a 16-Patch, but I couldn't resist including it.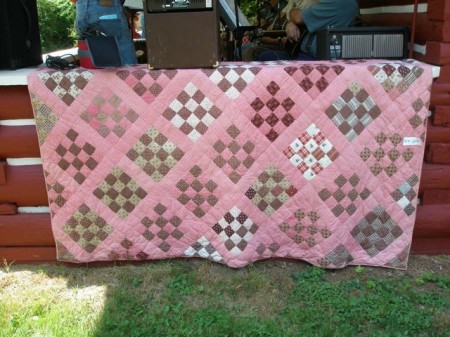 And there's something to be said for two color quilts. These Nine-Patch blocks set on point with plain setting squares makes a Single Irish Chain Quilt.