Yellow Roses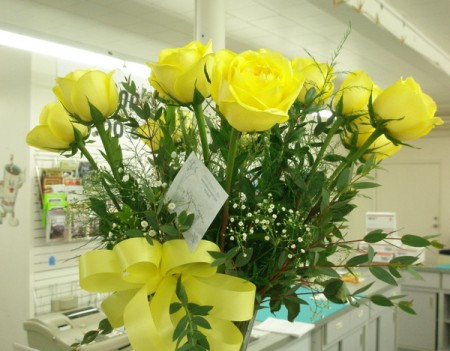 Many years ago, I was dating a super guy named Bob. He lived three and a half hours away from me, and we managed to get together almost every weekend. I would either drive to Albany, or he would drive to Long Beach. I had my business here. Back in those days I was making gourmet cranberry products. Bob had a career with a private utility and two boys still in school. Bob was up to visit me the weekend before Valentine's Day, and we had a nice weekend. I don't think we even discussed the upcoming holiday.
Well, on Valentine's Day, Ray from the local florist shop walked in the door of my business carrying a big bouquet of yellow roses. I joked with him, saying, "Oh, Ray, I didn't know you had feelings for me," and he joked back about no longer being able to keep his feelings a secret. Of course, I knew they were from Bob. I smelled them and admired them for a few minutes and set them on the counter. I headed back to my office, and Kristine, a 19 year old who worked for me, said, "Aren't you going to open the card?"
I said, "Well, I know they're from Bob, but I suppose I should." So I did. I must have had a strange look on my face when I read the card because Kristine said, "What is it? Is it something sexual?" (Oh, to be 19!)
Actually, what it said was, "Honey, I love you. Will you marry me? Bob." When he'd been here the weekend before, he had sneaked away from me long enough to go to the flower shop, place his order and write out his card. I was pretty speechless. Then I started laughing. We spoke every night on the phone, and I can just imagine the conversation that evening if I hadn't opened the card. I'd have thanked him for the flowers, he'd have wondered why I didn't say more, etc., etc. Thank goodness Kristine had to good sense to insist I open that card!
Of course I said yes. It was a long time before we figured out how to put our lives together in one place, but we did–right here in Long Beach. Someday I'll blog about our Cowboy Wedding. But, in the meantime, Bob still sends me a dozen yellow roses every Valentine's Day.