Last year a Swedish friend posted on Facebook that she was making syrup from the new growth on spruce trees.  I was intrigued, and asked for more details.  I got better than that.  Bob and I got an invitation for a visit and a taste!  Iris served it over ice cream and sent us home with a little in a jar.  It's hard to describe the taste except to say it tastes like spruce!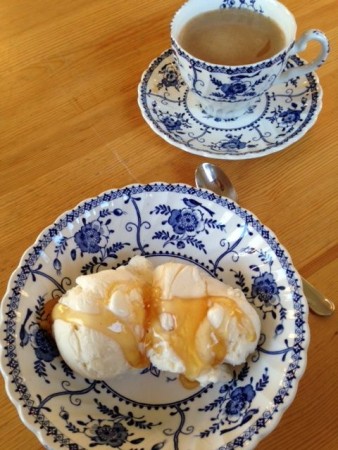 I could hardly wait to try it this year.  And I was double blessed because I was home in in Washington in May when the spruce shoots were ready there, and in Sweden in June, when they were ready here!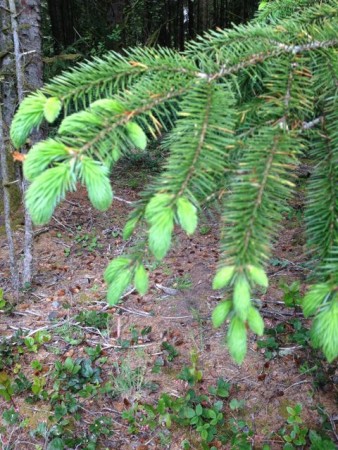 Iris' method was a no cook method.  You pack a jar with spruce tips…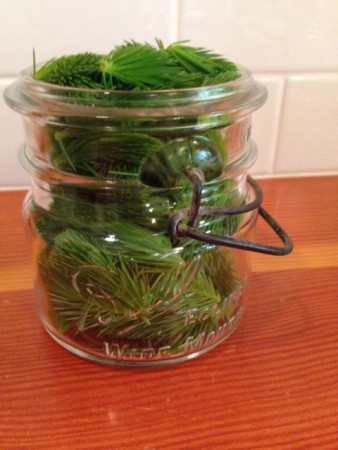 …and add an equal amount of sugar.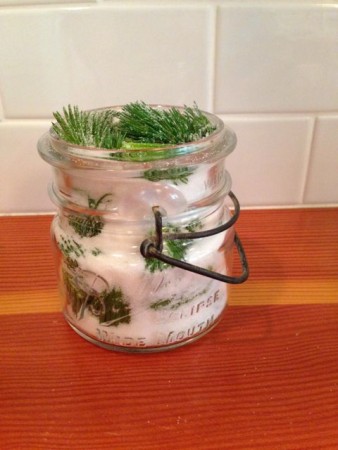 This you put in a sunny windowsill and shake it everyday.  Leave it for a few weeks.  The result will be a beautiful, very light colored syrup.
BUT, I'm not always so patient!  I did some research online and found you can cook your ingredients and have results much faster.
It was fun but time consuming to gather the spruce tips.  The variety of spruce seems to be a little different in Long Beach than it is in Sweden.  In Sweden, a gently pull was all that was needed to remove the tips.  In Long Beach, I found it was easier to use a pair of kitchen shears, as they didn't pull right off.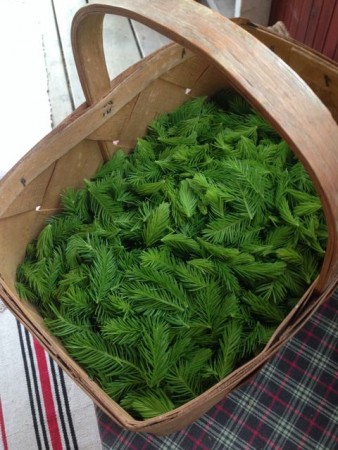 Following the recipe I found online, the Long Beach batch used equal parts tips, sugar and water, and it took nearly five hours to cook it all down enough to make a syrup.  Below is the Long Beach batch.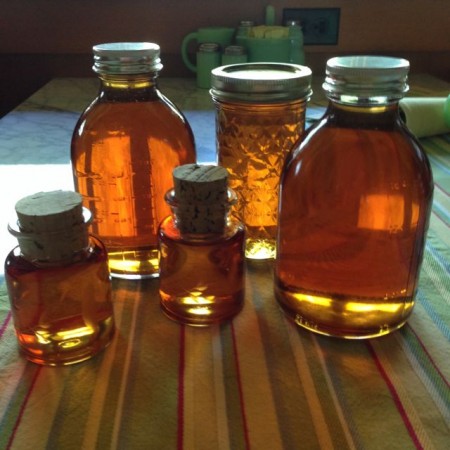 In Sweden, I reduced the amount of water and the syrup cooked down much faster.  The result was a syrup that is a bit thicker and also darker, but I don't know if that was the cooking method or the difference in the spruce.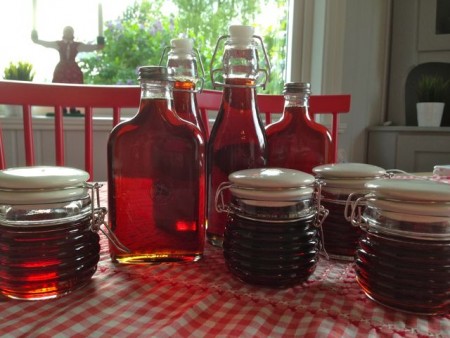 Here's my recipe.
SPRUCE TIP SYRUP
4 cups water
8 cups spruce tips
8 cups sugar
Note: It's easy to adjust the amounts, depending on how much you pick.  Just figure one part water, two parts spruce tips, two parts sugar.
Rinse spruce tips in a colander to remove any dust or dirt.
Put tips and water in a large pan and bring to a boil.  Remove from heat and let set 24 hours.
Strain liquid.  Discard spruce tips.
Return liquid to the pan and bring to a boil.  Add sugar.
Return to a boil, being careful not to let it boil over.  Reduce heat and simmer 1 – 3 hours.
Enjoy!
Besides eating the syrup on ice cream, we've eaten it on toast–like honey.  If you try it, let me know how you use it, too!