Here's another favorite from Bob's side of the family.  His mom made them every Christmas.  They have a brown sugar dough and a filling of dates and walnuts.  Yum!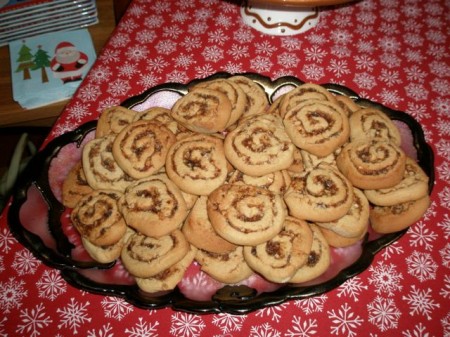 Date Pinwheels
Ingredients for Cookies:
4 cups flour
1/2 teaspoon salt
1/2 teaspoon baking soda
4 sticks butter
2 cups brown sugar
3 eggs, beaten
Ingredients for Filling:
2-1/4 cups chopped dates
1 cup sugar
1 cup finely chopped walnuts
1 cup water
Put first three ingredients in a bowl.  Stir with a whisk to combine.
In a stand mixer fitted with a paddle, cream butter and brown sugar about 2 minutes.  Add the eggs and mix until well blended.
Add the dry ingredients in three or four parts to butter mixture.  Mix until a nice ball comes together.
Divide the dough into three equal balls.  Wrap in plastic wrap and refrigerate at least one hour.
While dough is chilling, prepare filling by combining dates, sugar, walnuts and water in a saucepan.  Bring to a simmer and cook for 10 minutes.  Remove from heat and cool.
On a lightly floured board, roll out one ball of cookie doing into a 12″ x 8″ rectangle.
Spread a third of the date filling evenly on the dough.
Beginning with the long side, roll the dough up jelly roll style.
Wrap in plastic wrap and refrigerate overnight.  Repeat with the other two balls of dough.
With a sharp, thin knife, slice rolls into 1/4″ thick slices.
Place 1″ apart on a cookie sheet.
Bake at 375 degrees for 8 – 10 minutes.
Yield – 144 delicious cookies!