It is the tradition in Sweden that you offer your guests seven kinds of cookies when you have them over for coffee.  Now that Christmas is coming, cookie baking is in full swing for me, so I thought I would share my seven favorite cookie recipes with you.  First is Hallongrotor – Raspberry Caves.  This is the first year I have made them, and they are my new favorite!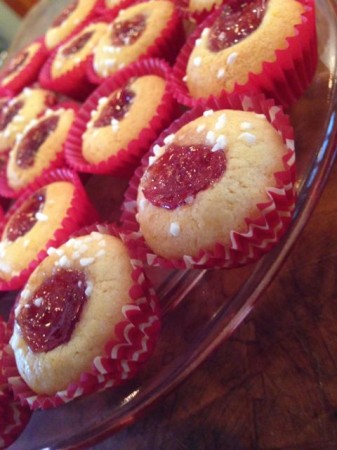 Once you make the dough, which has fresh orange rind in it, you roll them into little balls and put them into lined mini-muffin tins.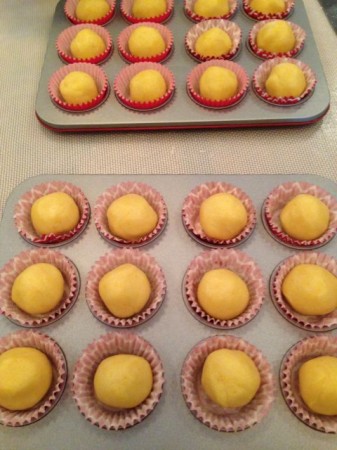 You need to make a "cave" for the jam.  You could use your finger, but I found the end of this scoop worked great for me.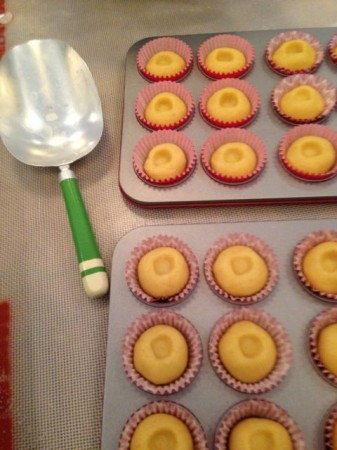 Then it's time to add a bit of jam.  Raspberry is traditional, but I suppose you could use whatever you like.  Before you put the jam in, brush the tops with a bit of water.  Then, add the jam and sprinkle with pearl sugar.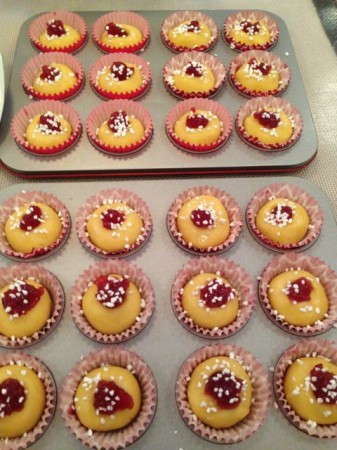 I used to bring pearl sugar home from Sweden with me, but now you can find it at Ikea!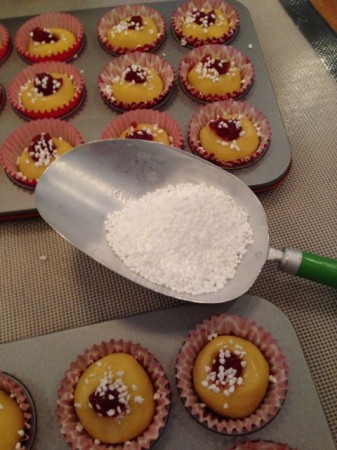 The jam bubbles up a bit during baking.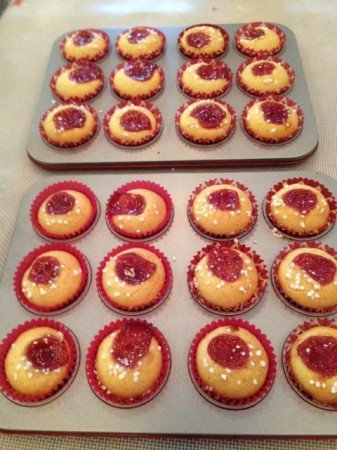 Enjoy!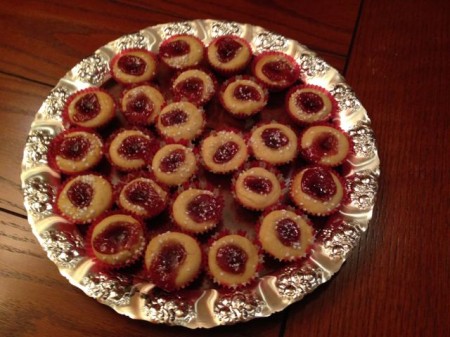 Hallongrottor – Raspberry Caves
Ingredients:
2 sticks butter
1 cup sugar
zest of 1 orange
2 tsp vanilla extract
1 egg plus 1 egg yolk
2-1/2 cups flour
1 tsp baking powder
1/2 tsp salt
Pearl sugar
3/4 cup raspberry jam
In a stand mixer fitted with a paddle, cream butter and sugar about 2 minutes.  Add orange zest, vanilla, egg and yolk.  Mix until well blended.
In a separate bowl, combine flour, baking powder and salt.  Whisk together to mix, then add in three or four parts to butter mixture.  Mix until a nice ball comes together.
Using you hands, shape pieces of dough into balls, about the size of a walnut, and place in lined mini-muffin tins.
Make an "cave" in the top with your finger or the end of a kitchen utensil, like the scoop I used.
Brush the top of the cookies with a little water.  I did one pan at a time.
Fill caves with raspberry jam and sprinkle with pearl sugar.
Bake 15 minutes at 350 degrees.
Yield 48