A few days ago, I posted about the Paint Chip Challenge our Guild did.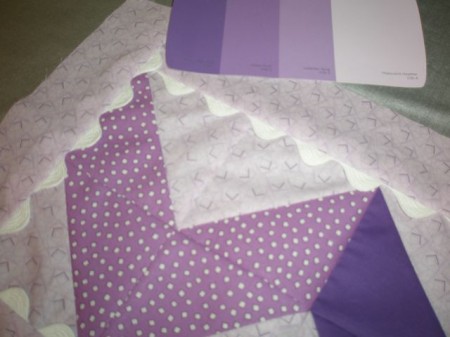 This is my table runner.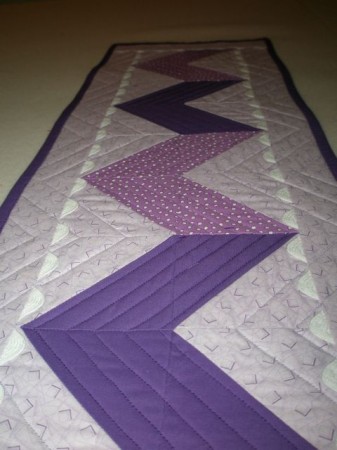 Each participating member did a blind draw for a paint chip.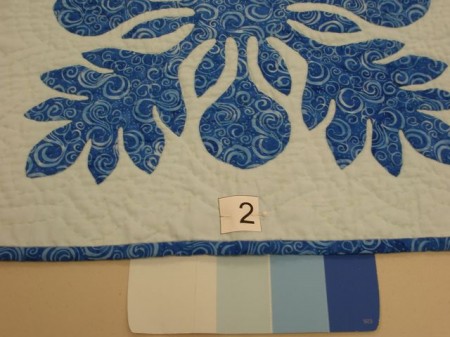 The goal was to make something using the colors in your chip, like this gorgeous Hawaiian wall hanging Doris made!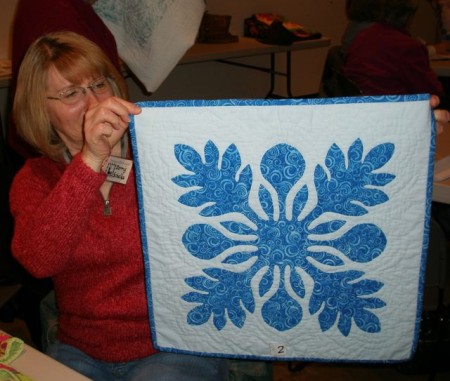 You were supposed to use three of the four colors on your chip.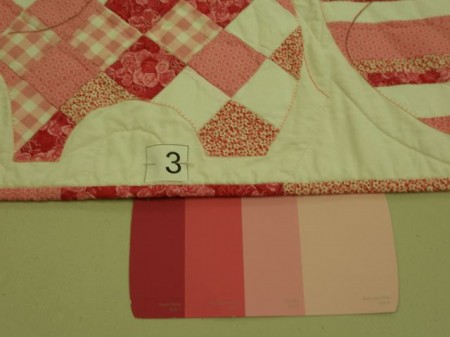 How adorable are these elephants!?!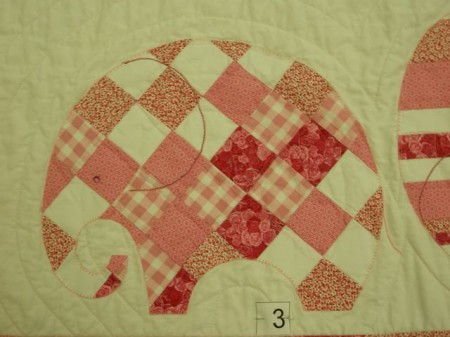 Renee made this.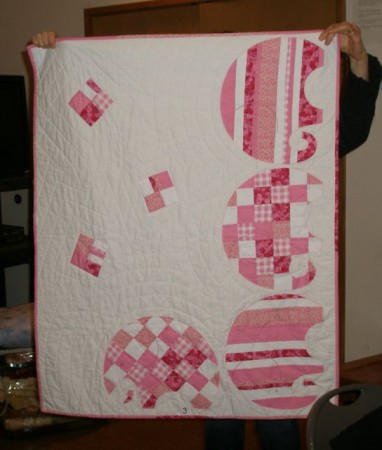 You could add white to your palette.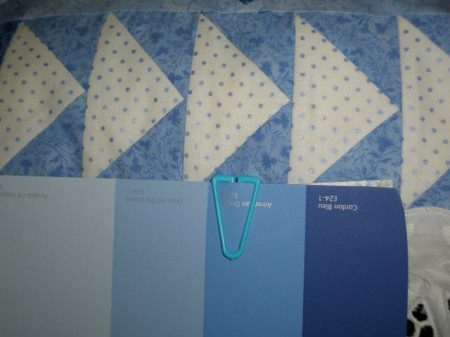 Like Cherry did with this pretty pillow.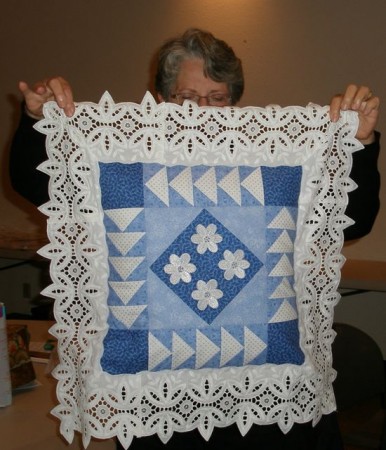 Or, you could add black.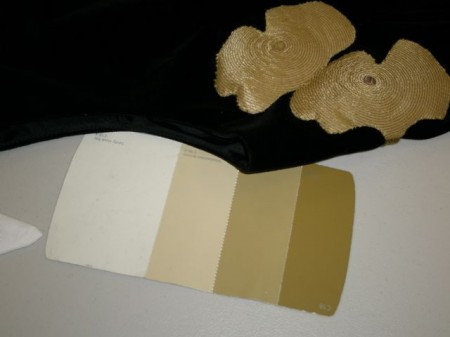 Like Jan did to embellish her vest.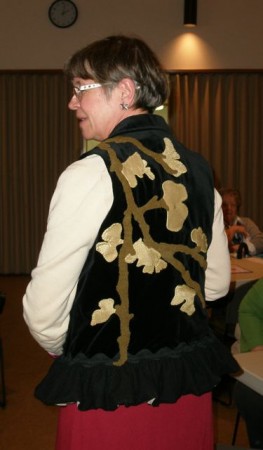 Some people were able to find a single fabric that had more than one of the paint chip's colors in it.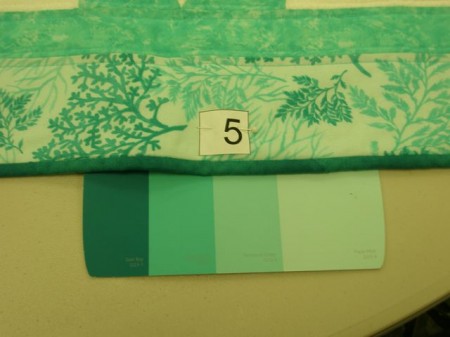 Terri made this.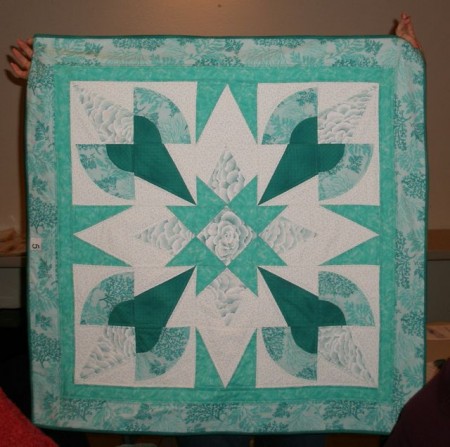 The stipes in this border look great against the chip!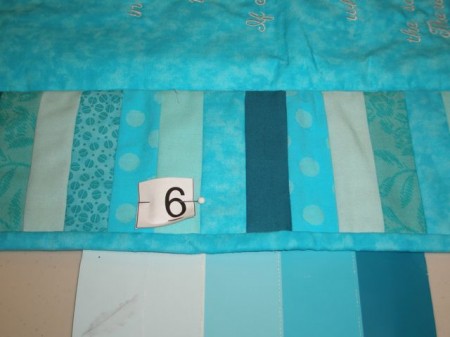 Peggy's quilt had a whole story to tell.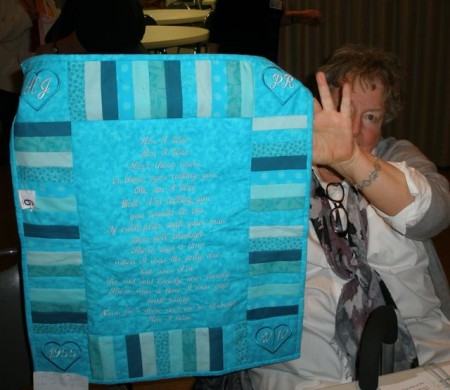 And the back is adorable. There's even a hidden pocket!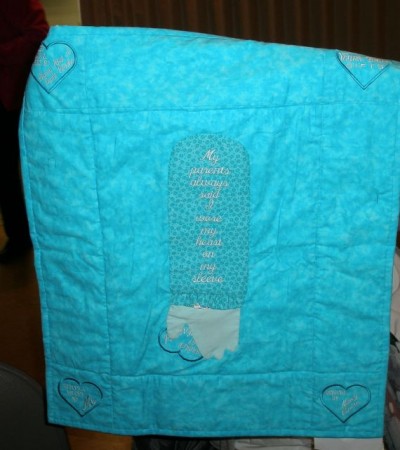 Participants had no idea what color they would get.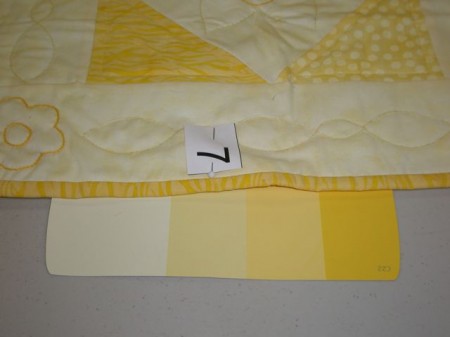 Nellie had yellows and made a cute table runner.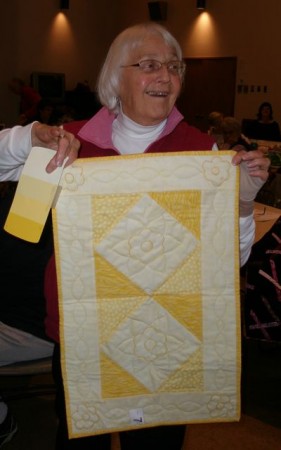 Audrey had golds.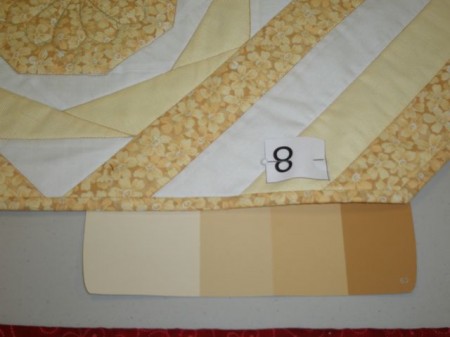 She went the table runner route, too!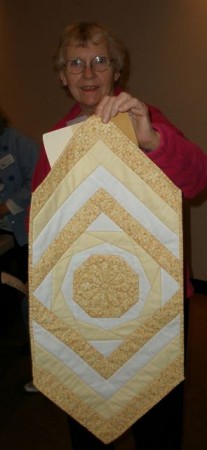 It was harder than you'd think to find just the right shades to match the chips.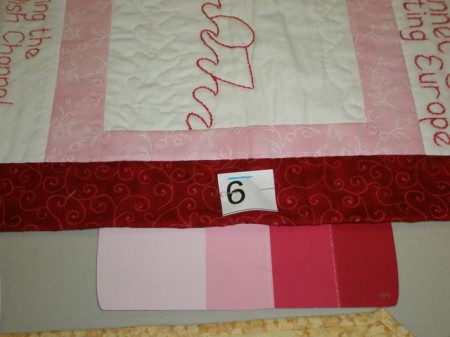 Dianne's adorable piece showed Sunbonnet Sue on vacation in Europe, and what a vacation it was! She swam the English Channel, picked lavender in Provence, went nude sunbathing in St. Tropez, and took a steam bath in Baden Baden. Wow, I want to travel with her!

Kathy resorted to dying her own fabric!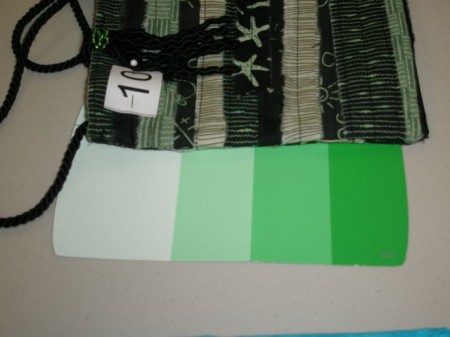 She made this clever purse.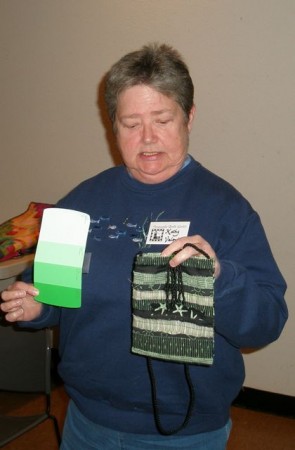 The stripes in this border fabric had all the right colors!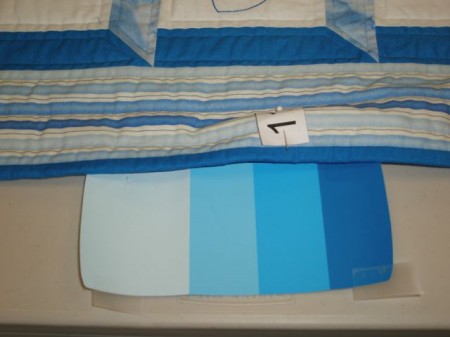 I love Bev's seashells in the attic windows setting.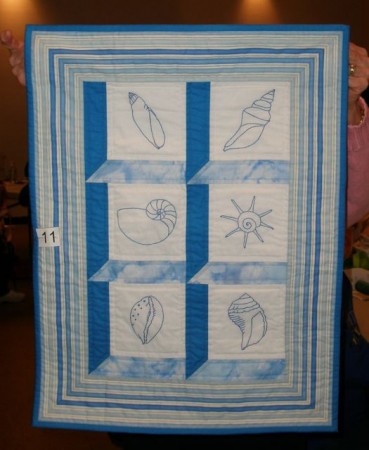 Here's another one with black.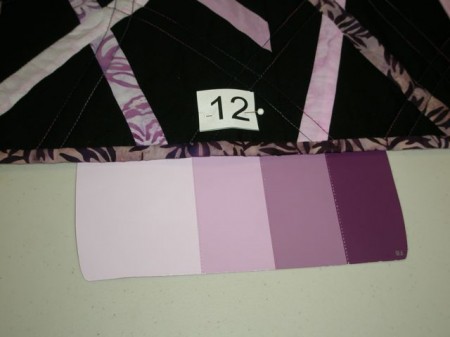 Jo's quilt was really striking, and the quilting was great.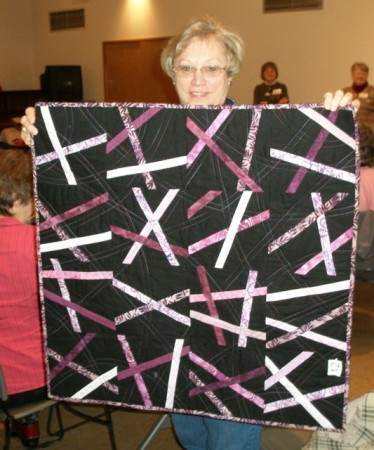 You can't go wrong with feathers and a scalloped edge!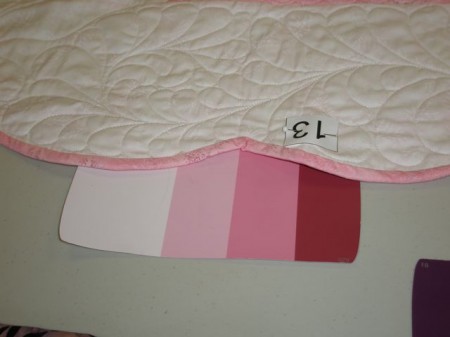 Lynda made this radiant start quilt.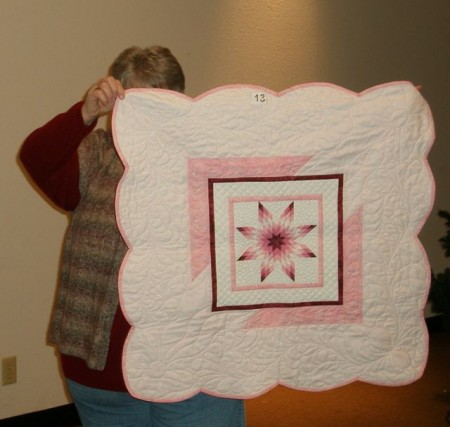 Oh, can you say Kermit?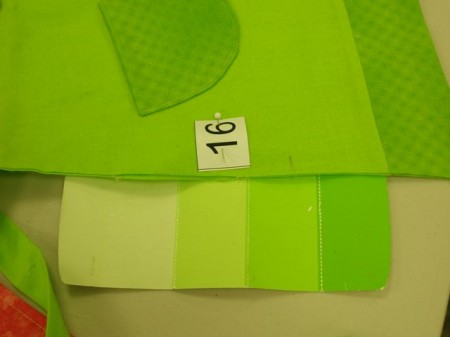 That's what Earlene thought of when she saw her paint chip!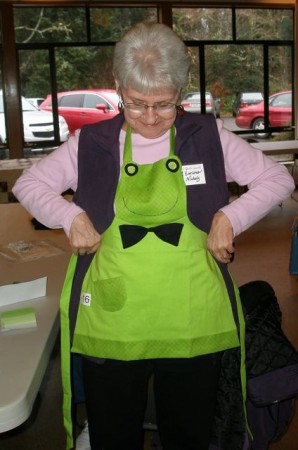 Wow, imagine finding a single fabric that had all the colors!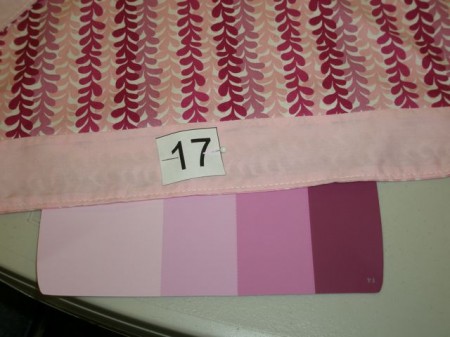 Gerri turned it into this sweet apron.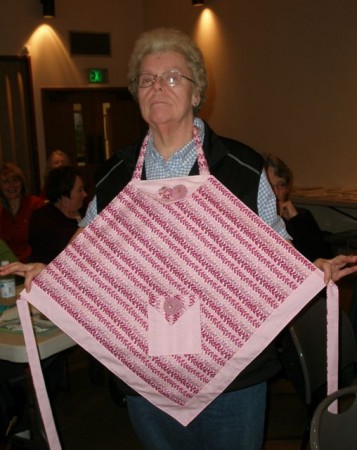 Dee also found a print that worked with her chip.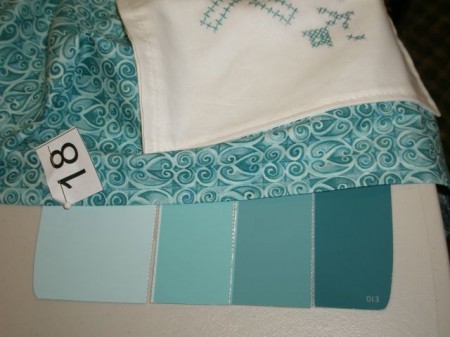 She made an adorable apron with cross-stitch embellishments on it.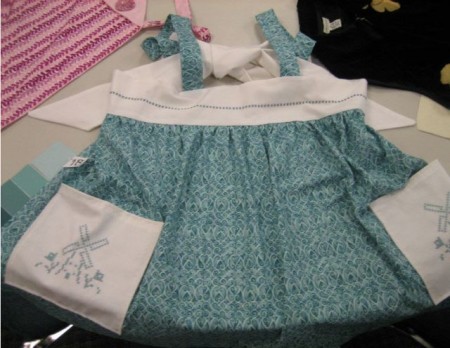 I didn't get a snap of Janet's paint chip, but her apron sure turned out cute.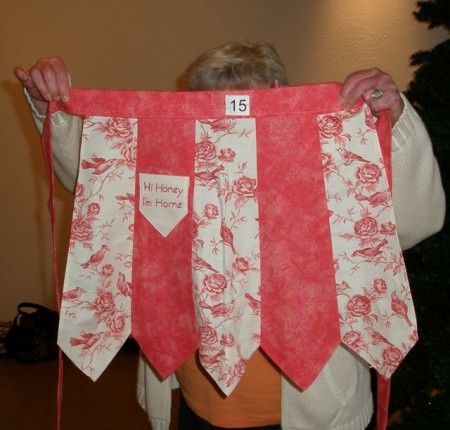 Glennys' giant dahlia quilt was one of two winners.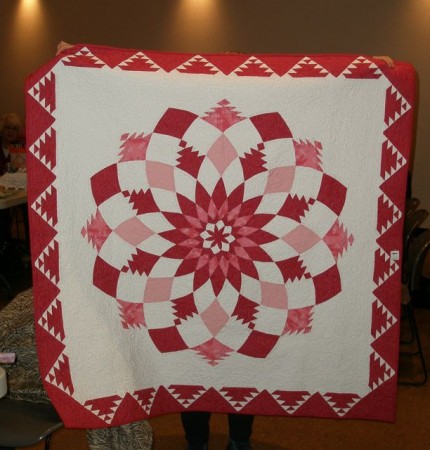 The other was Dixie's lavender cat. Both of them were whisked away before I got a picture of their paint chips, but believe me, they did a great job of matching their fabrics to their paint chips.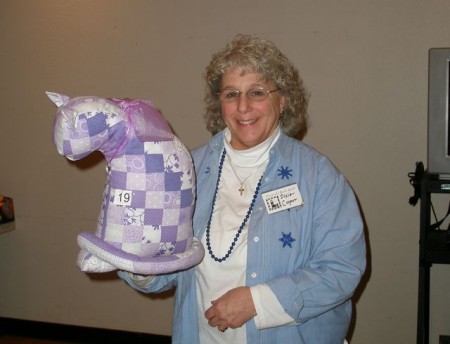 Here are some great neutrals.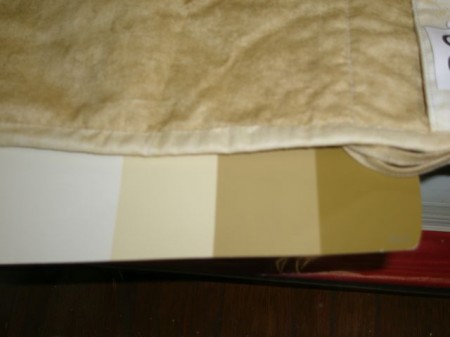 Alas, I don't know who made this great Quilter's Roll. Can someone tell me, please?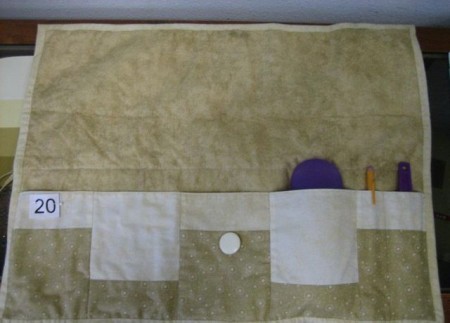 The whole challenge was great fun and the quilts will all be displayed at the Peninsula Quilt Guild Show in March.