Greetings from Quilt Market in Houston! Today was Schoolhouse–15 – 30 minute sessions all day long introducing new products that are going to premiering at Market. Well, when I saw a title called Quilts in Sweden you know I had to go! Turns out that's the title of a new book by Kaffe Fassett.
Much to my delight, the quilts were photographed at Skansen, the open air museum in Stockholm. Historic buildings have been brought from all over Sweden to this museum–including one from Anna Lena's farm! These photos are washed out because I was taking pictures projected on a screen, but I thought they were worth sharing with you.
I love this quilt on the outside of a typical Swedish log cabin–square logs and Falu red paint. This paint, which is prevalent all over Sweden, is a by-product of the copper mining.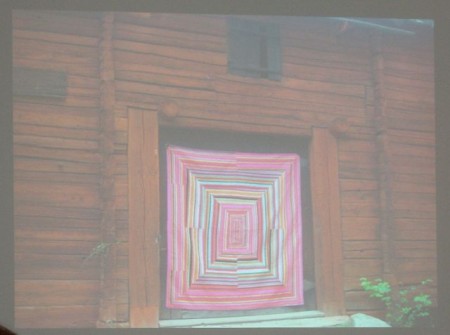 I recognize this as the inside of the main house at the Delsbo farmhouse.
I love this balcony shot!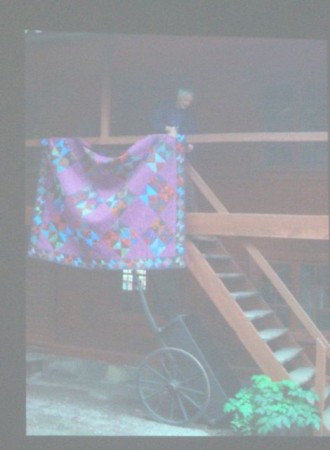 This photo was taken inside a manor house at the museum. Don't you love the geometric design of the quilt and the geometric design of the floor!?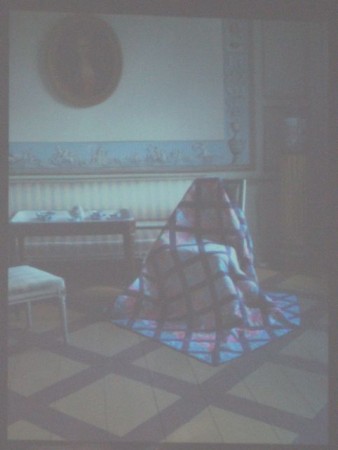 Beautiful painted wall–and beautiful quilt.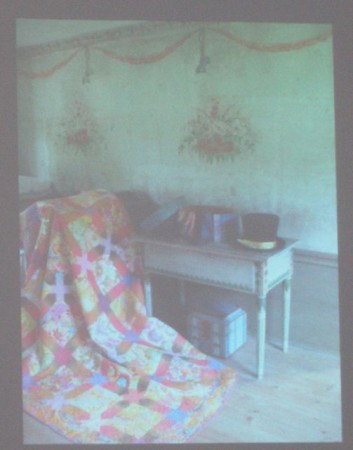 Kaffe said they topped off their day with tea at the Tea Room! Perfect!