When I stopped at the Willapa Harbor Quilt Show last week, I was delighted that the first quilt that greeted me was an antique–this beautiful Irish Chain. The quilt was pieced between 1900 and 1905 in Fairfield County Ohio.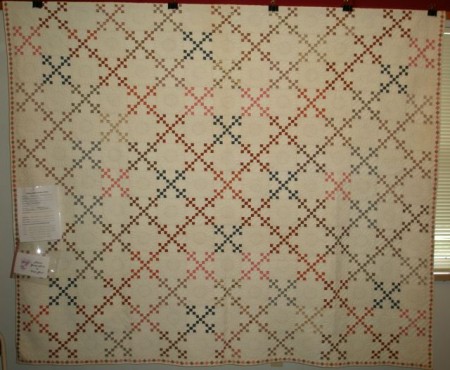 The finished squares were about 1″ and the quilting stitches were amazing. The border alone is a work of art!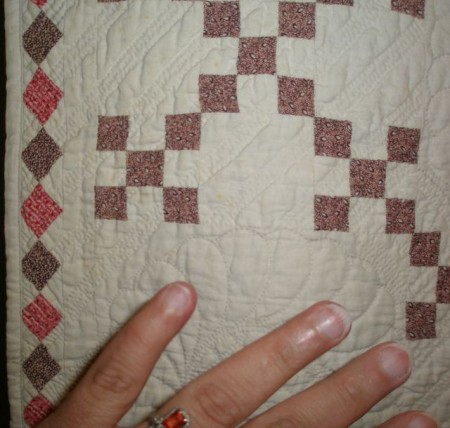 I'm always pleased to see Redwork. The vintage cats were adorable.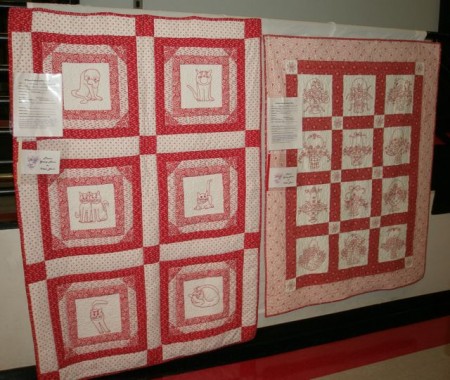 And Becky Coburn had stitched my Redwork Flower Baskets.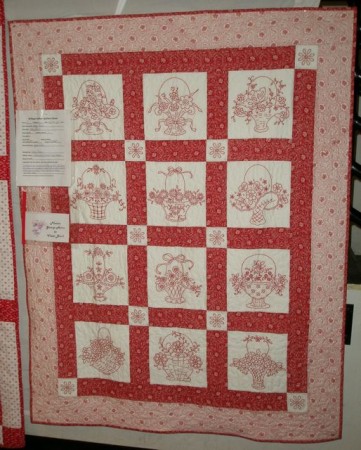 And Yvonne Smith had done the Blue Flower Baskets!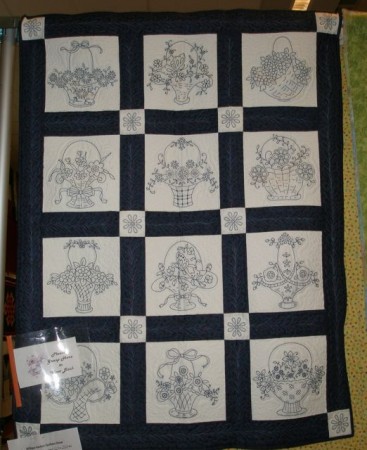 Pat Jones had done the Sunbonnet Sue and Scottie, too quilt.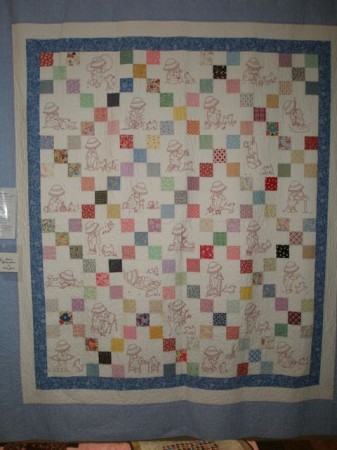 She also did this charming Christmas mini.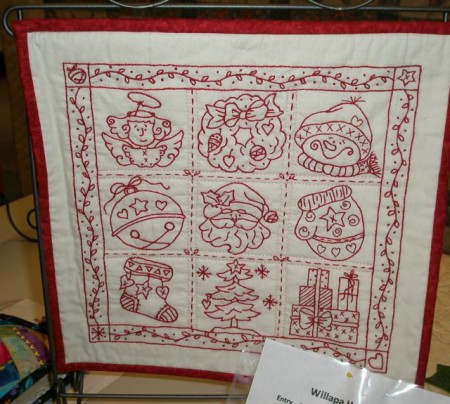 This was the gorgeous raffle quit the guild had made.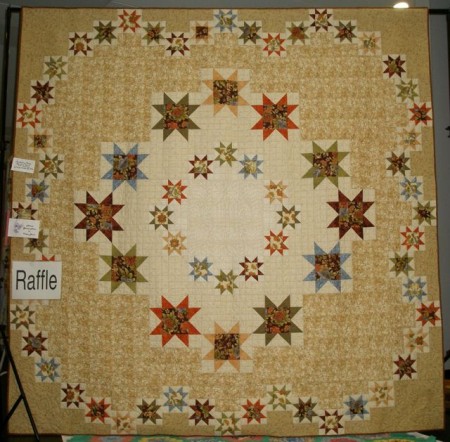 This is Prairie Paint by Alice Wells.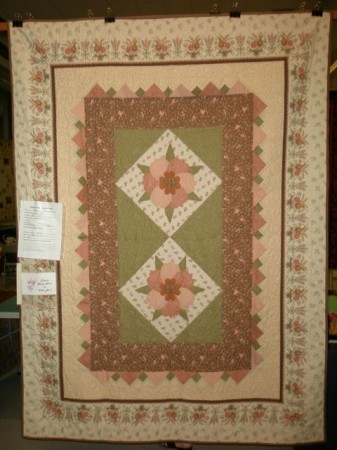 Here's a wonderful quilt for the outdoorsman. I'm sorry I don't know who made it. Note: I received this message today from the quilt show chair and wanted to share it with you. The outdoor fishing quilt was made by a group of women who were sisters. Our local sister member is Vivian Edersheim. One of the sisters, Bertha, decided to make each of her brothers a quilt and had barely gotten started when she was hit with cancer. After her death, her surviving sisters decided to finish the quilts, and over the completion process the quilts traveled over 2000 miles as each sister took her turn at working on blocks. Bertha continues to share her love of fabric and quilting with our guild because her sister Vivian has shared her fabrics and scraps with our group, and we pay a small donation to Vivian which in turn she gives to a charity.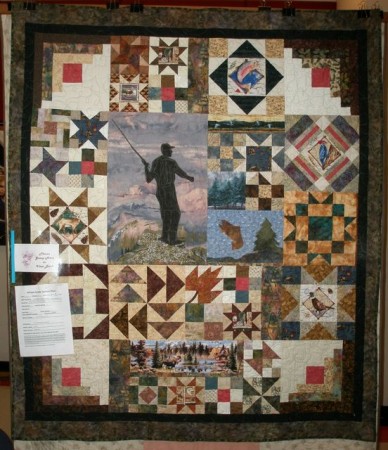 Pat Jone's made the Backyard Birds quilt.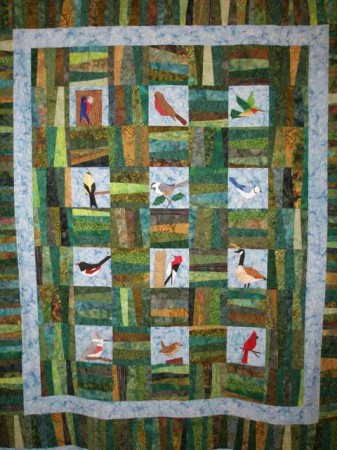 This quilt is called Under the Sea by Arlyn Harris. Perfect underwater colors!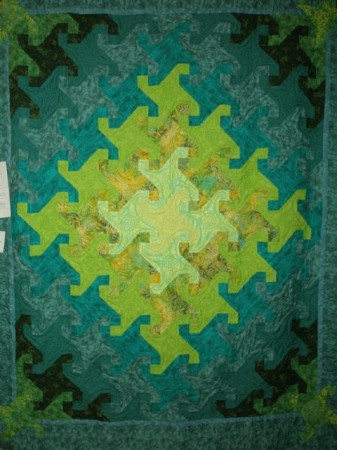 Oldzii is a Never Ending Knot pattern made by Toni Gwinn.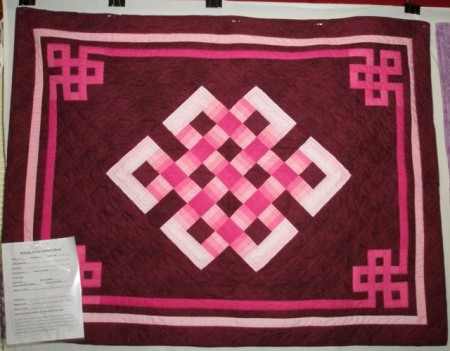 Yvonne Smith made this Kindred Spirits quilt.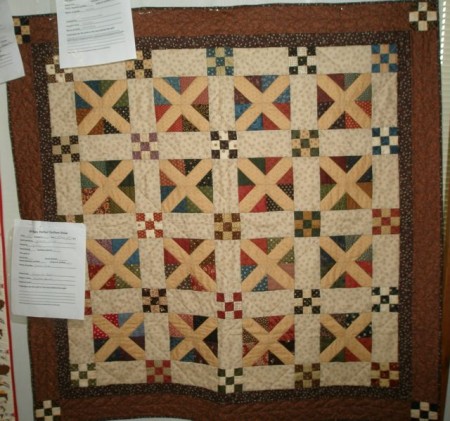 Oh! This is my Christmas fabric made into a table runner by Helga Schiel.

Here's the same pattern (which was designed by my friend, Karen Montgomery). This patriotic version was made by Alice Wells.

I love the name of this cat quilt–Eight Lives Left. It's by Toni Gwin.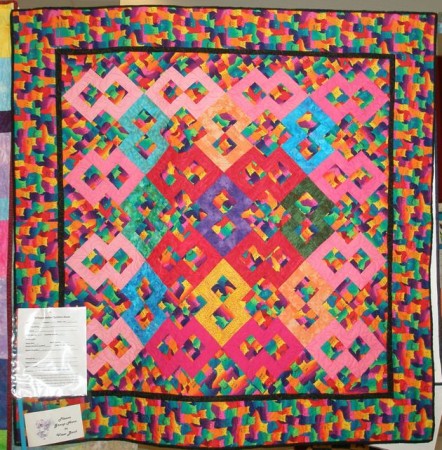 Lovebird Lane is by Dorothy Gruginski.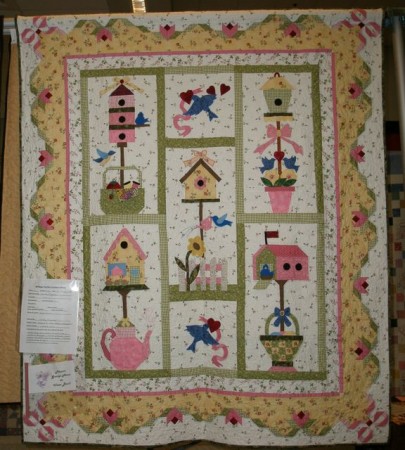 Life's a Journey by Vickie Fenstermacher really caught my eye.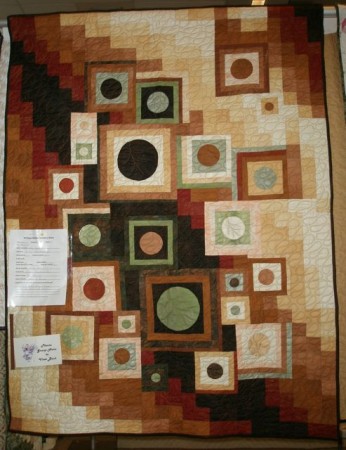 Who wouldn't love an orange quilt? Windmill by Marge Habersetzer.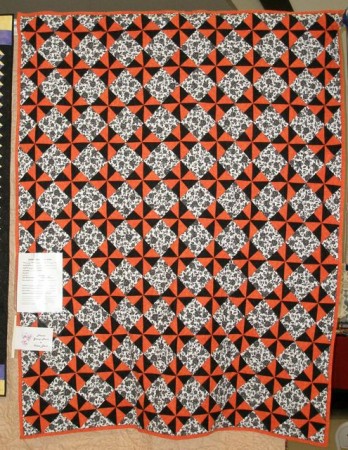 The stitchery work on this quilt,Wild Flowers by Vickie Fenstermacher, was amazing.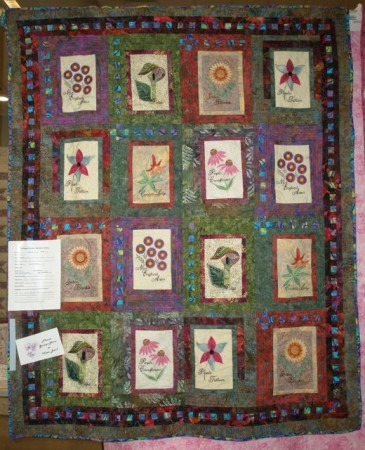 This quilt has a wonderful story. Margaret Payne gave her nephew, Bruce Hill, the aqua fabric seen in this quilt. Bruce, a quilter, made this quilt using the aqua fabric and gave it back to Margaret!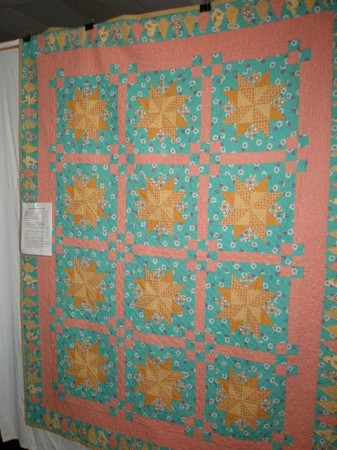 This vintage Flower Garden quilt was started over 70 years ago! It was pieced by Catherine Lorton.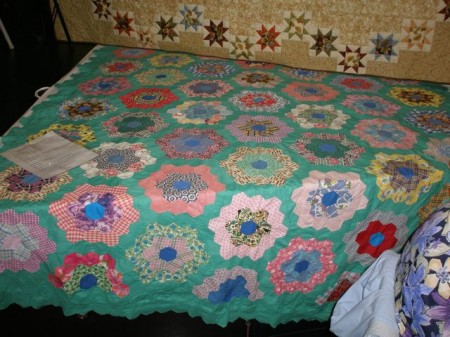 Charlene Phinney was the featured quilter. Her quilts, like these African Birds, were works of art.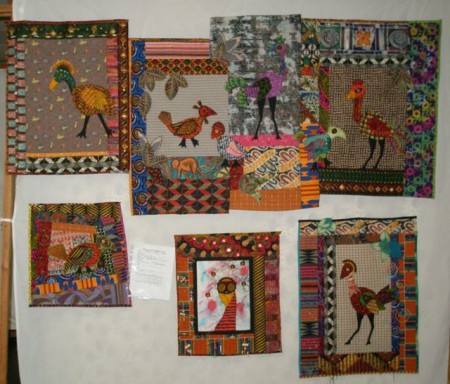 I believe this flowers are her work, also.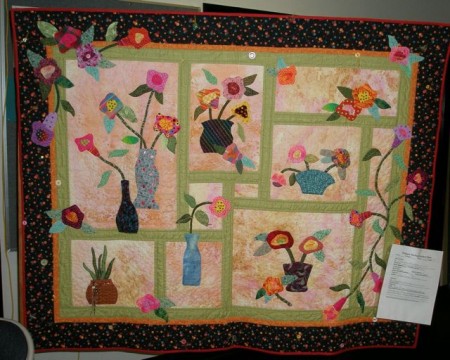 She created Rusted Quilt With No Name when she was playing with triangles.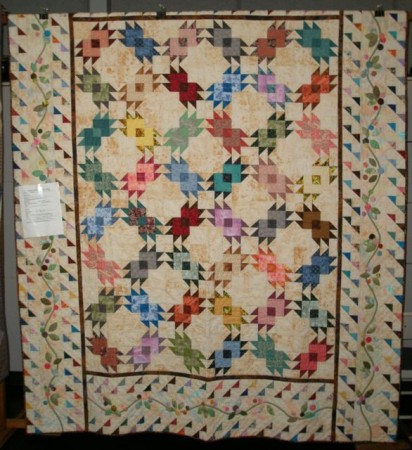 This plaid quilt is the result of a class she took with Roberta Horton.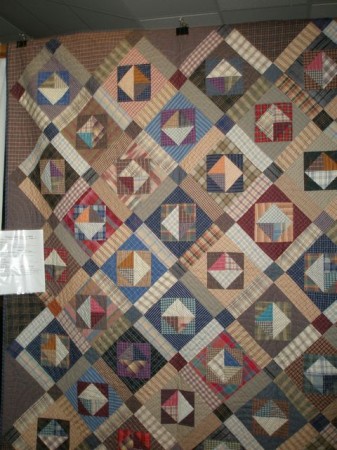 Another funky bird quilt!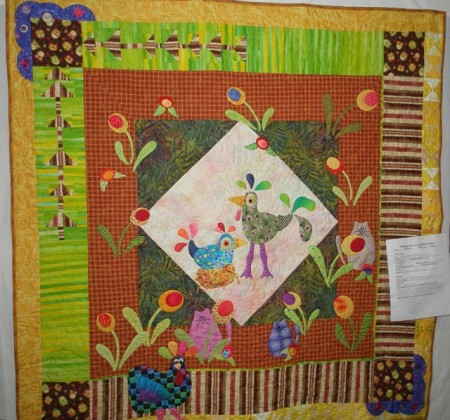 More of Charlene's work. She hand dyes many of her fabrics.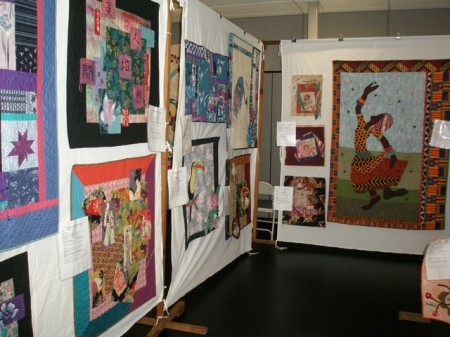 I love these houses.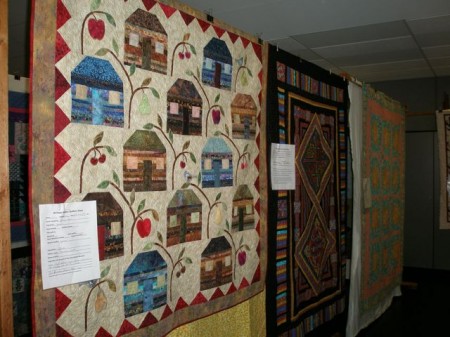 Dorothy Gruginski made this beautiful Out of the Darkness quilt.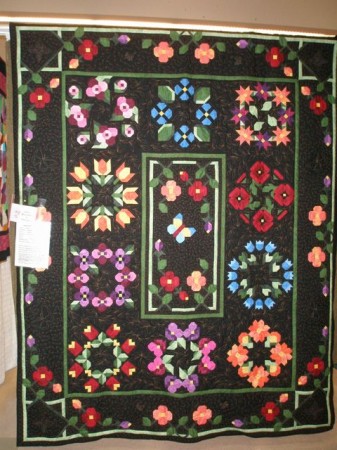 The quilting was done by Arlyn Harris and is just beautiful.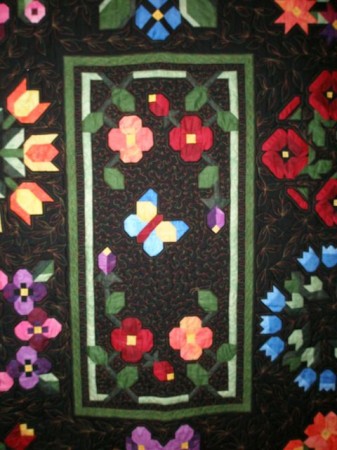 The variegated thread was a perfect choice for this quilt.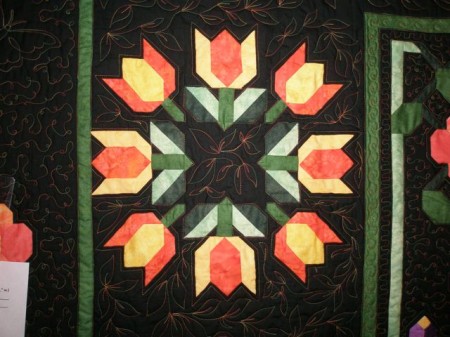 It was a lovely show and I was delighted when I was asked if I would the featured quilter next year!