Someone just stopped by to show my a vintage Double Wedding Ring quilt she has and ask me for some advice and information. You know what an effort it is for me to look at vintage quilts. NOT!
This is an extremely lovely example of a Double Wedding Ring. White it is showing some wear, the workmanship on it is some of the best I've ever seen–and I've looked at a lot of vintage quilts in my day! Her circles are perfectly round.
The fabric placement is the same in every arc, indicating she purchased fabric for this quilt. No scrap bag for this treasure! I have a feeling it really was made for someone as a wedding gift–or perhaps from someone's hope chest.
I love the different graphic aspects of Double Wedding Ring. And I think you can see in this photo how beautiful her quilting is.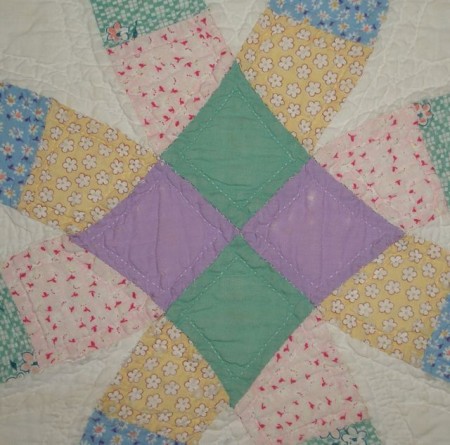 The binding is impeccably done, and very narrow.
I wish you could see her quilting stitches. I'm not usually one to count stitches, but these were so, so tiny, I just had to. They are consistently 13 stitches to the inch. Can you imagine!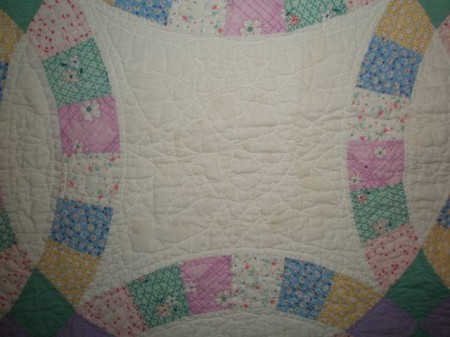 But, it's been well used and the fabric is starting to deteriorate in many places.
Around some of the arcs it has split. I never feel too bad when I see wear like this on a vintage quilt. It was obviously made to be used, and it was used. This quilt undoubtedly provided decades of service, keeping the lucky ones sleeping under it toasty warm.
It has one tear where it was caught on something.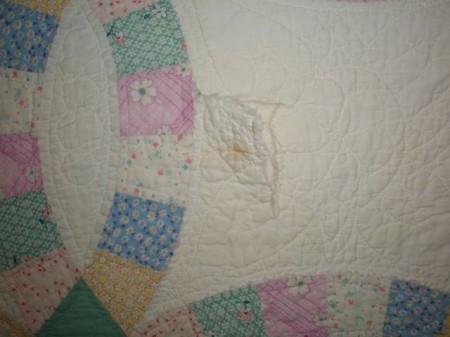 Saddest of all, though, is this stain made from candle wax.
Of course the question is, should it be restored. That's a hard one to answer. I did give Donna several things to consider. And in the meantime, I'm enjoying looking at it on my design wall!