Our show-and-tell theme at Redwork this month was anything with hearts.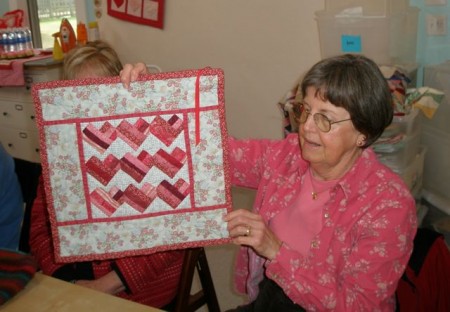 Carol O. said this was one of the first classes she took at Anna Lena's–many years ago!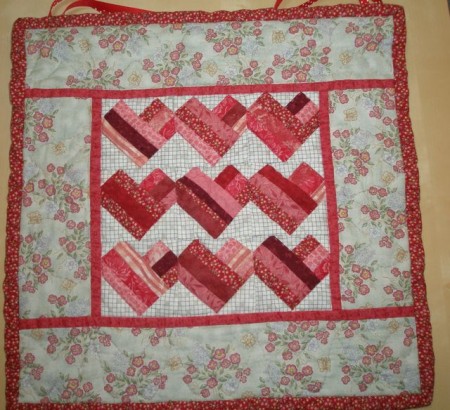 And for Cortne` this WAS her first class at Anna Lena's.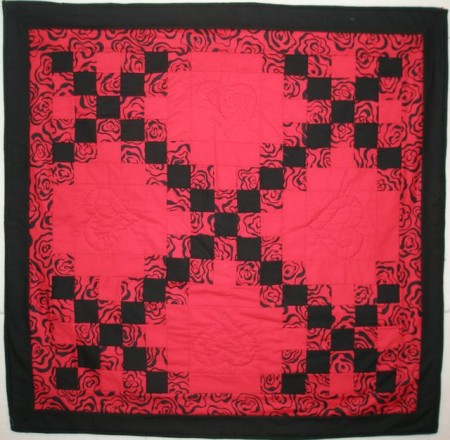 She made this quilt to live in her husband's sports car.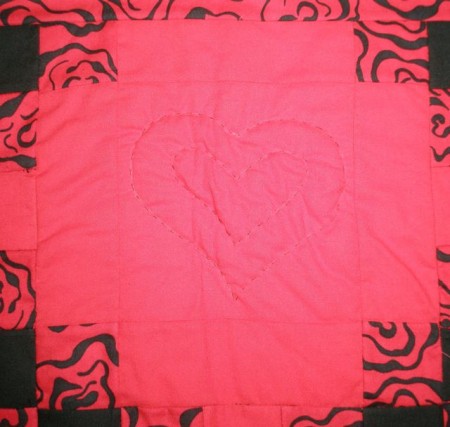 Mary made this gorgeous heart quilt. She's still working on hand quilting each of the hearts, but she's well over half way finished.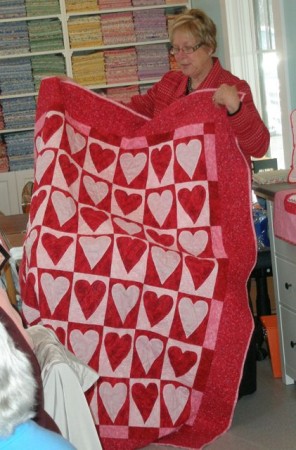 Mary was our goodie godmother today, and she brought these pillows to decorate the goodie table. Also note the little heart box with yo-yo's on top and the yo-yo mat underneath.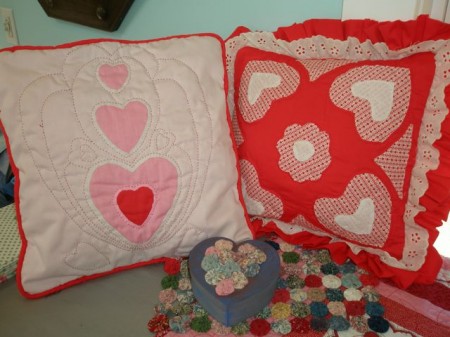 We used this for our table cloth today–a quilt Mary made from a Moda panel a few years back.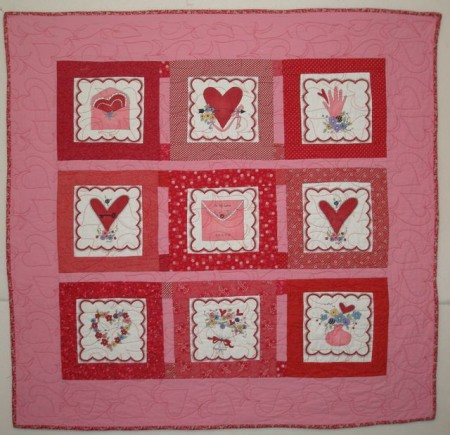 It's really cute!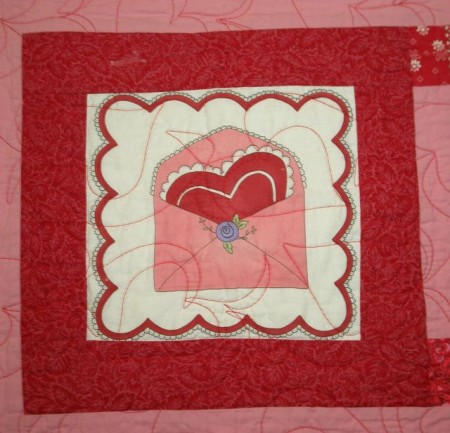 Mary also brought the vintage Valentine hanging here, and another heart wall hanging that she made.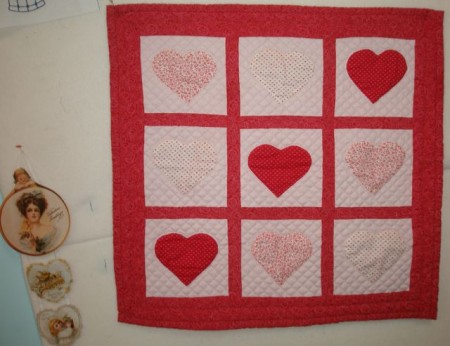 Loretta hand appliqued all of these cute little hearts.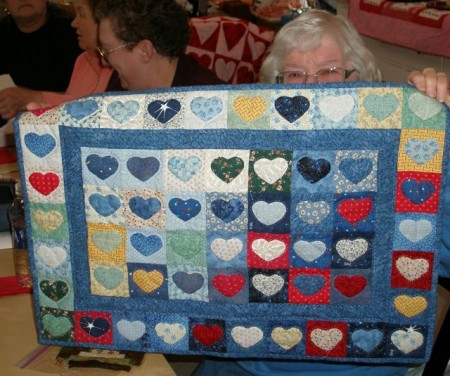 Eleanor went through her WIPs (Works in Progress) to find these heart blocks she won at quilt guild at least 7 years ago. Now that they're out, maybe she'll put them together!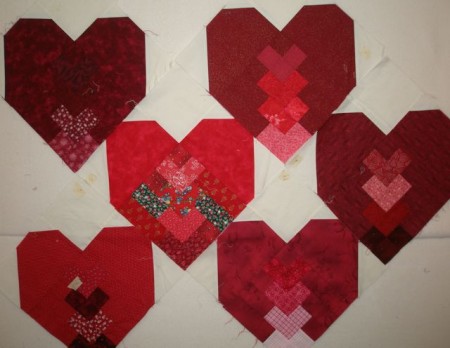 Linda didn't have anything for heart show-and-tell so a few nights ago she whipped this up! And hand quilted it, of course!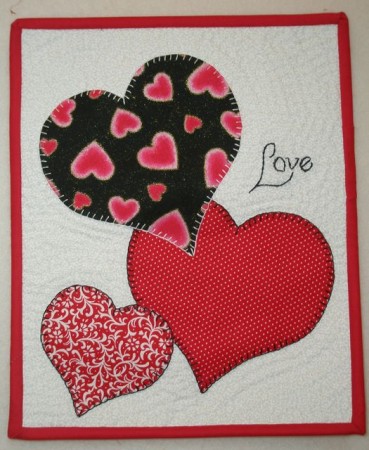 My mom really is the Queen of Hearts. Since she no longer embroiders, she brought a lot of heart jewelry for show-and-tell–and a box of candies for each of us! Thanks, Mom.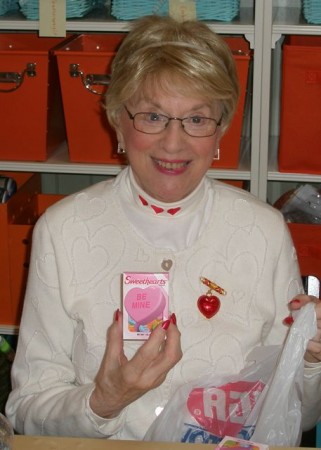 Of course we never limit ourselves to one topic when it comes to show-and-tell. Mary brought this purse that she recently made and felted!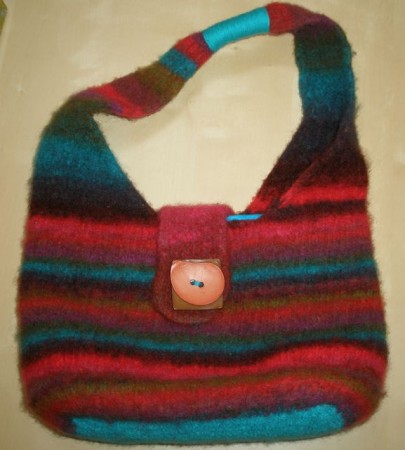 And she just started working on these adorable log cabin blocks with 1/2″ strips.
Amazingly, Loretta just started the same blocks! Great minds….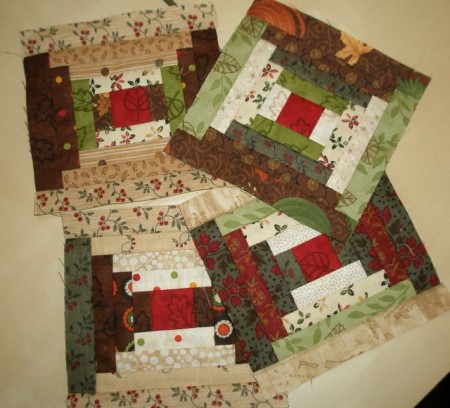 Mary had this sweet, appliqued crib cover. I'd never seen one on a striped background before.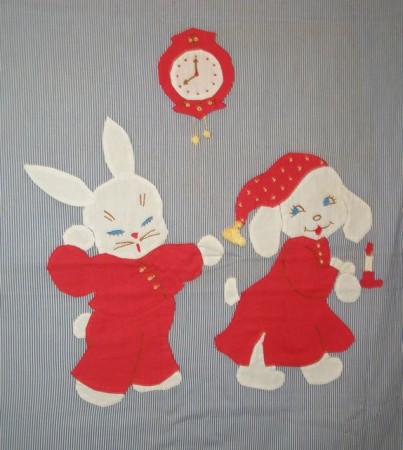 Loretta brought her basket quilt back. She's working on hand quilting the blocks.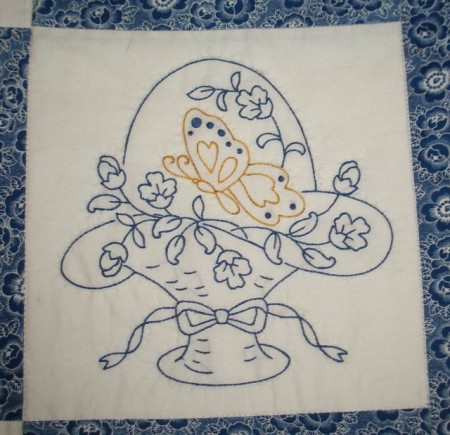 Mary has the Halloween quilt top all put together.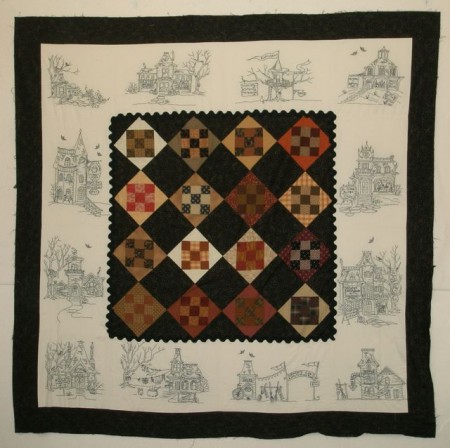 Didn't she do a great job on the embroidery?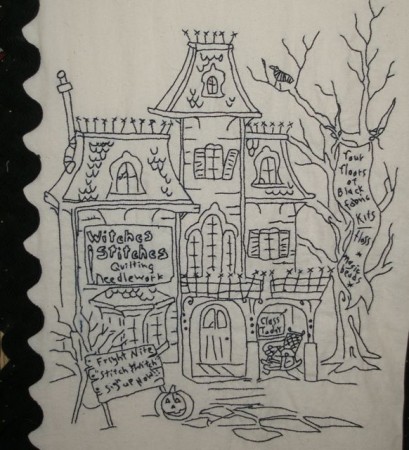 And I LOVE the giant rick rack!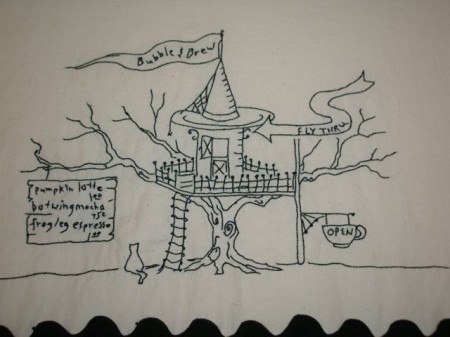 In her digging, Eleanor found these blocks that we did in Redwork club in 2001! I love that we did red on white and white on red that year. Most of the designs came from a vintage Redwork quilt that I bought in New York. We did 24 blocks that year.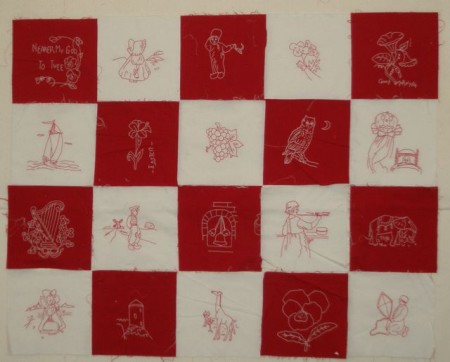 This one is especially cute.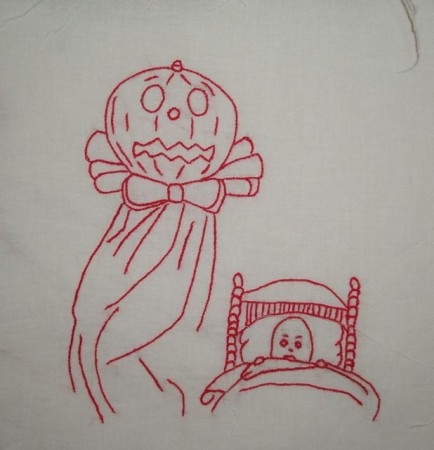 Ann had finished this charming boys quilt.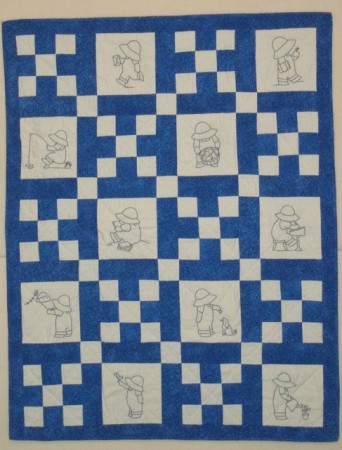 She does such nice work.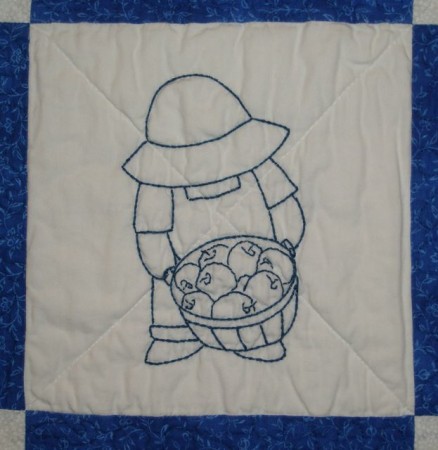 Cortne` brought her house blocks and wanted advice on how to finish them. We all loved the yellow and black frames. I think she's going to frame every other one with the white-on-black print and the black-on-white print.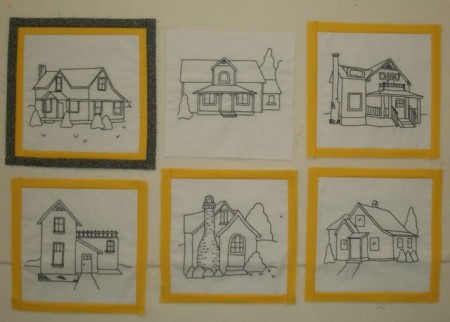 I love how the yellow makes them pop.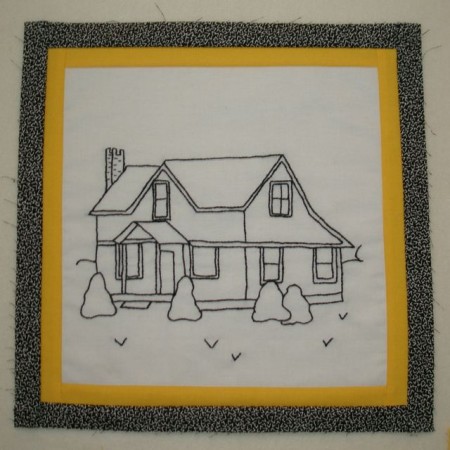 Robin had been practicing her machine stitching on some doll quilts that she gives away. She'd done a really nice job.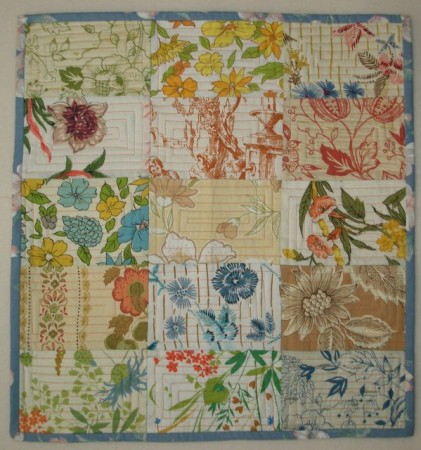 Nan brought me a two presents! This vintage Grandmother's Flower Garden quiltlette.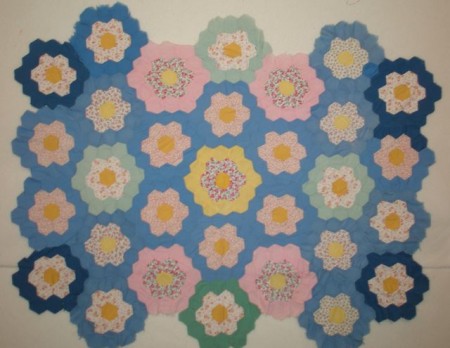 Don't you love the layout.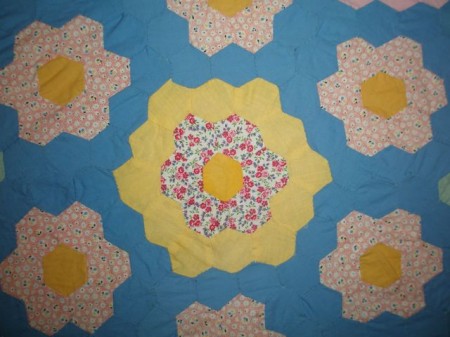 And this embroidered days-of-the-week towel with a stitchin' chicken!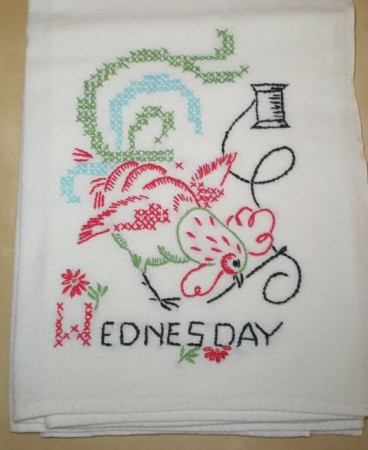 Thanks, Nan, and everybody who shared.