I was delighted that Joy shared these vintage Sunbonnet Sue blocks. They were made by her husband's grandmother and she plans to finish them.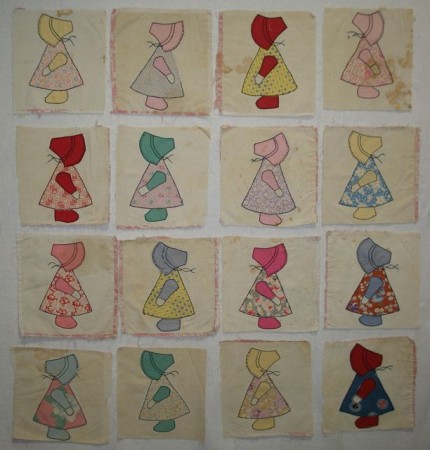 Penny made this great wildlife quilt.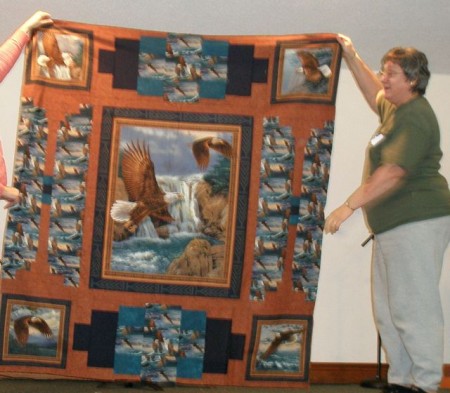 Lynelle made this gorgeous jacket.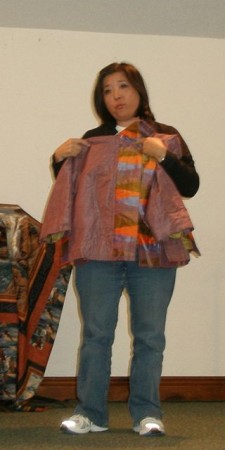 Margaret showed us a beaded bag she'd made with some vintage beading. It was stunning.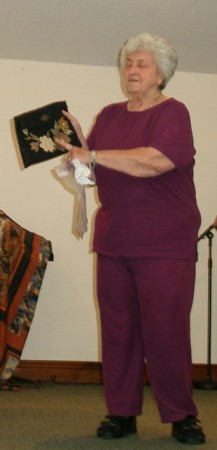 Linda F. was a great presenter–pulling socks she'd made from her sleeves, waistband, etc.!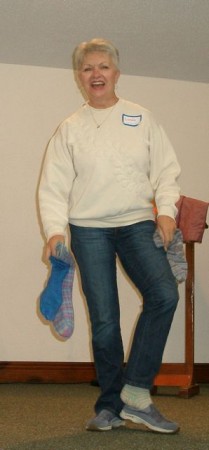 Sherrie made this beautfiul quilt.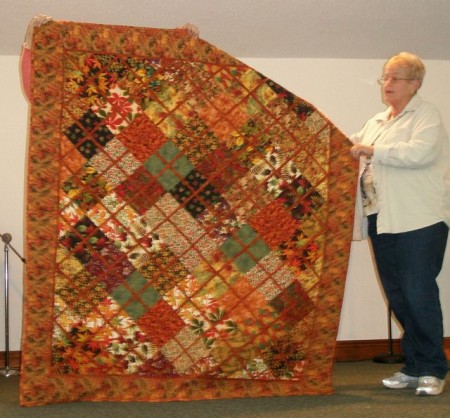 This is Carol C.'s stunning table runner.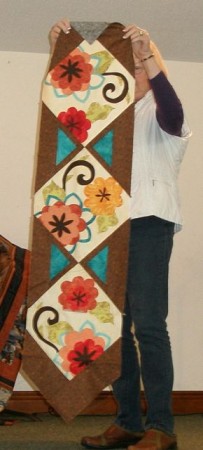 Here's Pearl's striking Log Cabin.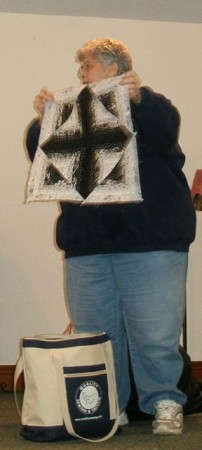 And she'd made several of these wave table runners for gifts.
Another table runner design of Pearl's.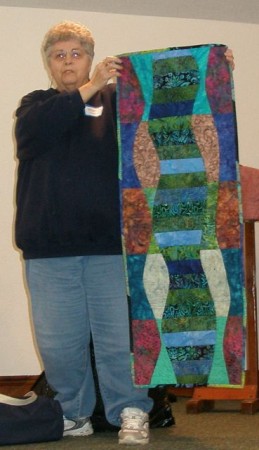 She also made this Bargello quilt.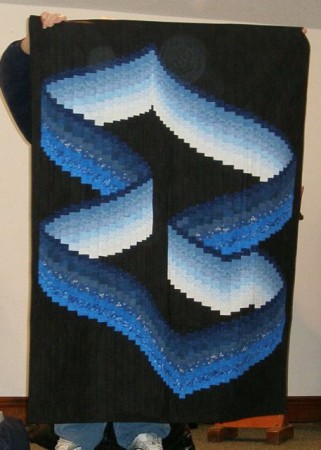 And this is the quilt she made for her bed!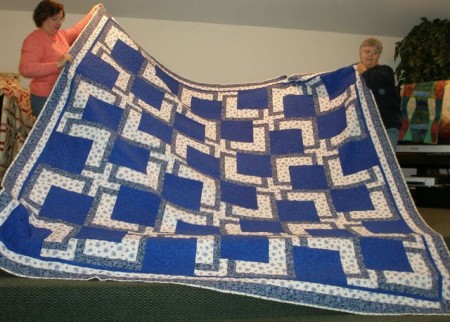 Virginia made this great circle quilt.
Oh, look–my Sweet Pea panel. Thanks,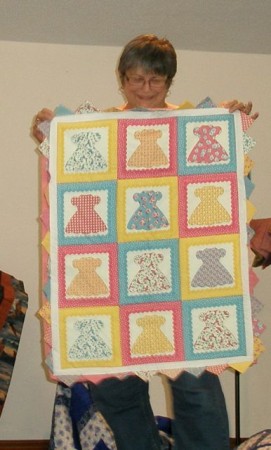 Suzette made these paper pieced animals.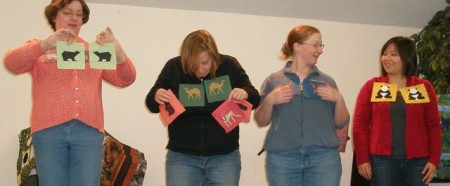 Another quilt using old sheets made by Evelyn.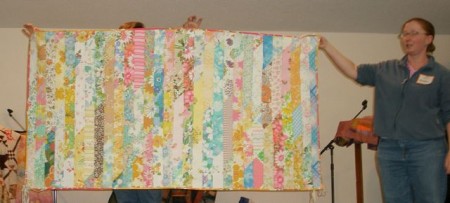 And look at this great sheet on the back. I could have used that in highschool–my bedroom was hot pink and orange! Imagine!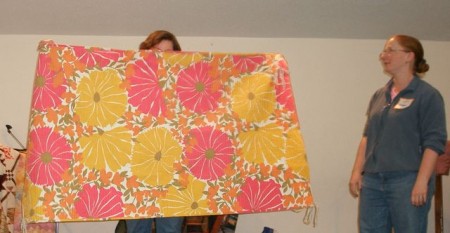 Quyhn made this charming quilt.
Sisters Kim and Emily were given this antique Redwork quilt by a great aunt. It was quite amazing.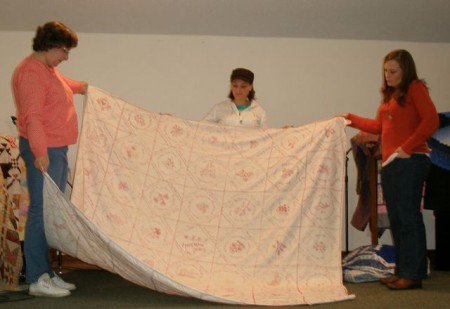 Michelle showed off her new Jessie Bag.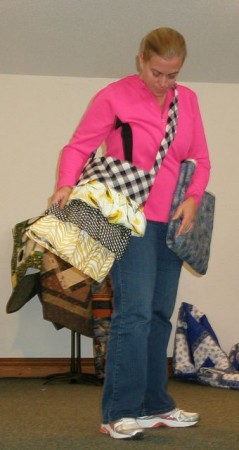 She also made this quilt using family photos of bathing beauties!
Peggy fell in love with this fabric at Boardwalk Quilts and had Renee make her a jacket from it.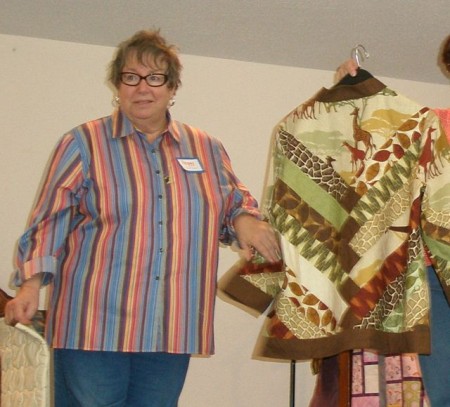 Then Renee surprised her with a sewing machine mat made from the leftovers!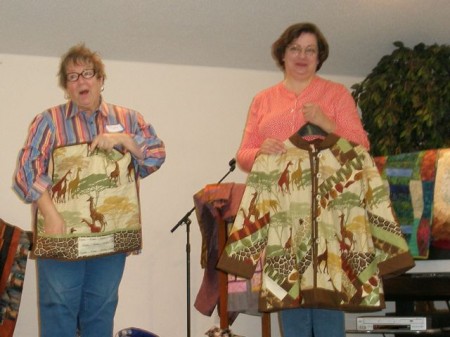 Susan shared this Basket Sampler with us.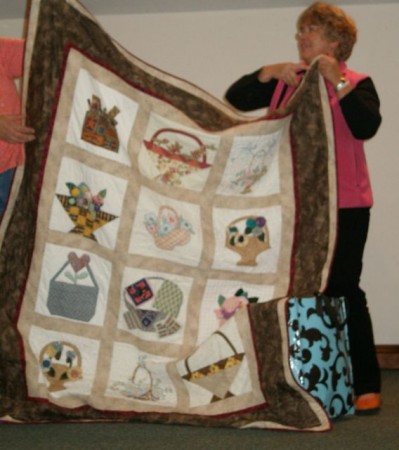 And I think this, too, is one of Susan's.
More in the next post!