64 ladies and I just spent 4 days at Falls Creek Retreat Center for a wonderful, relaxing quilting retreat. I want to share some of their fantastic work with you. I hope I give the right people credit for the right quilts! I'm sure the ladies will straighten me out if I didn't!
Susan O. made this stunning floral quilt.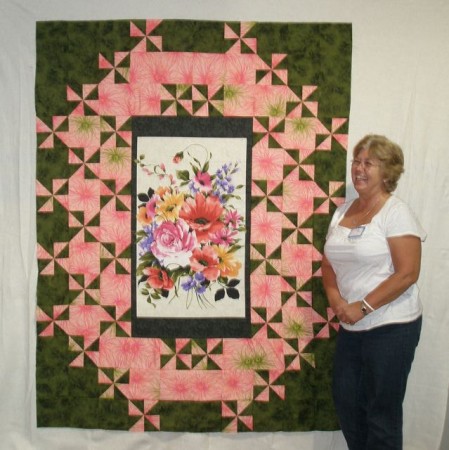 Laura designed this quilt and calls it Hole in Nine.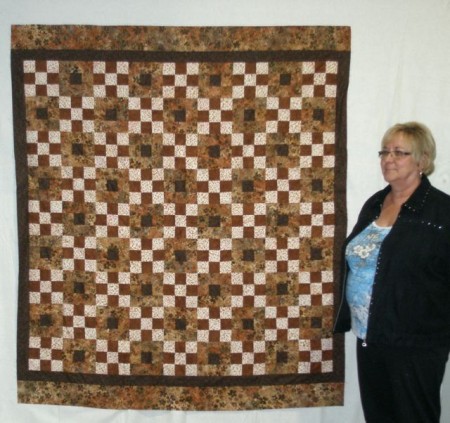 She also designed this flying geese quilt–all made from my Sweet Pea fabric!
Jessica was working on this great memory quilt.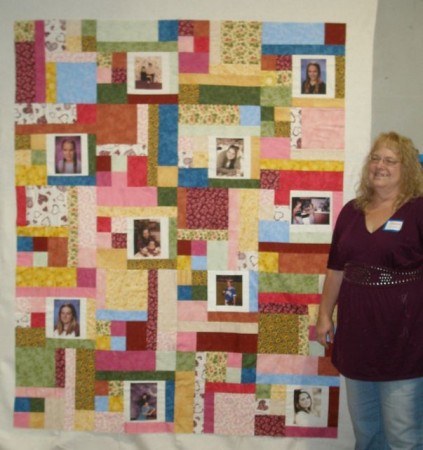 And I think this was Penny's. It was her first time doing curved piecing. Added, Oct 27. This was Stephanie's first attempt at curved piecing, not Penny's!
Penny made this cute Boo wall hanging!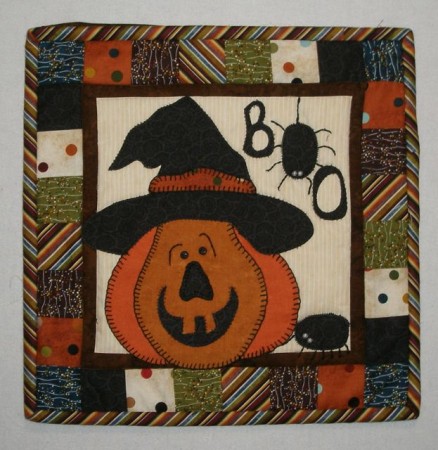 Another beautiful floral quilts from Susan.
And to show she's about more than just florals, she made this eagle quilt.
Gail made this outdoors quilt for her uncle.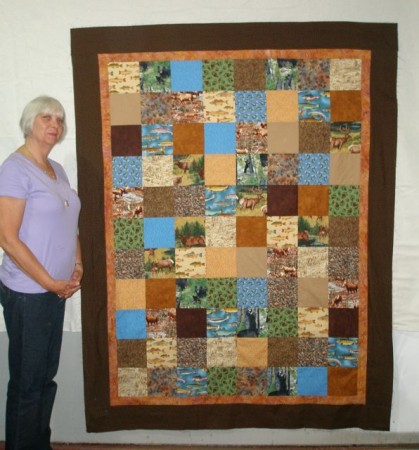 Mary P. was involved in a string piece swap and put her blocks together to make this striking quilt.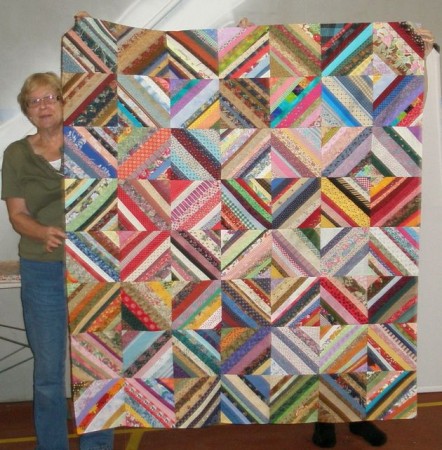 Linda K was making X's and O's.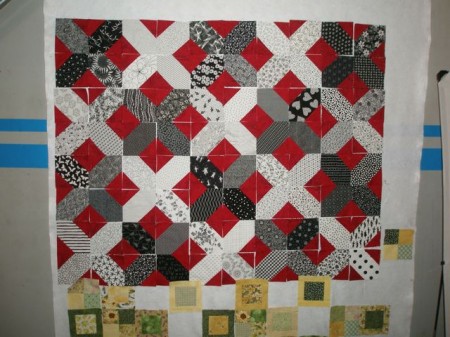 Quynh made this pretty quilt with lots of paper pieced hexagons.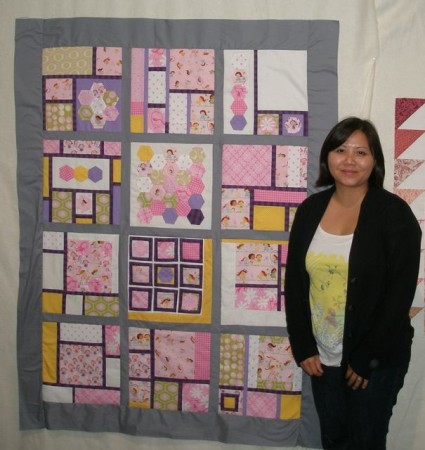 Another pretty floral from Susan.
My sister, Sally, was our lone scrapbooker at the retreat.
Carol O. was working on hand quilting the quilt she made from her mother's vintage blocks. These blocks were the inspiration for my Dear Dorothy fabric line.
Jean made this quilt. Isn't it perfect for fall?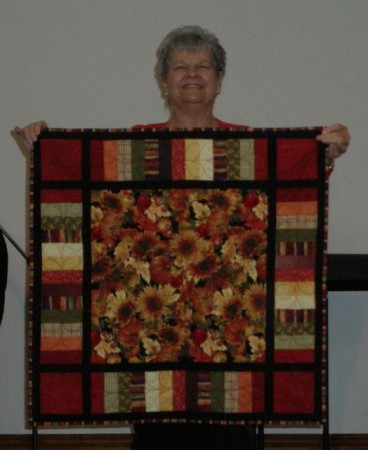 And I love Sherrie's quilt.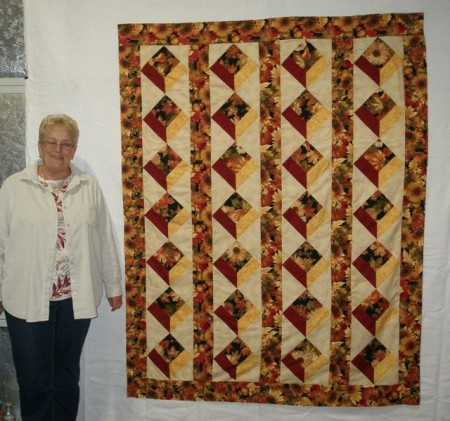 Robin is making this adorable baby quilt for a friend of her daughter's–whom she's never met!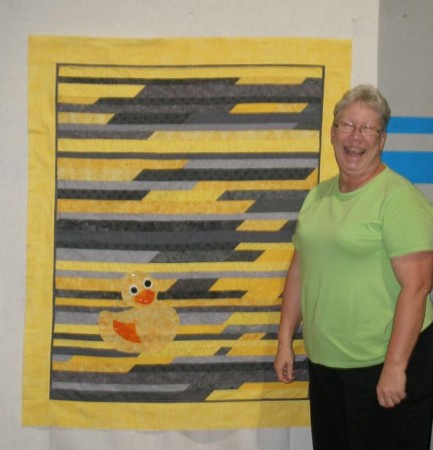 This quilt of Marsha's is made from Minkie.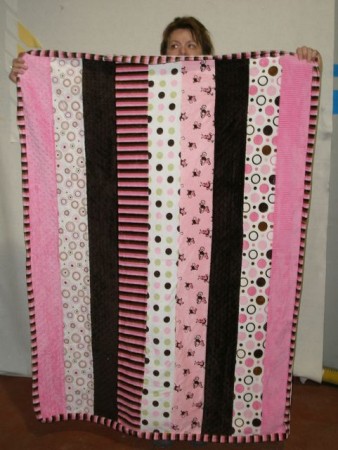 Her sister Billie made one, too.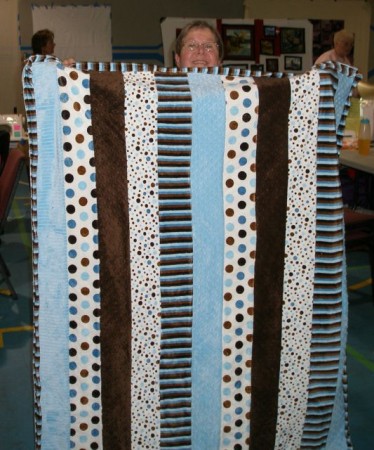 And here's Susan again! Don't you love this setting for a panel?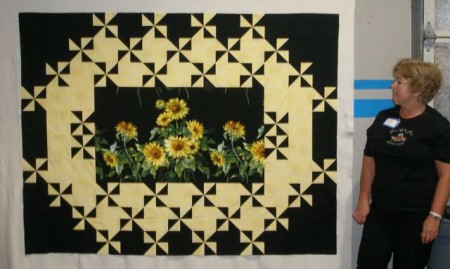 Peggy was making this adorable Hip Baby. Added October 27 – Oops! I knew I'd foul up. Emily made this quilt, not Peggy!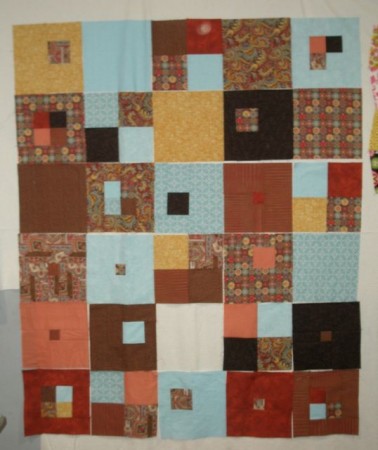 Gail was making this great, fun pattern.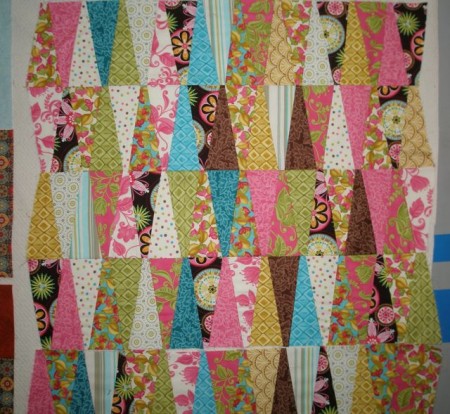 Phyllis had this stunning batik quilt up on the wall.
Sandy finished this quilt top from a kit she bought at Anna Lena's a few years ago!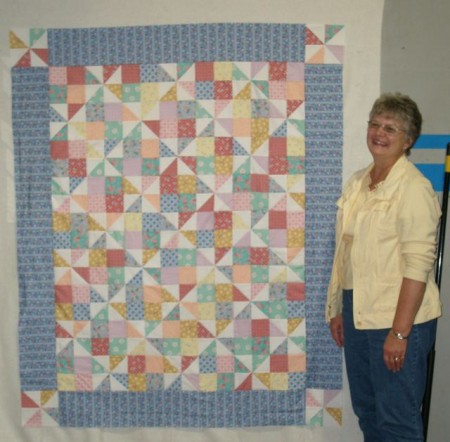 Bernice was the first to complete a Hunter's Star. I had demonstrated the Rapid Fire Hunter's Star ruler. Boy is it a slick way to make this block–no set-in seams!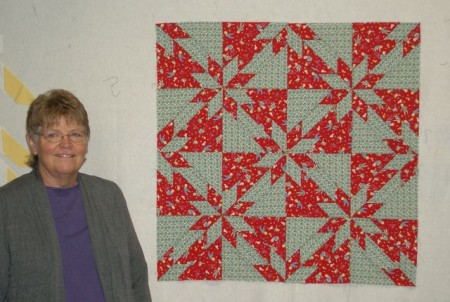 Karen J. made a pincushion from these fabrics and loved it so much she had to make a whole quilt!
Sue made this great quilt from my book, Fat Quarter Fun!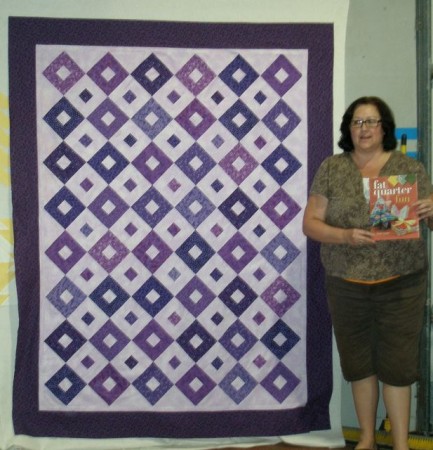 Barbara made this wonderful Christmas wall hanging.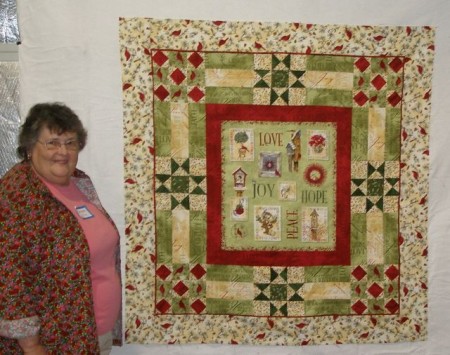 Stay tuned for more!