Way back in 1974, when I was 20 and my Grandma Ikey was 90, I was getting married. Grandma Ikey had two Nine-Patch quilt tops that she had made several years before and tucked away. One was supposed to be for my brother when he got married, and the other for my cousin Jim when he got married–her two grandsons. However, I was the first to get married, so Grandma gave one to me as a wedding gift.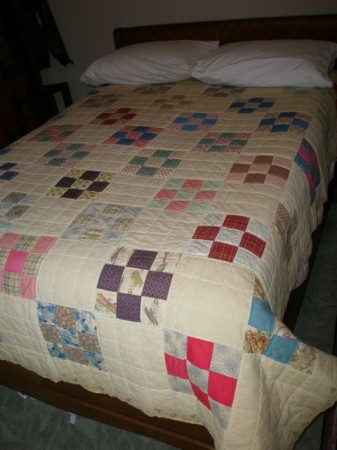 This quilt became very special to me, because my other grandma, my Grandma Kennedy, and the members of her Ladies Aid Society, did the quilting on it. I slept under this quilt for years, had it dry cleaned a few time–I didn't know any better–and have always treasured it. My brother did get the other one, also finished by the Ladies Aid, and his is in pristine condition.
I always said that someday I'd be a quilter. About 1993, I got a free quilt pattern in the mail. It was from Oxmoor House and was for a Grandmother's Flower Garden. I thought, "I should make this. And I should make it king sized so it will fit my bed!" Ah, ignorance was bliss! I also remembered that my mom had given me some old fabric and blocks from my Grandma Ikey after she passed away, and that among them were some Flower Garden blocks. Amazingly, I opened a drawer in my storage room, and there they were–16 Flower Garden blocks, or at least the components to make them. I knew I wanted to use them in my first quilt! It took me 2-1/2 years, but I finished that king sized top.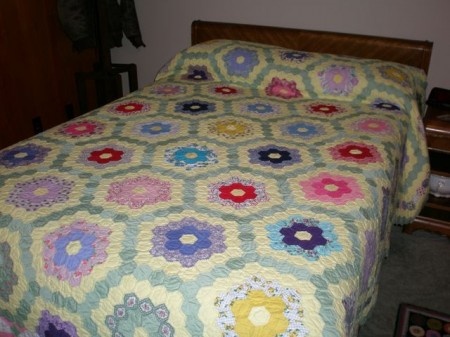 As I was working with the blocks that Grandma Ikey had made (I had to take them apart and re-cut them as they were a different size than my pattern) I began to think that some of the fabrics looked familiar. I was pretty sure they were the same as some in my Nine-Patch. So, I got it out and started to compare. Sure enough, there were some duplicates! Like this yellow and green flower print.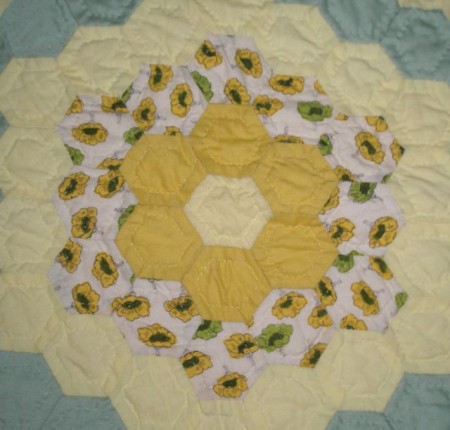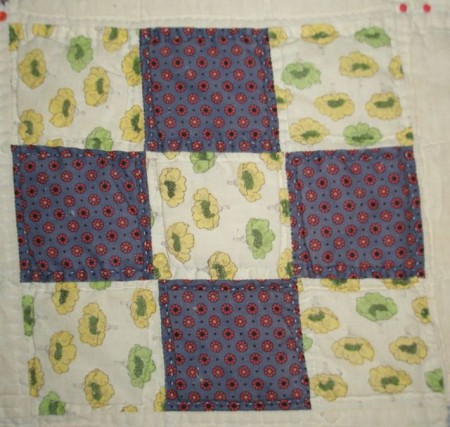 There was also this cute little blue flower.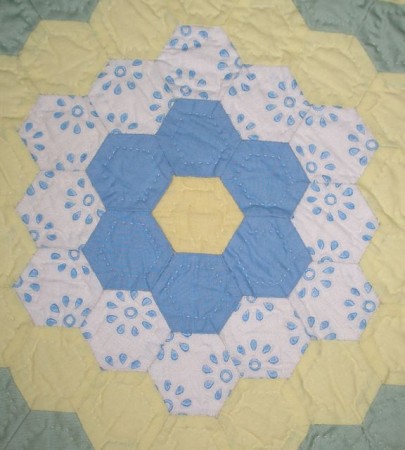 You can see it's more faded in the Nine-Patch.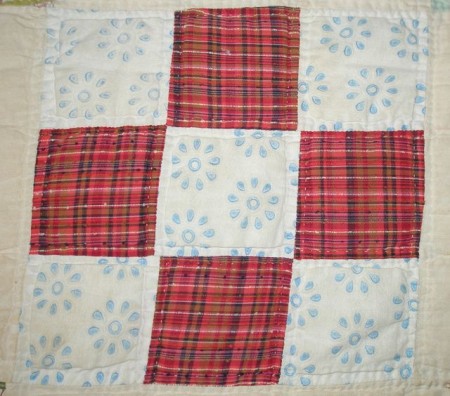 Sometimes there were only enough hexagons for a half block, but that worked great for the edges of the Flower Garden.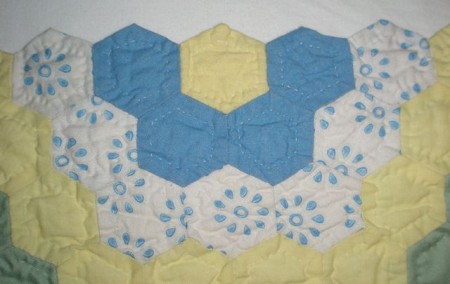 Well yesterday, Bob and I and my parents visited our cousin Betty, whom we rarely see.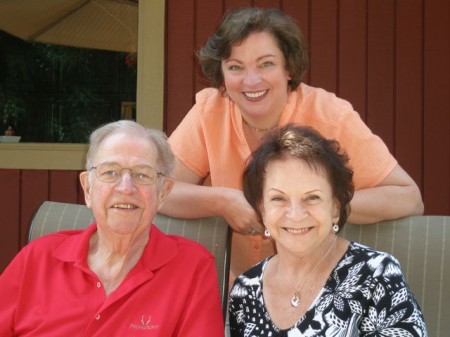 She had two quilts that our Grandma Ikey had made! This star quilt.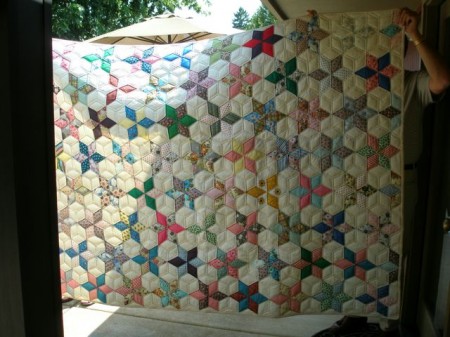 And this fan quilt!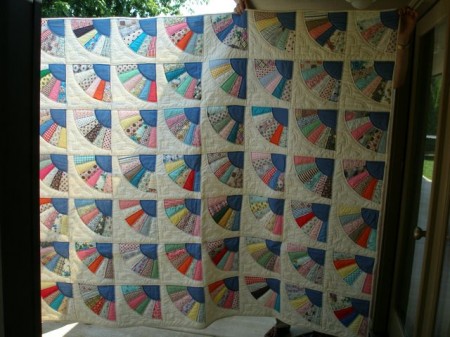 I was thrilled to see them, but even more excited when I started recognizing some old friends among the prints! The white daisies on this pink background really speaks to me–I've always loved daisies. Here it is in Betty's star quilt….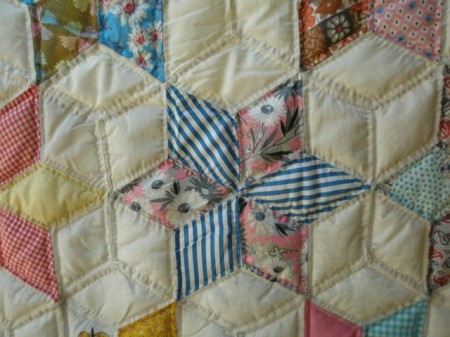 …and in my Nine-Patch quilt…..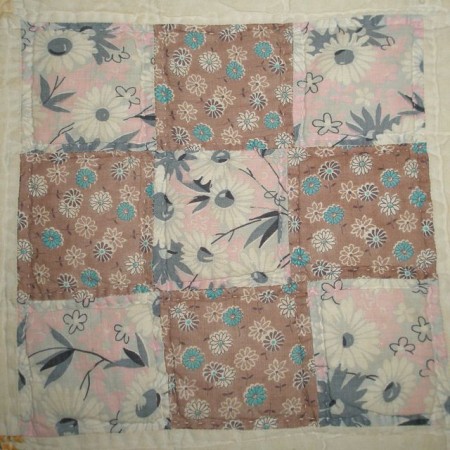 …and in my Flower Garden quilt!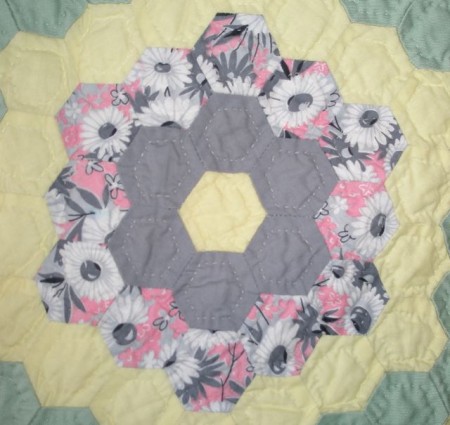 This very abstract blue print was in one of the stars…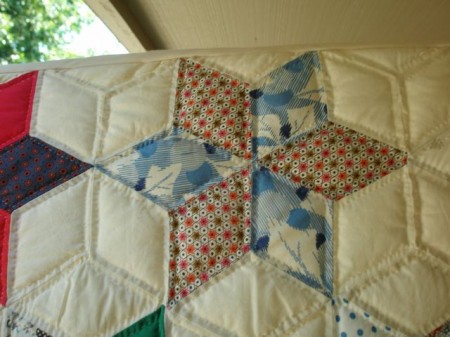 …and in my Nine-Patch.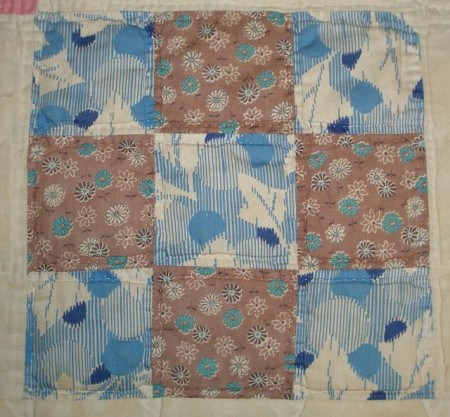 The other print in this star was also familiar.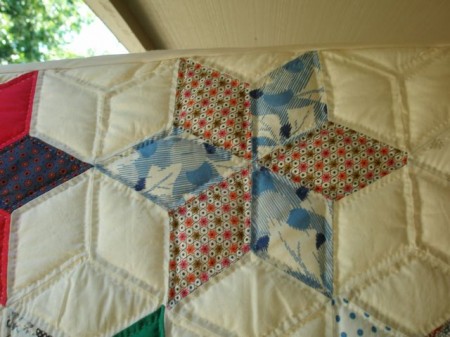 It's not only in my Nine-Patch….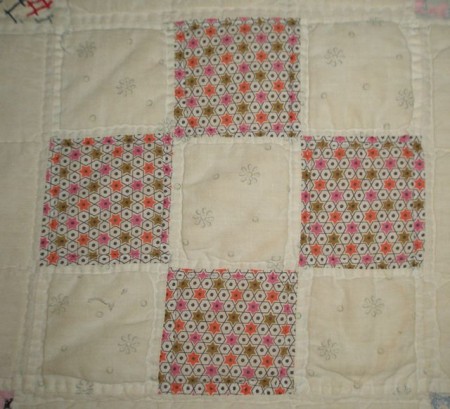 …Grandma Ikey made my baby doll a dress from this print!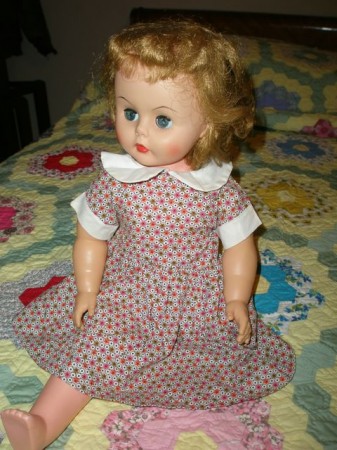 And here it appears with a blue paisley…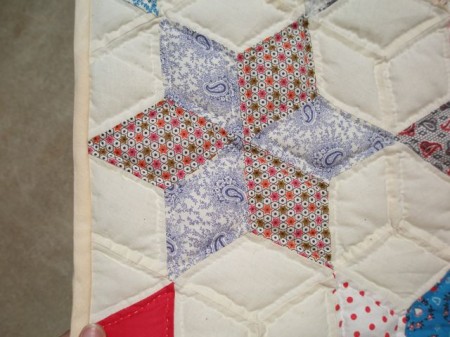 …which is also in my Nine-Patch.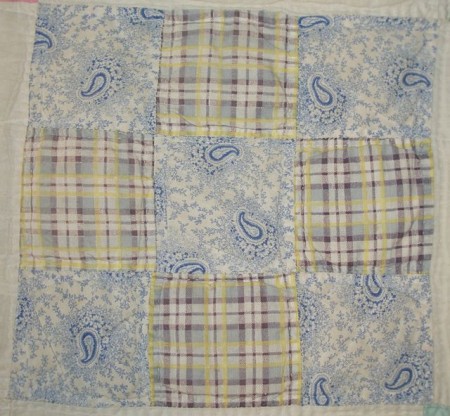 This fan blade had lots of matches to my quilts. The center blade with the little Lemoyne Stars print….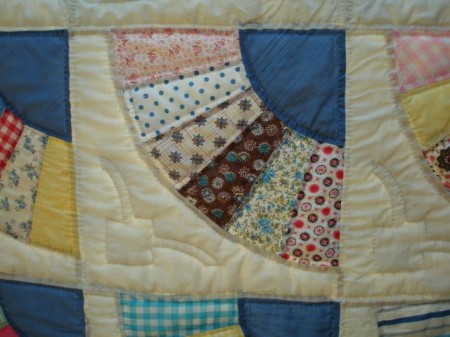 …made its way into my Nine-Patch, although it's much more faded here.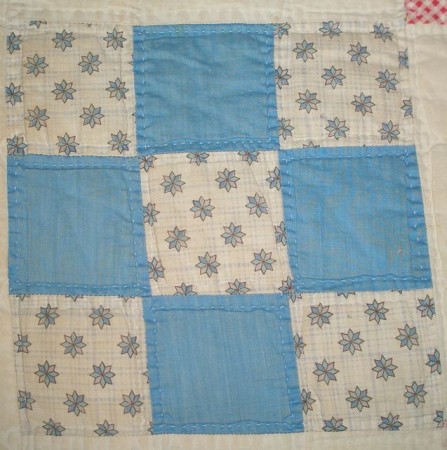 And the dark brown with the aqua flowers….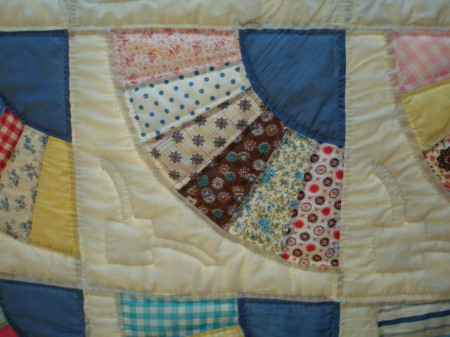 …is REALLY faded in my quilt.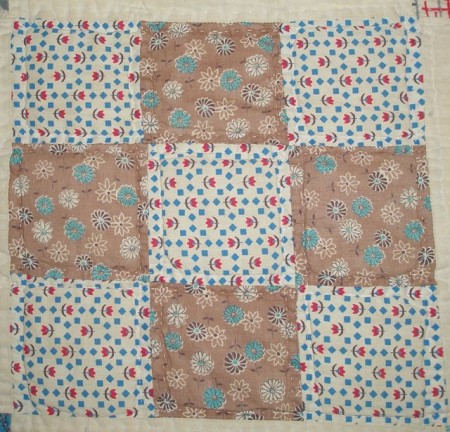 Did you notice the little tulip print in the above block? It turns out Dolly has a dress made from that print, too! I love her rick rack!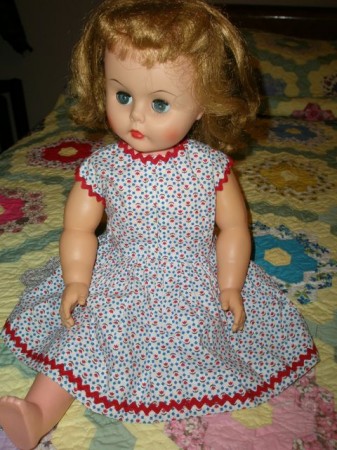 INSERTED 8/3 My sister emailed me last night. She had gotten her dolls out to check out their dresses, and here's what she found–and said.
Here are Chatty Baby and Chatty Cathy all decked out in their tulip dresses. Please note that my dolls can stand up by themselves, because they are not missing any legs. Chatty Baby is upset, because she can't find her scarf. (I suspect the reason Chatty Cathy is looking away from Baby is because Cathy lost her own scarf and stole Baby's.)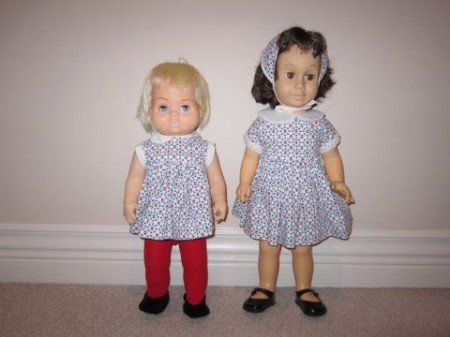 Then this morning Sally emailed me this….Chatty Cathy has a headache this morning from wearing the scarf too tight. Serves her right, I think.
How do you like the blue gingham sundresses?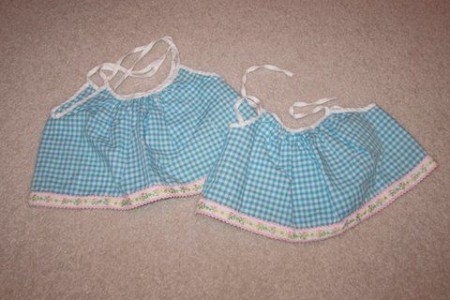 I love the pink gingham — wide rick-rack for Cathy and narrow rick-rack for Baby.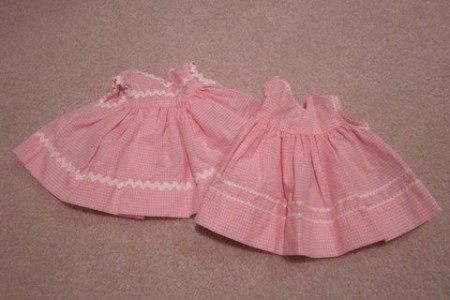 Does the white fabric with yellow roses look familiar, SW?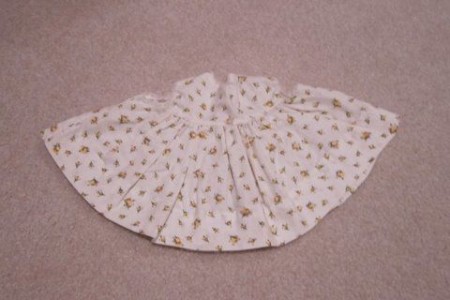 As a matter of fact, it does. It's in my Flower Garden quilt! Thanks, Sally, for sharing!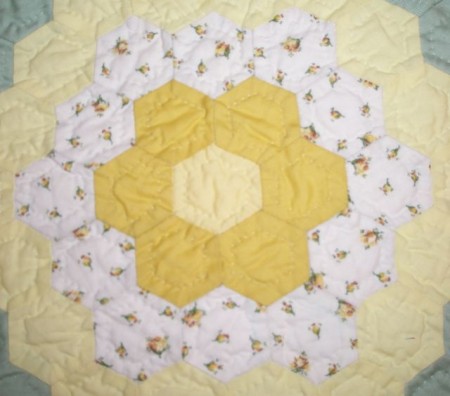 The dainty blue flowers, next to the bottom blade…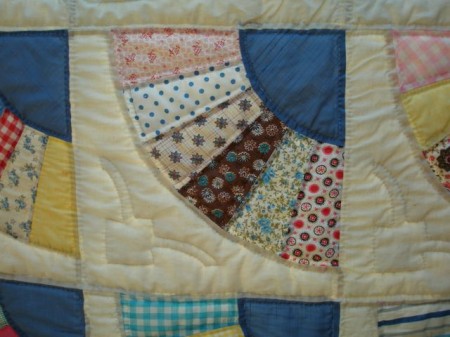 …make an appearance in the Flower Garden quilt.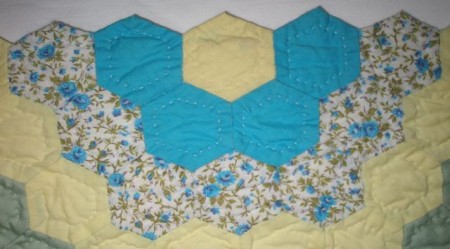 And the last blade, with it's wild pink, red and black combination…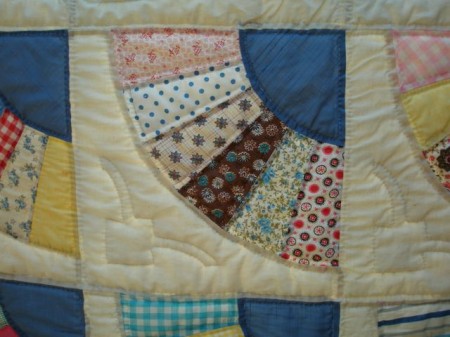 …shows up in the Flower Garden quilt. I think Dolly had a dress from this, too, but I don't seem to have it. Maybe my sister does.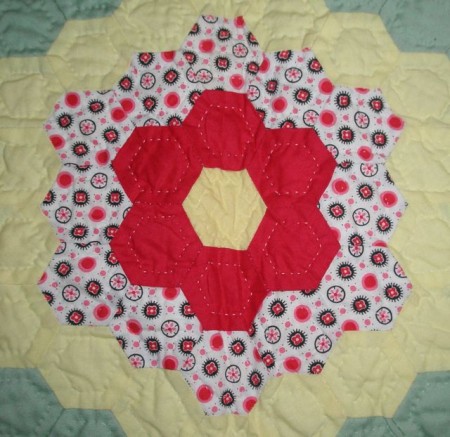 And one of my favorite prints, which I remember is in my brother's quilt too, is the gray and red one.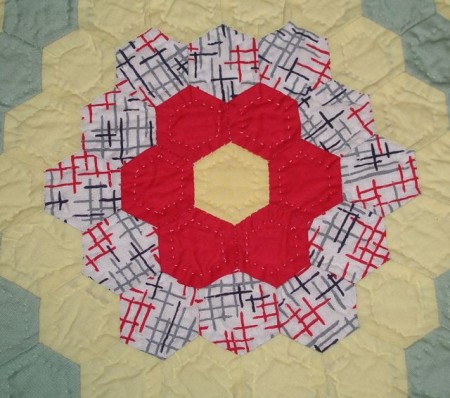 It's in both of my quilts….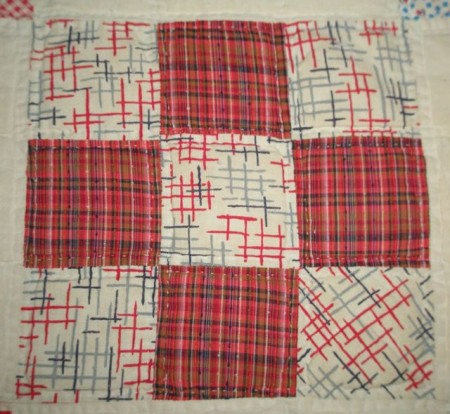 …and Betty's fan quilt.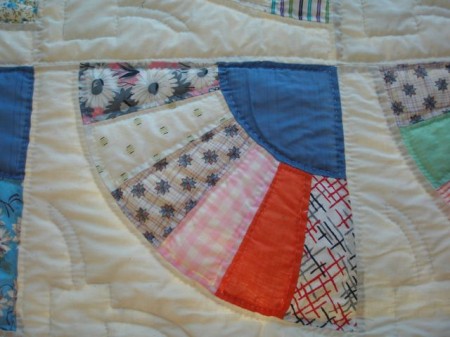 It's amazing the connections among these four quilts–five if you count my brother's.
Yesterday my mom told me that Grandma Ikey once said that when she and her niece, Elsie (who was two years older, but that's another story) would buy fabric for a project, before they even cut into it, they were planning what they'd make from the scraps! Spoken like a true quilter.
And I have one more quilt to show you that's from Grandma Ikey. This is the crib quilt she made when my brother was born, and that Mom used on all three of us kids.