I live in a charming beach town called Long Beach, Washington. Long Beach is on a Peninsula that is 28 miles long and 2 miles wide–just a little finger of land. But, it's a beautiful and diverse place. Of course, I see it everyday. Actually, lots of times I don't see it, if you know what I mean. But last weekend, an acquaintance was here with her husband. They were celebrating their anniversary. Virginia sent me photos that she took of the area, and it's incredible to see "my hometown" through someone else's eyes!
This is our photographer, Virginia, inside the trunk of a very large tree!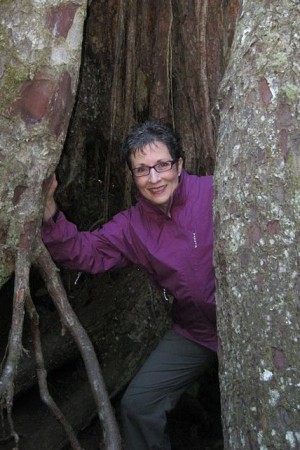 The three bodies of water surrounding the Long Beach Peninsula are the Pacific Ocean, the Columbia River and Willapa Bay. The southern most end of the Peninsula is attached to the mainland.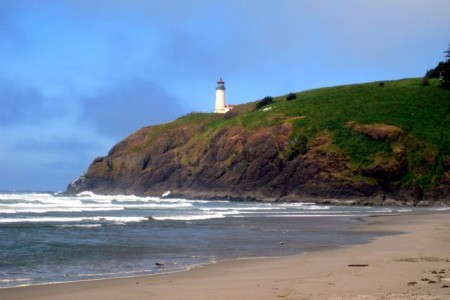 The bar, where the Columbia River empties into the Pacific Ocean is very treacherous. North Head Light House guards the entrance from the north.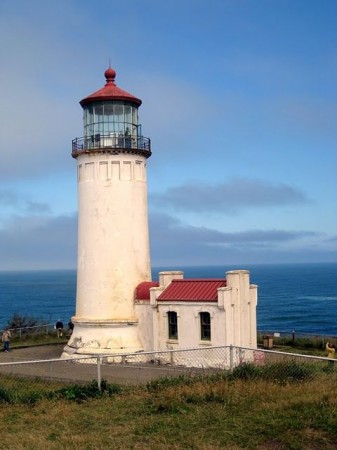 'Cause you sure don't want to run aground on these rocks!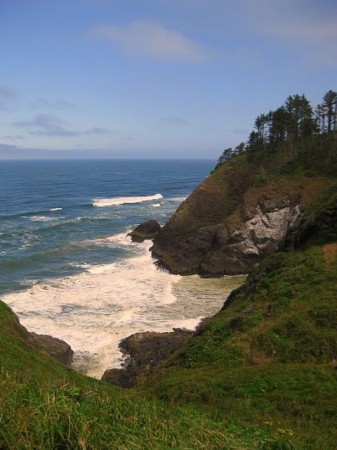 Cape Disappointment Light House guards the river side.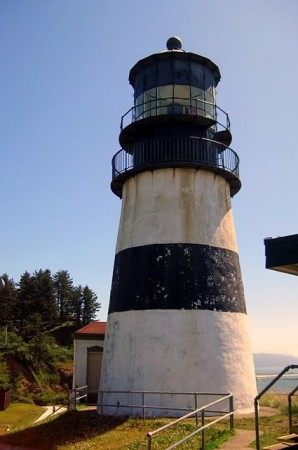 Great name, Cape Disappointment. Named by English Sea Captain John Meares. He was looking for the Columbia River, decided this wasn't it (even though it was), named the headlands and sailed off!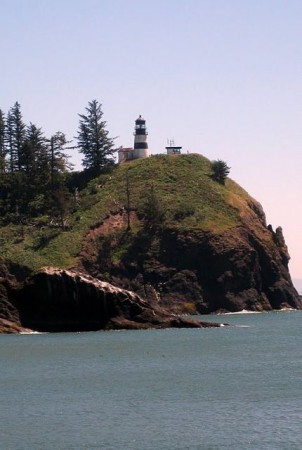 On the hike up to Cape D, you pass Dean Man's Cove.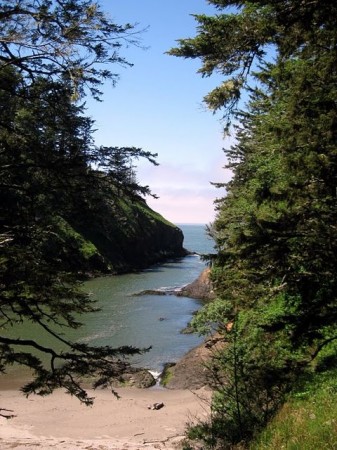 Baker Bay is a sheltered harbor.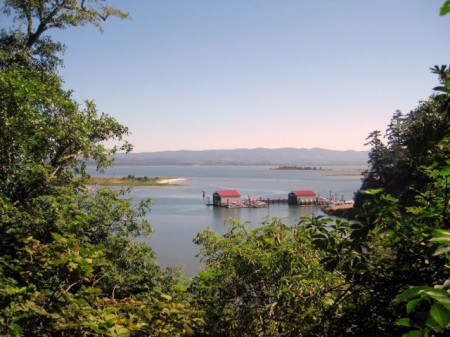 It's home to the Ilwaco fishing fleet. This is salmon country. Notice the fog just burning off.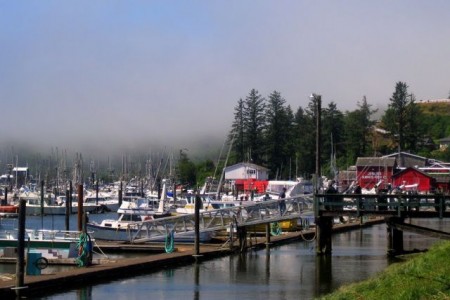 Where there's salmon fishing, there are also canneries. I can't believe how charming Virginia's pictures make it all look!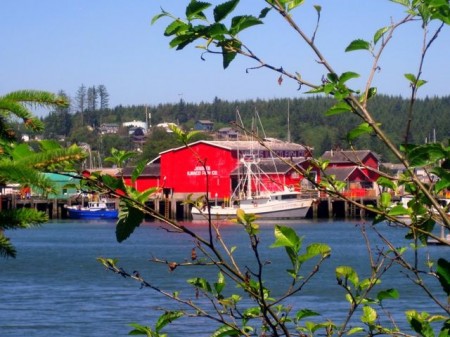 This statue is of a California Condor. It's based on a description in the Lewis and Clark journals describing the "large buzzard" they saw feeding on a whale carcass.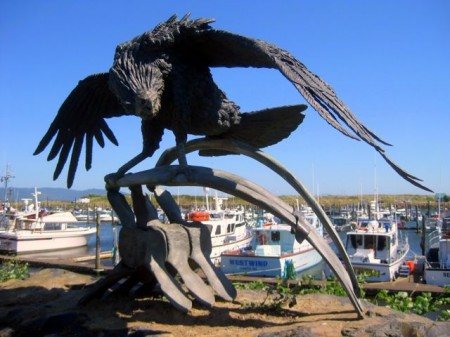 Jim and Virginia had dinner at one of the port restaurants and snapped this nighttime picture.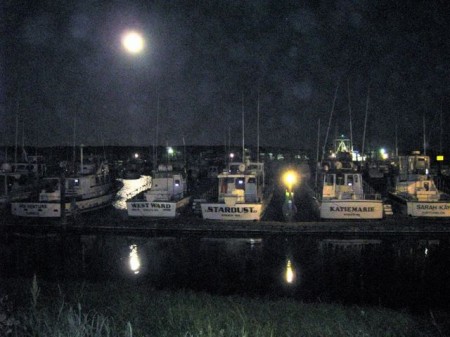 The only high areas of the Peninsula are in Ilwaco–and they provide some great views.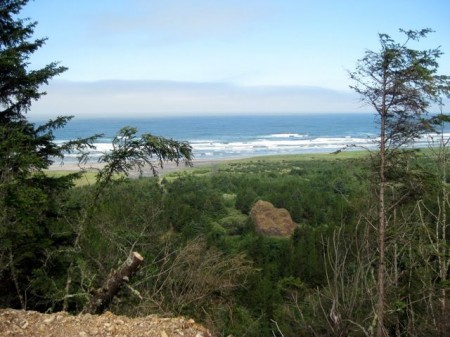 This is looking south.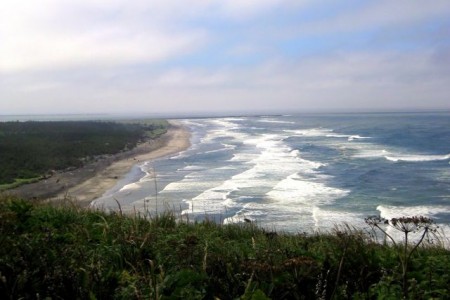 We have lots of conifer trees.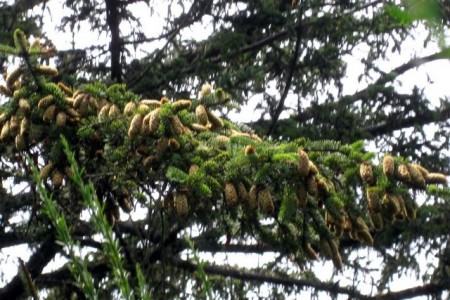 And lots of trees covered with lichen.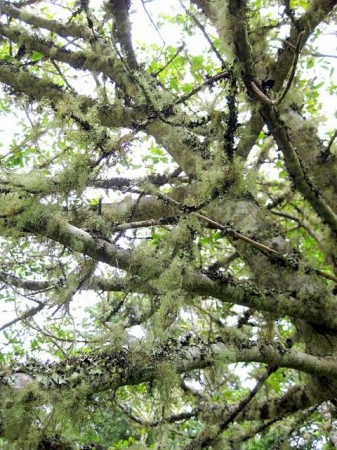 The English ivy may be pretty, but it's a non-native, invasive weed!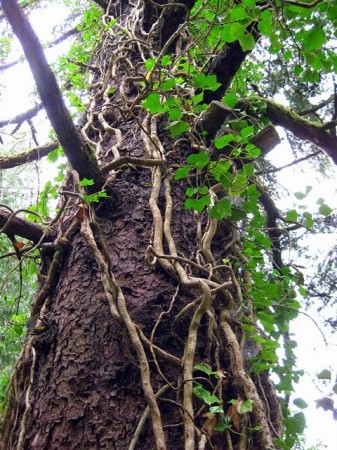 Ah, the beach.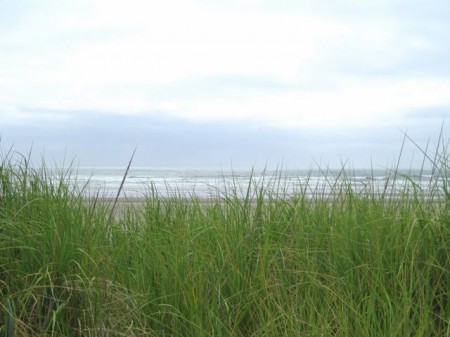 I really should go down there!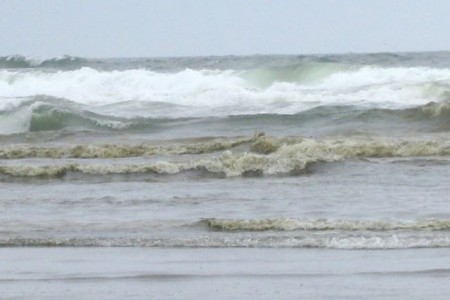 As you can see, we're not in a very crowded area!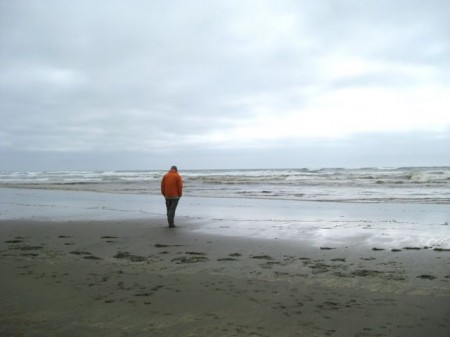 Sandpipers.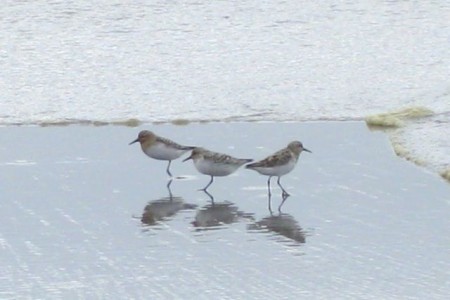 Some gulls. I've been seeing these lately, and they're not the usual California seagulls.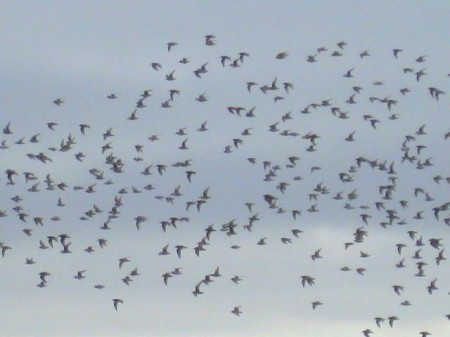 Some chainsaw art along the dune trail.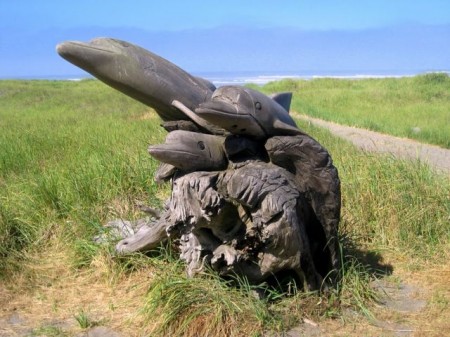 Here's our common California gull.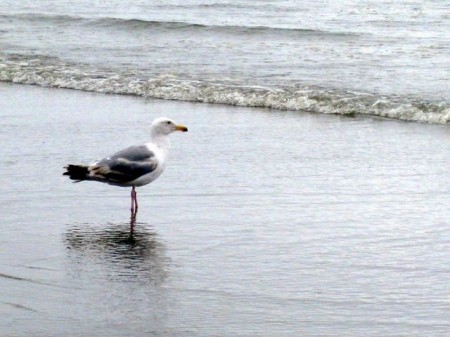 Eeew! I haven't seen a jelly fish for a long time!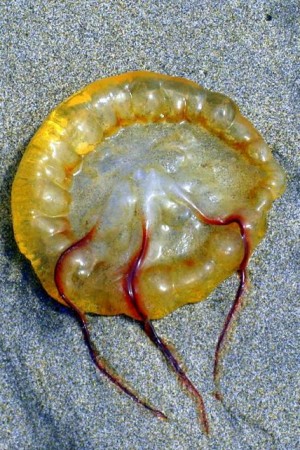 Low tide.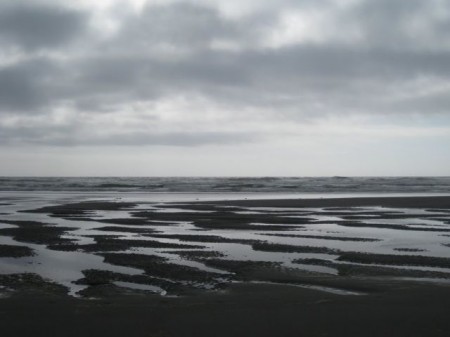 Early sunset. While the rest of the nation has been sweltering this summer, we've pretty much been under a permanent fog bank with temps in the 50′s and 60′s.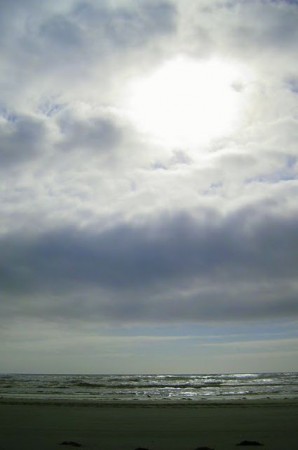 Beach cottages. We have a lot of grass covered dunes between the houses and the ocean here.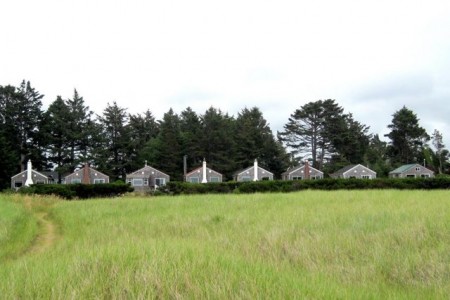 Weathered cedar shingles are the norm around here.
It's such a great beach look.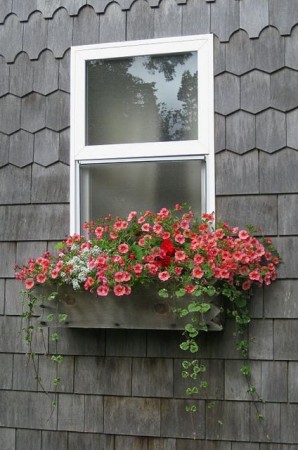 It's peak bloom time right now for the wild roses.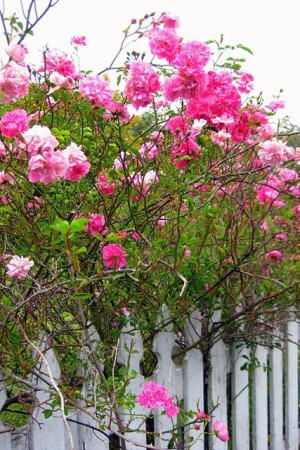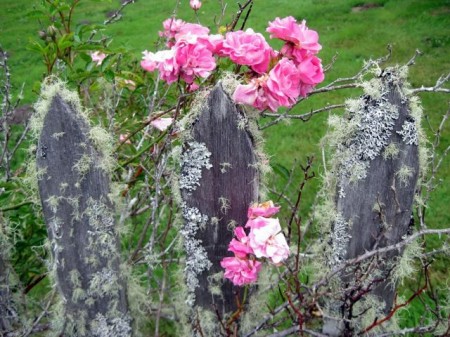 I love how something so ordinary can be so beautiful.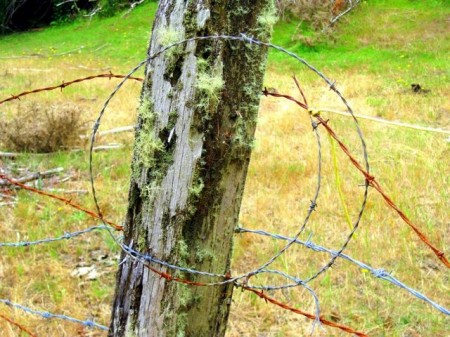 Sea captain?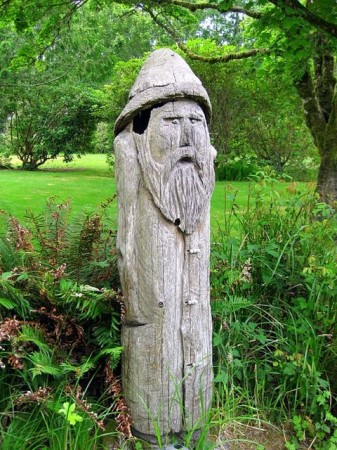 Daisies are also at their peak right now.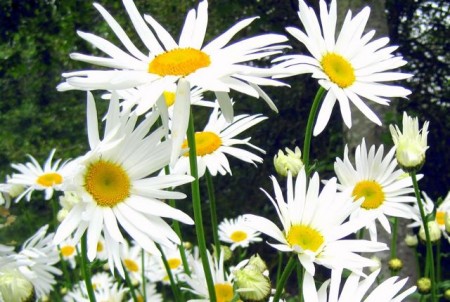 And don't you love the saturated color of these hydrangeas?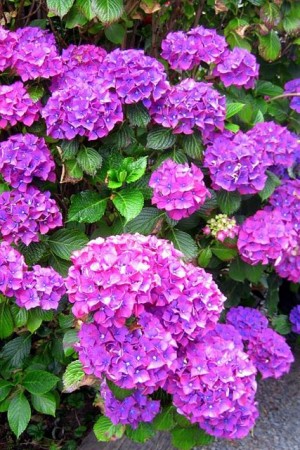 The wild foxgloves are almost finished blooming.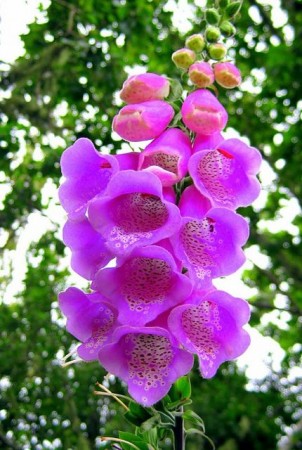 At the north end of the Peninsula is the village of Oysterville, the first settlement here.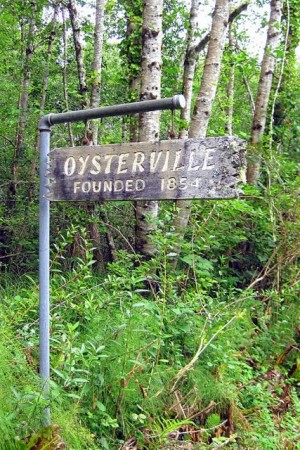 At the local cemetery.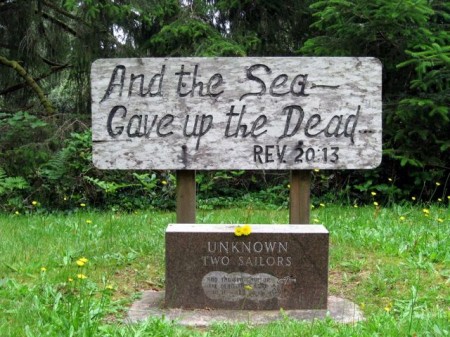 The historic Oysterville church.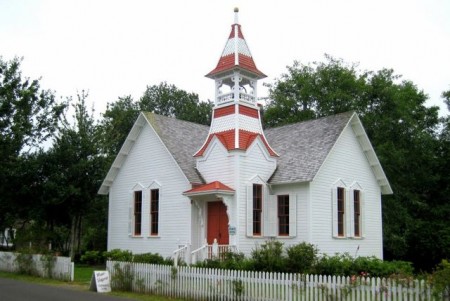 Oystering is still big business on Willapa Bay.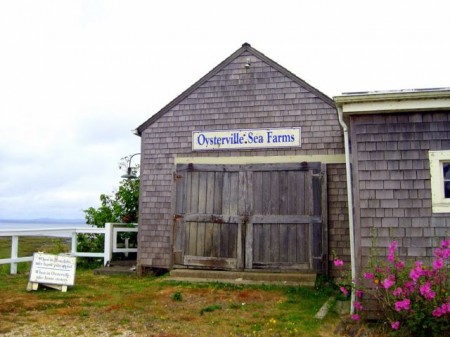 Good advice!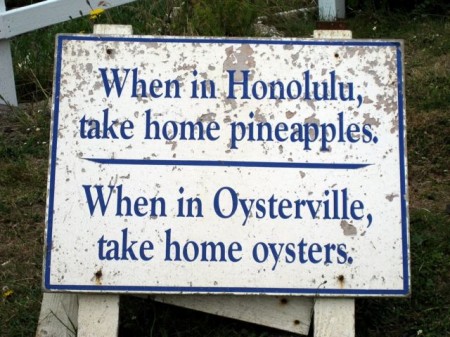 Thanks, Virginia. It's so nice to see all the wonderful things in my own backyard through someone else's lens.