I was so lucky that one of the temporary exhibits at the Vesterheim Museum was a quilt show! These were quilts made by area Norwegian/Americans.
I love signature quilts, and they had a lot of them!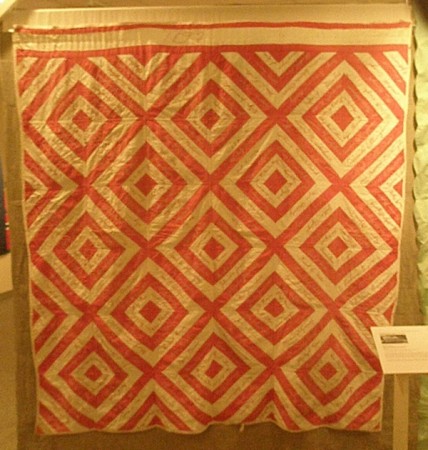 This was a fundraising quilt made by the Big Canoe Lutheran Church women.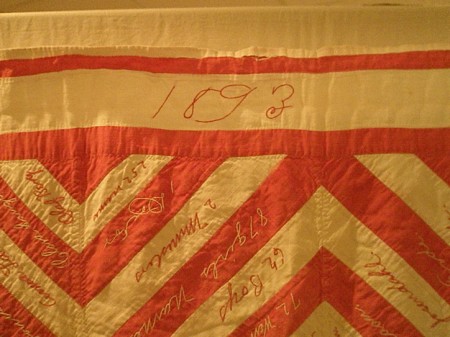 Members of the congregation paid five or ten cents to have their name included in the quilt, then it was raffled off.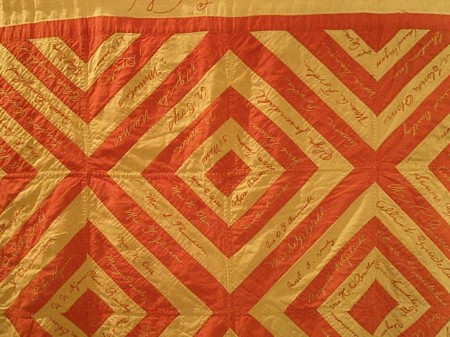 This quilt was made in the early 1930′s in Decorah.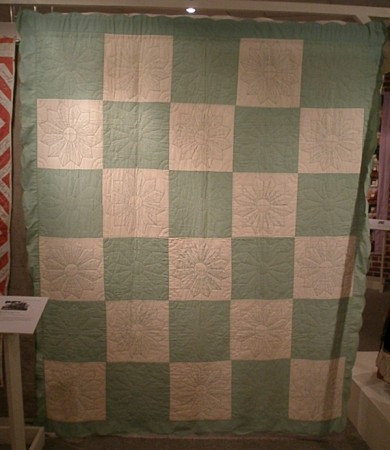 It was a fundraiser for the hospital auxiliary there.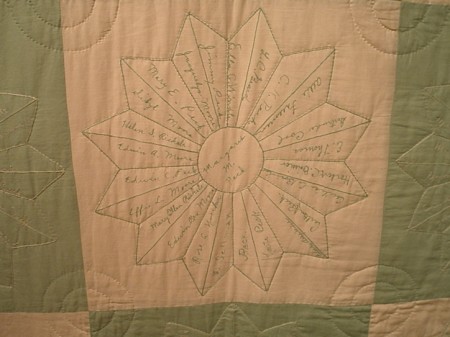 I love the green-on-white and white-on-green combination and the circle quilting at the corners of the blocks.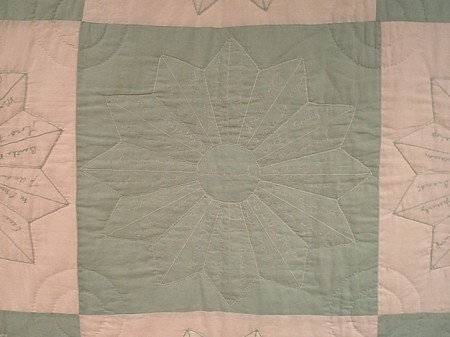 This quilt was made by the Highland Lutheran Church Ladies Aid Society.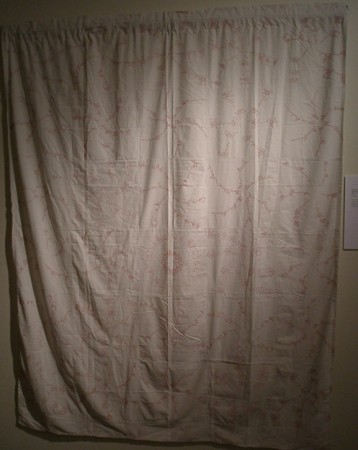 It was purchased by Pastor Holie, who served the church from 1897 to 1915 .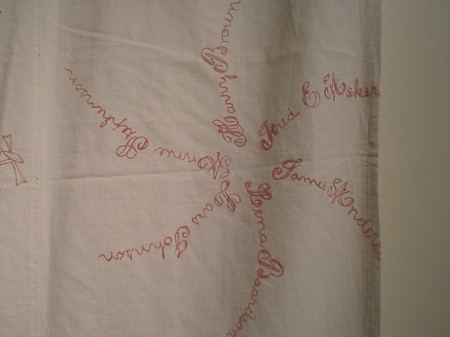 It was used for years on his daughter, Olga's, bed.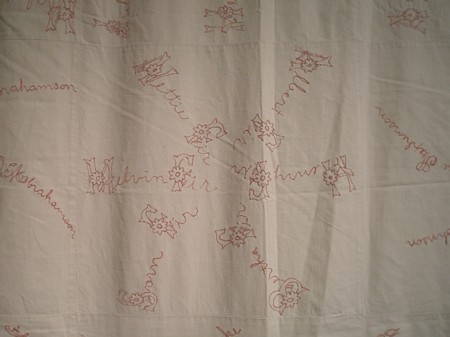 When Olga passed away, her daughter had it draped on her coffin to represent the community in which she was raised.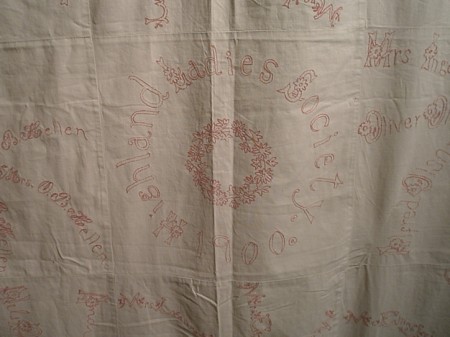 This Wagon Wheel signature quilt was made by the Baldwin Lutheran Church's Ladies Aid Society.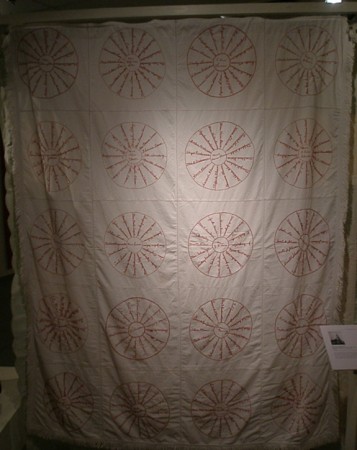 It was a gift to the pastor.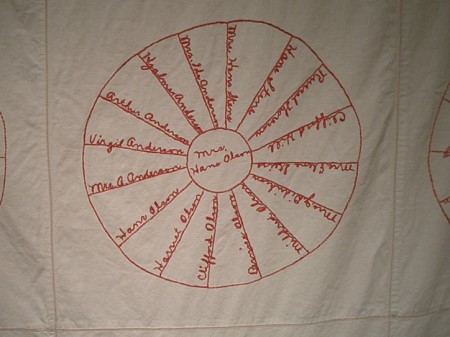 This quilt was quilted by twelve year old Ellen Knudson in 1865. It had been pieced by her mother and grandmother.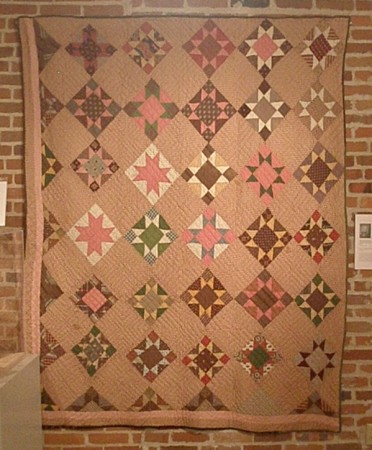 This Ocean Waves quilt was made by Nellie Long in 1878.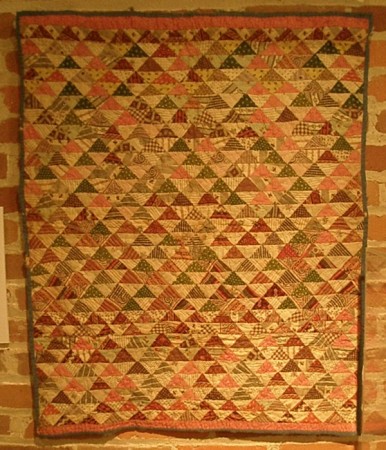 Ingeborg Hanson made this quilt in 1870 for a Ladies Aid raffle. Her sister-in-law, Anna, held the winning ticket. The funds were used to help build the Cedar Valley Lutheran Church. Many congregations had Ladies Aid Societies before they had church buildings. Through quilts and other efforts, women made significant contributions to church budgets. The stems and leaves on this quilt would have been green when it was made, but green was a fugitive dye and has faded to a light tan.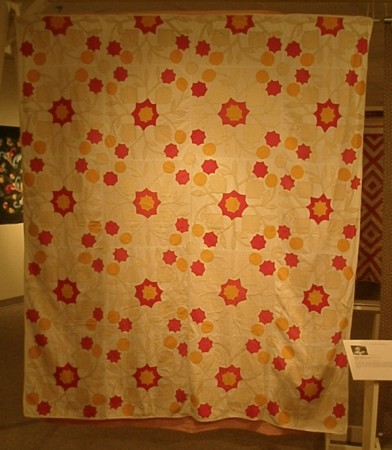 Mathea Norde started this quilt while she waited for John Wrolstad to return from the Civil War. John served with the 15th Wisconsin Volunteer Regiment, also known as the Scandinavian Regiment. After the war, he and Mathea married and had twelve children.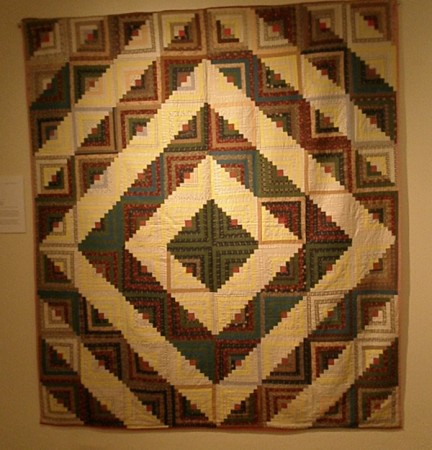 I was surprised by the large amount of yellow used in this quilt.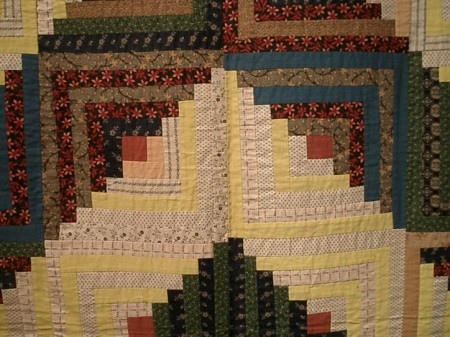 This log cabin quilt was made by Mary Haugen in the late nineteenth century.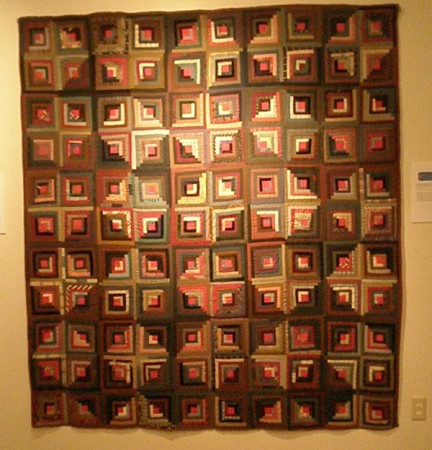 It won first place in the Minnesota State Fair.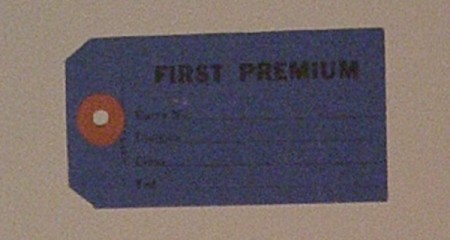 Clara Rikansrud made this quilt in 1922.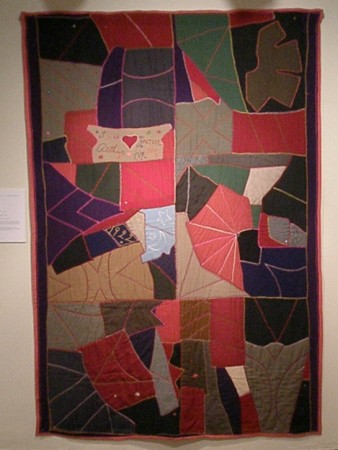 It was a graduation present for her son, Aurthur.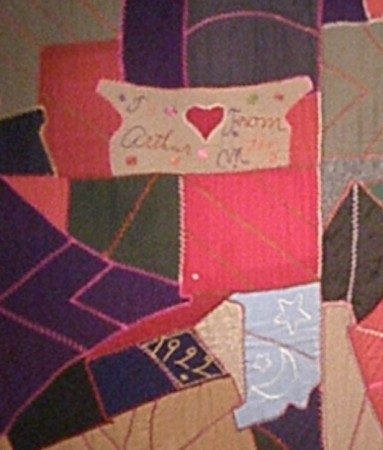 This quilt honors the twenty pioneer women members of the Highland Lutheran Church.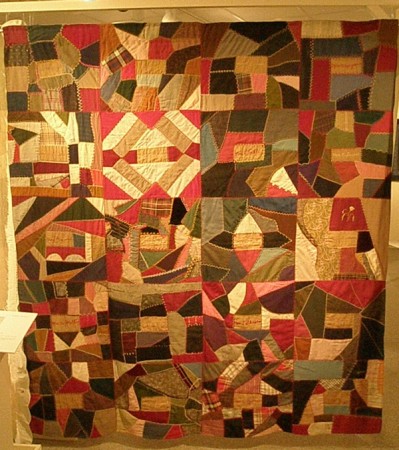 Margurite Paulsrud and Olaf Rossing married on June 20, 1929. One week later, Olaf was ordained as a Lutheran minister and the couple moved to Bagley, Minnesota, to serve their first parish. Before they left, Marguirte's mother and aunt presented her with this crazy quilt dressing gown. They thought she needed something warm for Minnesota and something nice as a pastor's wife. In 1937 they presented her with the matching lap robe.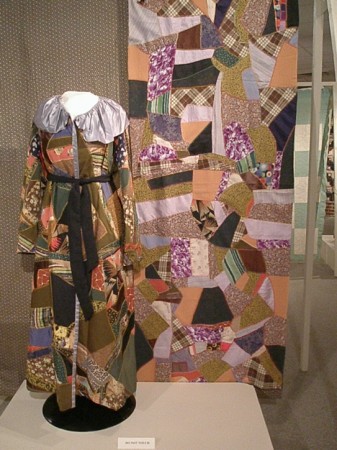 This crazy quilt dressing gown was made by Helena Rossing around 1900. It is embroidered with Bible verses in both English and Norwegian.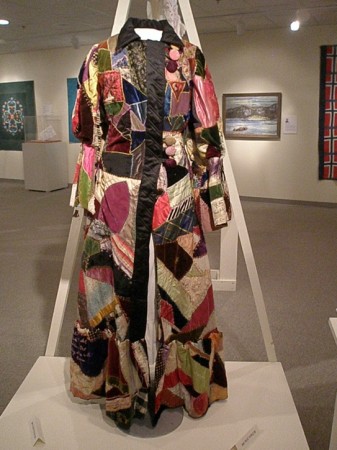 This quilt, whose blocks represent the Norwegian flag, might have been made in 1914 when Norway gained its independence.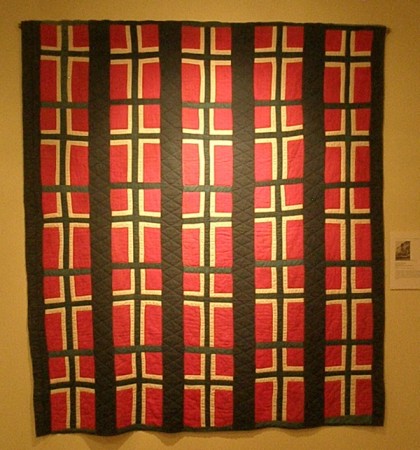 A modern Norwegian flag quilt being raffled to benefit the museum.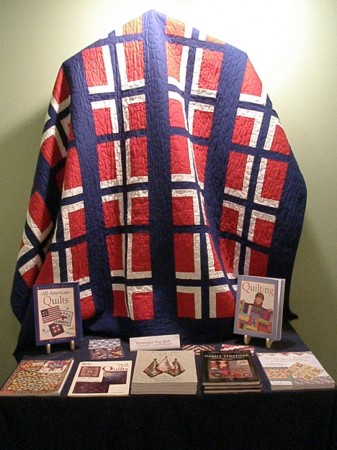 The next three modern quilts were made to represent Rosemaling, the Norwegian decorative painting style usually seen on wooden items.