Don't these look delicious!?!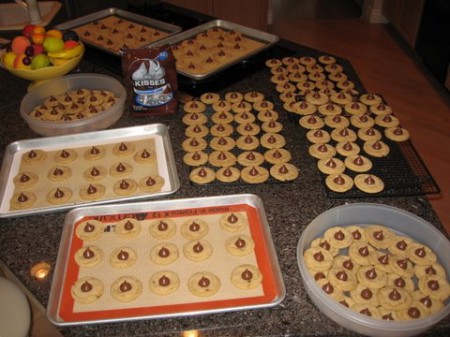 Last night my sister sent me these photos. She and my nephew, Cole, were on a cookie baking roll yesterday. The reason? Cole plans to have a concession stand at Sally's upcoming garage sale! He will offer three kinds of cookies and beverages. Don't you love it? I'm so happy to see that the entrepreneurial spirit lives on in the family. I'm sure we have my dad to thank for that!
Here's the young chef.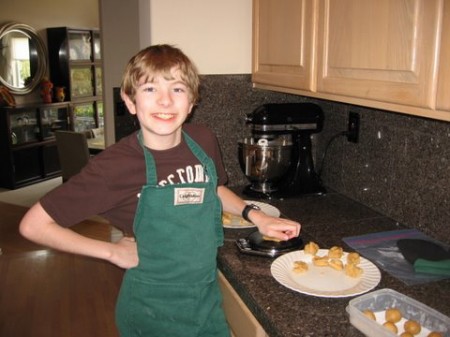 The cookies in progress.
They made three double batches of these cookies, called Benny's Peanut Butter Peaks. I emailed Sally and asked her if we knew who Benny was. Here's her reply:
Benny is a character in the Boxcar Children book series. Cole fell in love with those books when he was little. Sid and Robin (my brother and sister-in-law) gave him the Boxcar Children cookbook one year for Christmas, and this recipe was in there. Benny was the youngest child, and he loved peanut butter, so you know he'd love these cookies. I think most people call them by a more-generic name, but Benny has stuck in our house.
I phoned Cole this morning and he tells me he's planning to bag the cookies–two to a bag–and sell them for fifty cents a bag. And, he's planning to make two other kinds of cookies! I just may have to go to that garage sale myself!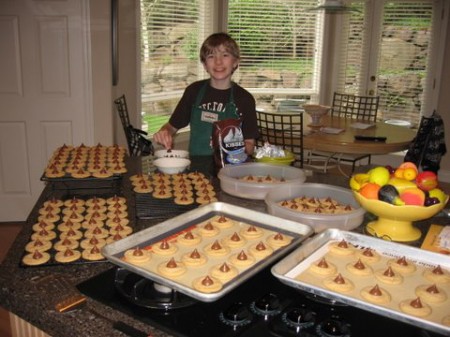 BENNY'S PEANUT BUTTER PEAKS – DOUBLE BATCH

2 cubes (1 cup) softened butter

1 cup peanut butter

1 cup sugar

1 cup brown sugar

2 eggs

2-1/2 cups flour

1-1/2 teaspoons baking soda

1 teaspoon baking powder

6 tablespoons more sugar

72 chocolate kisses, unwrapped

Put butter, peanut butter, 1 cup sugar, brown sugar and eggs into mixing bowl.

Beat with electric mixer on medium until smooth and creamy.

Mix in flour, baking soda and baking powder.

Cover and chill for at least one hour or overnight.

Shape the dough into balls.

Shake three balls at a time in a plastic bag with 6T sugar.

Place the balls two inches apart on a cookie sheet.

Bake at 350 for 8 minutes.

Put a chocolate kiss in the center of each cookie and press down gently.

Continue baking 2-4 minutes or until chocolate has melted down a little.

Remove cookies with pancake turner and cool on cooling rack.

Makes 5-6 dozen.