It is that time again–time to make some New Year's Resolutions. Well, this year, I'm only going to make one–GET ORGANIZED!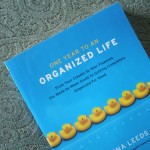 You see, it's just not fair. In my family, my sister got all of the organizational genes–and I mean ALL of them–leaving none for me. If you ask Sally if she has a nut pick, she would say, "Sure, it's in the third drawer down between the egg separator and the pastry bag," and, of course, it would be right there. On the other hand, if you asked me if I had a nut pick, I'd say, "Yeah, in fact I might have two or three of them, because I have to keep buying new ones when I can't find them." Then I would proceed to pull out every drawer in my kitchen and start rifling through them. Eventually, you would just give up and crack your nuts with your teeth. But not this year! This year, I'm going to get organized. Toward this end, I bought a book! It's called One Year to an Organized Life. ONE YEAR????? I was hoping to get it done in an afternoon. Heck, I would even devote a whole weekend to organizing, but one year???? Oh well, a new year is coming, and I'm filled with the belief that anything is possible in a new year, so I bought the book. I've even started reading the book. It makes some good points. I just hope this doesn't turn out like the Jane Fonda Fiasco. Back in the eighties, when Jane was touting her workout routine, I fell for it. I wanted to be fit. I bought the tape. I plugged it into my VCR. I sat in my chair and watched that tape everyday for weeks and I still didn't look as fit as Jane Fonda. I plan to keep reading my new book, and I hope that by the time I get to the end of it, my house (and life) will be organized–and when you ask for a nut pick, I'll say, "Why yes, I do have a nut pick, but who cracks their own nuts? Don't you know you can buy them already shelled?"
Something to give away…..
I've been wanting to do a Give Away on my blog, and the time seems right. I had so much fun making Twinklers out of my 1930's fabrics for Christmas, that I've decided to give one away. I'm going to give away one made from my new Daisy A Day fabrics. All you have to do is leave me a comment before January 7th. I'll pick from among the names and send you this pretty Twinkler.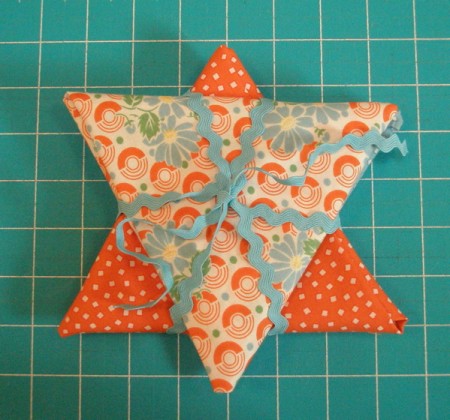 I'm Karen Snyder and I approve this message!