My nephew, Cole (aka Bjorn), was here all last week and we had a ball. He's turning 13 on Saturday, and I'm so glad he still likes to come visit. This photo was taken when he was here at Christmas.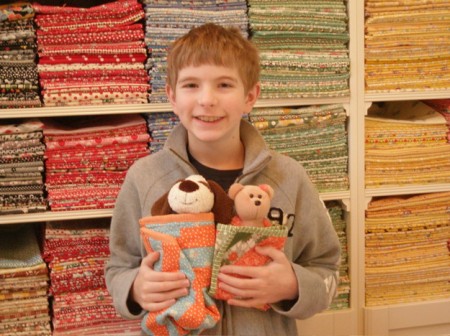 Before I load the photos from this trip, I must share with you some correspondence between us before his visit, but first some background. Since he was tiny, if I was going to Seattle to stay at his house, I'd "make a reservation." He does the same when he comes here.
On Jul 11, 2009, at 2:51 PM, Cole Paxton wrote:

Ms. Snyder, et al:

I write to discuss the subject of my probable upcoming visit. I believe the first orders of business shall be to find dates and a mode of transportation for me to get to you.

Also, a plan for our days together should be considered.

A few travel options:

Personal Vehicle (Direct Service)
AMTRAK Train (Seattle-Longview/Kelso)
SeaPort Air (Seattle-PDX-Astoria)
others…

Bjorn
To this, I replied:
On Sat, Jul 11, 2009 at 7:12 PM, Karen Snyder

<washtub@willapabay.org>

wrote:

Sir,
Thank you for your email re the above subject. Here at Hacienda Hamilton we are much anticipating your arrival. All possible modes of transportation should be considered and which ever suits your needs should be employed. Staff from HH could meet you at your plane, train or automobile. Your room will be readied on Saturday, July 25. Arrival at your discretion.
Activities to be considered during your visit here include, but are not limited to:
Quilt making
Cooking
Tractor/Gator Driving
Field Trips
Automobile Shopping.
Are there other activities that you would like our entertainment staff to investigate?
We eagerly anticipate your upcoming visit to Hacienda Hamilton.
Anderses Karen –
Front desk/hostess/limousine services/cook/housekeeping, et al.
As you can see, I listed all of my jobs. Not to be outdone, in his next email, he had added more to his resume!
On Jul 11, 2009, at 7:42 PM, Cole Paxton wrote:
HH Staff,

I would enjoy quilt making, cooking, driving, auto shopping, possible field trips to state parks and other unique tri-county (Pacific, Wahkiakum, Clatsop, OR) activities.

I will look further into exact locations, times, fares, minor policies and other important information regarding modes of travel.

Sincerely,

Bjorn Paxton

Reservations, Front Desk, Customer Service, Concierge, Housekeeping Manager, Crew Leader, Assistant Cook, Server, Janitor
Well, we had quite a week. In the end, the "method of transportation" was personal vehicle. I met his Mom in Longview, and Cole and I came back via Highway 4. We stopped at Vista Park in Skamokawa to check out possible Airstream adventure options.

We baked cookies (for us) and a cake for Bob to take to Rotary for an auction!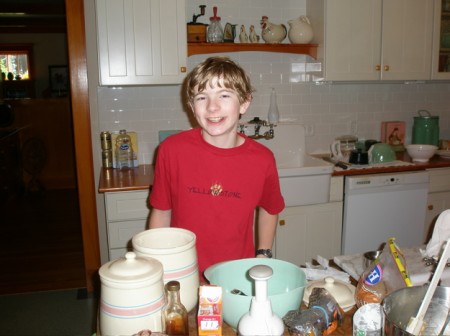 We went to the North Head Lighthouse–even climbing the stairs to the very top!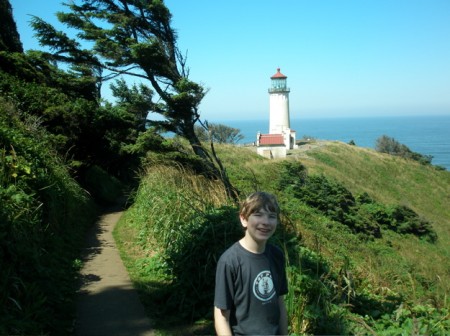 We always have to make a quilt for a stuffed animal.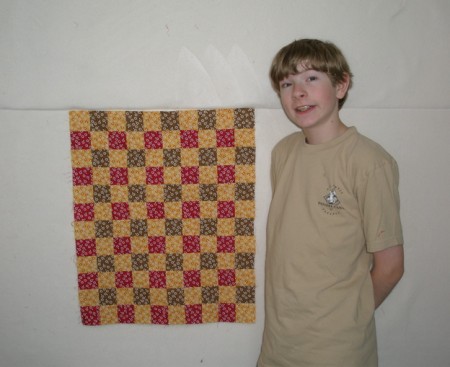 This time it was Curious George's turn. Of course I didn't have any Moda Funky Monkey fabric, but Cole was happy with the red, yellow and brown Rings. After all, they WERE designed by his aunt!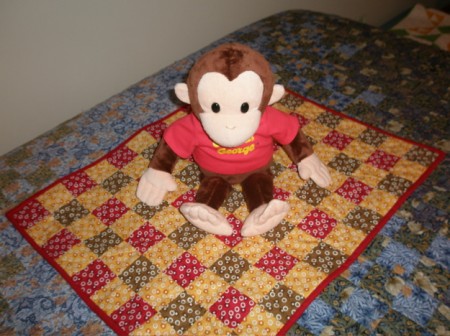 We seemed to find a reason to take the Gator out everyday–watering and fertilizing, a visit to the neighbors, transporting things to the cabin, etc.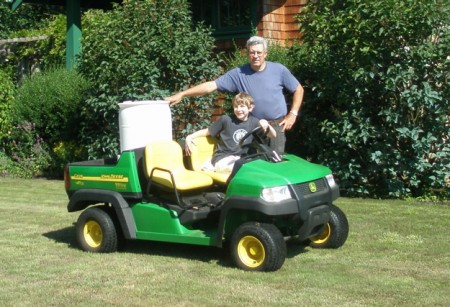 The cabin is just a short walk away, but Cole was always willing to drive me over!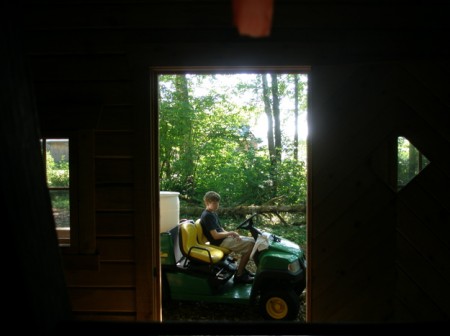 One night we had dinner in the cabin.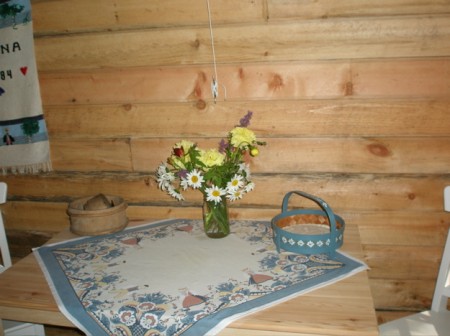 I think we checked everything off his list except new car shopping! Oh, well. Next time.