I found a wonderful site describing Nås dräkten.  Here's the link:
http://alltomhemslojd.se/wp-content/uploads/2012/04/nåsdräkt+…pdf
The descriptions are very detailed, and the photos wonderful!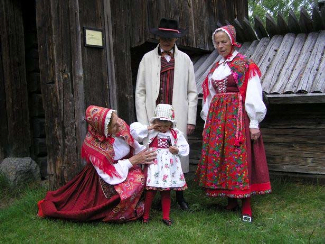 I like the variations in the apron and shawl.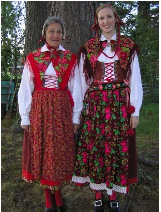 I don't know which is cuter–the hat or the little girl!

This woman's hat is crocheted.

Here are a couple of purses and a belt.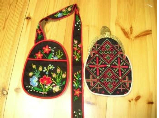 I'm hoping to learn to crochet well enough to make myself a heart warmer.  As a little aside, the Swedish for heart warmer is "hjärtvärmare."  It's not too much of a stretch to translate "hjärt" to "heart" and "värmare" to warmer, but when I was using Google Translate for this article, the translation came out "cardiac heater!"  😉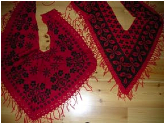 These gents are looking dapper in the suede knickers and wool vests.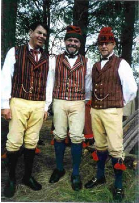 Here's a closeup of the back of the man's vest.  I love how the fabric is cut on the bias and the stripes matched.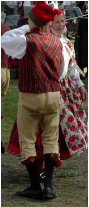 Too bad these beautiful suspenders are usually hidden under the vest.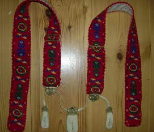 The men have a green wool jacket with beautifully crocheted sleeves.

But I've saved the best for last–these adorable children's "dresses" worn by both boys and girls.  The "bib" is reversible–sounds like a good idea!